Adaptive Tactical, LLC
EX Performance Adjustable M4-Style Stock for AR15/AR10 Carbines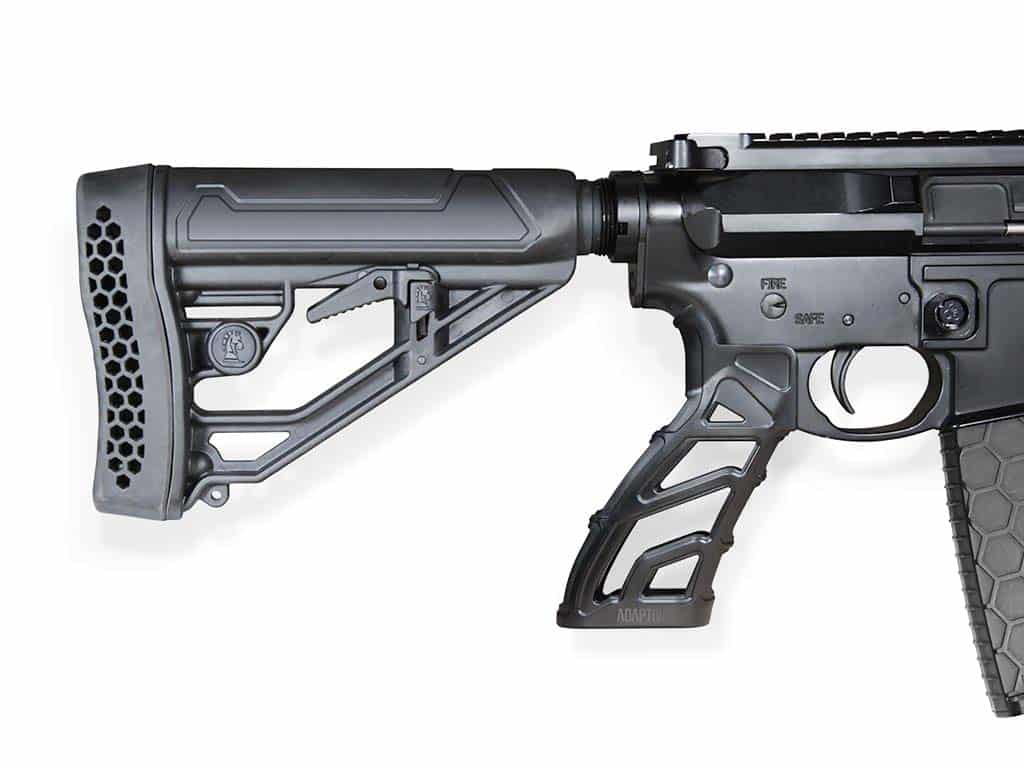 Adaptive Tactical, LLC, manufacturers of firearm stocks and accessories, is proud to announce its EX Performance Adjustable M4-Style Stock for AR-15/AR-10 Carbines has received some updates for 2021 to meet growing customer demand. With its advanced design and high-impact, polymer construction, the EX Performance Adjustable Stock is the ideal upgrade. The stock is engineered for compatibility with MILSPEC buffer tubes, so it works on a variety of AR rifles, shotguns and rimfire platforms. The oversized pin, durable construction and extremely comfortable recoil pad make it an ideal option for customers building larger caliber rifles such as .308, .458 SOCOM and even .50 cal. Designed for owner installation, the quality of its sleek industrial design and construction is evident in the details. Available in Black, FDE and Orange Less Lethal, the EX Performance Adjustable Stock weighs in at 12oz with recoil pad (8oz without pad) and has an MSRP of $49.99.
Apex Tactical
Failure Resistant Extractor for Springfield Hellcat
Adding to its line of Failure Resistant Extractors, Apex Tactical Specialties is pleased to announce the upcoming release of a Failure Resistant Extractor for the Hellcat model pistols from Springfield Armory. Designed specifically for use in the Springfield Hellcat 9mm pistols, the Apex Failure Resistant Extractor replaces the factory extractor and delivers consistent, reliable extraction. It is machined from a billet of heat-treated stainless steel and the critical engagement surface features Apex's custom extractor hook geometry. The extractor is Black Melonite finished for enhanced durability. The Apex Failure Resistant Extractor for the Hellcat will soon be available from ApexTactical.com, as well as through a number of dealers, online retailers and distributors.
Features and Specifications:
Replaces factory extractor
Features Apex's custom extractor hook geometry
Provides consistent, reliable extraction
Works with all current 9mm Hellcat model pistols
Easy to install
Apex Part #: 115-090
MSRP: $59.95
PRIMARY ARMS OPTICS
GLx 2x PRISM WITH ACSS GEMINI RETICLE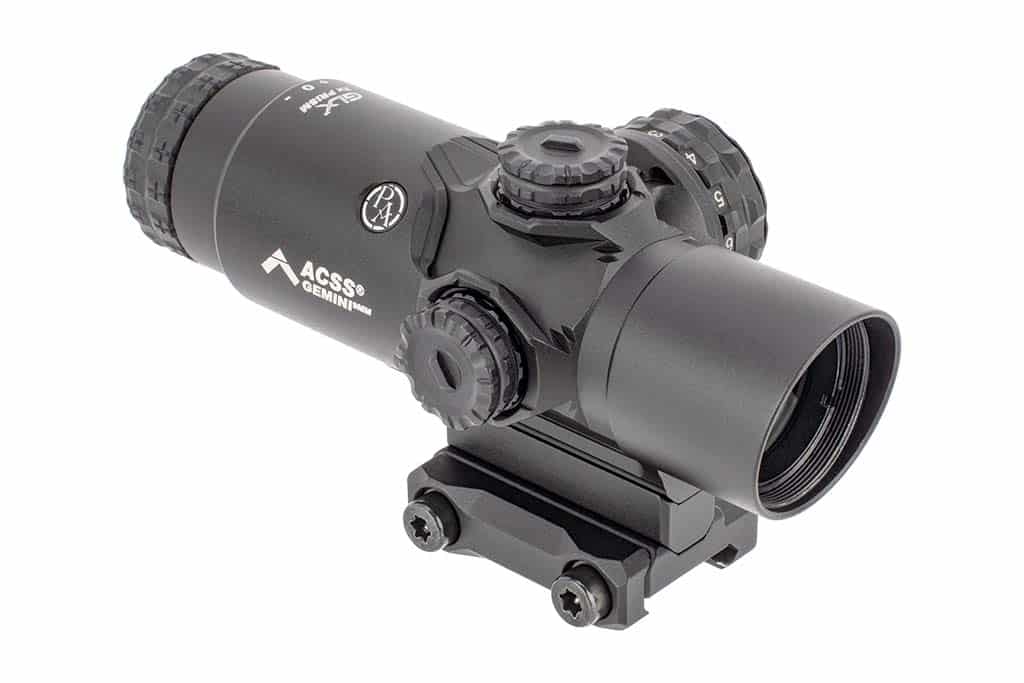 Primary Arms Optics has released a brand-new reticle option for their popular GLx 2x Prism Scope: the ACSS Gemini.Designed for 9mm carbines and AR pistols, the ACSS Gemini reticle incorporates all the advanced features of ACSS and adapts it for a PCC format. At $369.99, the Primary Arms GLx 2x Prism with ACSS Gemini 9mm Reticle is certain to be a top choice for those seeking an innovative CQB optic for their pistol-caliber carbine.
Weighing in at only 11oz, the GLx 2x Prism is comparable to many full-size red dot and holographic weapon sights, though the ultra-clear 2x magnification and etched ACSS ballistic-compensating reticle provide additional precision at further distances. The daylight-bright illumination with Primary Arms Optics' patented AutoLive motion-sensing on/off technology grants the user enhanced performance in any environment or lighting condition, while conserving runtime for an extended 20,000-hour battery-life. Since this is a magnified optic with an adjustable diopter, it is well-suited for marksmen with astigmatism, which can greatly impair the visibility of other traditional reflex sights.
Liemke
Keiler 13 Pro & Keiler 35 Pro Thermal Monoculars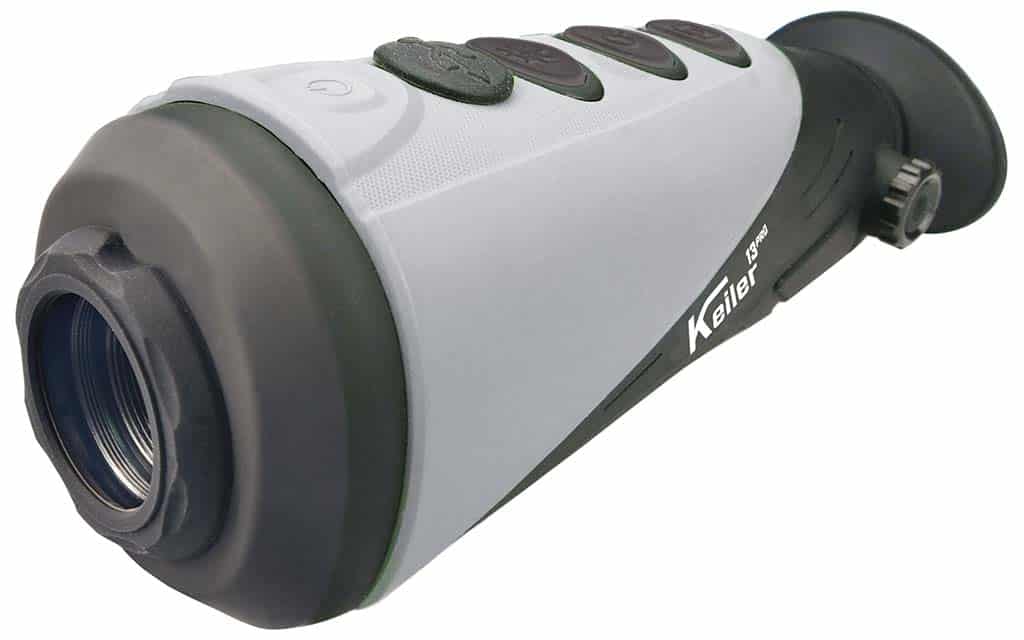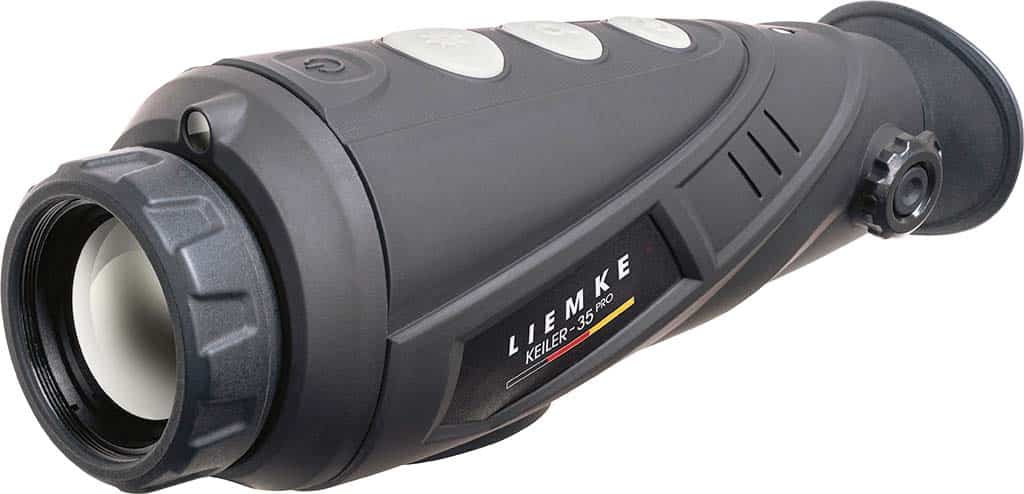 Liemke is now shipping its popular Keiler 13 Pro and Keiler 35 Pro thermalmonoculars in the United States. Designed as hand-held devices, these compact and rugged spotters can detect heat signatures in all light conditions—nighttime, daytime, dawn or dusk—giving hunters a clear edge in the field for observing and tracking game. The pocket-size Keiler 13 Pro features heat signature detection up to 500 yards while the Keiler 35 Pro has detection capability up to 1,350 yards. Heat sources can be displayed in various color modes in both models and can be enlarged digitally to show even finer detail when viewing game.
These high-performance monoculars are built to withstand the heaviest downpours and have 50 Hz frame rates ensuring fast refresh rates for unsurpassed image quality and easy viewing. They also have recording capability with internal data storage of 16G. Video and photos can be transferred via cable from the Keiler 13 Pro. The Keiler 35 Pro has integrated Wi-Fi allowing live image data to be transferred to an Android or Apple device up to 54 yards away.
Safariland
575 Slim Pro-Fit Holster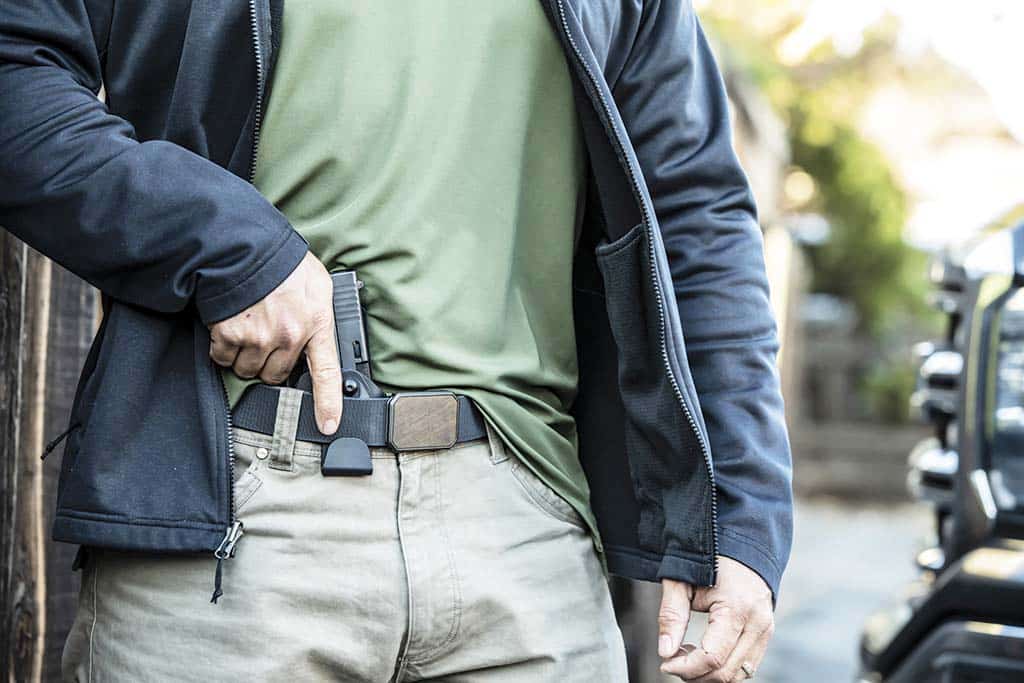 Safariland, a brand of The Safariland Group, announced new 575 Slim Pro-Fit holsters equipped with Safariland's Grip Locking System (GLS). The new 575 Slim extends the availability of the popular holster design to subcompact pistols.
"The new 575 Slim builds on the success of our robust 575 in-waistband design," said Eric Gasvoda, Vice President and General Manager for The Safariland Group duty gear division. "The new 575 models are built for the smaller 9mms and other pistols designed for everyday carry. With Safariland's GLS retention and the 575's ease of concealment, this is a great way to secure your carry gun so it is ready and accessible when you need it most."
The new 575 Slim IWB GLS Pro-Fit holster provides a fully adjustable cant and offers the unique Grip Locking System which secures the firearm once holstered. The retention of the GLS is deactivated with the middle finger while taking a shooting grip during the draw. The body is SafariSeven, a proprietary nylon blend that is non-abrasive to a firearm's finish and maintains very high heat tolerance as well as low cold tolerance. This holster comes with two belt loop options based on preference (over or under the belt). Its low-cut and compact design makes concealment easy while also allowing for a quick draw.
The new 575 Slim is designed for the GLOCK, Inc. 43, 43X and 48, Springfield Armory Hellcat and XD-S, Sig Sauer P365/P365X, Smith & Wesson M&P Shield/Shield + and similarly-sized pistols.
Meopta
MeoPro Air Binoculars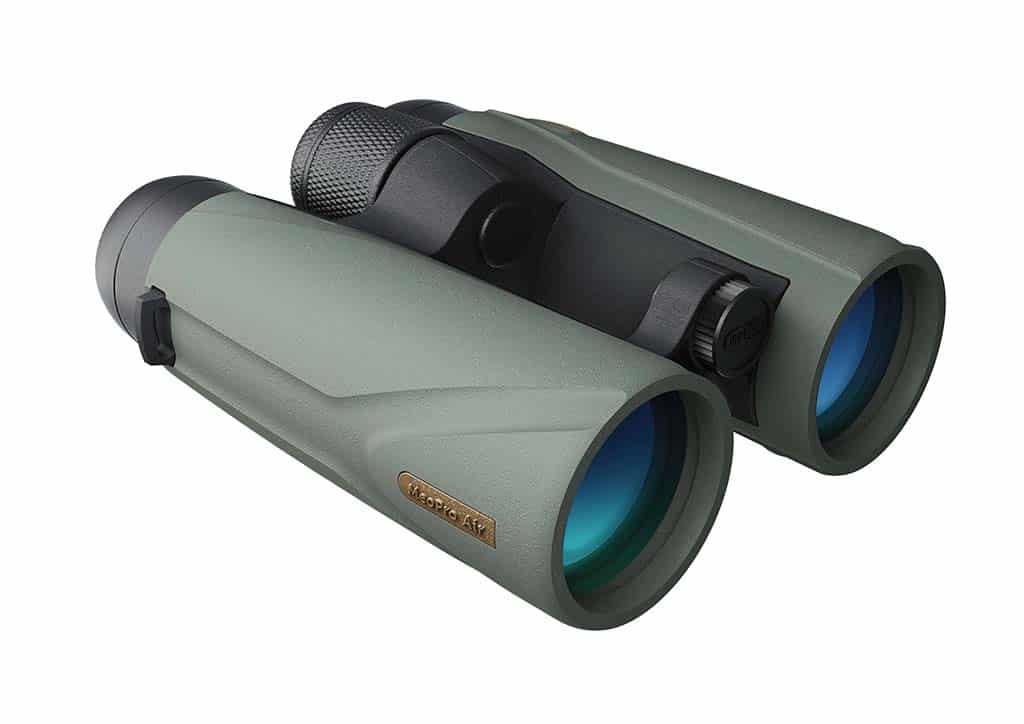 Meopta Sport Optics is now shipping its long-awaited MeoPro Air binoculars. Available in 8×42 HD and 10×42 HD, the Air elevates the MeoPro line to a new level of performance with its advanced optical system, ergonomic open-hinge design and handsome new body style built to withstand the harshest hunting environments.
Featuring high-definition, extra-low dispersion fluoride glass with Meopta's proprietary MeoBright lens coatings, the Air delivers maximum resolution and contrast with bright images and vivid colors throughout the entire field of view. This exceptional low-light performance—a hallmark of all Meopta optics—allows hunters to see fine detail more clearly at dawn and dusk when it matters most. Meopta's MeoShield anti-abrasion lens coating offers added protection to exterior lenses in the field, and the MeoDrop hydrophobic lens coating easily repels rain, dust, and grease from exposed lens surfaces. The body is made from lightweight magnesium-alloy and protected by durable rubber armoring that provides a secure, non-slip grip.
The diopter adjustment is integrated into the top end of the focus knob. Twist-up eyecups are easily removed for cleaning and designed for use with or without eyeglasses. Both models are tripod adapter ready, nitrogen purged, and fully sealed for fogproof and waterproof performance in the most demanding conditions.
MeoPro Air 8×42 HD: Retail Price USD $979.00
MeoPro Air 10×42 HD: Retail Price USD $999.00
This article first appeared in Small Arms Review V25N5 (May 2021)