By Chris A. Choat
AMERICAN TACTICAL INTRODUCES GSG FIREFLY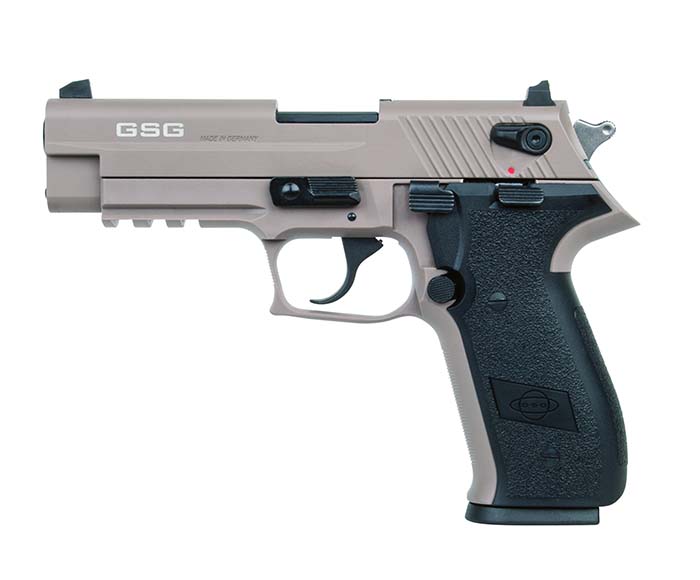 American Tactical, a world-wide importer of firearms, ammunition and tactical equipment to the USA, is proud to introduce the GSG Firefly. Together, American Tactical and German Sport Guns (GSG) have brought numerous .22LR firearms to American gun enthusiasts over the years, and the Firefly is the latest in these offerings. The Firefly brings lightweight versatility with its polymer finish available in black, green and tan. It has a total length of 7.2 inches, total height of 5.3 inches, and is just 1.5 inches wide. The Firefly weighs under 25 ounces with the magazine. Its 4" steel barrel is available threaded or non-threaded. The GSG Firefly features a wear-resistant alloy frame outfitted with an integrated accessory rail. The slide features adjustable sights, and along with the rugged blowback system, fixed barrel and superior ergonomic grip, the GSG Firefly delivers exceptional accuracy. Additional safeties include an internal locking device and slide mounted ambidextrous safety. The Firefly comes with a 10-round capacity magazine and has a retail price of $269.95. For more information on American Tactical, visit www.americantactical.us.
COMBAT UNICORN UNVEILS THE 9MM BELT-FED BRACELET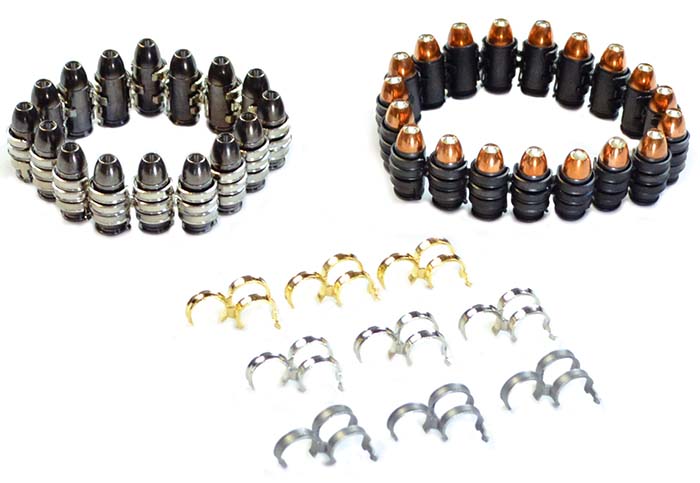 If you are a belt-fed fan then there is a new piece of jewelry that you need to have. Made by a company called Combat Unicorn, it is a bracelet made from a 9mm belt-fed belt such as is used in the Freedom Ordnance FM-9 upper. The new bracelet is loaded with dummy ammunition that is available in several different finishes along with several different bullet styles and links that are available in chrome, black nitride or even gold finish. The bracelets can be instantly sized to fit the wearers wrist by simply adding or removing rounds and links. By mixing the black and gold links in the black mirrored finish 9mm ammunition you can have a very good looking bracelet that any shooter would be envious of. Combat Unicorn makes all styles of the bracelets in many different color options. The company also makes some great refrigerator or toolbox magnets out of either 9mm or 5.56 mm rounds. For more information or to place an order contact them at www.combatunicorn.com.
NEW BUSHNELL LRHSi 4.5-18 X 44MM RIFLESCOPE BOOSTS ACCURACY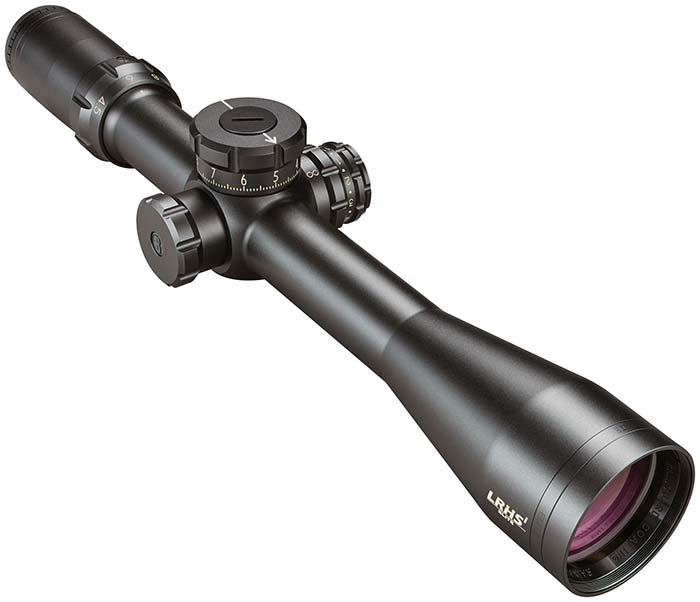 Bushnell, an industry leader in high-performance optics for more than 65 years, now offers its proven Elite Long Range Hunting Scope (LRHS) with an illuminated reticle to help hunters quickly put their aiming point on target in all light conditions, even at extreme distances. Like the original LRHS, the new LRHSi 4.5-18x 44mm riflescope is built specifically to give long-range hunters unparalleled accuracy. It features a first focal plane G2H-i mil-based illuminated reticle, which allows hunters to range targets at any magnification and easily make critical hold adjustments with .1 mil clicks. Plus, the low-profile, target-style elevation turret with RevLimiter zero stop allows shooters to quickly return to zero without dialing past. The LRHSi also offers a fast-focus eyepiece and side-parallax adjustment to retain a crisp, clear sight picture at any range. Aiding in visual performance, the lens' patented RainGuard HD coating creates a permanent barrier that beads water to scatter less light and give a clear view in conditions that would render untreated optics unusable. The scope is also Argon-purged for ultimate waterproof integrity. Additional accuracy-enhancing features include a 30mm tube diameter for increased adjustment travel; light-saving, fully multi-coated optics with Ultra Wide Band anti-reflection lens treatments; and resettable, capped windage turret. With an overall length of 14.2 inches and 3.94-inch eye relief, the LRHSi weighs in at just 26.5 ounces, making it a lightweight yet critical addition to your long-range shooting platform. For more information please go to www.bushnell.com.
CCI AMMUNITION INTRODUCES ACCURATE AND RELIABLE COPPER-22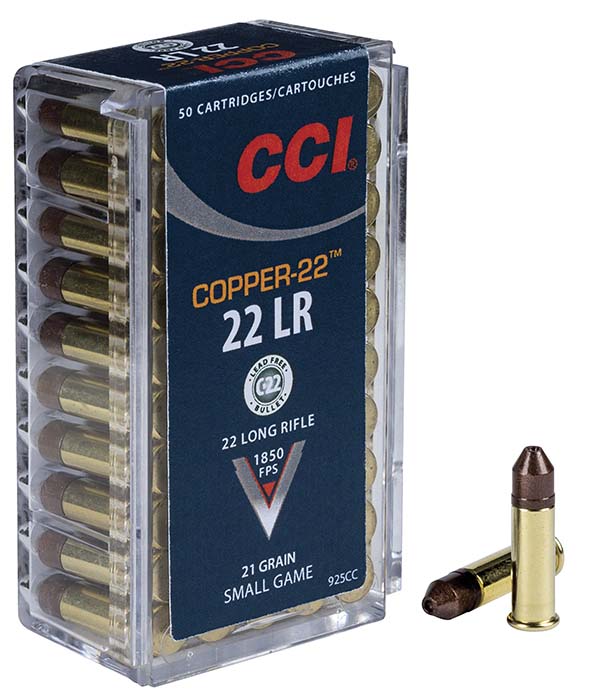 CCI Ammunition is proud to announce a new 22 Long Rifle offering with new Copper-22. Its non-lead bullet is suited for plinking, target-shooting and small game hunting. Shipments of this new product are now being delivered to dealers. The Copper-22 projectile is constructed from a unique mix of copper particles and polymer compressed into a potent, 21-grain hollow-point bullet. Combined with CCI's reliable priming and propellant, Copper-22 loads achieve a muzzle velocity of 1,850 fps and provide superb accuracy. The new ammunition is slated to retail at $10.95. Find out more at www.vistaoutdoor.com.
DANIEL DEFENSE SETS NEW BAR WITH INTEGRALLY SUPPRESSED WEAPON SYSTEM

Daniel Defense, manufacturer of some of the world's finest firearms and accessories, has taken suppressed weapons to the next level with the release of their new DDM4ISR rifle. This new rifle, designed for fulltime-suppressed fire and optimized for the .300 Blackout cartridge, features a fully integrated suppressor attached to its barrel, so it's ready for suppressed service right out of the box. This revolutionary rifle simplifies suppressor usage by eliminating variables and uncertainty. There's no need to attach a suppressor and wonder if it's mounted correctly and properly aligned. Also there is no need to re-zero the weapon for suppressed vs. unsuppressed fire. The suppressor is literally part of the barrel. The high-performance suppressor-constructed of durable, heat-resistant metal alloys and coated with a protective high-temperature Cerakote-C finish-features a user-serviceable baffle core that can be easily removed for cleaning and maintenance. It is permanently attached to a 9-inch Cold Hammer Forged fluted barrel with a target crown for superb accuracy and reliability. Because the suppressor is a permanent part of the barrel, extending the barrel to the NFA-required 16 inches, the firearm is not classified as a Short Barreled Rifle (SBR) and only requires a single tax stamp, for the suppressor. Everything else about the DDM4ISR is classic Daniel Defense. It features a pistol-length gas system and comes standard with an MFR XL 15.0 modular handguard, which features a continuous 1913 Picatinny rail on top and Keymod attachment points at the 3, 6, and 9 o'clock positions. This longer handguard, in conjunction with a DD Buttstock and Pistol Grip, make this ergonomic rifle highly maneuverable and as versatile as the .300 Blackout rounds it fires. A resilient Mil Spec + Cerakote finish protects the rifle from the elements and adds to its overall aesthetic. Available in states where suppressor ownership is legal, the DDM4ISR has an MSRP of $3049.00. Learn more or purchase this rifle by visiting www.danieldefense.com or an authorized dealer.
NEW KOOL HAND SUPPRESSOR COVERS

When shooting suppressors on rifles, especially long range precision rifles, most shooters want to install a thermal suppressor cover. These covers offer hand and rifle case protection from extremely hot suppressors. But in the long range precision game the suppressor does more than offer protection. It blocks the heat waves coming off of the suppressor tube from floating up in front of your optic and causing a wavering mirage effect that makes it hard to see that far away target. These covers are made from heat resistant fabric of some other temperature resistant material that surrounds the suppressor much like a small jacket. One of the problems with most suppressor covers is that most of them start at about the $100.00 range depending on what they are made of and how they are made. Now, a company called Kool Hand is offering the next generation of suppressor covers that are available for less than half of that price. The Kool Hand KHSC-II covers are made from a premium patent-pending silicone compound that endures extreme temperatures and will not melt. At this time the new covers are made to fit 1 ½ inch diameter suppressors only but that is the industry standard anyway. They are shipped with a 7 1/4 inch length but can be trimmed to fit your suppressor. The cover weighs just a little over seven ounces so once installed you can't even tell it's there. The covers will not crack, dry out or deteriorate from sun , UV, or ozone exposure. Using a KH Suppressor Cover will greatly minimize heat mirage when using optics. KH Suppressor Covers provide protection from scratches and damage to suppressors, and feature a rifled interior to combat forward movement during rapid fire. They can handle up to 1000 degrees F and semi-auto fire up to 180 rounds. The new covers come with a small bottle of lubricant to help install the cover. You simply coat the suppressor tubes' outer surface with the lube and then forcefully push the cover onto the suppressor. The covers are available in black, flat dark earth, FDE camo, olive drab, desert tan, DT camo and Navy camo. For more information please contact them at www.koolhand.com.
This article first appeared in Small Arms Review V20N9 (November 2016)