By Chris A. Choat
CCA ANNOUNCES NEW NON-NFA CIVILIAN RONI PISTOL CARBINE CONVERSION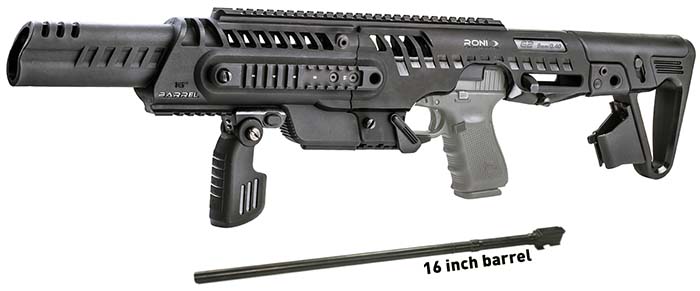 CAA, developers and manufacturers of advanced battle-tested firearms accessories, is proud to announce the RONI Civilian pistol carbine conversion for the GLOCK 17* is now shipping to distributors and dealers across the country. The RONI Civilian is not NFA regulated, which means, you can own this RONI without the extra NFA paperwork, long wait times and additional taxes. The RONI-C-G2 model is built on a conventional style stock with many of the features that RONI fans have come to know and appreciate, such as quick lock for easy installation, and a multiple rail system that allows for easy attachment of lights, lasers and night vision devices (NVD). The Civilian aprovlso features an innovative muzzle shroud and a 16" barrel. The trigger guard ides additional safety, especially during tactical moves. The collapsible buttstock has an adjustable cheek piece and a magazine holder that allows the user to quickly access and change magazines effortlessly. Optional flip up front and rear sights are also available (FRS/FFS). Visit your local dealer and see the RONI Civilian for yourself! This is a "MUST HAVE" accessory for every Glock 17 owner! Made from polymer and aluminum, the Civilian RONI weighs just 57 ounces and is 30.3 inches with the stock extended and just 27.2 inches with the stock collapsed. At this time the new Civilian RONI is available only for the GLOCK 17. You can get more information by visiting www.ccagearup.com.
MIDWAYUSA INTRODUCES LIGHTWEIGHT TACTICAL SHOOTING MAT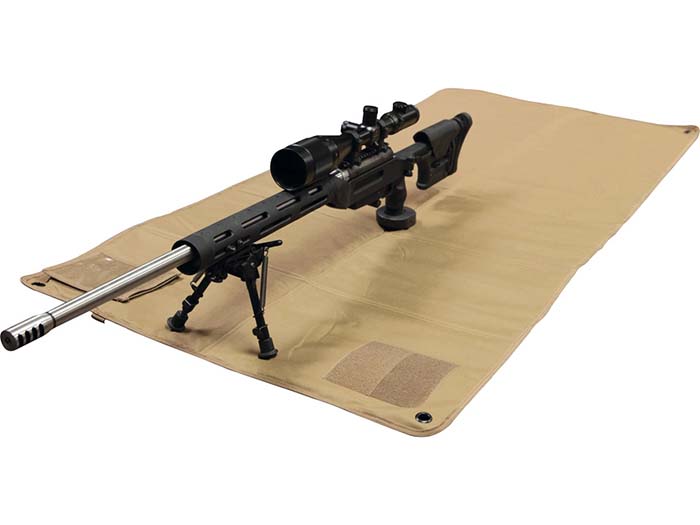 MidwayUSA is pleased to announce the latest addition to their shooting gear lineup – the MidwayUSA Lightweight Tactical Shooting Mat. The MidwayUSA design team set out to make a lightweight tactical mat that could roll-up into a compact design, and that's exactly what they did. With valuable input from customers, and a little R&D, the MidwayUSA Lightweight Tactical Shooting Mat is sure to impress. Features include a data card pocket, 5 millimeters of closed cell foam padding, four corner tie downs, and best of all, a water resistant non-skid bottom. The exterior is constructed of 400D PVC coated polyester fabric on top, and 1200D PVC coated polyester on part of the bottom, making this mat highly abrasion resistant and perfect for maintaining a solid prone position. When not in use, the mat conveniently stores in its included MOLLE compatible pouch. Unrolled, the mat is 69" long and 30-1/4" wide; rolled dimensions are 15" x 8". The Midway USA Lightweight Tactical Shooting Mat is available in a variety of colors including black, coyote and olive drab. Learn more about the MidwayUSA Lightweight Tactical Shooting Mat at www.midwayusa.com.
SIG ELECTRO-OPTICS UNVEILS NEW TANGO6 RIFLESCOPE

SIG SAUER, Inc. and SIG Electro-Optics is pleased to unveil the TANGO6 5-30x56mm tactical riflescope with patented LevelPlex technology. This scope introduces a new degree of long-range accuracy to any firearm by allowing the shooter to virtually eliminate gun and scope cant from the shooting equation. Powered by MOTAC (Motion Activated Illumination), LevelPlex appears to the shooter in the form of illuminated arrows on the horizontal axis of the reticle, informing the shooter of firearm cant, direction of cant and severity of cant. The illuminated arrows guide the shooter back to a level hold until the cant is corrected: No more taking your eye off the target to check a level. In addition to on-range use, LevelPlex allows for super-fast and remarkably accurate level scope-to-rail mounting: Level the rifle in a gun vice and simply use LevelPlex to level the scope to the rifle upon setup—no more fumbling with magnetic bubble levels on turrets. The new TANGO6 5-30x56mm with LevelPlex and T120 Turrets offers shooters the ideal high-precision shooting solution and unparalleled technological advancements. LevelPlex allows the shooter to remove unwanted cant from the shooting system to +/- .5° of accuracy, which is 6 times more accurate than a typical bubble level. The T120 high-speed low-profile turrets help the user to quickly dial-in their shooting solution—because time and accuracy always matter. The new scope is fog-proof as well as complete immersion waterproof up to 1 meter. This scope like other Sig optics is covered by the Sig Sauer Infinite Guarantee. They will repair or replace your SIG SAUER product in the event it becomes damaged or defective, at no charge to you. If they cannot repair your product, they will replace it with a product in perfect working order of equal or better physical condition. It doesn't matter how it happened, whose fault it was, or where you purchased it. For more information go to www.sigsauerinc.com.
NEW NAS3 TWO-PIECE BRASS SHELL TECHNOLOGY REVOLUTIONIZES BRASS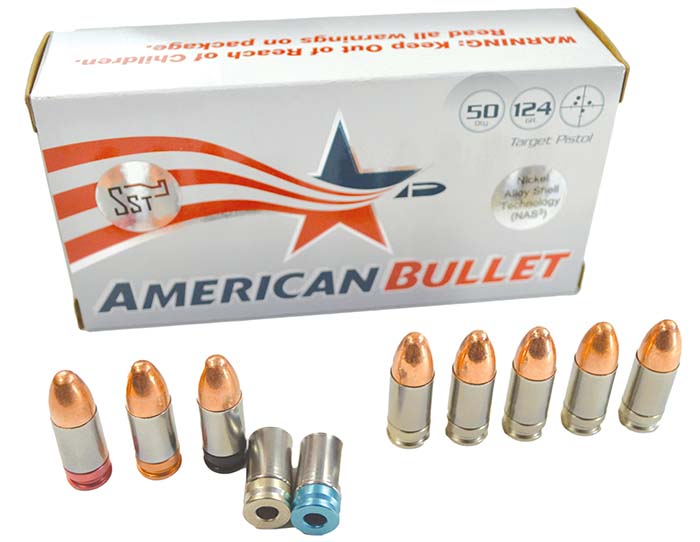 Ever since the brass cartridge case was invented it has pretty much remained the same. Now there is a revolutionary new brass cartridge case that will become the future of ammunition. The new casings are not brass at all but rather a nickel alloy stainless steel cylinder that is mated to a nickel-plated solid aircraft-grade aluminum base. The stainless cylinder is less abrasive than brass, self-lubricating and corrosion resistant. Stronger and more elastic than brass it spring back to its original shape when fired. The aircraft-grade aluminum base will not abrade, clog, foul, or damage breach or ejector mechanisms. The base will not "balloon" when fired from unsupported chambers such as in Glock or some submachine guns. The new "brass" will accept any type of existing 9mm bullet. Now some of the revolutionary features. The casings can be reloaded up to 45 times without trimming or any special preparation. They are also magnetic so they can be picked up with a magnet. The casings are half the weight of brass but yet they are twice as strong. The casings are available with custom headstamps and where the base of the case is aluminum it can be anodized in just about any color to help identify different types of ammunition. These casing also eject from the gun cool to the touch! Right now the new "brass" is available only in 9mm but the next calibers out will be .380 and .45 ACP. The company will follow those calibers with rifle cases in 5.56 and 7.62. With this ammo component weighing half as much as brass this author thinks that the military should be very interested in it. One other thing, these casings are cheaper than brass! So far ammunition loaded with these casings have fired in just about every type of firearm with perfect functioning. For more information contact them at www.shellshocktech.com.
TACTICAL WALLS REVEALS THE HIDE-A-MAG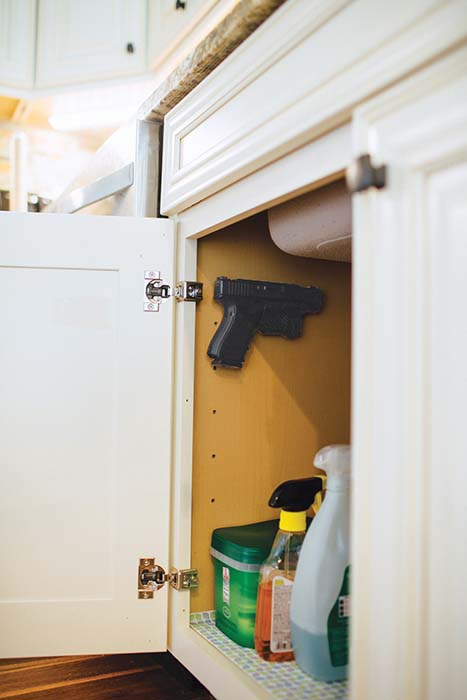 Those looking for an under-desk or counter-top solution to conceal a firearm or spare magazine now have an answer. Any spot measuring 4"x1"x1/4" can be a mounting spot for the TacticalWalls Hide-A-Mag, a magnetic mount that requires no gravity. A rare earth magnet enveloped in an inconspicuous, matte black, durable plastic protects your firearm's finish while providing more than 35 pounds of retention. Simply attach the Hide-A-Mag assembly to your desired surface using the supplied attachment screws. The companies firearms retention magnets, found within their existing sliding units, brought about several requests from TacticalWalls customers for a high-strength magnet that could be placed at strategic locations in one's home, vehicle, or work place. They developed the Hide-A-Mag to answer this call and become an inexpensive, yet valuable accessory for those looking for additional avenues to conceal firearms and accessories. Hide-A-Mag is designed to work with most any handgun, shotgun, rifle, or edged weapon as even polymer-framed guns have plenty of steel within. Metal-lined magazines also tuck up and away nicely and simply slide off the Hide-A-Mag's plastic casing smoothly and quietly when needed. Great for use inside the top of your Tactical Walls Concealment Shelf, under a desk, behind a cabinet, anywhere it fits and can be mounted. Hide-A-Mag can be found at tacticalwalls.com for $16.99. TacticalWalls is a family owned and operated business, based in the Shenandoah Valley of Virginia and their products are proudly manufactured in the United States. Find out more about all of their revolution products at www.TacticalWalls.com.
SAFARILAND EXPANDS PROTECH TACTICAL LINE WITH NEW HARD ARMOR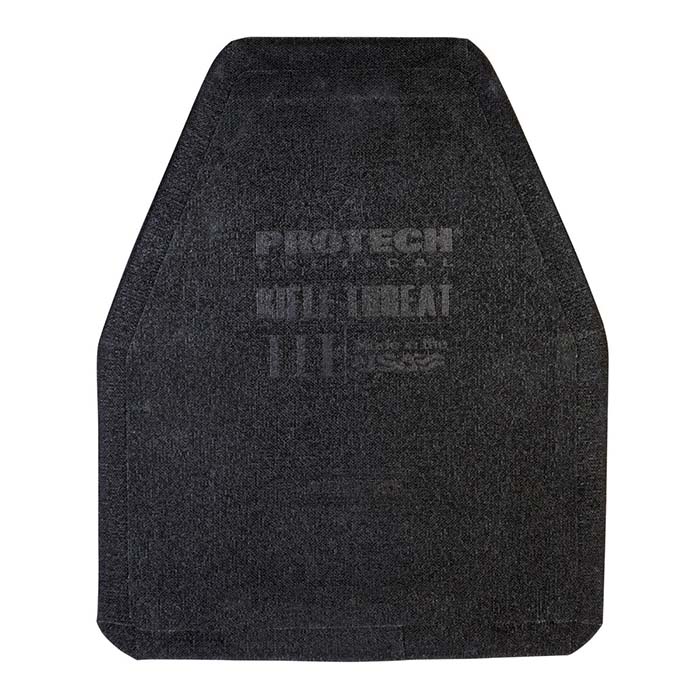 Safariland HAS JUST announced the expansion of its Protech Tactical X-CAL line of "in-conjunction-with" (ICW) ballistic hard armor plates with the addition of the X-CAL US. Independently tested under the NIJ 0101.04 type III protocol, this special threat plate under 4 lbs. in weight is designed to defeat high-threat rounds and velocities. With an increased availability of the M855/SS109 round in the domestic market, this hard armor plate will fill the product gap for a high-end, lightweight plate that can protect officers at risk of encountering this type of ballistic threat. Developed in collaboration with Hesco Corporation, a world leader and innovator in the design and manufacturing of protective systems, the debut of the X-CAL US plates affirms the partnership's ongoing dedication to bringing products to market that meet the evolving challenges and threats in military, security and law enforcement environments. An average two pounds lighter than traditional type III rifle threat plates, the X-CAL US minimizes bulk and load-bearing weight to enhance maneuverability. The X-CAL US plate is approved for use with NIJ soft armor packages offered by Safariland, including the Summit SM02 Type IIIA, Xtreme XT03 Type IIIA and Xtreme SX02 Type IIIA. With an impressive low-profile, the X-CAL US plate is just 0.75" thick with protection against numerous threat rounds such as the 7.62mm FMJ (NATO) and special threat rounds such as the 7.62mm x 39mm, 123 gr. MSC and the 5.56mm, 62 gr. (M855)(SS109) at six impacts each. Available in a 10"x12" multi-curve, swimmers cut, the X-CAL US plate is available to order with part number 1190172 at $710.00 ftlineMSRP. For ordering, please contact an account representative or a member of the Safariland customer service team at 1.800.347.1200. For more information, visit www.safariland.com/protech-tactical.
This article first appeared in Small Arms Review V20N8 (October 2016)