By Todd Burgreen
EDITOR'S NOTE: SIG Sauer recently issued a safety recall for some CROSS rifles. See sigsauer.com/crossrecall for more details.
"Why?" That was the initial thought when reading about SIG Sauer's introduction of the CROSS bolt-action rifle at the 2020 SHOT Show. This was SIG's reentry into the bolt-action market. Significantly, the CROSS is not intended for the tactical/sniper role—hunting is its realm. Tom Taylor, SIG's Chief Marketing Officer & Executive Vice President, Commercial Sales, answers the "why" for the CROSS: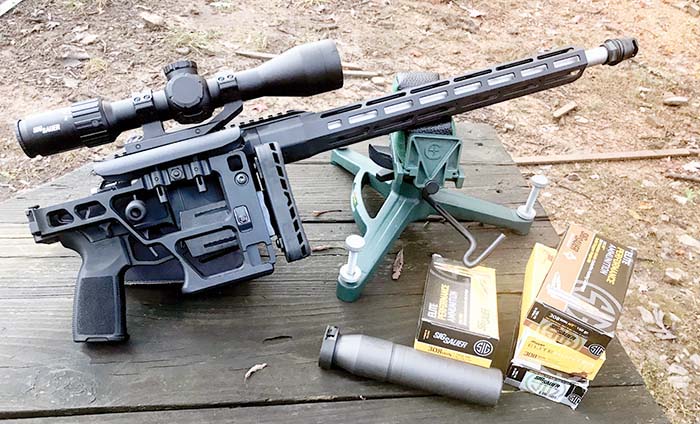 "Stagnant" is not a word that applies to SIG, with its innovative products in multiple classes of weapons—handgun, submachine gun, assault rifle, precision, belt fed machine gun and now bolt action. SIG designed the CROSS bolt-action to not only offer performance with current cartridge designs, such as 6.5 Creedmoor and .308 Win, but also with their highly anticipated high-pressure ammunition starting with the .277 Fury. The CROSS' action is incredibly rigid but also light, thanks to its one-piece receiver eliminating the need for bedding and action screws. The CROSS one-piece receiver interacts directly with trigger, bolt, AICS magazine and barrel mounting—think AR, but without upper and lower distinctions. This is a change from typical bolt-action methods that serves to minimize many of the accuracy-robbing causes associated with bolt actions while also contributing to ruggedness afield. The CROSS in .308 Win with 16-inch barrel weighs a mere 6.5 pounds.
With any precision rifle, the trigger is a crucial part of the equation. SIG created a fully-housed, two-stage match trigger with a range of adjustment between 2.5 and 4.5 pounds with no creep. The urge to change or tinker with your trigger will not be present with the CROSS.The other noteworthy feature of the CROSS, both in terms of aesthetics and performance enhancement is the fully-adjustable folding stock. Comb height, pad height, pad cant (screws on the pad assembly go 7 degrees either way), a reversible comb and length of pull are all easily adjustable and locked in place. This allows a user to "fit" the CROSS like no other production rifle. Its adjustability mimics what is possible only with a custom stock. This should not be discounted in importance.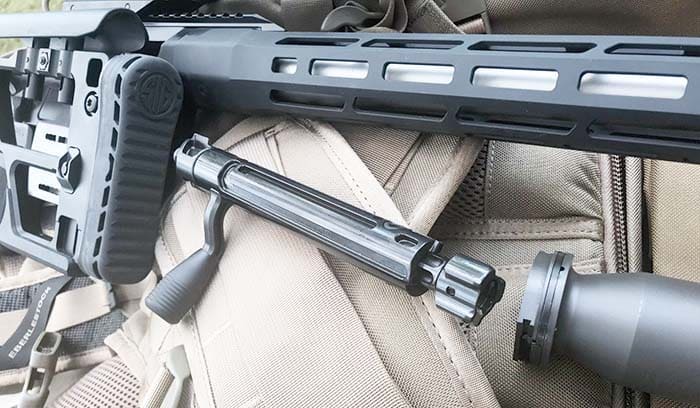 For this evaluation, the author kept it a "SIG party" in terms of rifle, ammunition, optic and suppressor. A SIG SIERRA3BDX 4.5-14x44mm riflescope was mounted on the CROSS. Arrangements were made to use a SIG SRD762-QD suppressor—it was as simple as installing an optional SIG Taper-Lok muzzle device adapter. The heart of SIG's Taper-Lok system is a tapered and threaded barrel. Taper-Lok compatible muzzle devices thread on with concentricity assured by the matching tapered shoulder on the muzzle device. The Cross includes a thread protector along with a tapered washer that serves as an adapter for use with non-tapered muzzle devices.
SIG Elite Hunter 165 grain and 150 grain Elite Copper HT ammunition was used with the CROSS. SIG Elite 168 grain Match was also tested to establish a baseline for accuracy. No ammunition tested produced greater than 1.5-inch groups at 100 yards. The CROSS feeds from standard AICS-pattern magazines with a Magpul 5-rounder arriving with the rifle. It has a proprietary sled follower for optimized single-round loading through the ejection port. The single-stack profile of the AICS lends itself to a thinner overall width for the CROSS and stiffer action due to less material needing to be removed from the bottom of the receiver.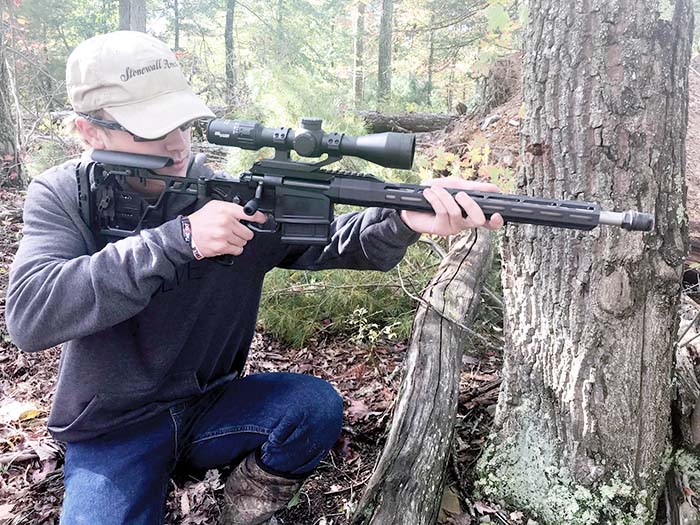 The focus of this article is a return to the hunting style symbolized by the bolt-action CROSS chambered in .308 Win. (The CROSS is also available in 6.5 Creedmoor and SIG's .277 Fury.) Instead of focusing on long-range hunting scenarios, let's operate under the assumption that "closer is better" when taking an animal. This puts the onus on scouting and choosing the best ambush position, or stealthily creeping through the woods in search of your desired prey. Of course, if a 300+ yard shot is the only option, having the ability to successfully place the round where needed is an asset.
The CROSS is tailor-made for pursuing game in rugged/steep terrain. Its high degree of accuracy is also conducive to hunting from stands or ground blinds with shots across wide, clear-cut clearings, yet it still provides svelte handling for spot/stalk techniques. Most do not realize that even with the relatively short ranges involved in thick-timber hunting, pinpoint accuracy is crucial to finding the shooting lane. The CROSS is easily carried in the hand, ready to go when quarry is spotted.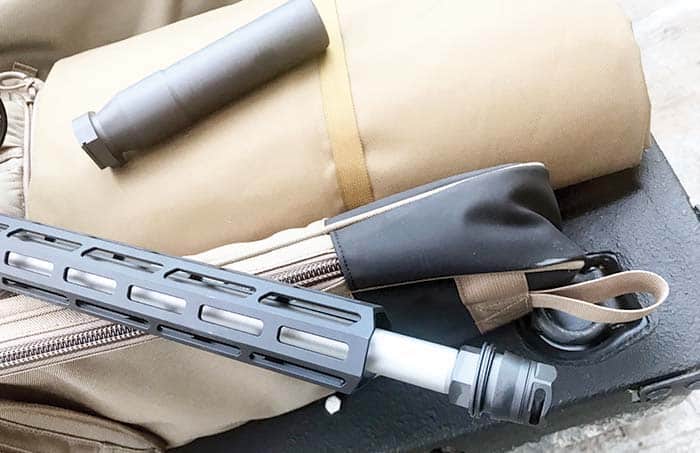 Secured in a hunting pack is another option allowing for hands-free movement with the CROSS. The Eberlestock X31 LoDrag II pack serves as an excellent example. Eberlestock strives to design a pack so items are easy to find. They also make it easy to attach things to the outside of the pack. There's no digging and wrestling with your pack to free an item—it's quick at hand. It's a great combination. By having the pack carry the rifle, your hands are free for all of the things you need them for when you are traversing terrain. The X31 incorporates a tactical weapon-sized scabbard. It has a unique contour shape that tapers at both the top and the bottom, giving the pack an excellent close-to-the-body ride. The packs are fully compressible with pairs of side-mounted compression straps that draw the load upward to optimally position the pack's contents over the wearer's center-of-gravity. The X31 LoDrag II has two generously-sized, form-following pockets on the exterior of the upper and lower front flaps. MOLLE-10 lightweight webbing is used, to which you can attach conventional 25mm MOLLE accessories.
Numerous positive qualities of the CROSS quickly became apparent upon use. The author has always been a fan of using detachable magazines for safely/efficiently loading/unloading a rifle. Every time in/out of transportation, in/out of blind, which happens multiple times a day, requires weapon manipulation that the detachable magazine simplifies. The AR-like safety found on the CROSS is natural to manipulate, considering the CROSS's pistol grip profile. Our blinds were situated with expected shots in the 100- to 225-yard range. The CROSS' MOA accuracy instilled confidence it would do its job.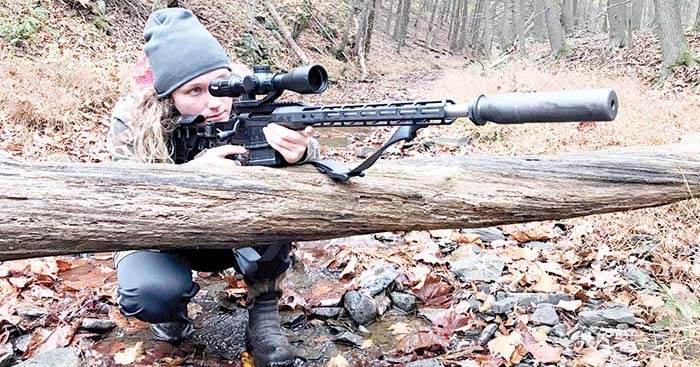 The CROSS's pistol grip gives it superior overall carry qualities, with one-handed carry more feasible as well. The natural ergonomic attributes of the CROSS are conducive to quick, well-placed shots when an animal presents itself. This stems from the custom fitting made possible by the SIG stock. Not a lot of time was spent at the bench on Echo Valley Training Center's (EVTC) 100-yard range. There are more indicative evaluations for a hunting rifle than merely firing from a bench at a 100-yard target. The CROSS' adjustable buttstock allows for a good cheek weld that aids in handling recoil by preventing a "slap" of the face that is more typical of the jaw welds found on a lot of rifles when scopes are used. The CROSS proved potent on the Jungle Walk range at EVTC with targets placed at 30 yards out to 220 yards. The ability to move through its varied terrain and engage randomly-placed targets hidden within cover suited the CROSS perfectly. The emphasis was on accurate shot placement and how the CROSS's smooth bolt facilitated follow-up shots. The 6.5 pound, 16-inch barreled CROSS is easy to handle with little time needed to find the reticle when the rifle is brought up to the shoulder.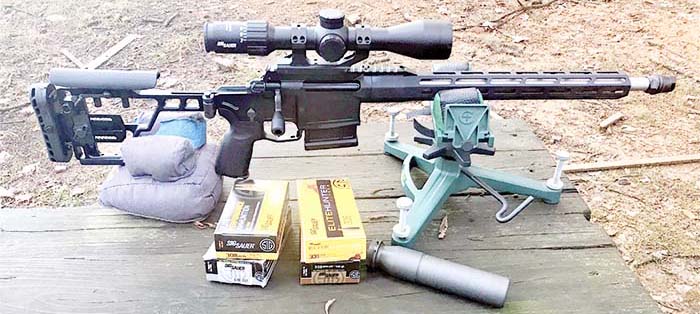 The CROSS is well suited for still hunting forays. This translates into fluid off-hand shots at game and not off rests or bipods. If lucky, the hunter will be able to adopt a kneeling or sitting position in lieu of offhand. Range T&E simulated this by setting up clay pigeons at various ranges and then assuming sitting, kneeling or standing positions. Another twist is to have a companion pick the target and shooting position for the shooter to engage as quickly as possible. Follow up shots were encouraged to get a sense of the CROSS' potential. The detachable magazine feature simplifies reloading via a spare magazine. While not empirically quantifiable, the CROSS proved to "hang" well and was very manageable in getting into and out of field shooting positions.
The CROSS is equally at home for long-range engagement. Other range drills consisted of shooting steel targets out to 550 yards on Echo Valley Training Center's Known Distance Range. The key point with the CROSS is it has out-of-the-box performance without the owner having to resort to a trip to an armorer or gunsmith for tuning. The CROSS takes a back seat to no rifle in terms of precision, repeatable accuracy, ergonomics and reliability. A rifle which weighs 6.5 pounds, uses a detachable magazine, is chambered in a hard-hitting caliber and is capable of 1.5 MOA or less cannot be ignored.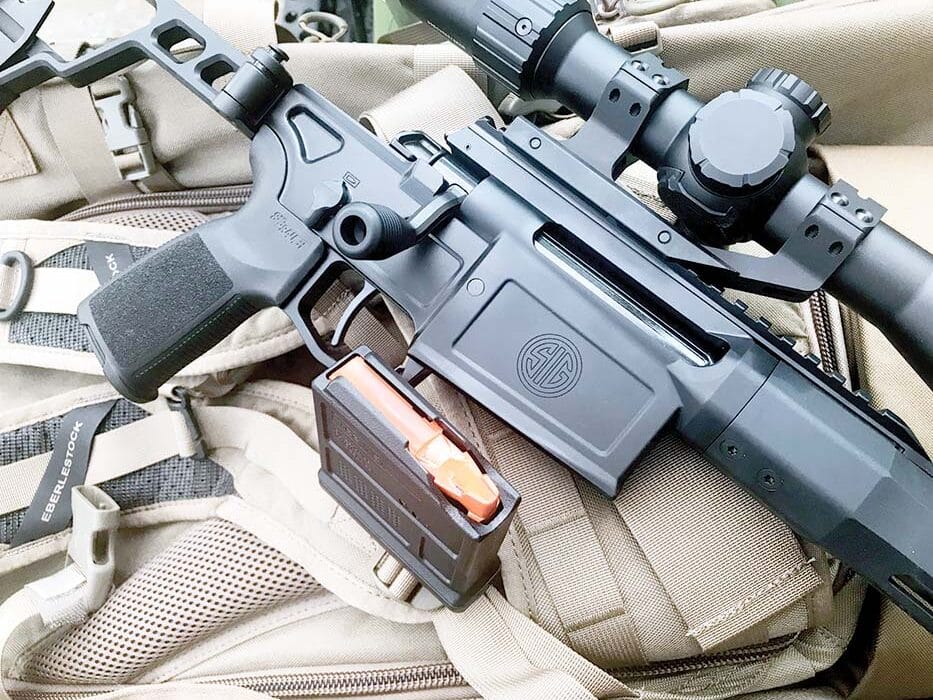 SPECIFICATIONS: SIG SAUER CROSS
CALIBER:  .308 Win
BARREL: 16-inch stainless steel, 1:10RH twist
OA LENGTH: 36.5 inches
WEIGHT: 6.5 pounds
ACTION: Bolt
CAPACITY: Detachable AICS, Magpul 5-round magazine with proprietary follower included with rifle
PRICE:  MSRP $1,799 USD
URL: sigsauer.com
This article first appeared in Small Arms Review V25N10 (December 2021)