The 220SM is similar in size with Commander-sized 1911s and performs out of the box reliably with a high degree of accuracy.
For many there is no debate over choosing a personal defense handgun. Any discussions of preferred weapons start and stop with John Browning's .45 ACP 1911. A few years ago SIG Sauer made the decision to enter the ever burgeoning and fertile U.S. 1911 pistol market by introducing various models of 1911 style handguns. A less well known SIG decision made circa 2006 prior to the SIG 1911 offering was an effort to offer an alternate single-action handgun choice to shooters in lieu of the 1911. SIG Sauer chose to configure its well respected P220 .45 ACP with a single-action only (SAO) trigger and thumb safety. Various P220 SAO models are available with characteristics such as extended beavertail signified with an "Elite" designation along with 5 inch barreled P220 models with adjustable target sights labeled the P220 Super Match. SIG realized that a more compact P220 design would help them attract even more consumers, especially considering the expanding concealed carry laws spreading across the majority of U.S. states. The specific P220 SAO model reviewed herein is the P220 Carry SAO that reflects this virtue by featuring a shorter barrel/slide. SIG is often more associated with their respected line-up of double/single action handguns rather than the quintessentially American 1911 or single-action only P220. Ironically, it seems the SIG 1911s enjoy more widespread popularity than the longer tenured P220 SAO models. Gun culture members are by nature conservative and view new offerings skeptically until proven via use. The SIG 220 Carry SAO has found its initial reception somewhat cool in the US market with many shooters unaware it exists as an option.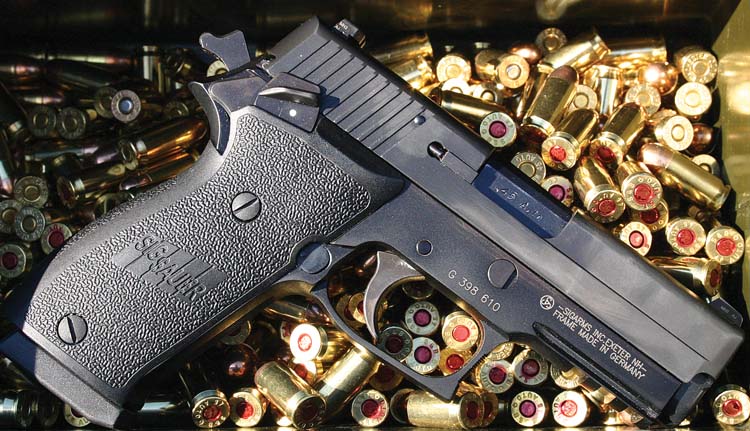 The P220's history and track record of proven performance on the battlefield and street grant the P220 Carry SAO instant credibility. The P220 Carry's profile wrapped around the potent .45 ACP cartridge makes it ideal for concealed carry, especially with inside-the-waistband carry techniques. Someone who is a practitioner of concealed carry quickly realizes that length, grip size, overall weight, and width of a pistol are the key defining parameters for discrete carry handguns. However, many have not had much success with finding a compact concealed carry 1911 that is reliable. Numerous test attempts involving sub-4inch barrels (or smaller) 1911's have left many disappointed in terms of reliability and most users resort back to carrying full size 5-inch barreled 1911s. SIG's P220 Carry SAO may give many the impetuous for another attempt to find a single-action only .45 ACP for concealed carry.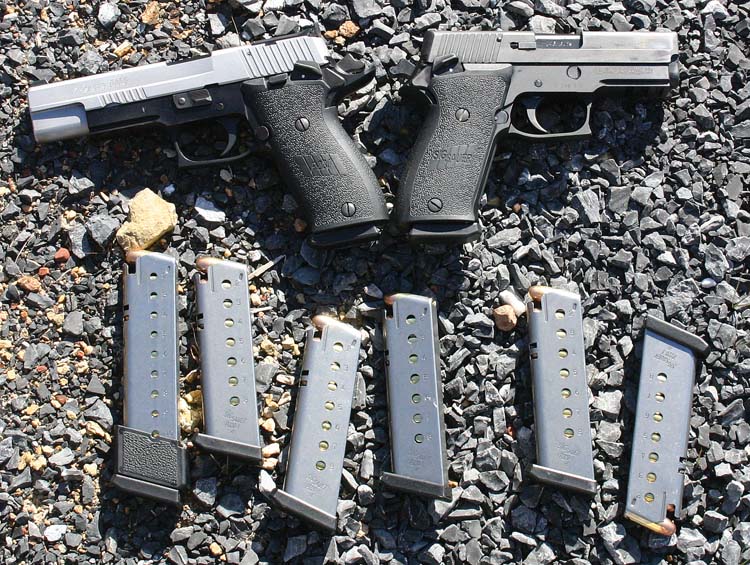 The aluminum frame and 3.9 inch barrel of the P220 Carry SAO translates into it weighing only 30 ounces making it very do able for inside-the-waistband carry if a user desires. Full size 1911s often weigh several ounces more than this and no one will contend this weight prohibits consideration for everyday carry if a person wishes. The P220 Carry SAO's low profile design of the ambidextrous safety and slide lock levers minimize the chance of inadvertently engaging the levers when drawing the weapon or shooting under pressure. While the safety lever is located within natural thumb swipe distance, the slide lock sits further toward the rear of the frame compared to other weapons. This all but eliminates the chance of unintentionally engaging the slide lock during strings of fire as can happen when shooters rest their thumb on the lever with other designs. The slide lock should not be primary means of sending the slide forward after reloads anyway; a better method is to release the slide by pulling it back by hand and releasing after a fresh magazine is inserted. This simplifies reloading and malfunction drill manipulations. Another nod in the P220's more modern design is the SIG P220 Carry safety's ability to stay engaged while manipulating the slide. The P220 Carry SAO's does not have full-fledged beavertail grip which further aids in providing concealed carry qualities by reducing the overall length of the weapon. The SIG Sauer P220 Carry SAO comes standard with two 8-round magazines. However, 10-round magazines are readily available. SIG magazines are an often overlooked key component of SIG's legendary reputation for functioning in any imaginable environment.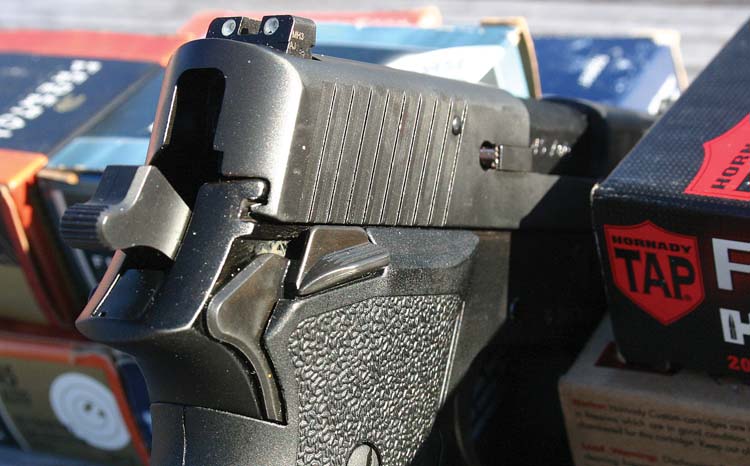 The P220 Carry's shorter barrel/slide is more compact than standard P220s which makes it easier to carry IWB while still maintaining an effective sight radius for accurate fire. The P220 Carry SAO can be equated to a Commander-length slide and provides the optimum mix of sight radius, concealment, balance, and reliability. The P220 Carry SAO measures 7.1 inches long, 5.5 inches high, and weighs 30 ounces. SIGLITE night sights compliment the P220 Carry's intended role as a concealed carry weapon. The gun's 3.9 inch cold hammer forged barrel and short reset single-action trigger combined with near perfect lock-up in the stainless steel slide insure maximum reliability and performance. The slide is finished in a durable Nitron finish and the aluminum frame is hard-coat anodized featuring a Picatinny rail dust cover for tactical versatility in the way of lights and laser target designators. SIG P220s are distinctive in appearance with slab sided slides fitted to the frame along full length rails ensuring smooth reliable operation.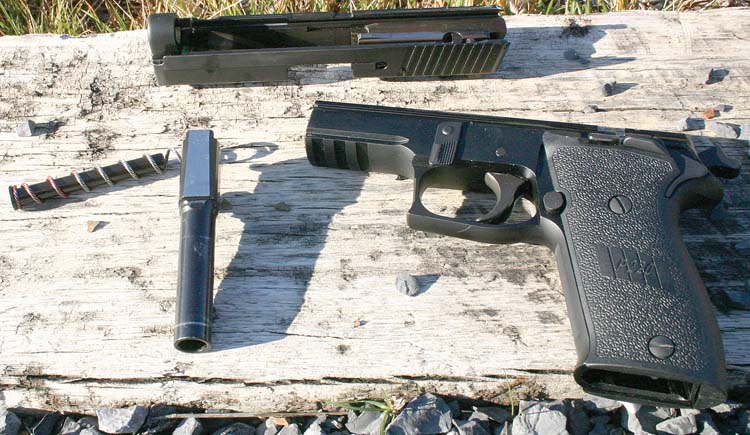 The SIG's single-action trigger pull measured 5 lbs. No weapon's reliability should be blindly trusted without confirming functioning, especially if used for personal defense. An assortment of both premium and target ammunition were fired thru the P220 Carry SAO to verify reliability. Hornady TAP-FPD +P 230gr, Federal Premium 230gr Hydra Shok and 185gr FMJ Semi-Wadcutter Match, Winchester 230gr PDX1 and 230gr FMJ, and Black Hills 230gr JHP and FMJ were tested. Firing was at a relatively steady pace with different shooters running the P220 Carry thru its paces on plate racks, dueling trees, and other drills. The P220 Carry SAO impressively handled all brands, bullet types, and weights with equal aplomb with one significant caveat.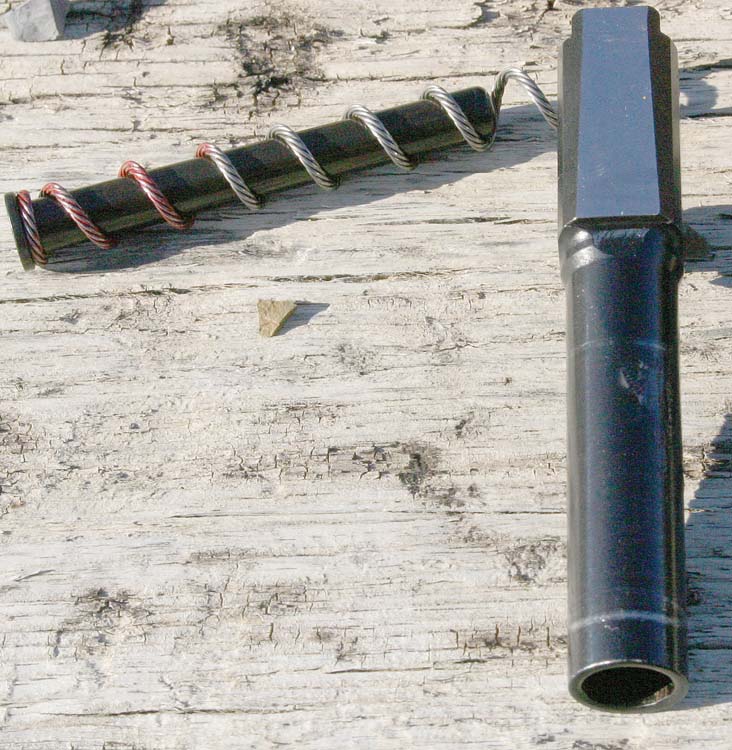 An interesting development discovered was the inability of P220 magazines accepting steel cased ammunition. This was inadvertently revealed when someone at the range offered a box of steel case .45 ACP ammunition for use. While it was possible to start loading a couple of steel case .45 ACP into a P220 magazine, inevitably the magazine's follower would hang up not allowing for the magazine to be fully loaded. This was a situation proofed with several 8-round and 10-round magazines on hand for this T&E. A discussion with a SIG Sauer representative shed no light as to the reasoning behind this. Prior, relatively extensive, experiences with other .45 ACP caliber weapons using steel case .45 ACP – Glock and/or various 1911 magazines – have never exhibited this problem. It is the opinion of this author that the increased frictional properties derived by the steel case .45 ACP compared to brass case .45 ACP, combined with the tight tolerances of the P220 magazines, prevented the steel case cartridges from stacking/traveling properly in P220 magazine bodies. It is not only friction between cartridges, but also with the steel cases contacting the P220 magazine's metal body; the resistance encountered proved too much for effective function of the P220 follower. As a side note, the few steel cased .45 ACPs that could be loaded into a P220 magazine fired and ejected with no issues as long as cartridges exhibited no abnormal characteristics while resting in the magazine. Some may find the exhibited inability to use steel case .45 ACP with the SIG P220 SAO as tested herein problematic; others will find this trivial and take comfort that brass cased .45 ACP functioned flawlessly no matter bullet profile or weight. Ultimately, this will be an individual decision.
The P220 Carry's ergonomics and handling characteristics are quickly appreciated and make a user understand why the P220 as a whole is well thought of. Even under the induced stress of drawing against a timer and engaging multiple targets, the manual safety was always positively disengaged. The full size grip frame and overall balance of the P220 Carry SAO made recoil no more of a factor versus a full size P220 and was in no way unmanageable. The reduced length and weight is far more beneficial for concealed carry. Significantly, no malfunctions were experienced while test firing over 700 rounds during range visits. It is not normal protocol to bench test handguns for accuracy due to reliability and quick engagement of targets being more paramount in a self defense handgun. A weapon like the P220 Carry SAO should be fired as it is designed to be used – standing without support and while moving to get off the X. This is the true measure of accuracy combining trigger pull, grip, and sights. However, it could not be resisted with the P220 Carry SAO due to the SIG reputation for accuracy and quality control. The SIG did not disappoint regularly producing 2-3 inch groups at 25 yards. This rivals full-size Match 1911s.
As mentioned earlier, positive experiences in terms of reliability with compact 1911 designs over the years have been lacking. The P220 Carry SAO attributes for accuracy and reliability due to SIG Sauer quality and similarity to a Commander-length slide make it an attractive alternative to any single-action 1911 connoisseur. The comparison to the classic 1911 is inevitable with the P220 Carry with its SAO trigger, similar size, and .45 ACP chambering. The single-action only trigger is a key component in this equation as it aids in rapid target engagement with a trigger pull just less than 5 pounds with minimal trigger reset. The slide/barrel combination contributes more mass, aiding in increased muzzle control for double taps or longer strings of fire. The ergonomics combined with the slide's track along the entire length of the frame during recoil and manageable .45 ACP muzzle signature allows for a very stable sight picture no matter how many or how rapid rounds are fired. The slight rearward frame protrusion guides one's hand to the optimum grip position during the draw stroke and aids in recoil management. It is not hard to fathom why some may consider the P220 Carry applicable to personal defense/tactical work.
T&E was conducted at Echo Valley Training Center, a private range located near Winchester, VA, where many local and federal law enforcement tactical team members train. It is difficult to convey how many shooters at the range perked up when first exposed to the SIG Sauer P220 Carry SAO. Many confessed ignorance that SIG even offered a single action only variant in the 220 series. Every time one of them got to handle and shoot the P220 Carry SOA, a convert was obtained. Their duty weapons span the gamut, including custom tuned 1911 pistols, but all appreciate what the P220 Carry SAO offers in terms of accuracy, reliability, handling, and lethality. Considering the SIG P220 Carry SAO primary role as a defensive handgun it was decided to evaluate it using several drills experienced in Roger Phillip's Suarez International Point Shooting Progressions course. To clarify, point shooting is not random, mindless firing from the hip substituting mass of fire for accuracy. Point shooting is "aimed" by means other than your sights. Other indexes are used such as the slide orientation below your line of sight, shoulder alignment, wrist cant, and forearm positions are all used as aiming references. Hand-eye coordination is a premium when using point shooting techniques. The natural point-ability of the SIG P220 Carry SAO comes into its own in this realm. A flash sight picture was used in a couple of drills before the handgun was brought even lower from the line of sight eventually ending up with elbow anchored in hip socket.
The gun disassembles quickly typical of SIGs via locking the slide open and rotating the takedown lever downward on the frame freeing the slide from the frame. The quality of fit and finish speaks volumes as to how the P220 Carry SAO obtains such levels of accuracy without having to resort to full blown hand tuning custom work. There are no tool marks evident and no lateral play in the slide's fit to the frame or barrel to slide. The barrel locks up tight when in battery. The P220 operates via Browning's locked breech short-recoil method. SIG slightly modifies Browning's design by moving the locking recess from the barrel; instead utilizing a single locking lug milled above the barrel's chamber using the slide's large overhead ejection port as its locking recess. The front contour of the barrel lug cam slot has been cut square to direct counter-recoiling forces up and forward into the barrel itself to reduce stress on the lug.
The fixed sights are typical three-dot type featuring tritium inserts providing a solid sight picture if in a hurry reacting to an adversary. This stems from more and more data showing defensive engagements happen in low-light conditions where the tritium sights are more conducive to accurate shot placement. The slide seemed to reciprocate on ball bearings it moved so smoothly with the sights tracking smoothly in between shots fired. Subsequent range visits have only reinforced these initial impressions.
One could argue the single-action only P220 product line is the natural evolution of the 1911 design and this gun is an obvious alternative to the 1911. The P220 Carry SAO is at a price point many custom tuned 1911 users can appreciate. 1911s capable of 2 inches at 25 yards accuracy combined with reliable functioning are available, but usually only after custom tweaking and price tags well over $2,000. P220 Carry's ergonomics make it natural to shoot accurately and instantly instills confidence with how it stacks hits on targets that result in jagged holes. The SIG Sauer P220 Carry had no issues performing straight out of the box. No 500-round "break-in" period was needed. The first range session consisted of over 300 rounds without cleaning or any extra lubricate.
The P220 Carry was tested in various holster designs from DeSantis and Galco. Flexibility is the key to effective carry practices with Inside-the-Waistband (IWB), belt slide, Side-of-Back, and shoulder holsters all a part of a concealed carry practitioners repertoire. The SIG P220 Carry SAO rode comfortably in a Galco Quick Slide or DeSantis Mini-Slide belt holster. Quality holsters, magazine carriers, and gun belts are not to be underestimated in importance either. Single stack SIG 8-round and 10-roundd magazines ride close to the body in Galco dual magazine carrier mounted on a Galco leather belt. Single stack magazines are much easier to conceal than their thicker double column brethren. The SIG did not feel out of place or uncomfortable in a DeSantis Scorpion or Galco Royal Guard IWB holsters when carried for lengthy stretches of time while going about daily business. The DeSantis Patriot shoulder holster is another carry option based on user preference and concealment parameters.
The P220 Carry easily fits the concealed carry, personal defense, and tactical roles. For example, the P220 Carry equipped with an Insight Technology M6 LED Light on its forward rail is as good a "nightstand" handgun as there is. The oversized trigger guard and reasonable 5 pound trigger pull make the P220 Carry SAO conducive to use as a defensive handgun. Size comparison of the P220 Carry SAO to the Commander-sized 1911 should quell any malcontent concerns in this matter thinking the SIG is too large. The SIG Sauer P220 Carry SAO is ideal for anyone wanting to capitalize on the SIG Sauer reputation for out of the box reliability and accuracy combined with single action trigger for utmost trigger control for precise shot placement.
SITES OF INTEREST
DeSantis Holster and Leather Goods
431 Bayview Ave
Amityville, NY 11701
800-424-1236
www.desantisholster.com
Galco International
2019 West Quail Ave
Phoenix, AZ 85027
800-874-2526
www.usgalco.com
Insight Technology
9 Akira Way
Londonderry, NH 03053
866-509-2040
www.InsightTechnology.com
SIG Sauer, Inc.
18 Industrial Drive
Exeter, NH 03833
603-772-2302
www.sigsauer.com
This article first appeared in Small Arms Review V14N11 (August 2011)