By Frank L. James
For many years, if not a couple of decades, I have been an active participant in full-auto submachine gun contests known simply as "Jungle Lane" competitions. If you have a copy of the March 1985 issue of FIREPOWER Magazine anywhere near, you will find a summarized description of mine on a contest held the year before by friend Dan Peterson, who had been sponsoring these events for several years.
Now however, I've found that the world of full-auto subguns has become the playground for the rich and well-funded, and in plain truth, I personally no longer find them to be the fun of days past. For one thing, it's hard for the common everyday shooter to engage in this summer pastime, simply because subguns have become so ridiculously expensive. This is obviously a result of the '86 Machine Gun Ban and the Economic Law of Supply and Demand.
Yet, silencers and suppressors, for the time being at least, remain the one NFA category that is still reasonably priced in terms of the budgets of the average shooting consumer. Granted, many states do not allow the civilian possession of these devices, but where they do, there is much to recommend their use.
Despite a common perception of criminal misuse, silencers and suppressors have attributes that will do much to upgrade the general image of shooters. The biggest and greatest benefit is the reduction of sound pollution.
In an effort to see if a set of rules could be devised for a silencer competition, I wrote the following rules for a contest that was held in April of 1997 at a range near Winamac, Indiana. I will again be sponsoring a similar match on March 29, 1998 at the same range.
Whether these rules are deemed applicable to the reader and his particular gun club will remain a personal decision, but many participants in this contest commented on just how enjoyable the first match was.
This happened not because of intense competition, but because the lack of sound made conversation easy and relaxed. There was no sudden flinching because someone forgot to mount their hearing protection before a 'Commence Fire' command was given. Shooters could speak and hear easily, and unlike most shooting contests they didn't have to yell at each other to be understood. (In my case however, some yelling is needed because I am partially deaf, as a result of years of shooting without hearing protection.)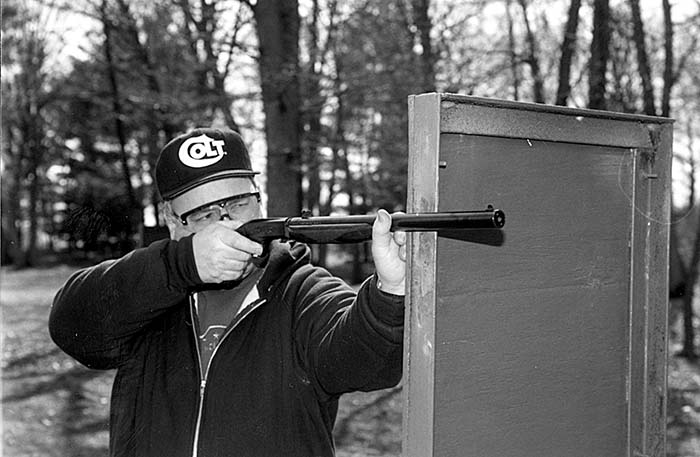 Some manufacturers will disagree with the format chosen because it was a multi-shot course of fire modeled after the Bianchi Cup pistol competition. Granted, this places greater emphasis on long round count sound suppression rather than on initial, first shot sound suppression. Some may argue this does not replicate real world needs. This is extremely intentional on my part.
My intent was NOT to build a test track for special ops weaponry. It was instead to build a venue, in terms of rules and competition format, for the average civilian-owned NFA registered sound suppressor. Military and police special ops weaponry doesn't require high-round-count reliability sound suppression. Civilian owned suppressors do.
In writing the rules for this competition I borrowed heavily from the rules for several established sport shooting venues, but the key focus was an attempt to achieve some sort of scoring parity between rimfire and centerfire suppressed firearms. The Power Factor classification is one product of this, as is the scoring methodology.
The Bianchi Cup 'Tombstone' target was selected as the target of choice. Basically, this target is a brown cardboard target that is 18" wide by 30" high with the top portion being rounded in a semi-circle. The center X-ring is 4 inches in diameter and the next outer ring is 8 inches in diameter. For scoring purposes, this ring encompasses what is labeled the A-zone. All power classifications are scored the same for A-zone hits, which is five points per hit.
The next scoring ring on the Bianchi Cup target is classified as the B-zone and it is 12 inches in diameter. For those shooting MAJOR power factor, a hit in this zone yields four points.
For those shooting MINOR power factor, the same hit yields three points, but for those shooting SUBMINOR any hit outside the A-zone scores Nothing. Zero. Nada. Zilch.
Hits outside this last ring are scored three points for MAJOR classification, and one point per hit for MINOR classification shooters.
Even though SubMinor shooters are only allowed A-zone hits for score, I discovered in my first match that the advantage lies with the rimfire-equipped shooters. Their guns and suppressors are lighter and recoil is significantly less. Additionally, suppressed rimfire firearms are far more accurate than most of us realize, even in the long-range stages.
Therefore for 1998, the SubMinor rimfire shooters will shoot a reduced A-zone, 6 inches in diameter, while centerfire Subminor shooters will shoot the full size 8 inches diameter.
Having said this, I am more than aware that much fine tuning of the rules may still remain in order to achieve scoring parity between rimfire and centerfire suppressed firearms. The balance between the two remains elusive at this point in time.
THE RULES FOR THE SILENCER & SUPPRESSOR SHOOTING MATCH
GOALS:
To establish a firearms competition venue for shooters owning or possessing legal silencer and suppressor-equipped firearms, as prescribed by BATF rules and regulations.
All Silencer and Suppressor Matches should adhere to the following guidelines:
1) Promote the safe and proficient use of legal sound-dampened or sound muffled guns and equipment.
2) Offer a competition forum in those areas where these firearms are legal and permitted in order to demonstrate the practical advantages and benefits of sound suppressed firearms.
PRINCIPLES:
Accuracy, power and speed are key elements in evaluating any self-defense or hunting firearm. These same three elements will be used in establishing a competition venue for silencer or suppressor-equipped firearms. Recognition must be given to the popular use of small-caliber suppressed firearms, hence the need for scoring and power parity between rimfire and centerfire-suppressed firearms used in the same competitive venue.
EQUIPMENT:
Any firearm equipped with a legal, BATF-registered silencer or suppressor is eligible for competition. This includes: legally registered suppressed handguns, legally registered, suppressed submachine guns, legally registered suppressed semi-auto carbines and rifles, and legally registered suppressed shotguns.
NOTE: There is no prohibition on full-auto fire if the firearm in question is properly registered as a machine gun with the BATF.
DEFINITION OF A SILENCER OR SUPPRESSOR:
Any device registered as a silencer or suppressor by the BATF meets this requirement. Any non-registered device IS NOT a silencer by definition and therefore ineligible. The Chief Range Officer reserves the right to examine the competitor's original registration or tax stamp papers if a question is raised as to the legality of any competitor's device.
SPIRIT OF THE COMPETITION:
Any device that was registered by a Class II Mfr as a silencer or suppressor, but was in the opinion of the range officers an attempt to gain a competitive advantage and not a true attempt to lower the muzzle signature of the firearm is ineligible and outside the spirit of the competition.
Example: someone mounts a ported compensator on a .45 Auto pistol and registers it as a suppressor to gain a competitive advantage — This will not be allowed.
DIVISIONS OF COMPETITION:
There will be two divisions; one for handguns equipped with suppressors, and a second for long guns equipped with silencers or suppressors.
*** Those shooters competing in the handgun division must use a suppressor equipped handgun in all stages to qualify for the handgun division. Handguns are defined as any firearm originally designed by the manufacturer to be fired with one hand, commonly classified by the BATF as a handgun, and lacking a shoulder stock or a vertical foregrip.
*** Any suppressor equipped firearm with a shoulder stock and/or two vertical pistol grips (this also includes muzzle mounted cloth straps to aid in control of the firearm) shall by definition be considered a long gun.
SUBSONIC RULE: ALL AMMUNITION MUST BE SUBSONIC!
No competitor will be allowed to use ammunition that breaks the speed of sound. If the ammunition makes super sonic bullet noise, that competitor shall have his target score on the stage of fire the ammo went supersonic cut by half, or receive twice the allowable match penalties. He may even be disqualified at the discretion of the stage range officer. The stage range officer has the discretion to determine the proper punishment.
Competitors loading supersonic ammunition in their suppressed firearms must be certain that the firearm is capable of lowering the fired projectile to a velocity below the speed of sound.
Competitors handloading subsonic ammunition are reminded that ammunition will change velocity due to changes in elevation, temperature and humidity. What was absolutely soundless on a hot July day will often come near a ballistic crack on a cold winter day or vise versa. Penalties will be assessed if the ammunition makes noise in flight.
In the event of a protest over the possible use of supersonic ammunition: the Chief Range Officer shall chronograph five rounds of the offending ammunition through the competitor's gun. If the average velocity for five rounds averages 1,075 feet per second or greater, that ammunition shall be considered supersonic for match purposes, and an appropriate penalty will be issued.
POWER FACTORS:
Power is an equal element when compared with speed and accuracy, but many suppressed or silenced firearms are chambered in .22 rimfire calibers, chambering not noted for its stopping power.
Therefore in an effort to equalize the situation in order that rimfire shooters may compete on a hopefully equal basis, the Power Factor is divided into three classifications: Major, Minor, and Subminor.
Ammunition rating a MAJOR POWER factor will have a projectile weight of at least 200.0 grains.
Ammunition rating a MINOR POWER FACTOR will have a projectile weight between 100.0 grains and 199.9 grains.
Ammunition with a projectile weight of less than 100.0 grains will be scored as SUBMINOR POWER FACTOR.
SCORING OF PAPER TARGETS
Using paper targets with at least A, B, and C scoring rings;
– MAJOR POWER FACTOR WILL BE SCORED WITH HITS IN THE A ZONE AS FIVE POINTS, B ZONE HITS WILL BE FOUR POINTS, AND C ZONE HITS WILL BE THREE POINTS. (D zone will be scored the same as C zone.)
– MINOR POWER FACTOR WILL BE SCORED WITH HITS IN THE A ZONE AS FIVE POINTS, B ZONE HITS SCORED AS THREE POINTS, AND C AND D ZONE HITS WILL BE SCORED AS ONE POINT.
– SUBMINOR POWER FACTOR WILL SCORE ONLY THOSE HITS IN THE A ZONE, with five points scored for each strike. All other hits will be ignored for scoring purposes.
MULTIPLE FIREARMS:
(The Gun Bearer Rule)
Because a diverse format is encouraged, multiple firearms may be employed with the following proviso:
EVERY COMPETITOR MUST CARRY ON HIS PERSON AT ALL TIMES ALL FIREARMS USED IN EACH AND EVERY STAGE OF THE COMPETITION! BUT, FOR PURPOSES OF SAFETY ONLY ONE GUN CAN BE USED IN A STAGE AND ONLY ONE FIREARM MAY BE LOADED DURING ANY STAGE OF FIRE.
To explain in an example; a course of fire may entail a Bianchi style multiple barricade event that would favor the use of a handgun or short carbine, while later in the same match a series of targets at distances greater than 100 yards would be engaged. It is allowable to use a handgun or submachine gun on the barricade stage and a suppressed rifle on the long range event, but DURING BOTH STAGES THE COMPETITOR IS REQUIRED TO HAVE ALL FIREARMS SLUNG OR HOLSTERED ON HIS PERSON DURING EACH AND EVERY STAGE OF COMPETITION IN THE MATCH. However, he will still be classified as a Long Gun competitor, if he uses the long gun on any stage.
** THOSE FIREARMS NOT BEING EMPLOYED ON A PARTICULAR STAGE WILL HAVE THEIR CHAMBERS EMPTY AND THEIR MAGAZINES OUT, but they must be carried throughout the competition. Otherwise all other range rules apply; Cold Range, etc.
** THERE IS NO LIMIT ON THE NUMBER OF SUPPRESSED OR SILENCED FIREARMS THAT CAN BE USED IN ANY CONTEST, but failure to carry any one of these guns at ANY PART OF ANY STAGE is an automatic Match Disqualification.
** TO REMAIN CLASSIFIED AS A HANDGUN COMPETITOR ALL THE FIREARMS USED IN COMPETITION MUST BE HANDGUNS. IF THE COMPETITOR EMPLOYS A LONG GUN ON A SINGLE STAGE, THEN HE WILL BE SCORED AS A LONG GUN COMPETITOR.
The first match run under these rules was a modest success, if any reader or group of readers uses these rules for their own match, the author would enjoy hearing your own comments and observations. Please write to Frank W. James, c/o Small Arms Review.
This article first appeared in Small Arms Review V1N7 (April 1998)