By Todd Burgreen
Smith & Wesson has reacted to two powerful market forces with its latest offering – the M&P15-22. Without getting into a policy debate, the AR-15 is the best selling rifle model in America. This stems from its capabilities and versatility mixed with present political climate. Along these same lines ammunition costs have spiked dramatically. Many are searching for ways to maintain or increase proficiency without having to spend disproportionate amounts of their individual budgets on ammunition. The idea of shooting a .22 LR out of an AR is not a new concept; various kits have been on the market allowing users to substitute bolt carriers into their AR and benefit from firing the inexpensive .22 LR in full-size ARs for training purposes without having to invest in a new rifle. While useful, these kits often suffer from poor reliability and substandard accuracy. Anytime you adapt something to work in another platform not originally designed for it, reliability can suffer. 5.56MM/.223Rem barrels are slightly overbore for a .22 LR, which negatively impacts accuracy. Barrels designed for .22 LR typically have a diameter of .220-.221, whereas a 5.56mm/.223Rem barrel feature .224. An adapted AR utilizing a .22 LR needs to be cleaned thoroughly before resuming use in its original 5.56/.223 role. This is due to lead build up in the barrel and gas tube. Other manufactures have gotten around this by introducing complete uppers chambered for 22LR that can fit on a shooters existing lower. Prices for these dedicated uppers often rival complete new rifles, which impacts popularity. S&W is not the only recent entrant into the AR .22 LR market with both Colt and SIG Sauer having models. However, the S&W M&P15-22 is not only the less expensive variant, but better replicates the control layout of the AR-15.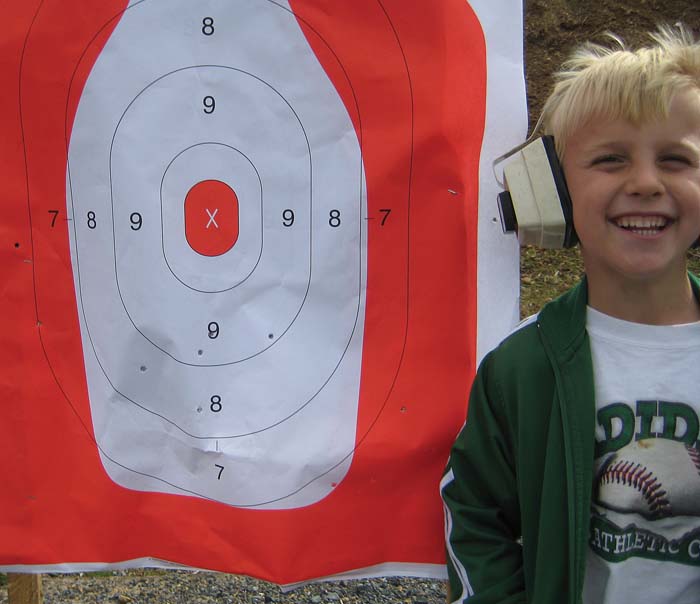 S&W has brought something original to the table in the form of the M&P15-22 by utilizing a polymer material upper, lower, and forend rail to achieve cost effectiveness in a design that began from the ground up to accommodate the .22 LR in a frame simulating a full-size AR. Importantly, S&W kept AR controls such as safety, charging handle, magazine release, and bolt release levers in the same place as 5.56/.223 chambered rifles. The 16 inch barrel has 1:15 twist and the M&P15-22 weighs approximately 5 pounds. The six-position stock fully extended gives a length of 34 inches and collapsed 31 inches. Any "purists" who have issue with durability of polymer would do well to remember that the same type of negativity was leveled at the appearance of the first Glock pistols.
Features that make the AR-15 popular are present on the S&W M&P15-22 as well; such as full-length quad rail for adding a multitude of accessories including forward pistol grips, laser designators, bipods, and flashlights. One quick note here is that the polymer quad rail is not removable. The upper receiver is an A3 style "flat top" design, which allows users to easily mount sights of various styles or types. The M&P15-22 comes standard with detachable open sights that replicate the sight picture of standard AR-15s. These were used for initial testing before succumbing to the temptation of mounting everything from a Trijicon Reflex, 5.5 ACOG, and ATN Ultra Digital red-dot sight. The polymer construction in no way compromises the ability to mount 1913 Mil-Std accessories on either the quad rail or flat top receiver. The Picatinny rail is convenient for switching between sights without having to purchase extra sets of ring/bases. The AR's popularity ensures plenty of sights are on the market ready for use with the M&P15-22.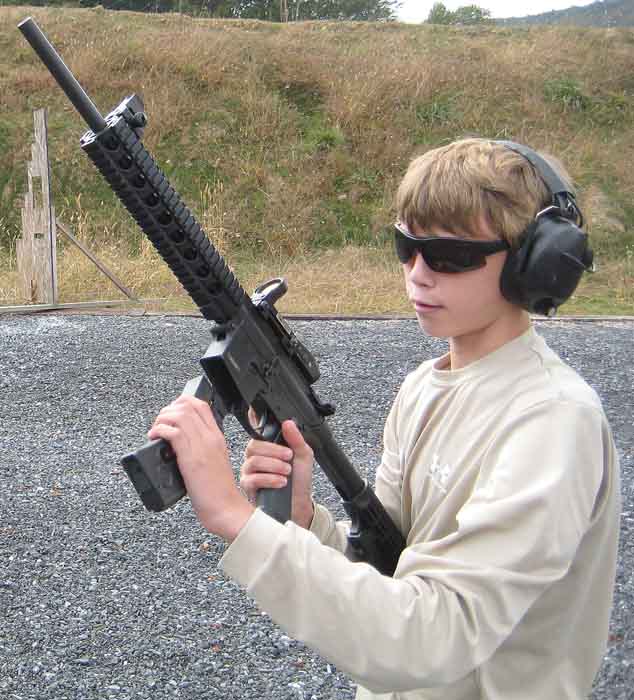 While the lower's polymer construction does not allow for the replacing of the buffer tube, S&W has still designed the M&P15-22 to accept buttstock styles of shooters choice. The six-position collapsible stock that comes standard is handy, especially if younger shooters are using the rifle. Its adjustability allows for length of pull to fit smaller frame shooters. All of this allows a shooter to recreate their primary ARs set-up on the M&P15-22 if so desired for training familiarity purposes comparable to a centerfire weapon. Many may not go to this trouble and allow M&P15-22 to stand alone as a .22 LR. S&W's attention to detail in terms of this extends to the M&P15-22 magazine design. The 25-round magazine is of similar dimensions to standard AR-15 30-round magazines. This further duplicates the similarity of handling and manual of arms between the .22 LR and centerfire variants. The same web gear and magazine pouches utilized for AR-15 magazines will work for the M&P15-22 magazine.
S&W equips the M&P15-22 with an AR-type of trigger that can be retrofitted with any of the aftermarket "drop in" types on the market. Again, this is a nod to the design concept of replicating the AR platform feel in the .22 LR offering. The M&P15-22 breaks down similar to the AR-15 with the only difference being the bolt assembly is a one-piece affair versus the bolt carrier group on a centerfire variant AR-15 and the charging handle is made from polymer material similar to the rifle's construction. The M&P .22 LR is a straight blow-back action and not gas operated. The only questioning observation I have with the M&P15-22 is why the muzzle is not threaded and equipped with an AR style muzzle brake or flash hider of some type. This would not only follow the "duplicate" AR theme, but enable shooters to mount a suppressor on the M&P15-22 if so desired. This is an increasingly popular Class III application.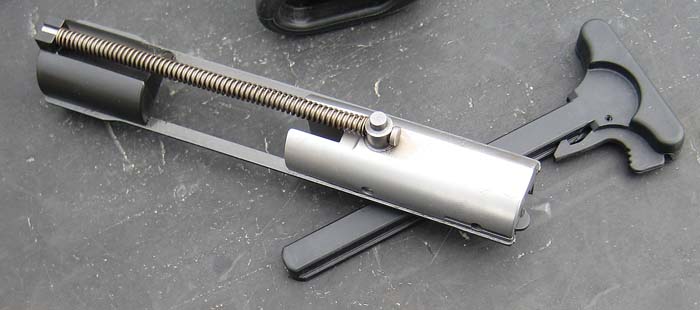 Range visits further sealed the original good impression of the M&P15-22. The S&W M&P15-22 does everything a .22 LR should do such as providing solid accuracy and reliable semiautomatic shooting for enhancing marksmanship capabilities in shooters of all skill levels. S&W takes this one step further with the M&P15-22 due to being able to serve as an understudy to its centerfire AR-15 brethren. The range of .22 LR allows for effective target engagement out to 100 yards before the ballistic gods swat it out of the air. This is more than enough for users with open sights or non-magnified aiming devices to not feel handicapped in typical training scenarios.
Range test and evaluation consisted of normal firing from bench for accuracy assessment of Winchester, Wolf, Remington, and CCI .22 LR loads. The Trijicon 5.5 ACOG was used for this due to magnification. Groups at 25 and 50 yards were in the sub-MOA range, which is more than accurate enough for a rifle meant to be shot from standing, kneeling, or similar shooting positions away from the bench. After accuracy benchmark was established, a Trijicon Reflex and ATN Ultra Digital sight were installed for further range evaluation. Courses of fire were set up similar to what are used for centerfire training involving multiple steel targets and magazine changes while moving between cover positions. The M&P15-22 performed well though it took some time get used to the lack of muzzle blast while moving through the courses of fire. This is the real advantage of .22 LR, even more so with a weapon that mirrors ones primary battle rifle in terms of feel and controls. Muzzle blast and recoil often masks flaws in marksmanship principals. There are no excuses to miss steel poppers under 50 yards away. If you are missing, it is time to slow down and re-evaluate. Here the advantage of being able to fire hundreds and even thousands of rounds of .22 LR for significantly less than the cheapest centerfire surplus ammunition becomes evident.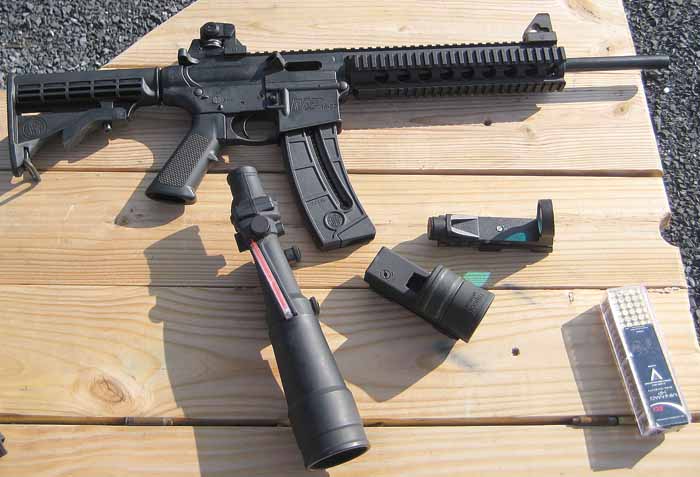 The .22 LR M&P15-22 can fall in line with the traditional .22 LR role of introducing new shooters to the sport. Trigger control and steady hold can be perfected with minimal recoil and blast. Proper sight alignment and trigger control is easy to self diagnose. The economic advantages of the .22 LR are here again a major plus: inexperienced shooters can afford to practice much longer. The ATN Ultra Digital sight aided in getting aiming concepts across to my young son who could relate to seeing the red holographic dot versus eye relief issues of a scope or having to combine front and rear sight relation typical of open sights. The Trijicon Reflex offers the same characteristics but could be considered a little "salty" for setting up a .22 LR for an inexperienced shooter to get trigger time with. The M&P15-22 has the added benefit of training shooters of all skill levels in manipulation techniques of an AR. Along these same lines experienced shooters gain from training with M&P15-22 without having to deal with blast and recoil of centerfire AR as well as reinforcing muscle memory for instinctive operation.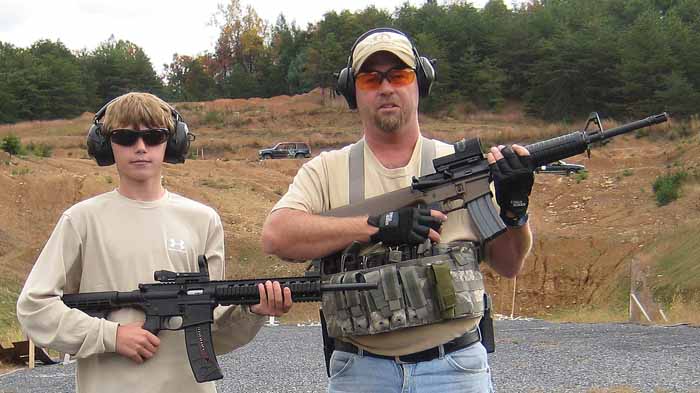 Smith & Wesson
2100 Roosevelt Ave
Springfield, MA 01104
(800) 331-0852
www.smith-wesson.com
American Technologies
Network Corp, Inc. (ATN)
1341 San Mateo Ave
S. San Francisco, CA 94080
(800) 910-2862
www.atncorp.com
Trijicon Inc.
49385 Shafer Ave
PO Box 930059
Wixom, MI 48393
(248) 960-7700
www.trijicon.com
This article first appeared in Small Arms Review V13N8 (May 2010)