By Chris A. Choat
Smith & Wesson has been one of the last of the major "old" companies to jump on the "black rifle" bandwagon. But jump on it they have and in a big way. It now catalogs a full line of AR-15 style rifles of various configurations which carry the M&P (military and police) 15 model designations. The newest is their M&P15R, which is an M4 style carbine in 5.45×39 caliber. One may ask why this little known Russian caliber and the answer is simple: economics. At the time of this writing .223 or 5.56 NATO ammunition is very hard to get and if you can get it it's very pricey making any kind of shooting very hard on the wallet. For aficionados of black rifles, Smith and Wesson has come to the rescue with the M&P15R as current price for 5.45×39 ammunition is around half of what .223 can be had for.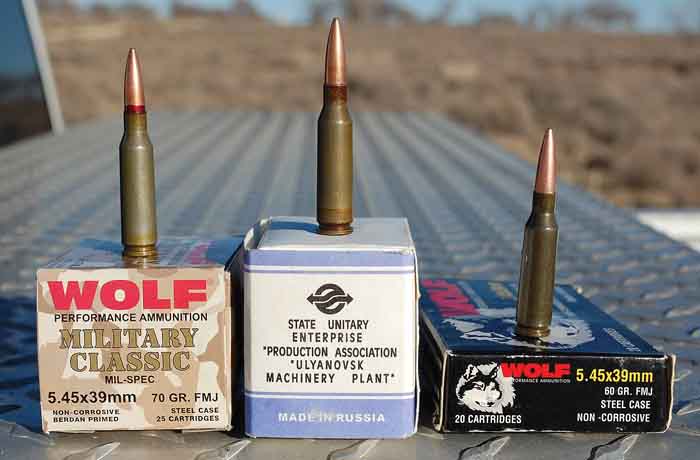 5.45×39 Ammunition
This Russian round has been highly overlooked until recently. That was because up until about 2 years ago there was hardly any of this ammunition, or rifles to shoot it, available in this country. The 5.45×39 mm round was put into service as far back as 1974 replacing the 7.62×39 round. It is said that the Russian military was looking for a low recoil round that was lighter to carry as well as being more controllable to shoot. The military ball round designated the 5N7 (50 grain) has a full metal jacketed bullet with a soft steel core. This round has a sizzling velocity of around 3,000 feet per second. There is a hollow space ahead of the core which allows the bullet point to flatten when it hits something and induces yaw causing it to tumble. This in turn causes increased wounding potential. In 1987 the round underwent a design change and the soft core was replaced with a hardened steel core. This was essentially a way to overcome advances in ballistic vests. The new rounds were designated the 7N6 (53 grain). These rounds were used extensively in Afghanistan by the Soviet army. The Afghans called the round the "Poison Bullet" because of its effectiveness. In 1992 the size of the steel penetrator was increased and was then called the 7N10 (56 grain) that was said to have even more improved penetration. In 1998 again a new design was fielded called the 7N22 (57 grain), a true armor piercing bullet with a sharp steel penetrator made of a special hardened steel and a soft lead plug at the bullet's nose. This soft nose caused the bullet to shed its jacket upon striking the target. The newest design is now called the 7N24 (62 grain) and comes with a so-called super armor piercing bullet with a penetrator made of tungsten carbide. This round is produced only in limited quantities due to the higher cost involved to manufacture. One other round is available in the 5.45×39 series. It is designated the 7U1 and features a 79 grain bullet designed for use in suppressed guns. All types of surplus 5.45×39 ammunition feature Berdan primed steel cases with a sealant on the case mouth. Most all of the ammunition available in the U.S. is military surplus but Wolf Ammunition now produces a couple of commercial loads. One features a 60 grain FMJBT bullet driven at an advertised velocity of 2,886 fps housed in a lacquered steel case. The other is from their Military Classic line and features a 70 grain FMJ bullet at 2,460 fps. Regardless of the type of ammunition the 5.45×39 round is fast and hits extremely hard.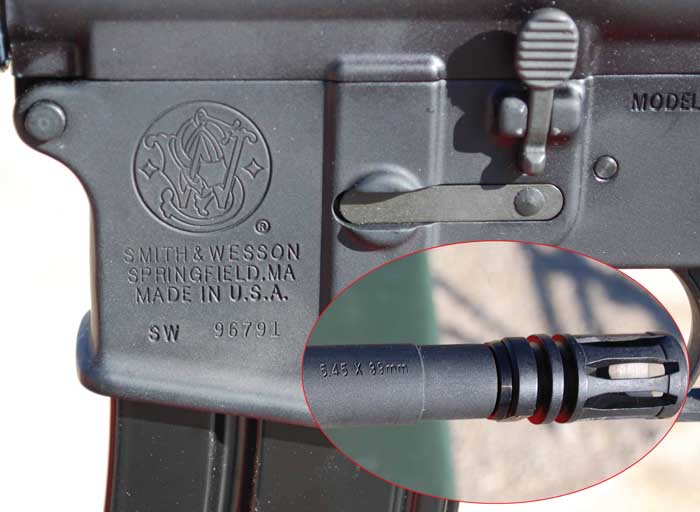 Smith & Wesson M&P15R
The gas-operated M&P15R is available in either a complete rifle or entire upper receiver ready to drop onto your existing lower. The rifle comes in an A4 carbine version with a 16-inch chrome lined barrel with an M4 profile and a flat top upper. The barrel features a 1 in 8 right hand twist with 4 grooves. The chamber, bolt carrier and gas key are also chromed. The handguards that come on the rifle are the skinny CAR style; not the larger M4 style although they do have metal liners. The rifle is shipped with a standard AR front sight post with bayonet lug and no rear sight of any kind. This way with the flat-top upper you can equip it with the rear sight of your choice, optics or both. Other features of the new rifle are pretty much standard fare: a 6-position collapsible carbine stock (with S&W logo) and an A2 pistol grip. The business end features an A2 five-slot flash hider and the barrel is threaded 1/2×28, which is the standard for .223 AR rifles. This allows the shooter to use any AR-15 style muzzle device including quick detach suppressor couplers. The upper and lower receivers are 7075 T6 aluminum made for Smith & Wesson by a private contractor. The rifles are all assembled by S&W in their own factory so they can maintain quality control and, as a nice touch, are shipped in a plastic hard case. Each rifle comes with one 30-round magazine. The upper receiver kit also comes with one 30-round magazine, bolt and carrier but does not come with a charging handle.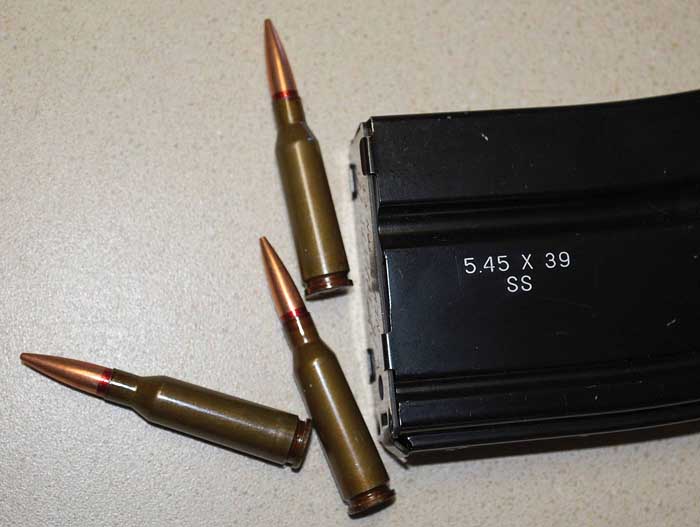 Magazines
The magazine supplied with the M&P rifle is first rate and is made by C-Products. These are not just 5.56 magazines with different followers. C-Products magazines utilize a stainless steel body, anti-tilt follower, chrome silicon spring and have a "Mar-Lube" finish. They offer improved reliability, better durability and less maintenance than standard USGI aluminum magazines. The magazine body and floor plate are made from 400-series stainless steel that is heat treated to a Rc38 level of hardness. The chrome silicon spring will not take a set even if left compressed for extended periods and the anti-tilt follower makes jamming almost an impossibility. The magazine for the 5.45×39 round is specially designed for that round – it is not just a revamped 5.56 magazine. The magazine body features a special rib configuration that allows the 5.45×39 round to feed flawlessly. The follower was also designed specifically for this round and the feed lips are also cut slightly different than 5.56 magazines. During our test, standard aluminum AR-15 magazines were also tried. While they did feed and function just fine, Smith & Wesson recommends using the C-Products 5.45×39 magazines for the utmost in reliability.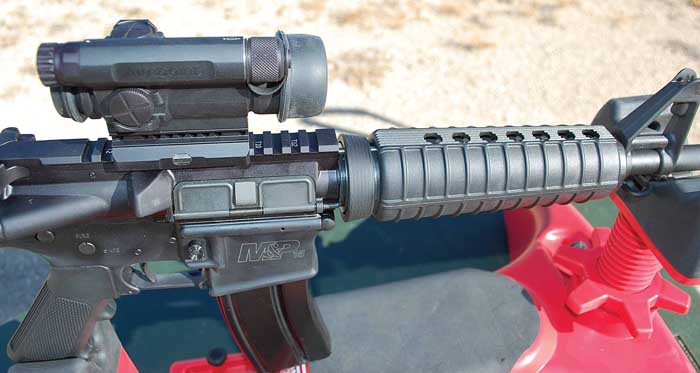 Testing
The test rifle was equipped with an Aimpoint CompM4 optic for initial testing. The optic offers Mil-Spec durability and battery life in a top-of-the-line red dot scope. Test firing was done at 100 yards with Wolf 60 grain FMJ, Wolf Military Classic 70 grain FMJ and Russian surplus 60 grain FMJ loads. Five shot groups averaged around 3 inches with all ammunition used. The Wolf 60 grain load was the hottest passing through the chronograph screens at 3,026 feet per second. The 70 grain loadings were clocked at 2,557 fps. Switching to a magnified crosshair type scope shrank the group sizes dramatically. The best group was shot with the Wolf Military Classic70 grain load with 5 shots being able to be covered by a quarter. The S&W M&P15R owes its accuracy to the tighter bore of the barrel. The barrels of the M&P15R guns were designed and made especially for the 5.45 X 39 round. They feature a bore diameter of .217 and a groove diameter of .222. This is not the case with some of the other companies that are manufacturing uppers or complete guns in this caliber. Often times the barrels on these other guns actually are just 5.56×45 (.223) barrels with 5.45×39 chambers.
During the first day of testing, over 300 rounds were fired through the gun. All rounds fed and fired flawlessly with not a single failure. The gun is a smooth firing machine that always goes bang when you pull the trigger. An interesting thing surfaced during the test. All shooters who fired the gun agree that it "feels" as though the gun has a slightly sharper recoil than the same gun in 5.56 caliber. The felt recoil from the M&P15R also seemed a little more pronounced than the author's Polish Tantal. This could be attributed to overall weight of both weapons. Don't get me wrong, recoil of this round in this type of rifle is virtually non-existent. But after firing literally 10's of thousands of 5.56 through AR-15s there was definitely a different feel to this rifle. At the time of this writing with well over 600 rounds fired, we still have not had any failures. This gun runs perfectly. As a side note for our machine gun fans, the upper receiver was removed from the Smith and Wesson lower and placed on one of the author's select fire lowers. The semi-auto bolt carrier was then replaced with a full-auto carrier and around 300 rounds were fired in the full auto mode – also without any glitches.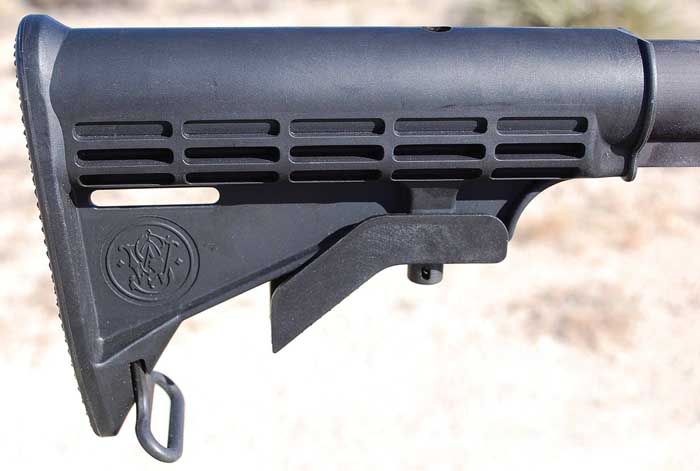 Conclusion
The Smith & Wesson M&P15R is not only a very good looking gun, the upper to lower fit is excellent making the two pieces look like they were machined together – as is typical of all Smith & Wesson firearms. The overall finish is hard coat black anodized and everything matches perfectly. The flat-top upper has etched T-slot numbers for indexing optics at the same place. The rifles receiver is marked with the Smith & Wesson and M&P15 logos and serial number but no calibers markings. The barrel is stamped 5.45×39 mm just behind the flash hider on the top side. Best of all, it's available in a caliber that is plentiful and relatively, at least for now, inexpensive. What more could you want in a rifle?
Model: M&P15R
Caliber: 5.45x39mm
Capacity: 30 rounds
Action: Semi-auto
Barrel length: 16 inches
Barrel twist: 1 in 8 inches
Front sight: M4 post
Overall length: 35 inches extended, 32 inches collapsed
Stock: 6-position collapsible
Weight: 6.5 pounds.
Barrel material: 4140 steel
Receiver material: 7075 T6 aluminum
Finish: Hard coat black anodized
Chromed comp: Barrel bore, gas key, bolt carrier and chamber
MSRP: $1,225
Smith & Wesson
Springfield, MA 01104
Phone: (413) 781-8300
Website: www.smith-wesson.com
Wolf Performance Ammunition
Las Vegas, Nevada 89119
Phone: (703) 837-5825
Website: www.wolfammo.com
C-Products LLC
Newington, CT 06111
Phone: (941) 776-8192
Website: www.cproductsllc.com
Aimpoint, Inc.
Chantilly, VA 20151
Phone: (703) 263-9795
Website: wwwaimpoint.com
This article first appeared in Small Arms Review V13N3 (December 2009)