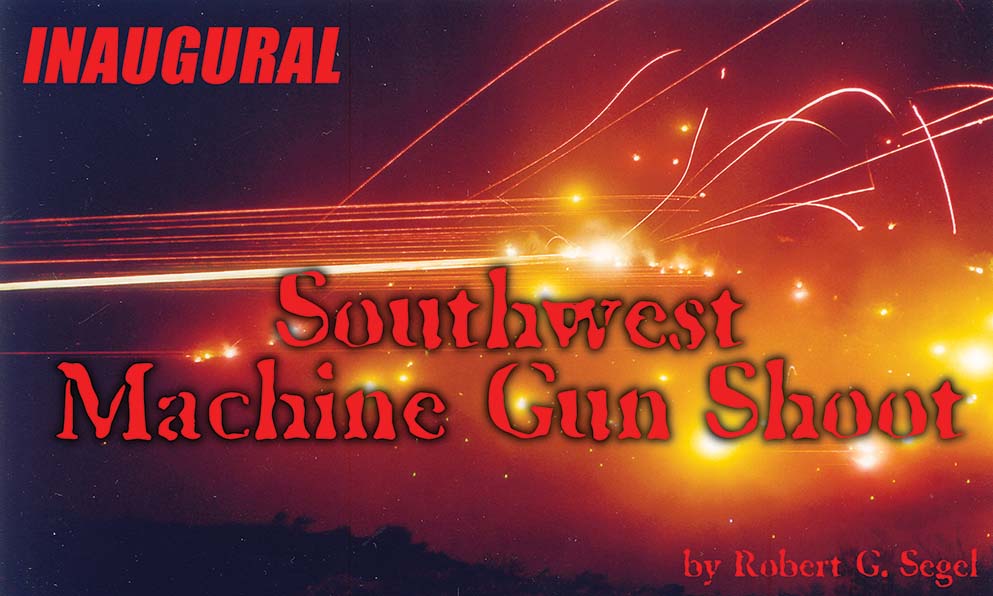 By Robert G. Segel
The nation's newest machine gun range and shoot opened with rousing success on October 15-17, 2004 at the Big Sandy range located near the small town of Wikieup, Arizona – about 42 miles from Kingman. Conveniently located just a couple of hours from Phoenix and Las Vegas, this new machine gun range is the result of years of effort by Kenton Tucker and Ed Hope.
What makes this range different from any other machine gun range in the country is that it is a dedicated range for Class III weapons. While other shoots have targets placed out at about 100-200 yards with the object of perforating cars, washing machines and hot water heaters, it is not a true test of the capabilities of belt-fed heavy machine guns or anti-tank pieces. This location provides the serious shooter/collector with the opportunity to see not only what their weapons are capable of at long ranges, but also what the shooter is capable of when firing at long distances at targets placed 200 to 1,200 yards out, both above and below horizontal line of fire. As hunters know, targets that are up or down hill require different sighting techniques other than if the target is on a horizontal plane. This also replicates the reality of combat terrain, which is never just perfectly flat. There are no cars, boats or washing machines to shoot at. Instead, there are fifty barrels, forty-five steel plates and 1,100 reactive detonating targets. Additionally, they had thirty-eight radio controlled (RC) airplanes to test the skills of anti-aircraft fire. If you think trying to hit a jinking and jerking, climbing and diving RC airplane with a four-foot wingspan at 200 yards is easy; you have another think coming. The aircraft operating and maintenance crew did a magnificent job in retrieving and repairing the aircraft to keep the number of aerial targets available for the shooters constant. For the night shoots, the aircraft were fitted with light sticks.
Not newcomers to organizing machine gun shoots, Kenton and Ed operated the highly successful invitational Northern Arizona Machine Gun Shoot just outside Flagstaff, Arizona for twenty-five years. While that was an excellent isolated location, it was private land owned by the Babbitt Ranch and was surrounded by grazing land. As tenants, they were always at the whim of the landowners. Five years ago, Kenton and Ed began a search looking for the right piece of property they could buy to continue the tradition of an Arizona shoot without the threat of possible lease termination. After looking at various property prospects in a four state area, they finally found a parcel of 638 acres (approximately one square mile) in an area known as the Big Sandy that is surrounded on all four sides by undeveloped BLM (Bureau of Land Management) land with an extremely low population density. The terrain provided a long shooting range out to about 1,200 yards, appropriate for anti-tank, artillery and belt-fed type weapons. In addition to being isolated, it had the appropriate backstop allowing for aerial targets. They invited a small number of investors to join in and formed MG Shooters, LLC. The land was purchased in 2004 and their dream became a reality.
There were approximately 275 registered shooters participating in this inaugural shoot arriving from all over the United States including Alaska, Florida, Texas and Wisconsin. The five hundred-yard long firing line consisted of 150 ten-foot wide shooting positions giving plenty of elbowroom to all. With close to a thousand Class III weapons present representing several million dollars worth of arms and close to four million rounds expended, this is a shooter/collector's paradise. Weapons ranged from the classic World War I era water-cooled machine guns to modern automatic weapons found around the world today. Because the range is isolated and lengthy, mortar, anti-tank and artillery weapons made a good showing. Along the firing line could be seen 20mm Lahtis, 20mm Solothurns, two 25mm Puteauxs, two 37mm Bofors, a US 37mm M3, three 57mm M1 anti-tank guns, a 75mm Pack Howitzer and an 81mm mortar. Special anti-tank gun targets consisting of bigger and thicker steel plates were placed out 900-1,000 yards.
What would any machine gun shoot be without a night shoot? Under crystal clear evenings without a gunner's moon, with just the Milky Way and tens of thousands of twinkling stars; the illuminated reactive detonating targets and the aerial aircraft provided ample opportunity for copious amounts of satisfying tracer and incendiary fire. The long range laser-like light show is most gratifying whether as participant or observer.
This shoot is not just a shoot. It is a social happening for extremely dedicated shooters and collectors of the ever growing Class III world. Because the location is remote, camping is the rule. Tents, RVs, and campers allow an intimate and casual social atmosphere for like-minded people to relax when the shooting is done.
It should be noted that safety is paramount and is practiced religiously. Each day, all shooters are required to attend the morning safety meeting with a sticker applied to their shooter badge to denote attendance. If you do not have the sticker, you are not allowed on the firing line. Range officers are constantly patrolling up and down the line to assure safe conduct and operations. When the line goes cold, weapons must be cleared with top covers open and magazines and belts removed, and no one is allowed on the line. Period! If you need to retrieve something from your shooting spot, a range officer must accompany you. Failure to adhere to safety rules can result in revocation of your shooter's badge and you will be asked to leave.
Just for the fun of it, a number of run and shoot matches were organized. Matt Walker won the Thompson match, Joe Brennam won the M1 Garand match, Annette Moss won the belt-fed match, Fred Shroeder won BAR match and Craig Stull won the 40mm grenade launcher match. No trophies; just a T-shirt and the pride of being first. There were also suppressor demonstrations and a well attended self-help class on the .50 cal. M2 HB.
While Kenton Tucker and Ed Hope are the driving force behind this highly successful event, kudos must be directed to Julie Moser for attending to the details of a seamless operation for organization and registration. She even came up with the idea of establishing a raffle for the benefit of the Wikieup elementary school. Julie contacted the principal of the school to see if they would be interested in receiving the proceeds of the raffle from the shoot. The response from the principal was that they would indeed be delighted to accept the funds and, as far as the source of the funds was concerned, replied, "In Wikieup, guns are tools." As shooters registered, they could buy raffle tickets with the first place prize being one-half the accumulated pot, with the other half to go to the school. Second prize was the honor of firing the first shots to christen and officially open the range. A total of $620 in raffle rickets was sold. The Wikieup elementary school received $310 as a result of Julie's efforts with the first-prize winner, Jeff Kelly, taking home the other $310. The winner of the second prize was Theresa Orlowski. She chose an M-14 and was given the opportunity to fire up to three rounds at a special target bundle of eight reactive targets set out at 200 yards. She did not need three shots. She nailed the reactive target bundle on the first shot!
This is a well-run and organized shoot with over 25 employees working in specified rolls that include certified range officers, fire suppression personnel, medical technicians and explosive/ordnance experts.
As this is a new venture, what does the future hold for the Southwest Arizona Machine Gun Shoot? One of the key elements of this enterprise is that it will be operated as a business rather than as a "club," with the resulting objectives and responsibilities. Planned capital expenditures over the next several years include installing permanent toilet facilities, erection of a range tower, installation of a PA system, drilling a well, making road improvements and putting up signage. They plan to hold four major shoots a year with machine gun rentals to encourage spectator participation and will bring in food concessions and arms, ammo and parts vendors. They intend to initiate a marketing campaign to highlight this range as a dedicated machine gun and anti-tank facility, making it available for police and military training, military vehicle rallies, artillery shoots, .50 cal. shoots and other special functions. (Weddings are encouraged.)
This new operation has all the key elements to provide a successful outlet for the growing number of machine gun shooters and collectors. As the only dedicated range in the United States for civilian NFA arms, it provides a setting that is unique and tailored to Class III shooters. If you want to see what your belt-fed or anti-tank gun can really do, this is the place to be. If you want to associate with serious and dedicated shooters in a relaxed social atmosphere, this is the place to be. If you want to shoot up a washing machine, while fun and entertaining, there are other venues for that. We encourage the Class III community to experience and support this excellent site and wish MG Shooters, LLC all the best in their new undertaking.
For additional information as well as future shoot dates, they may be contacted at:
MG Shooters, LLC
P.O. Box 5672
Scottsdale, AZ 85261
(602) 327-7933
E-mail: Tuckercorp@cox.net
Website: www.MGShooters.com
This article first appeared in Small Arms Review V8N6 (March 2005)