By Todd Burgreen
The Springfield Armory XD handgun traces its heritage back to 1991 to the war-torn Balkan nation of Croatia. Initially, entry into the U.S. market was less than stellar via the HS2000 brand. In 2002, Springfield Armory had acquired the licensing rights to the design. Springfield Armory's tweaks helped turn around the model's reputation quickly. By 2006 the XD was winning multiple prestigious industry awards.
Like most modern handguns, the XD functions via short recoil-operated locked breech a la Browning's design with camming-cut below the barrel. This serves to unlock and lower the barrel during the recoil cycle. The XD has slightly modified Browning's design by removing the locking points located on the barrel in front of chamber. Instead, the XD utilizes a single locking lug milled above the barrel's chamber, thus using the slide's large overhead ejection port as its locking recess. The front contour of the barrel lug cam slot has been cut square to direct counter-recoiling forces up and forward, reducing stress on the lug.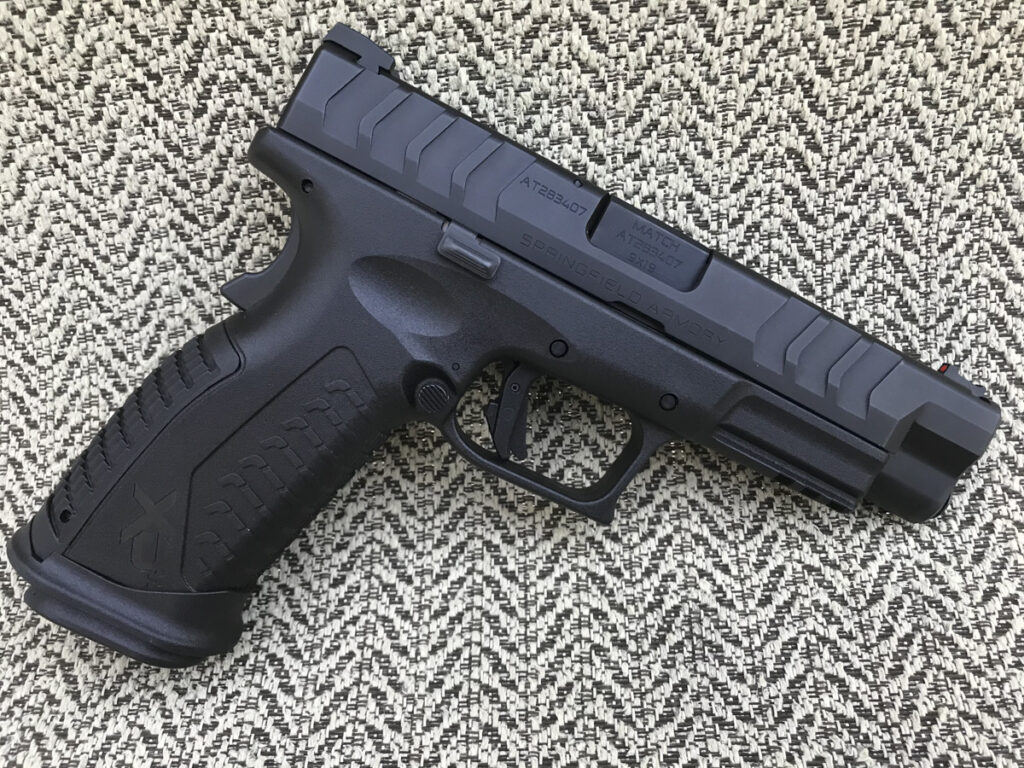 Evolution has been constant with the XD. Springfield Armory decided to update their XD handgun lineup via the XD-M Elite series. After all, it would smack as arrogant to assume that refinements would not benefit the user after years of being on the market. The XD has always attracted admirers thanks to its ergonomics. For example, its grip angle found favor with many who argue it offers a better natural point of aim than competitors, especially polymer ones from Austria. The XD-M Elite 4.5-inch barreled 9mm featured herein is the latest creation building upon customer feedback and manufacturing expertise. Thankfully, Springfield Armory maintained the grip angle with the XD-M Elite model. Instead, they focused their attention on other aspects of the design, such as the trigger, magazine well, undercut trigger guard, enhanced slide serrations, extended beavertail, and sights.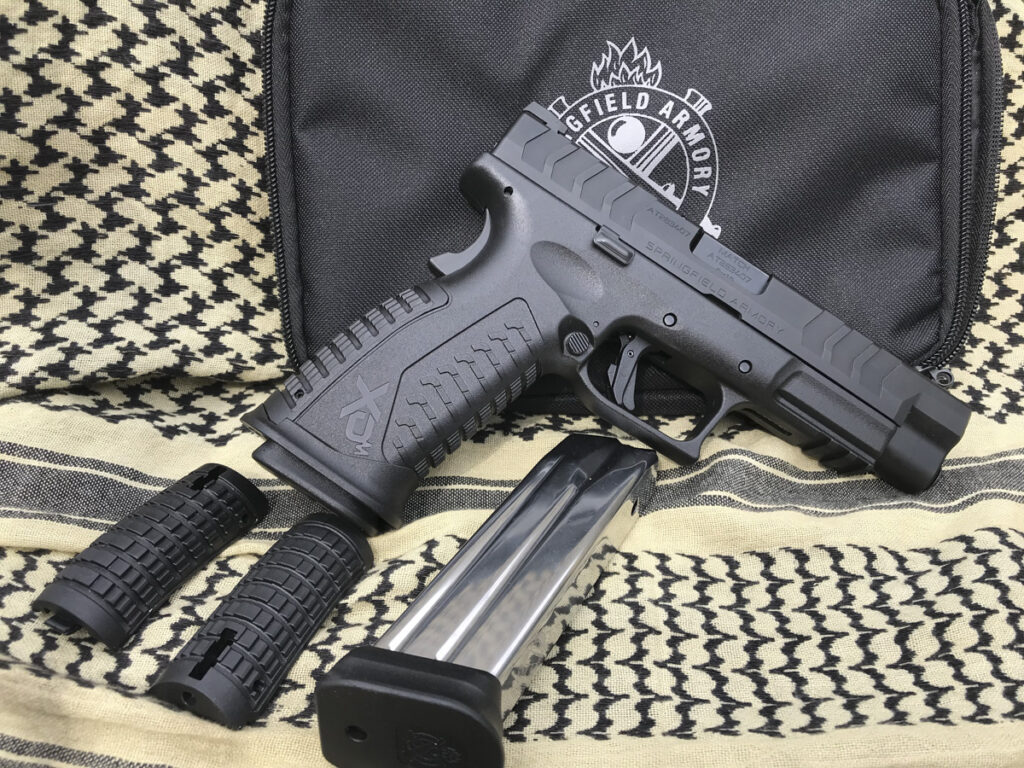 The XD-M Elite 4.5-inch modifications consist of a capacity increase, a new magazine well, slide serrations, an ambidextrous slide stop, a more prominent grip safety with memory bump and, most importantly, a trigger upgrade. The XD-M Elite has a reinforced polymer frame and steel slide with a significant design emphasis on ergonomics for ease of function. The slide is covered with a Melonite finish for durability wrapped around the 4.5-inch match barrel. Stippling and raised grooves adorn both the front strap and the forward face of the squared-off trigger guard. Material has been relieved where the trigger guard connects to the grip allowing for the shooter's hand sit as high as possible. This allows the XD-M Elite to sit low in the user's hand. This assists in limiting muzzle flip during recoil. The frame features a beavertail to help prevent slide bite as well as further manage recoil, especially during rapid strings of fire. I have always felt the XD's grip safety and grip angle gives off the aura of a polymer framed 1911. An integral railed dust cover allows for lights/laser. The XD-M Elite also comes with interchangeable backstraps to accommodate individual shooter requirements for grip feel. Vertical chevron-like cuts are found at the rear and front of the XD-M Elite's slide for increased purchase when manipulating the slide. The pistol weighs 29 ounces.
Further enhancements with the XD-M Elite consists of Springfield's Match Enhanced Trigger Assembly (META). Not only is the META one of the best out of the box striker-fired triggers; it stacks up well with many aftermarket trigger offerings. The trigger pull measured approximately five pounds. The Springfield Armory META's straight trigger offers a near 90-degree break for better geometry and is less likely to pull sights to the right or left. The key with the XD-M Elite is how it provides the same trigger pull every time. Overall, the XD-M Elite META trigger is an asset.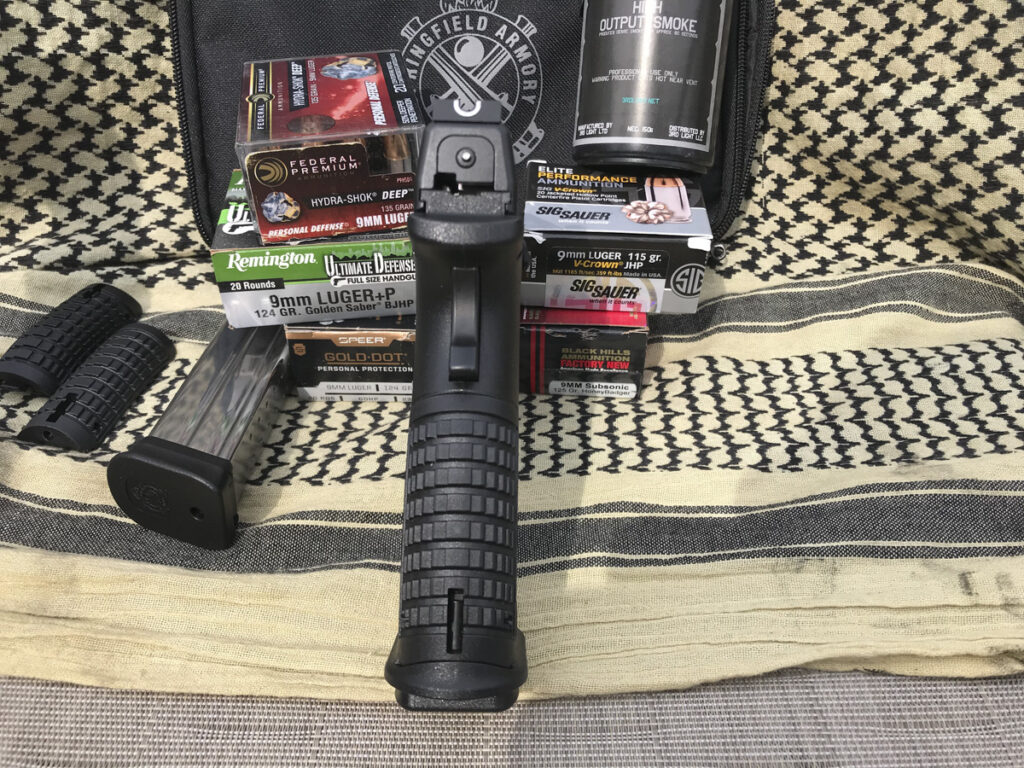 Ambidextrous slide stop, fiber optic front, and Tactical Rack U-Do Rear sights and an increased magazine capacity of 20+1 round out the Elite's list of features. Springfield Armory includes a removable extended and flared magwell to accommodate the 20-round magazines. Springfield Armory has developed the XD-M Elite to serve as the premium version of XD-series to show off the potential of the platform. The user knows something is different with the XD-M Elite as soon as its soft case is opened.
We evaluated the XD-M Elite using several drills experienced during training with Redback One, TMACs, Tactical Response, Graham Combat, and other schools. Drills included working around breaching facades, door entries, and other CQB activities. Multiple magazine changes and high volume ammunition consuming drills exhibited no idiosyncrasies with the XD-M Elite. The magazine release button is easily accessed and the magwell appreciated.
The Springfield Armory XD-M Elite impressively handled all ammunition brands, bullet types, and weights with equal aplomb. XD-M Elite ergonomics and handling characteristics were quickly appreciated. A user understands why the XD-M Elite and its predecessor are so well thought of. The beavertail grip frame and overall balance of the pistol made felt recoil negligible. The slide reciprocates smoothly with the sights tracking smoothly in between shots fired.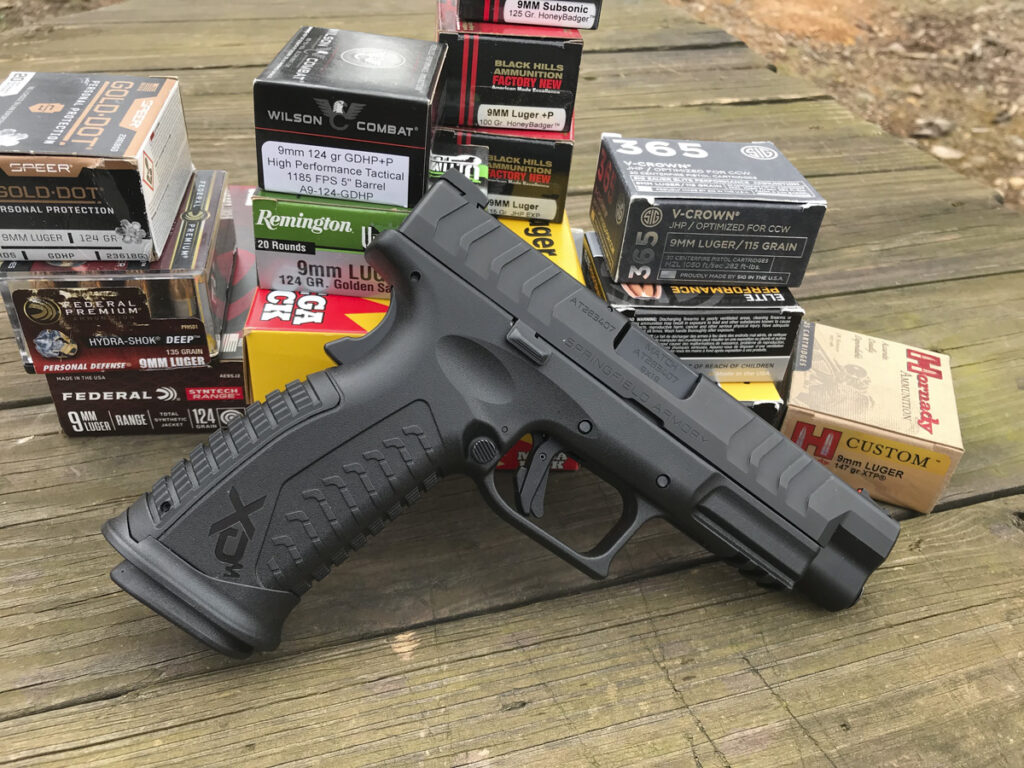 Norma ammunition led the way in testing with FMJ, NXD, and MHP loads. Hornady, Remington, Federal, and Black Hills was also shot. T&E was conducted at Echo Valley Training Center (EVTC), a private range located near Winchester, VA, where many local and federal law enforcement tactical team members train. Shooting from sandbags produced 2-inch groups at 25 yards. I quickly realized that the XD-M Elite possessed inherent accuracy superior to what I was capable of. That is a nice feeling that instills confidence in a handgun. The XD-M Elite digested anything fed to it. For example, the cutting edge (pun intended) Norma NXD 65 grain load, characterized by reduced recoil thanks to light bullet at high velocity, had no issues. A finicky ammo appetite is not an endearing trait with a personal defense handgun.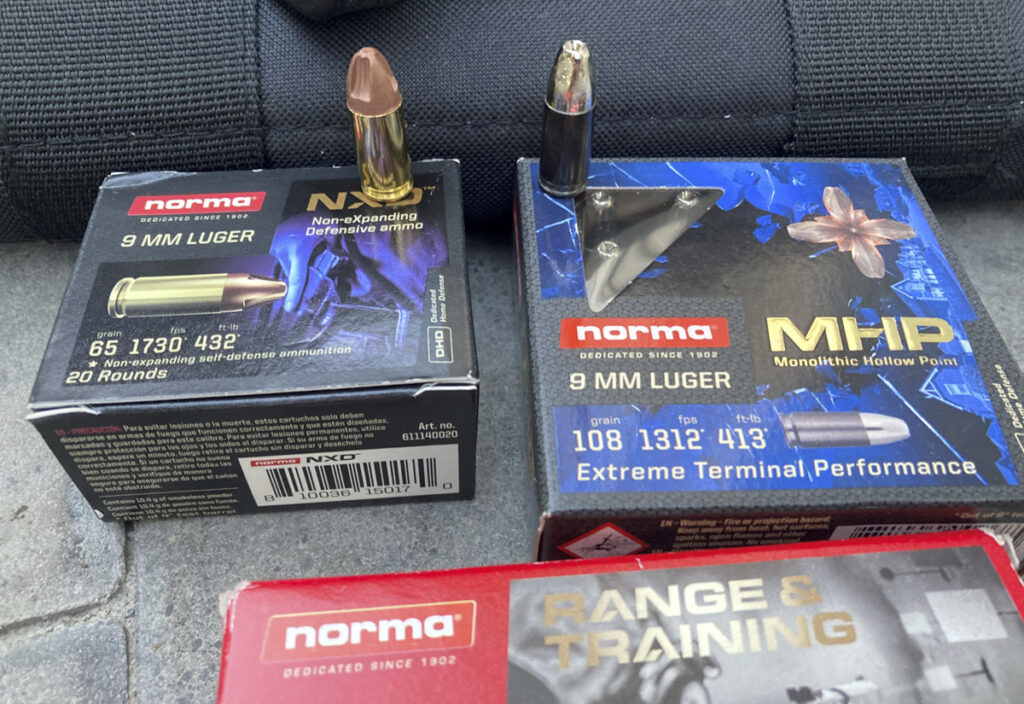 Norma has been manufacturing and innovating ammunition for 120 plus years. Norma Ammunition is associated with some of Europe's other finer offerings—Premier League soccer, double rifles, and Formula 1 racing. All are truly world class.
The Norma MHP (Monolithic Hollow Point) is a monolithic solid copper projectile. Expansion is the MHP's forte. Ballistic gel shoots with the 108-grain 9mm MHP exhibit compact 11-inch penetration, limiting concern of over-penetration. Expansion to 0.9 inches means all the energy created from the 1300fps+ 108-grains is dumped into the target. The MHP is skived so that expansion is generated from four petals that erupt from the projectile. The bullet profile is similar to an FMJ, so feeding will not be an issue.

PERFORMANCE:
| | | |
| --- | --- | --- |
| Load | Avg. Velocity | Avg. Accuracy @ 25yd |
| Federal 135gr Hydra Shok Deep | 1120fps | 2.5in |
| Remington 124gr Golden Saber | 1190fps | 2.66in |
| Norma 108gr MHP | 1303fps | 1.33in |
| Norma 65 gr NXD | 1691fps | 1.75in |
| Hornady 147gr XTP | 915fps | 2.33in |
EVTC's Jungle Walk Range proved an ideal test location. A premium is placed on a quick handling accurate handgun such as the XD-M Elite with multiple rounds fired in quick succession being the norm to put a target down. The natural pointability of the XD-M Elite comes into its own in this realm. Random steel and paper targets were placed along the trail. Target arrays consisted of single and multiple engagement points only visible when shooter discovered them while coming around corner of the trail. Significantly, no malfunctions were experienced while test firing over 700 rounds.
Somewhat counterintuitively, the XD-M Elite would prove a solid choice for training new shooters. Its size is conducive to proper grip. Sights are intuitive. META trigger offers no excuses. In short, you perform the firing sequence correctly, you will be rewarded with rounds going where intended. As shooter proficiency increases, the XD-M Elite is more capable of keeping up.
The new Springfield Armory META trigger reminded me of other polymer handgun selections with one important nuance; only after they had experienced custom work from qualified gunsmiths, including aftermarket accessories. That is meant as a compliment to the new META factory trigger. The new trigger is crisper and has a tactile/audible reset. Everyone surely agrees that a trigger set-up properly is a great aid to accurate shooting. The XD-M Elite's combination of good sights and trigger along with Springfield Armory quality control produces a weapon that can run plate racks at 25 yards with monotony. Along these lines, the XD-M Elite can deliver multiple hits on IPSC style targets at close range using point shooting techniques within 3-7 yards. This is a compliment to its overall design.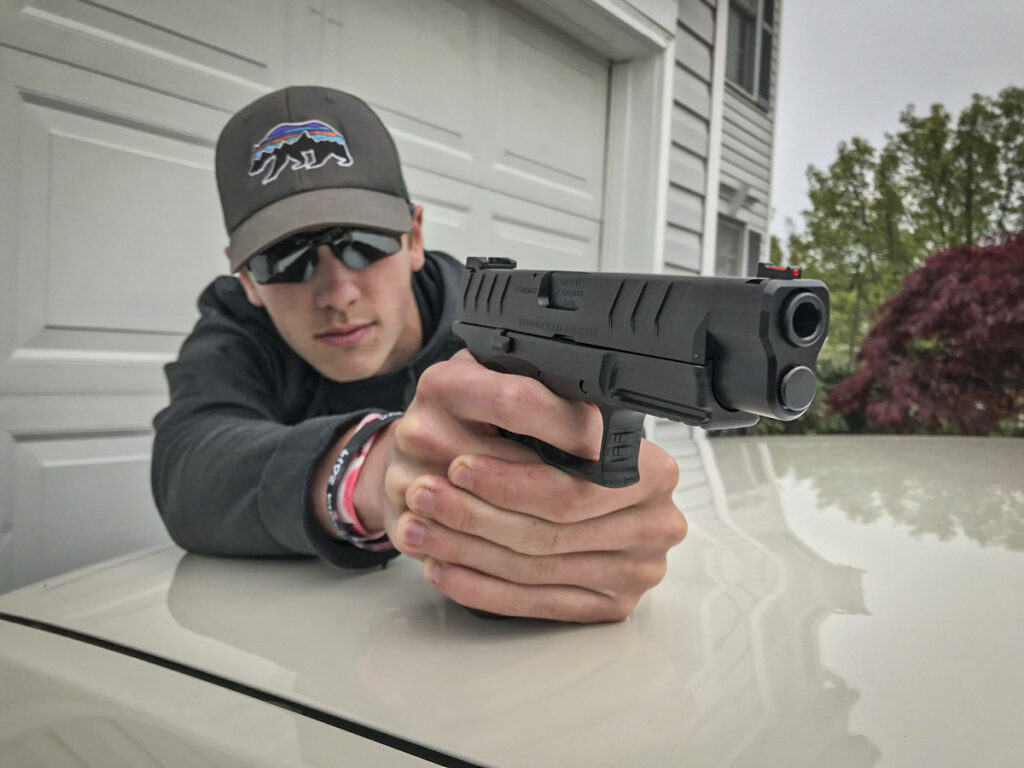 The key point with the XD-M Elite is that it is eminently adaptable to individual, or department needs no matter mission or budgetary concerns. Everything from the homeowner with a light/laser combo to an elite operator with night vision and infrared target designator will find the Springfield Armory XD-M Elite a handgun worthy of consideration. The buyer is getting a lot of value for the listed purchase price of around $609. The XD-M Elite is a potent package due to its accuracy, reliability, and capacity—all of this combines for increased lethality.
With the XD-M Elite, the Springfield Armory attention to detail is instantly sensed. Crucial items such as magazine release button shape, grip texture, trigger, and placing the shooters hand as near the bore axis are seamlessly interfaced. The XD-M Elite is one of the flattest shooting handguns I've shot. By flattest shooting, I am referring to minimal muzzle flip with sights tracking smoothly between trigger breaks. Springfield's years of experience with the XD platform has allowed their engineers to take the nebulous concept of "feel" and translate it to the XD-M Elite being one of best shooting pistols on the market right out of the box.
Many may ask what the Springfield Armory XD-M Elite offers to shooters compared to other polymer-framed striker-fired handguns already on the market. The answer lies more with refining the striker-fired concept more than creating anything revolutionary. The XD-M Elite benefits from lessons learned combined with a manufacturer intimately familiar with quality weapon production.
SPECIFICATIONS:
Make: Springfield Armory
Model: XD-M Elite
Caliber: 9mm
Weight: 29 ounces
Magazine Capacity: 2-20 round magazine provided
Width: 1.2 inches at grip
Height: 5.75 inches
Barrel Length: 4.5 inches
MSRP: $609
URL: springfield-armory.com