by Charles Cutshaw
As recently as a few months ago, I scoffed at the notion that a flashlight of any kind could be used as a less-lethal "combat tool," despite claims that the "combat lights" from Surefire could definitely be used as such. My thinking was that if someone were foolhardy enough to put a light in my face in a combat situation, I'd simply shoot at the light. After spending several days at Surefire's production facility and the Surefire Institute, the company's tactical training facility, however, I have become an enthusiastic convert to tactical use of Surefire lights.
Surefire originally began making its unique lights for use by law enforcement and military special operations units that wanted something more in a flashlight than was available at the time. These special operators wanted a light that was not only brighter, but also significantly more compact than anything available. Operators also wanted lights that they could conveniently mount on their weapons. When a person is carrying a lot of gear, every ounce counts and big, bulky flashlights simply get in the way in tactical operations. The brightest aluminum flashlights were rugged and water resistant, but required four to six "D" cells and were so bulky that they made effective batons and frequently were used as such. There had to be a better way. Surefire hired a top quality research and development engineering team to start with a clean slate to develop their lights. This team went to great lengths to develop the brightest, most rugged lights possible to meet the stringent requirements of military, law enforcement and civilian clients.
Surefire lights are made of a higher grade of aircraft aluminum than is used in military M16 rifle receivers. Not only does Surefire start with a high grade of aluminum, but CNC machines each component from solid bar stock, not tubing. There is not a single extrusion or piece of tube stock in any Surefire light. Lenses of the Millennium models are made of heat-resistant hardened Pyrex. Reflectors are precision manufactured so that the high-intensity light pattern of each Surefire light is remarkably consistent from light to light. Surefire combat lights are waterproof to 60 feet. These Surefire lights can even be used as diving lights, if necessary. All Surefire lights are beautifully finished, inside and out.
An indication of the level of quality control in Surefire lights is the Xenon lamps (bulbs) used by the company. These high intensity lamps are simply unequalled in the amount of light they project. They are also highly resistant to shock and vibration. While it is true that Surefire lights cost more than others, there is no comparison between Surefire's products and what other manufacturers call "tactical lights."
The attention to detail on Surefire lights, like everything else about the firm's products, is remarkable. Combat lights have hex flats at the light head so that the light will not roll when laid horizontally. Combat light end caps and bodies have index marks, which, when aligned, indicate that the light can be activated by pressing the end cap button. When the end cap is rotated 180 degrees counterclockwise, the light is inactivated. The "out of index" marks give an instant tactile and visible indication of the light's status. When the end cap is rotated 180 degrees clockwise, the light is turned to "constant on." End caps have double "O" rings to ensure a watertight fit under constant use. Lamp assemblies are shock isolated. Knurling and machining is clean with no machine marks anywhere.
These lights, from smallest to largest are very bright. It is inadvisable to look directly into the business end of even the smallest Surefire light unless one wishes be temporarily flash blinded and have spots in front of his eyes for several seconds.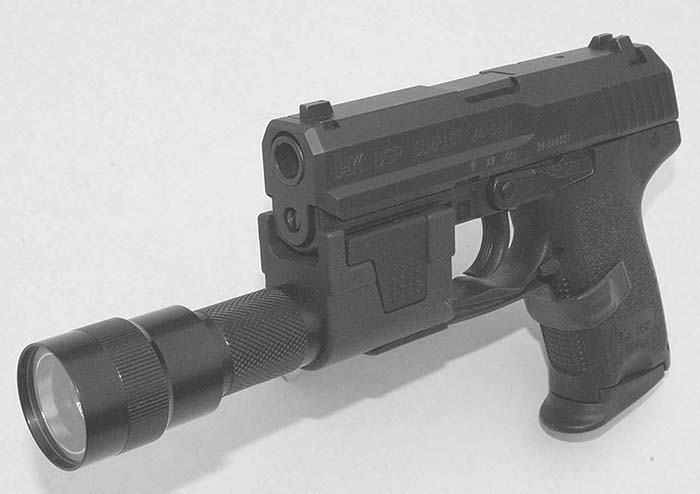 The reader will note that we discuss the output of Surefire's lights in terms of Lumens, rather than candlepower, the measurement used by most other manufacturers. Surefire uses Lumens as its standard because the Lumen measures the amount of light rather than the light's intensity. Candlepower can be misleading because it measures only the intensity of light at a given point in a focused light beam. Thus, candlepower measurement changes depending upon where in the light beam the measurement is taken. Because candlepower measurement produces impressively large numbers, it is the figure used by most flashlight manufacturers. It is also an unrealistic measurement of the actual amount of light produced and can be misleading since it is dependent upon where in the light beam the measurement is taken. The Lumen is constant, and is a true measure of the amount of light produced. Thus, Surefire uses the Lumen since is reflects the actual amount of light produced.
The smallest Surefire light, the E1 Executive, projects 15 Lumens of light, about the same as a standard two "D" cell flashlight, although the E1 is only about three inches in length and an inch in diameter at the lens bezel.
The Surefire E2 Executive pocket-size (4.5 inches long, 7/8 inch diameter at the head) light projects an astonishing 60 Lumens of light, enough to cause flash blindness in broad daylight within 10 feet, never mind in darkness. How bright is 60 Lumens? I cannot say how bright a four "D" Cell Mag Light is, but the tiny E2 Executive is MUCH brighter and projects a much more focused beam.
If I were a police officer or still in the military and needed a small size tactical light, I'd opt for the M2 or M3 Millennium Combat Light. Surefire's Millennium series lights are more rugged than their standard line, with shock-isolated bezel, Type 3 hard-anodized finish and combat light body design. The M3 is a bit larger than Surefire's most popular M2 Millenium, but at 125 Lumens versus the M2's 65, the M3 projects significantly more light. The M3 also comes with a 225 Lumens "high output" bulb, but when this lamp is installed, battery life is significantly reduced. Since the M2 projects only 5 more Lumens than the pocket size E2, I'd probably choose the smaller light for everyday use purely because of its convenience.
On the other hand, if I knew that things were really going to get binding and I wanted a light that was virtually indestructible, but smaller than the M3, I'd probably opt for the 65 Lumen M2 Millennium. While this light doesn't have nearly the "firepower" of its larger M3 brother, it is equally as rugged and capable of standing up to virtually any abuse short of actually crushing it. It also has the benefit of a handy clip that the M3 lacks for attaching it to the belt or pocket. The M2 is supplied with a high-intensity lamp that boosts the output to 120 Lumens. Again, however, battery life is dramatically reduced.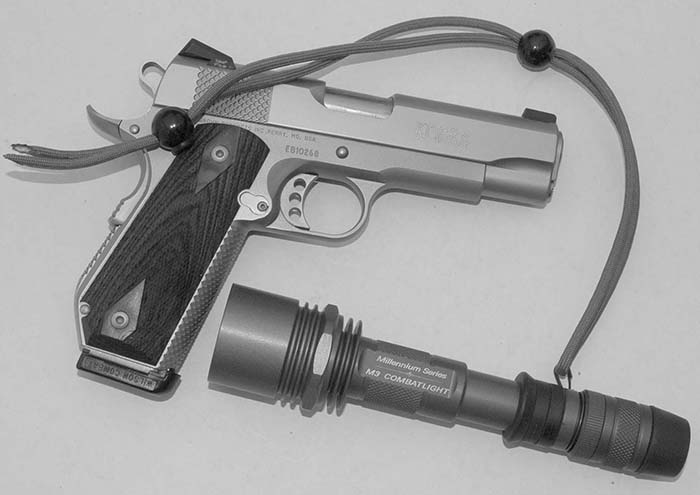 For less demanding uses, Surefire also manufactures a series of lights whose light output is every bit the equal of the aluminum lights. The bodies of these lights are made of Nitrolon composite, which is nonconductive and also virtually indestructible. With 65 Lumens output, the small G2 light equals the performance of more expensive Surefire products, but at lower cost. The 110 Lumen 8NX Commander Nitrolon light comes with two Ni-Cad rechargeable batteries, charger and auto power outlet adapter. All Surefire Nitrolon-constructed lights have a non-slip grid molded into their bodies.
Most Surefire lights are powered by 123A Lithium batteries. Run time for Surefire lights varies from over an hour to a matter of approximately 20 minutes when high intensity bulbs are installed. While battery life of an hour may not seem long in comparison to conventional hand held lights, one must recall that Surefire lights perform at a much higher level than any other available light of similar size. There is no such thing as a "free lunch," and every improvement in one level of performance requires a tradeoff at another. Several Surefire lights, such as the original 6P Model, are available with rechargeable Ni-Cad battery conversion units.
Surefire also makes a variety of dedicated tactical lights for most popular small arms. Many consist of replacement handguards or forends with Surefire Millennium lights built in. Several of these lights are in use by the US military and many are used by law enforcement agencies nationwide. For example, Surefire manufactures replacement forends for both Mossberg and Remington shotguns. These lights come with pressure pads for momentary use and provide 65 lumens for one hour. For M4 and similar carbines, Surefire manufactures the M500 Millennium Weaponlight. This dedicated light system replaces the handguard on virtually any CAR-15 type carbine. The M500A operates at an astonishing 250 Lumens for an hour, while the M500B is even brighter at 500 Lumens for 20 minutes. A similar system, the M510, is available for AR-15 type rifles. The M500/510 system is powered by six 123A batteries and is ideal for rural or maritime applications where distances are longer than is the case in urban environments. Rifle and carbine lights are also available for Heckler & Koch and SIG weapons. A popular light in military and law enforcement circles is Surefire's M900 Millennium Vertical Foregrip System. This unit incorporates a high intensity light with 125 Lumens output (225 Lumens optional), low-level LED "navigation lights" and ergonomic vertical foregrip in a unit that clamps onto a MIL-STD-1913 rail mount via a quick-disconnect Swan lever mount. In addition, Surefire produces clamp-on lights for most handguns, including Beretta, Colt, Glock, Heckler & Koch, Para Ordnance and SIG. Weapon lights for other handguns are under development.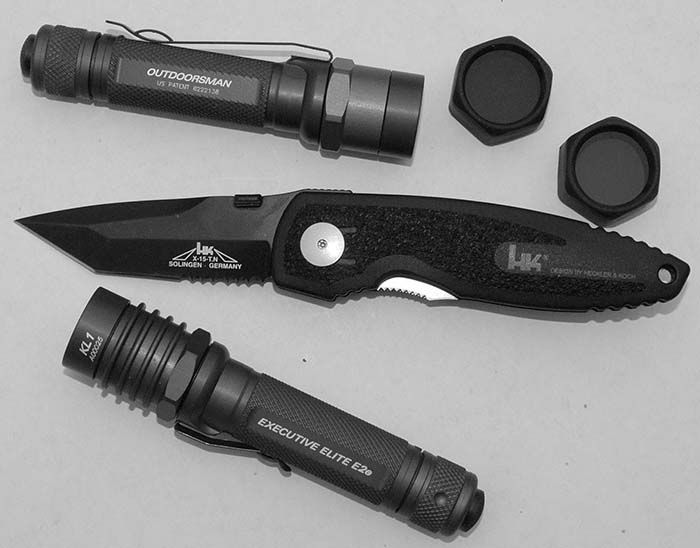 Surefire also manufactures a full line of filters, lens covers and beamshapers for their lights. These include infrared, to enable Surefire lights to be used with night vision optics.
To enable military and law enforcement to make optimum use of their equipment, Surefire established the Surefire Institute in 1998. The instructor cadre includes a broad selection of highly experienced former military and law enforcement. The training is presently available only to military and law enforcement personnel and consists of a certain amount of classroom work and a great deal of practical training in the tactical use of Surefire lights in the company's low light "shoot house." Here students and cadre take turns "role playing" using Surefire's lights and paint ball guns. Facemasks are the only protection allowed during practical low light force on force exercises and each scenario is different.
Surefire also operates a night firing range in the nearby California desert where students learn to use the handheld Surefire light of their choice on the range with live ammunition and steel targets. Our group began in late afternoon while there was still daylight. We fired our pistols from various distances and then transitioned to shooting on the move. After dark, the class repeated the live fire drills using our lights. We were surprised to learn that the M3 Millennium light we chose actually enabled us to hit the steel targets while "shooting on the move" in darkness more accurately than in daylight. All students had similar results. Properly employed, a handheld Surefire light actually enhances low-light pistol accuracy.
Surefire lights have become a "mission essential item" for many law enforcement and military personnel both as weapons lights and as personal lighting tools.
Surefire
18300 Mt. Baldy Circle
Fountain Valley, CA 92708
Tel: 800-828-8809
Fax: 714-545-9537
www.surefire.com
This article first appeared in Small Arms Review V7N7 (April 2004)