By Robert G. Segel –
Initially, Sweden had no separate Air Force prior to 1926; instead the Army and Navy each had their own sections of aviation. The Schwarzlose that they were then using could not be configured to be synchronized to fire through the arc of the propeller, and in the 1920s tests were conducted with the M1919 Colt aircraft Brownings that were deemed successful. This ultimately led up to Sweden's purchase of a total of 185 M1919s from Colt from 1920 to 1930.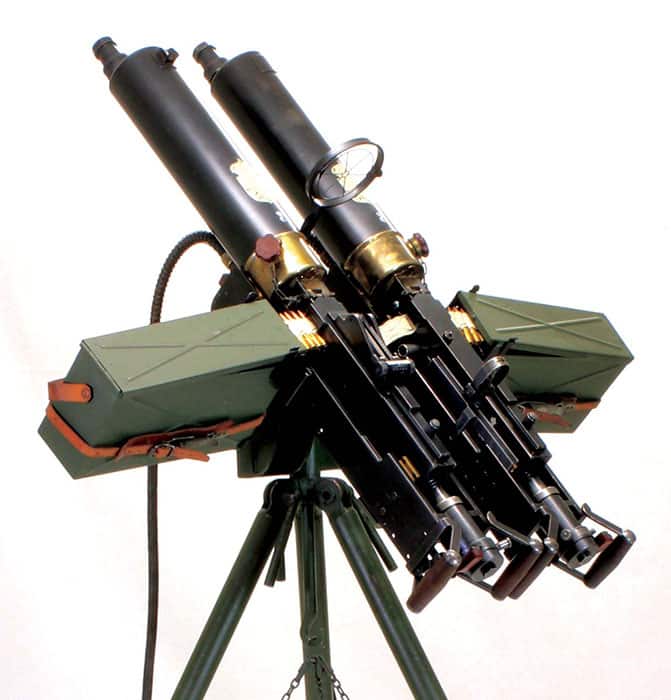 It did not take long for Sweden to recognize the value of Browning's operating system, being simply designed and cost-effective. In 1930, the director of Carl Gustafs Stads Gevärsfaktori noted that they could produce 50 water-cooled M1917A1-type Brownings for the same price as 30 Schwarzlose machine guns, which they were producing and these were the main infantry machine gun of Sweden. Thus, they embarked on manufacturing machine guns based upon the Browning system. This included the Kulspruta (Ksp) m/22 air-cooled aircraft gun introduced in 1930 and the first water-cooled Browning developed in 1929 as the Ksp m/14-29 (mounted on the m/14 Schwarzlose tripod). Between 1930 and 1936, Carl Gustafs Stads Gevärsfaktori produced 274 of the Ksp m/14-29s.
The m/14-29 Browning system water-cooled machine gun was upgraded in 1936 and became the Kulspruta (Ksp) m/36 mark (ground) produced as a single infantry gun and a double anti-aircraft gun designated as the Kulspruta (Ksp) m/36 lv dbl. While the m/36 was based upon the operating principles of the Browning M1917A1 water-cooled machine gun, there were some differences, even though the guns appeared similar.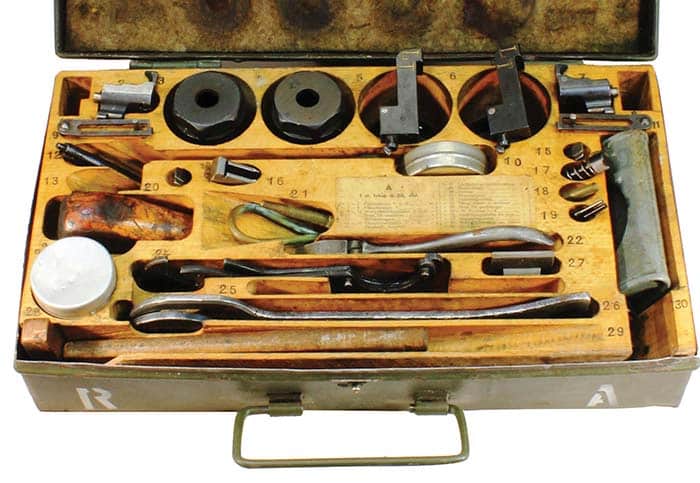 As is always necessary to keep automatic weapons in operating condition, a spare parts and tool box was an essential piece of ancillary equipment for the weapons. Beside key spare parts that break or wear, special tools are required to disassemble and properly maintain the weapon. The Swedish spare parts and tool box is quite complete and efficient in keeping the Swedish Browning-inspired machine gun running.
The spare parts and tool kit for the Ksp m/36 lv dbl is made of metal with a single clasp for closure and a double metal handle.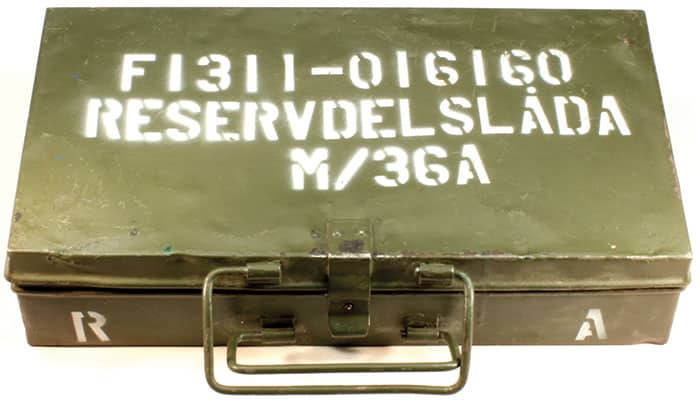 The interior of the spare parts and tool kit has a compartmentalized wood insert that is numbered for the proper placement of the tools and parts within the kit. Note that a content list is pasted in the center of the box.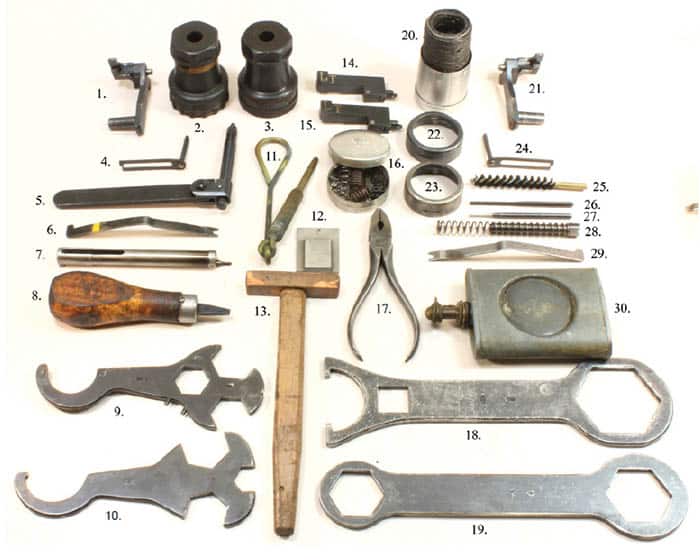 Contents of the spare parts and tool kit for the Swedish double anti-aircraft gun include:
1. Left gun extractor
2. Left gun muzzle rate of fire booster
3. Right gun muzzle rate of fire booster
4. Sear spring and pin complete for left gun
5. Ruptured case extractor
6. Cover extractor spring left gun
7. Firing pin complete
8. Screwdriver
9. Combination tool for AA mount
10. Combination tool for guns
11. Two-piece brass chamber jag
12. Breech lock cam
13. Brass hammer
14. Cartridge stop for left gun
15. Cartridge stop for right gun
16. Tin container with springs
17. Pliers
18. Combination tool for AA mount
19. Combination tool for guns
20. Wire roll
21. Right gun extractor
22. Buffer bushing left gun
23. Buffer bushing right gun
24. Sear spring and pin complete for right gun
25. Bore brush
26. Drift
27. Pin punch
28. Barrel plunger and spring complete
29. Cover extractor spring right gun
30. Oil can
This article first appeared in Small Arms Review V21N5 (June 2017)