MG11 Swiss Maxim.
By Robert G. Segel
The Swiss Maxim MG11 is considered by many as the Swiss watch of Maxim machine guns. Manufactured in Switzerland by Waffenfabrik Bern, the MG11 is noted for its precision manufacturing guaranteeing the utmost reliability in both form and function.
Each Swiss Maxim gun was issued a gunner's kit with tools, cleaning components and key spare parts to keep the gun operating under all conditions with the ability to repair or replace certain vital parts by the gun team.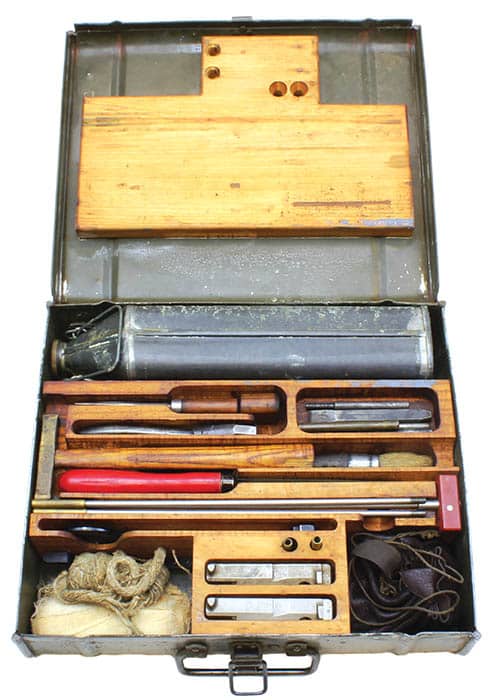 The metal gunner's kit measures approximately 13.5 x 11.5 x 3.75 inches and is top opening with a single hinged locking clasp to the front. It also has two handles for carrying in either a vertical or horizontal manner. Wood compartments within the box allow for an orderly display and easy access to the contents. Small parts are contained in a leather pouch with a draw string.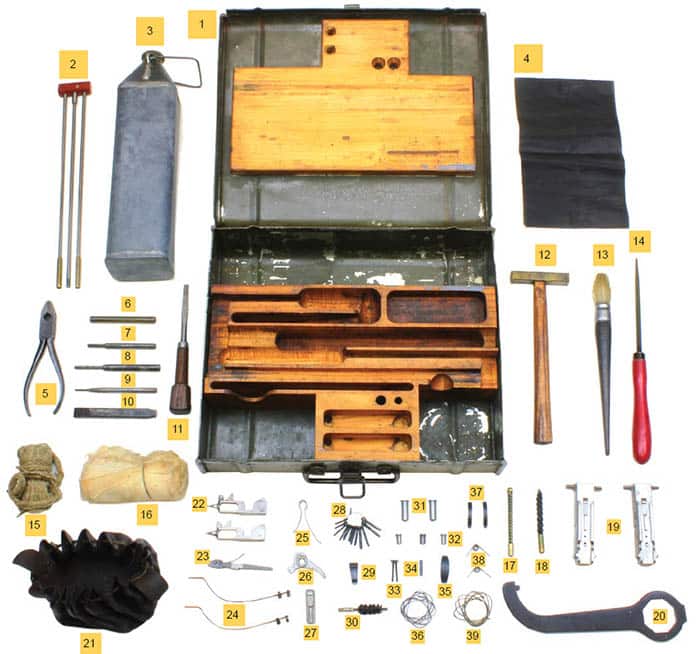 1. Swiss Maxim MG11 compartmentalized gunner's spare parts and tool box.
2. Three-piece cleaning rod
3. Galvanized tin 1 liter oil
container with handle
4. Two sheets of fine grit paper
5. Pliers
6. Brass drift
7. Steel drift
8. Punch 4mm
9. Punch 2mm
10. Small chisel
11. Screwdriver
12. Brass head hammer
13. Soft cleaning brush
14. Half-round file
15. Roll of barrel packing string
16. Bundle of cleaning cloths
17. Brass cleaning rod jag
18. Cleaning rod bore brush
19. Lifters (two)
20. Combination tool
21. Leather pouch with draw string (items 22 through 39 are contained in the leather pouch)
22. Firing pins (two)
23. Safety sear (complete)
24. Top cover springs (two)
25. Firing pin spring
26. Tumbler
27. Gib
28. Wire ring containing an assortment of 12 (6 pairs) of different length and diameter cotter pins
29. Extractor spring
30. Cleaning rod chamber brush
31. Side lever axis pin (two)
32. Trigger sear axis pin (three)
33. Side lever axis split pin
34. Safety-sear pin
35. Gib spring
36. Length of thin steel wire
37. Safety-sear springs (two)
38. Upper feed pawl springs (two)
39. Length of thin copper wire
This article first appeared in Small Arms Review V20N1 (January 2016)