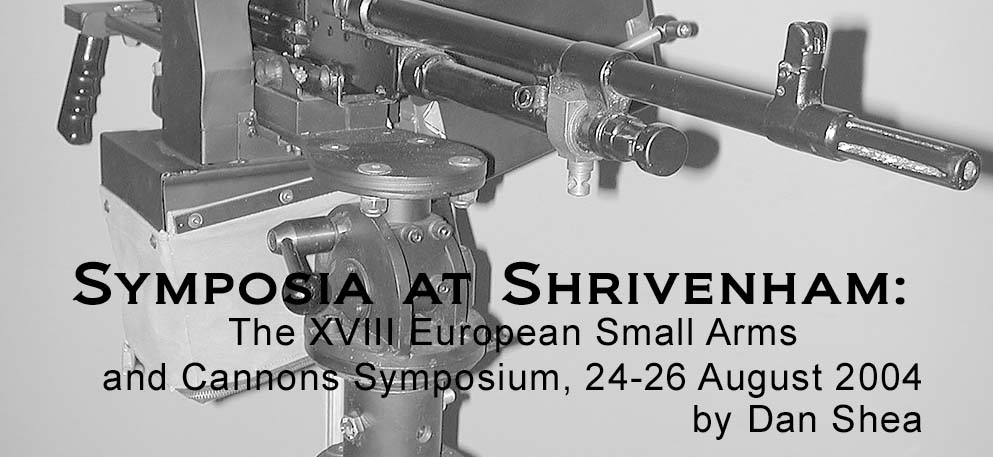 By Dan Shea
There are two primary Small Arms Symposia that top the world scene for those in the military small arms field. The first is something the readers of SAR should be well familiar with; the National Defense Industrial Association's (NDIA) yearly Small Arms Conference, Exhibition, and Firing Demonstration. Each year, the NDIA meeting is held in a different location, rotating to different parts of the United States. The 2004 meeting, the Fiftieth, was in Las Vegas, Nevada. The sister conference is generally referred to as "Shrivenham", and it is held each year around the third week of August, at the Defence Academy of the United Kingdom, Shrivenham, England.
This year was the eighteenth annual meeting at Shrivenham. The conference is in two basic sections; the papers, and the displays. There is a format designed to allow attendees to sit in on all of the papers, and to take breaks in areas where they can see the displays and discuss product with various vendors. The papers are generally categorized as "Unclassified", but "Restricted" level lectures may occur in the lecture hall. "Restricted" level information will not be handed out on the CD-ROM that is given to each delegate at the end of the Symposium.
The Symposia started on Tuesday with a welcome from Conference Administrator Michael Hewetson OBE, and Brigadier Jim Campbell, the Director of Studies RMCS, Defence Academy. This year's planned focus was on four different areas; Lethality, Combat Body Armor design, Engagement Ranges from recent experiences in Afghanistan and Iraq, and Future Combat Systems. The papers offered covered a variety of these subjects, with updates from many project managers on new systems that are being fielded. The new MK47 MOD 0 40mm system received a review, as well as the Nammo Raufoss 40x53mm air bursting munitions. Several papers were presented on 30mm ammunitions and weapons platforms, as well as fuzing systems and cleaning systems.
All in all, this was a very successful conference. The majority of the attendees who spoke with SAR about the conference were quite pleased, and looking forward to the meeting next year.
Displays:
SAR readers should know Sabre Defense as the UK group that also bought out the old Ramo Manufacturing fifty caliber plant. Sabre is in full production of the M2 HB and Quick Change Barrel fifty caliber machine guns, as well as many suppressors and their own high quality M16A2/ M4 variants. They are a US Government Prime Contractor on these projects, and have full production of high quality fifty caliber barrels. They are presently working on fifty caliber suppressor designs.
Sabre Defense Industries
450 Allied Drive
Nashville, TN 37211
Website: www.sabredefence.com
Not Shown: Aimpoint had the CompM2, CompML2 sights and the MPSII passive collimated sight there on display, along with their IR laser aiming device. The CompM2 and CompML2 are both extreme condition sights, using new technology and a double tube system that protects the inner system from just about any damage in normal combat use. Check them on the website, I was unable to get photos. Very interesting items.
Aimpoint AB
Jägershillgatan 15
SE-213 75 MALMÖ, Sweden
Tel: +46 (0) 40 671 50 20
Fax: +46 (0) 40 21 92 38
Email: magnus.andersson@aimpoint.com
Website: www.aimpoint.com
ATK Gun Systems had an M242 25mm Bushmaster on display, but the real focus for many of us was the .50 Cal Bushmaster machine gun (Pictured). This scaled down version of the M242 is basically a chain-gun with all the reliability that external power control infers. Weighing in at 76 pounds with barrel, receiver and feed mechanism, the Bushmaster is a viable alternative to the venerable M2 HB. It has an anti-hangfire safety system that is necessary in external powered guns, it ejects forward, very much of a plus, and the rate of fire is 400-500 rpm. SAR is working on a test date for the .50 Cal. Bushmaster, and we hope to bring the readers some information on this very soon. For more information contact:
ATK Gun Systems
3309 N. Reseda Circle
Mesa, AZ 85215 USA
Tel: (480) 324-8621
Website: www.atk.com
Optimise Systems, Ltd., are the UK reps for Insight Technologies M203 Day Night Sight Model 1700. The 1700 system produces a better than 5 meter accuracy sighting platform, with an LCD displaying distance in meters, cant indication, and an integral IR laser system using dual beams. The laser is adjustable down to "Eye Safe" levels for the training arena. Since the system mounts directly on the tube of the 40mm, it is easily bore-sighted and extremely accurate. This mounting does not detract from the accuracy or firing rate of the M203 or other systems. Weight is 17.7 ounces and it uses a single AA Battery.
UK Contact info:
Optimise Systems Limited
Jason Carley-Smith
Pilgrims House
Orchard Street
Canterbury, KENT CT2 8BF
England
Tel: +44 (0) 1227 453881
Fax: +44 (0) 1227 458950
Email: j.carleysmith@optomise.com
Website: www.optomise.com
US Contact info:
Insight Technology, Inc.
3 Technology Drive
Londonderry, NH 03053
Tel: (US) (603) 626-4800
Fax: (US) (603) 647-7234
3124 SAR readers have been asking for a better view of the Lewis Machine Tool MRP (Monolithic Rail Platform) upper receiver and their M203 variant. This photo includes the SOPMOD buttstock and LEI's NATO issue QD16 suppressor.
Law Enforcement International Ltd.
PO Box 328, St Albans
Herts AL4 0WA
England
Tel: 01727-826607
Fax: 01727-826615
Email: lei@lei.co.uk
Lewis Machine & Tool Co. (LMT)
1305 West 11th Street
Milan, IL 61264
Tel: (309) 787-7151
Fax: (309) 787-7193
West Coast and DOE Fed Ops contact for MRP and M203: Long Mountain Outfitters lmo4mgs@aol.com
Larry Bullock from Buffer Technologies brings us some new offerings, as usual. Larry has a legendary ability to search out interesting new products, from the MagCinch to the buffers that started his contracting career. At this show he offered two new pieces; the Mag-in-a-Box which utilizes a controlled spring loading to present a new magazine to an operator, and in conjunction with LEI and Lewis Machine Tool, the new Tango Down rear sling mount for the M16 series. Tango Down mounting allows for ambidextrous mounting of a combat sling on the A2 or A3 stock, without any disassembly of the firearm. Neat trick, that, and very useful for our people who are deployed, these would make a nice stocking stuffer for Christmas.
Buffer Technologies
PO Box 104903
Jefferson City, MO 65110-4903
Tel: (573) 634-8529
Fax: (573) 634-8522
Email: larry@buffertech.com
Website: www.buffertech.com
Website: www.magcinch.com
Surefire's newest Universal Tactical Light is smaller and lighter than previous offerings retaining more than enough power to do the job. This is the M6 XXX Scoutlight, and it can mount readily to the M4 with a rail system. It can use two lighting heads, either the KL4, which is an LED using a 5-watt solid state light source producing a maximum of 65 Lumens of light for one hour and a trickle down over two more hours, or, an incandescent head that uses a high-output MN03 lamp that produces 60 lumens over a 75 minute battery time. There are two switch options, an on/off tailcap switch or the type UE removable pressure activated tape switch with differing cable lengths.
Surefire
18300 Mt. Baldy Circle
Fountain Valley, CA 92708-6122
Tel: (800) 828-8809
Website: www.surefire.com
AEI, manufacturer of mounting systems and cannons in coordination with GIAT and General Dynamics, had information available on the M39A2/ A3 20mm revolver cannons, the 20mm Sharpshooter cannon system, M134 Miniguns, 30mm MK4 & 5 ADEN cannons, 30mm DEFA cannons, the AEI Engager Medium Caliber Remote Control Weapon System, and the AEI Enforcer (pictured). The AEI Enforcer is a Remote Controlled Weapon System that is UK qualified and in production now. Intended for the 7.62mm GPMG (MAG series), Browning style M2 HB .50 caliber machine guns, and 40mm Grenade Launchers such as the MK19 or the HK GMG, the Enforcer is relatively lightweight at 139kg for the roof assembly and 21kg for the in-hull control assembly. Sighting is daylight, night, thermal, and has laser range finder capability.
AEI Systems Ltd
1 King's Ride Park
Ascot, Berkshire SL5 8AR
England
Tel: +44 (0) 1344 636200
Fax: +44 (0) 1344 636205
Email: info@airquip.co.uk
Beechwood Equipment from the UK is representing SIG Sauer, Benelli, Trijicon, and CTS among others, and they had a nice representation of the SIG products on display. Carl Smith, Marketing Manager, may be contacted for more info on UK sales at csmith@beechwoodequipment.com
Ballistic Solutions has been in business for approximately two years, specializing in Strong Rooms, Panic Rooms, and Portable Armouries. In the process of their contract work, they noticed a decided lack of clearing apparatus that suited their demands, especially when it came to the containment of firearms discharge with armor piercing rounds. In January of 2004, they released their new product "Weapon-Clear". There are three variations; Rifle-Clear, the tallest unit, which has been tested up to .50 BMG AP rounds with no problems, "Pistol-Clear" shown as the shortest unit, which has been tested up to 7.62 NATO with no problems, and the portable "Emergency-Clear", a red unit shown with the MP5 in it, that has been tested up to 14.5mm with no problems. Ballistic Solutions' requirements were for the units to have no splash-back, no fragmentation, and that even an off angled round fired into the in-fill would not exit the side of the unit. These are not intended to be used for test firing, they are safety check clearing devices. General pricing is in the USD $500-1,000 range. They are presently negotiating for a US distributor.
Ballistic Solutions
3 Wellington Park
Belfast BT9 6DJ
Ireland
Tel: (02890) 652749
Fax: (02890) 652750
Website: www.weapon-clear.com
Eickhorn Solingen's president, Jörg Eickhorn, had a nice display of the famous Eickhorn knives and tools. Eickhorn is well known for the quality and durability of their products, and they have been around for a long time.
A. Eickhorn GmbH& Co. KG
Löhdorfer Str. 72
D-42699 Solingen
Germany
Tel: +49 212 6 60 50
Fax: +49 212 6 74 37
Website: www.eickhorn-solingen.com
ISTEC has been making quite a splash with their upgraded product lines, including 40mm launchers, but at each show, they have more and more interesting mounts. In our last mention of ISTEC, they had a twin MAG58/ M240 system or Twin M249 system. At the Shrivenham Conference, the new Spade Grip mount designed for naval use on a Rib mount was featured.
ISTEC Services Limited
Hoddesdon Road Standstead Abbotts
Ware, Herts
England SG12 8EJ
Tel: +44 (0) 1920 871734
Fax: +44 (0) 1920 871357
Email: info@istec.co.uk
Web: www.istec.co.uk
US Contact: Long Mountain Outfitters: lmo4mgs@aol.com
RPA International has made a sterling reputation among long range shooters for many years, and for several years has been working in the military field. The heart of the system is the four lug bolt. This bolt increases the accuracy by presenting a very solid base for the cartridge base, keeping variance during firing pressure to a minimum, as well as increasing the safety of the lock up. The bolt system utilizes a floating ejector and claw type extractor, Response from military snipers has been very, very good, and we look forward to some tests in future issues of SAR.
RPA offers their rifles in .17 through .50 BMG and each rifle is built from the ground up. The bolt system can be had in either right or left hand action. Stocks, finishes, and sighting systems can be chosen by the end user at time of ordering. In this case, RPA has chosen the excellent KN250 series Image Intensifier as a night vision device.
RPA International
Unit 9, Munday Works
Morley Road
Tonbridge
Kent TN9 1RP
England
Tel: +44 1732 359766
Fax: +44 1732 369762
Email: rpa@rpa-eng.com
Website: www.rpa-eng.com
Honorable mention has to go to a couple of items that are not in our field, but they were just too innovative and interesting to not mention. Many of our readers would be interested both professionally and privately. First is a unit called "RadarVision 2i", which is a second generation through-the-wall motion detector. This unit is planned for entry teams to be able to detect motion on the other side of doors and walls, to enhance their planning ability for dynamic entry. It is man-portable, and will work out to 20 meters. This is an Armor Holdings Products Division project, and more information can be had from TBM Muller in the Netherlands. Email Tony De Vos at info@tbmuller.nl and tell him you saw the mention in SAR.
Second would be the remote camera system called the "AGICAM", from AGI. This camera is approximately seven inches long and an inch in diameter. It has an axial 360° lens and/ or 90° viewing head. It is remote and wireless, and it was part of AGI's new gun cleaning system for 20mm bores and above. The soldier cleaning the gun can use the camera for inspection, viewing the full details on a receiver screen. The images may be captured on either digital recorder or lap top computer, adding the possibility of making Mpeg or other files that can be uploaded for a remote operator or inspector to view and give their input on the condition of the barrel. For more information on this system, contact Aeronautical & General Instruments, Ltd at sales@agiltd.co.uk or view their website at www.agiltd.co.uk
The Formal Dinner:
The Regimental Formal Dinner is quite an experience for the uninitiated. The Passing of the Port requires the observance of age-old protocols, and a hint for the uninitiated: simply ask the Brits and they will explain the methods. Each Regimental Mess has its own procedures, when you travel around the world, you will run into the habits of the Empire as it were, and there are many variations of the procedure. The Canadians have differing habits as well. Before the dinner – proper dress is required – you should attend to any "Needs", as it is impolite to leave before the evening ends. A superb dinner is served, in courses, and various toasts will be offered by the officers so charged. It is impolite to offer a toast from the tables without any prior arrangement. Each table has an appointed officer who will be in charge of ensuring that conversation is flowing in a nice, even manner, and including all of the guests at different points. This can be somewhat difficult with language barriers, but every person I have seen who was in this position discharged their duties admirably. British hospitality is at its best at the Formal Dinner, but it is necessary to ask the rules and outline of the evening beforehand. Those who abstain from alcohol are not left out, the rules of the mess allow for joining toasts with water that is provided, simply ask a server, and pass the port in the described manner when it comes to you. -Dan
Directions:
Shrivenham is about 135 km west of London. For those driving, Take the M4 West to exit 15 and go north on A419 until you reach A420, go East on A420 (right) until you see the signs for the Defence Academy. If you reach Faringdon, well, you've gone too far.
Fast trains leave Paddington Station (London) about twice per hour and take approximately fifty minutes to arrive. Get off at the Swindon Station and take a taxi to the Defence Academy. The Symposia organizers provide excellent directions to attendees.
Date for next year's Shrivenham conference: 23-25 August, 2005
Michael J T Hewetson OBE
Director International Symposia
Cranfield University, The Royal Military College of Science
Defence Academy for the United Kingdom, Shrivenham
Swindon Wiltshire SN6 8LA
United Kingdom
Tel: +44 (0) 1793 785847
96161 5847
Fax: +44 (0) 1793 784865 / 785325
Email: Michael@symposiaatshrivenham.com
RLI: DefAc-RMCS CU DIR CDPDC
www.symposiaatshrivenham.com
For those on the left side of the puddle:
NDIA Small Arms Conference 2005
Date- May 16-19 2005, Atlantic City, NJ
National Defense Industrial Association
2111 Wilson Blvd., Suite 400
Arlington, VA 22201
Tel: (703) 522-1820 Fax: (703) 522-1885
For General Information, please E-mail: info@ndia.org
This article first appeared in Small Arms Review V8N5 (February 2005)