By Robert M. Hausman
The latest in police tactical gear and a valuable program of practical classroom strategic presentations were offered during the premier edition of the Tactical Technologies Conference and Exhibition held December 4-5 in Philadelphia, Pennsylvania.
The conference opened with keynote presentations by Sgt. Mike Albanese of the Los Angeles Police Department's SWAT unit and Lt. Col. Gary Schenkel, of the United States Marine Corps' Warfighting Lab.
Albanese delivered a comprehensive tactical debriefing of the "North Hollywood Incident," on the Bank of America, North Hollywood, California shootout involving two heavily armed subjects with fully-automatic weapons. His talk addressed first responder tactical considerations, command and control concerns, officer-down rescue tactics, weapon/tactical equipment issues, and protocol matters impacting Special Weapons and Tactics (SWAT) units.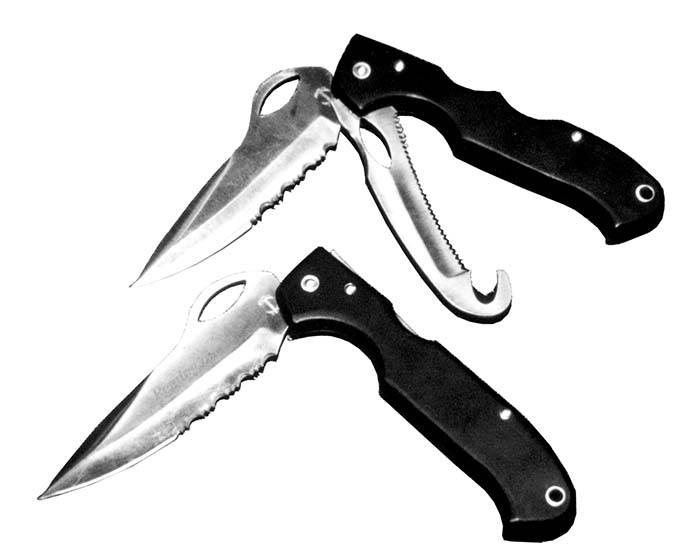 Addressing the topic of "Urban Warfare," Schenkel gave an up-brief on the Urban Warrior experiment the USMC is currently conducting. The movement of world populations tends to be centered in urban areas, and thus the USMC believes future wars will be fought-not on the battlefield, but rather in the streets. Schenkel described the concept of the "three block war" in which action ranging from humanitarian mission through violent combat, occurs all within a three block operating area. Schenkel noted that the military is leveraging the tactics, techniques, procedures, and technologies used in local law enforcement.
Many visitors registered for the conference program which was divided into two tracks. Tactical Operations and High Risk Patrol. Each track was divided into four sessions.
The tactical operations classes focused on: Domestic Terrorism, during which agents from the FBI's Counter Terrorism Unit provided information on domestic terrorist groups, their methods of operation and activities; the Mechanical Breaching class familiarized tactical officers with the variety of commercially manufactured tools available for rapid forced entry; the Surveillance Measures seminar provided attendees with a basic working knowledge of the various types of electronic visual and audio equipment available for resolving a tactical situation; and, the Explosives Detection & Booby Traps class provided an update on the latest technology for the bomb technician.
The High Risk Patrol classes included: Initial Response to High Risk Situations giving attendees a game plan for response to critical incidents; the First Responder Communication with Suspects in High Risk Situations class taught the verbal management of a crisis situation; and Less Lethal Weapons & Munitions Technology and Their Application to Patrol Operations showed the latest in less lethal weapons and munitions technology.
The most popular aspect of the event was the manufacturer's exhibition of the latest in law enforcement tools. Here is a rundown on some of the more noteworthy products and exhibits.
O.F. Mossberg & Sons showed a couple of new shotguns of interest to police agencies. A pump action shotgun with a box magazine is now available, as is the new Model 590, a double action trigger scattergun with a 13-14 pound pull. The company is also hopeful of receiving approval to import new semi-auto sporterized versions of the Galil and UZI carbines. See related story in this issue.
Mossberg also displayed the UZI Eagle handgun line with polygonal rifling, night sights and availability in three sizes and three calibers. All three models are available in traditional decocking double action and are chambered for either 9mm or .40 S&W. A .45 ACP 'Short Slide' version is also available. In addition, special compact double-action-only models can be specified in 9mm and .40 S&W.
Military and police buyers on the show floor continued to show a great deal of interest in the original UZI machine pistol as well the Micro Galil, both imported by Mossberg's UZI America division. The UZI has stood up to the harshest environments and conditions and has proven itself over the past 40 or so years. Both the original open bolt design and the newer closed bolt models are available. The Micro Galil carries a full 35-round magazine of .223 ammo, yet is no larger than the standard UZI.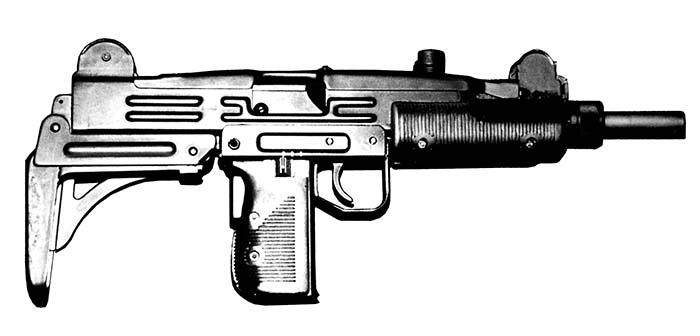 An interesting new firearm accessory product is the Sally Speedloaders, Inc. (Dept. SAR, 2344 N. Old Bethlehem Pike, Quakertown, PA 18951) rapid loading tool. For use with AR-15/M-16 rifle magazines using .223 ammunition, they enable the user to reload empty magazines using only one hand. The product attaches to any belt up to 2-inches wide making it hard to lose. Production of a 7.62x39mm version for the AK-47 series and derivatives is planned.
In use, an empty magazine is slid into the bottom of the speedloader while a stripper clip is inserted into the speedloader's top. Push the ammunition strip into the magazine and press the thumb lever to release the magazine and allow it to free fall into the hand.
The Nightstalker "So Smart" laser module (from DeMilt Associates LLC, PO Box 731, Olney, MD 20832) rapidly mounts from one weapon platform to another without losing bore sight. It incorporates a visible 635nm laser for targeting in dusk to dark conditions, an adjustable focus infrared flashlight assembly for covert illumination of targets up to 300 meters, and an infrared 830nm laser for target designation by operators using night vision goggles.
Bullet Coat is a solid film lubricant that can be dipped, sprayed or spray/baked on bullets, to allow all shooters the advantages of lubricating with Molybdenum Disulfide. Bullet Coat is known for providing outstanding lubrication and improvements in long range accuracy, while reducing lead dissipation and bore fouling. It is available from KG Products, Dept. SAR, 537 Louis Drive, Newbury Park, CA 91320.
Colt's Manufacturing Co. has added the .45 ACP Defender to its stable of down-sized pistols. Constructed with an aluminum alloy receiver, stainless steel slide and a three-inch barrel, it is a shortened and souped up version of the time honored 1911-A1 pistol. Sights are fixed white dot Colt Competition style set on a dehorned slide with an extended thumb safety, an upswept grip safety, light weight trigger and Hogue wraparound grips with finger grooves. Empty weight is 24 ozs. while overall length is 6 3/4-inches with a 5-inch sight radius. Cartridge capacity is a full 7-rounds.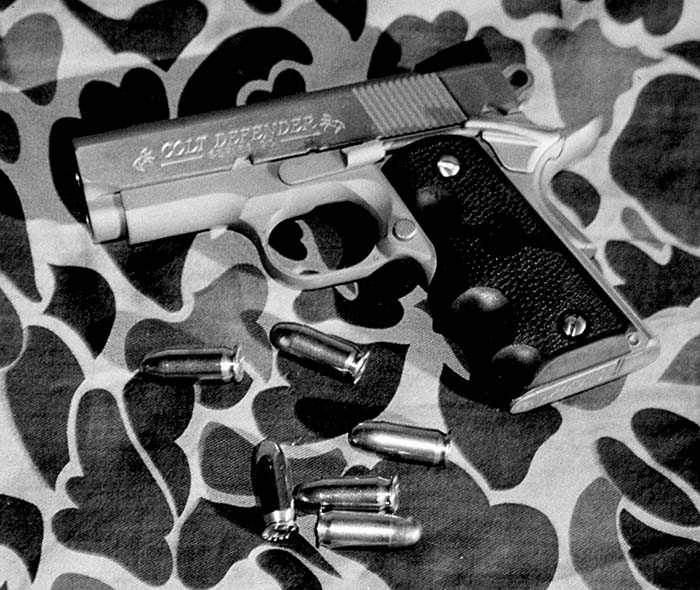 During some initial range work with a Defender this author has received from the manufacturer for test and evaluation, the pistol performed flawlessly with a variety of ammunition and delivered surprisingly good accuracy in contrast to its short sight radius. The rubber wraparound grips help to cushion recoil which was not excessive despite the light alloy frame.
This author also met up with Sandy Chisholm, president of North American Arms who reports his new Guardian .32 ACP, 6+1 shot double action only stainless steel pistol is now being shipped to dealers. Representing an effective balance between ballistic capability and package size, overall dimensions are 4.4-inches long by 3.3-inches high by .085-inches wide. Unloaded weight is 13.5 ozs.
The Guardian is intended to capitalize on the popularity of the Seecamp .32 (which is handmade in limited quantities and nearly impossible to find on dealer's shelves) as well as the Beretta Tomcat .32 (which is also scarce). North American Arm's product is designed to reliably shoot any commercially available .32 ACP ammo. Distinguishing features include a low profile sighting system, frame mounted magazine release and an integrally designed trigger over-travel stop. The author has had an opportunity to do some test firing of this pistol and found that it performed admirably.
A less-than-lethal subject incapacitation system was shown by Sage Control Ordnance, Inc. (Dept. SAR, 630 Oakland Ave., Pontiac, MI 48342). The L3AOS (Less Lethal Launched Ammunition and Ordnance System) fires a variety of available 37mm munitions encompassing: baton type polyurethane projectile impact ammo producing 153 f/lbs. of kinetic energy at the muzzle for use in controlling an individual or a rioting crowd; CS Irritant Agent Baton Type Impact ammo which delivers a double punch of a chemical agent along with the blunt trauma impact of a baton to control particularly unruly suspects; and, a Barricade Penetrator round which utilizes a hard plastic penetrator ring that "cookie cutters" its way through doors and windows and then delivers a high concentration of micronized CS dust.
Sage also showed several shotguns worthy of note. The Model SW-PC 'Sidewinder'TM is a fully concealable shotgun readily capable of being put into service quickly without concern for bulky butt stocks or long barrels. Comprised of a Remington 1100 or 11-87 auto-loading shotgun with Sage's unique action spring system,. it is equipped with a quick detachable stud and a rigid loop which allows it to be carried by a sling , or suspended from a shoulder harness. Barrel length is 14 1/2-inches making it an NFA weapon.


Two uniquely-designed folding utility tools permitting convenient one-hand use were shown by Remington Arms Co. (Dept. SAR, 870 Remington Drive, Madison, NC 27025). The blade tops have a patented oval thumbhole opener allowing them to be opened to a locked position with one hand. The combination of easy handling and advanced blade design is particularly applicable to law enforcement and emergency personnel.
The Single Blade One-Hander contains a 4 1/8-inch drop point blade with 50-50 serrated and plain cutting edge. The serrated section has a progressive, repeated pattern of one large and two small serrations providing superior cutting performance on tough but resilient materials such as rope, leather, heavy cardboard, or rubber hoses.
The Two-Blade One-Hander utilizes the same master blade as the single-blade version, plus a second 3 3/4-inch blade containing small, even serrations and a sturdy, sharpened hook on the end. The small serrations on this blade work effectively for sawing through hard materials. The freedom hook on the end is ideal for rapid cutting of seat belts, cords, wire, etc. by law enforcement and emergency personnel to free trapped accident victims.
Both knives have a lockback release (double lockback on the two-blade version) that can also be operated with one hand. The lock mechanism includes Teflon bearing discs for smooth operation and wear-resisting lubrication. For added convenience, a removable black stainless steel clip is attached to the handle of each knife.
"The master key for every door," is how Fenrir Industries, Inc. describes its In-Forcer power operated door breaching system. Successful drug raids rely on surprise, but if the suspect's door has to be hit more than once before entry is gained, the element of surprise is lost. Available with an optional power head design, the In-Forcer boosts power up to twelve times that of even the most forceful entry systems. The unit can deliver as much as 67,800 f/lbs. of kinetic force.
The Andros series of hazardous-duty mobile robots allow a range of responses to a threat situation-without risking human lives. Features of the remote-controlled mobile servants include an on-board real time video system, a mechanical arm, two-way audio, radiation detector and a mounted shotgun that can be fired by remote control.
Sponsoring organizations of the show included the National Tactical Officers Association, and the Philadelphia Police Department. While there was a great rush of activity during the show's opening hours, attendance drifted off somewhat and hit high and low periods during the rest of the exhibition. The show's promoters (the Varro Group of Shawnee Mission, Kansas) were thus uncertain if the exhibition will be offered again.
This article first appeared in Small Arms Review V1N9 (June 1998)