By Robert Bruce
"VMMV's collection includes about a hundred vehicles; everything from a military mountain bike to main battle tanks. Many of these are out today in static displays and tactical demonstrations to give visitors a sense of the experiences of those who have served in the military. What it was like to be in a tank or facing one across the battleground. What it was like racing across the desert in a hummvee, or sitting in the cramped troop compartment of an armored fighting vehicle. Guests at our Open House will get at least some sense of these wartime realities." Allan Cors, Board of Trustees Chairman, Americans In Wartime Museum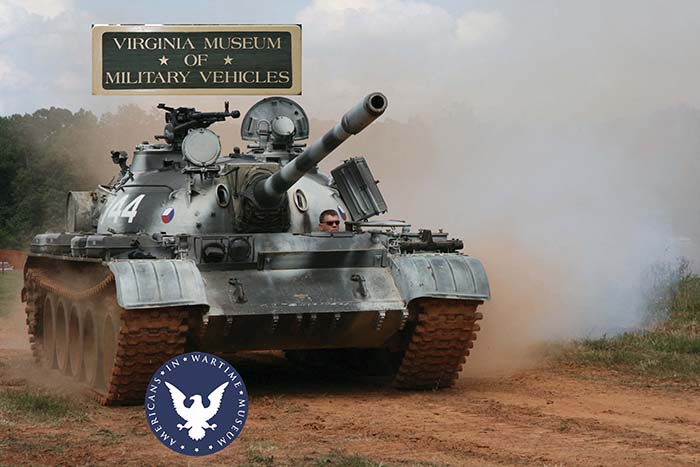 There's nothing quite like the awe-inspiring sight, sound and even smell of a 40 ton main battle tank on the move. Particularly if it's speeding in your direction with apparently malicious intent; armed with a devastatingly effective big bore cannon and a selection of fast firing machine guns. The hulking behemoth bears down on you with the deep roar of its powerful engine spewing acrid smelling black diesel smoke, the urgent clatter and angry high pitched squeal of its caterpillar tracks churning up billowing clouds of choking red dust, and the very earth is shaking as it abruptly turns at the last minute and rumbles close by at seemingly improbable speed. If that quickens your heartbeat and your gut tightens with a feeling of shock and awe, then Allan Cors and his team have accomplished their mission. You "get it" in a way that few other than combat veterans will ever do. Oh, and did we mention that the experience is free and open to the public?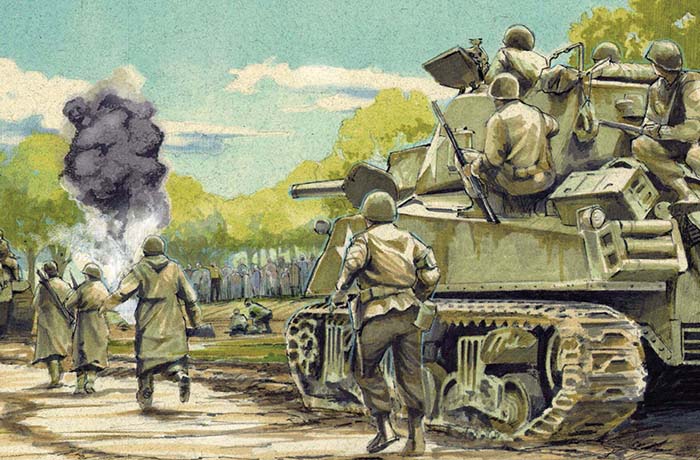 Virginia Museum of Military Vehicles
Open House at the Virginia Museum of Military Vehicles (www.vmmv.org), affectionately known as the "Tank Farm," has been held annually since 1991, getting bigger and better every year.
VMMV's sprawling grounds boast large grassy fields, cavernous buildings for vehicle restoration and display, plus a rough and tumble tank driving range; all discreetly nestled in the rolling farmland of northern Virginia's Prince William County near the city of Manassas; an easy drive from the Nation's Capitol.
While late summer in these parts is usually cursed with brutal heat and clinging humidity fed by regular downpours, the event weekend of 18-19 August was blessed with moderate temperatures and mostly sunny skies.
Pleasant weather was certainly one factor in bringing out some six thousand tank and military enthusiasts, but the driving force for those who made the pilgrimage was undoubtedly the opportunity for up-close experience with nearly a hundred vintage armored vehicles from around the world – with the added factor of personal interaction with many groups of uniformed reenactors bringing 20th Century military history to life.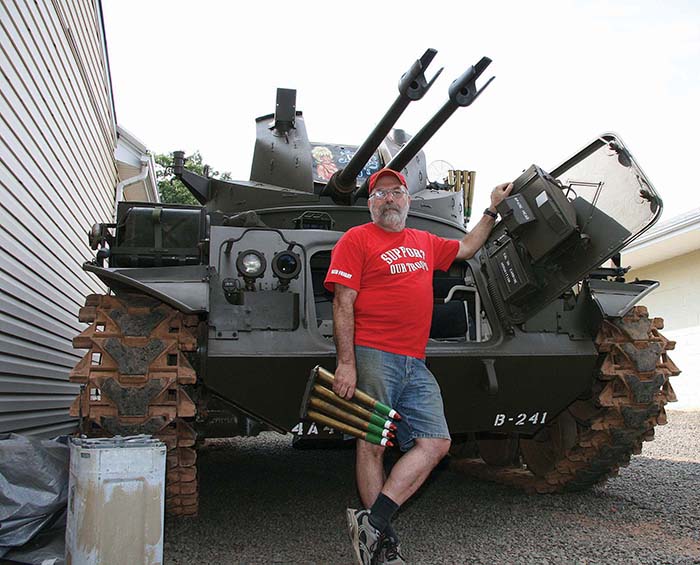 Americans in Wartime Museum
This year marked the second Open House in partnership with the Americans in Wartime Museum (www.nmaw.org), a highly ambitious, multimillion dollar work in progress for VMMV founder Allan Cors and a distinguished Board of Directors.
A special preview of the weekend's events was held on Friday where VIPs and the media where given an overview of the museum's novel approach to military history, education, and a status report on progress with fundraising and construction now underway at AIWM's impressive 70 acre site.
They were also treated to guided tours of VMMV's restoration operations, a "tank walk" around the display field for fascinating background info on many of the rare armored vehicles, and unbeatable bragging rights from actual pedal to the metal tank driving.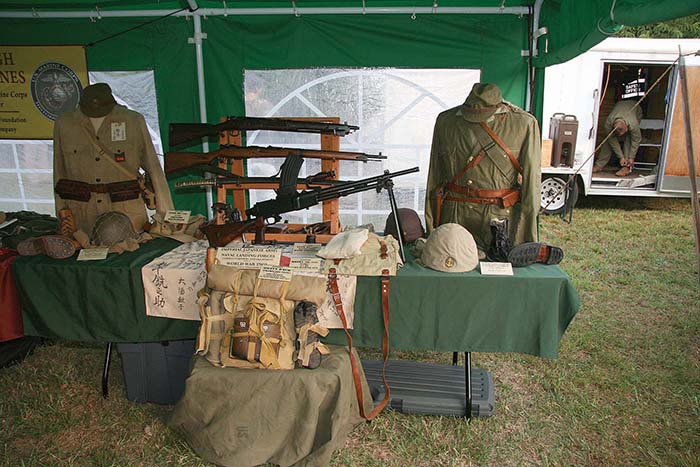 On Saturday and Sunday, AIWM staffers and volunteers presented new programs to recognize and salute military veterans, beginning in a registration area where they were issued a name plate identifying their branch of service and period served.
Children got a special signup sheet with lines to collect signatures from veterans of five U.S. wars and conflicts beginning with WWII. Their incentive was a prize but along the way the educational experience was invaluable.
A veterans round-table was held both days, sharing stories of their experiences that were recorded for archiving in the museum's rapidly growing collection of oral histories.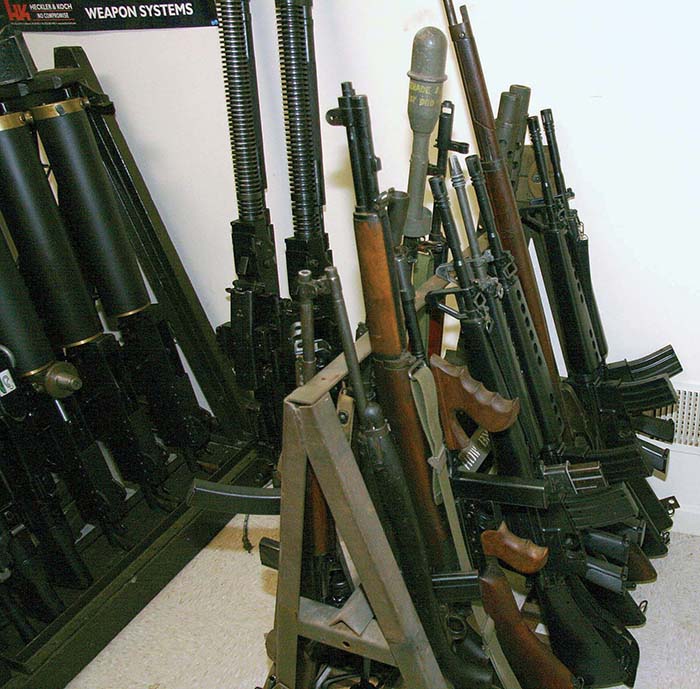 Living History Presentations
While real veterans of real wars made their way around the grounds, they merged with crowds of enthusiastic "civilians" of all ages, eager to see the vehicles on display, particularly where reenactment units were set up.
Vehicles were grouped by country and conflict in a timeline around the enormous display field with WWII dominating the terrain. American GIs busied themselves with jeeps and Sherman tanks, British "Desert Rats" bustled about their Bren Gun Carriers, Red Army troops lounged next to a pair of iconic T34s, and steely eyed German soldiers cleaned their machine guns under the distinctive barrel mantlet of a Hetzer tank destroyer.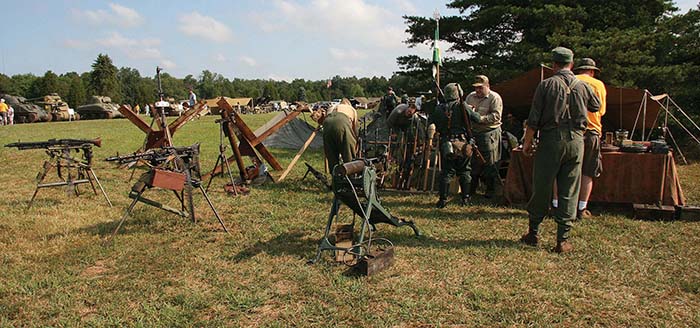 Moving down the field, the timeline marched on through the decades with French Foreign Legionnaires in Algeria, American GIs in Vietnam, and East Germans behind the Iron Curtain. All dressed in authentic uniforms, armed and equipped with the things carried by soldiers of their time and place.
At regular intervals during the day several of these units took turns on the demonstration field. The premise is simple but powerfully effective: Vintage armored vehicles on the move along with correctly uniformed soldiers. Men and machines in battle scenes come to life from wartime newsreels.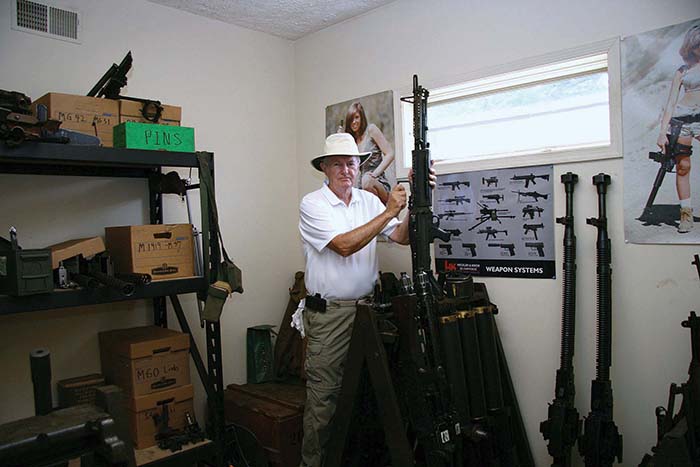 USMC Historical Company
As good a job as all the other living history units do with their portrayals, none can compare with the disciplined and tightly-knit group of current and former from the USMC Historical Company (www.usmchc.org) who, year after year at the Open House and other events, present "Devil Dog" history in superb displays and realistic demonstrations.
Under his steady hand and no-nonsense enforcement of the highest standards, retired Gunnery Sergeant Thomas Williams, the company's full time director and CEO, the USMCHC was undoubtedly in charge once again.
Their display area was appropriately encamped next to a nicely restored WWII DUKW amphibious truck, (best known by its GI slang name "Duck") painted in the correct USMC green with yellow markings. This provided the perfect background for a working WW2 field kitchen, serving three meals a day to the unit's two dozen staffers and volunteers.
Two large green display tents provided shelter for uniformed mannequins depicting Leathernecks from the origins of the Corps in the American Revolution to the ongoing conflict in Afghanistan. Hundreds of authentic Marine Corps artifacts including weapons, equipment and other gear were on display to inform and educate.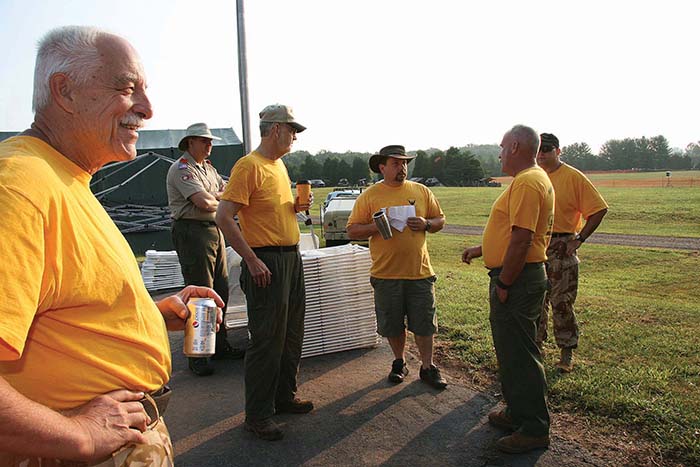 WWII Marines in the Pacific
As impressive as the USMCHC's displays are, the spectacular tactical demonstration they provide is the yearly highlight for many event goers.
Utilizing an educational technique commonly referred to as "Living History," members – often supported by additional active duty Marines – don uniforms of a particular time period and create an environment that will give an audience a glimpse into the past.
Gunny Williams strongly emphasizes that the USMCHC does not portray combat, or participate in mock battles. "There is no effective way to re-create the tragedy and horror of war," he stressed in a careful recitation that's also found on the unit's website. "Such attempts for live audiences take away from the accurate depiction of history, misleads the audience, and often makes a mockery of what the original veterans endured and accomplished."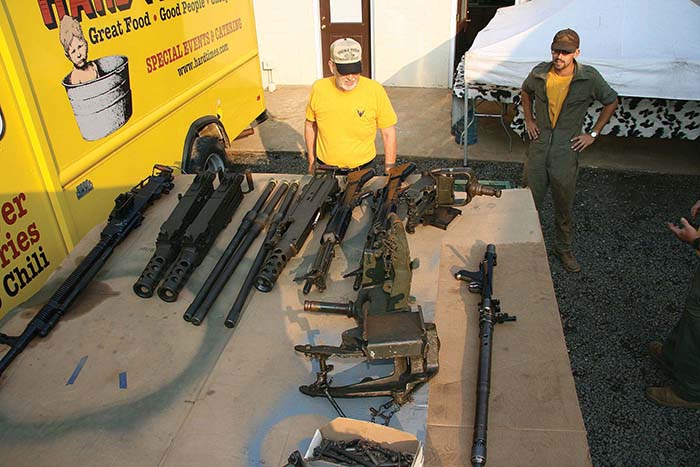 Instead, he said, "What we do attempt to create is a realistic interpretation for the audience that reflect the conditions historical Marines lived under, their training, and how they prepared for combat."
The crowd-pleasing tactical demonstration that was presented on both days depicted a Marine infantry squad training for bunker assaults in the Pacific Theater of Operations during WWII.
It began with Williams as narrator, introducing the squad and describing the weapons each man carries, including the formidable .30 caliber Browning machine gun and the horrifically awesome flamethrower.
The "training exercise" unfolded with textbook precision as the squad moved out and advanced to encounter an enemy bunker. A belt-fed Browning machine gun laid down a protective curtain of fire while the squad's fire teams prudently avoided unnecessary exposure, to return fire from the bunker.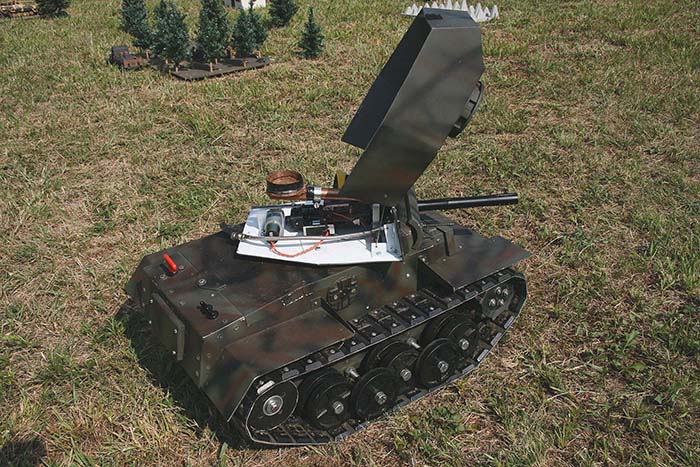 Then, called forward by the squad leader's hand signal, a massive Sherman Tank roared up with its own machine gun chattering away, dramatically punctuated by a deafening blast from the tank's 75mm main gun.
Custom made pyrotechnic charges that had been previously set by the unit's powder man were remotely detonated right on cue at the bunker, convincingly simulating hits from the tanks cannon. Additional explosions "walked" toward the enemy emplacement, indicating progress of friendly artillery fire.
Then the squad advanced for the kill, fiercely shooting to protect the flamethrower operator as he moved into effective range. As bright orange and yellow torrents of burning gasoline roared into the bunker, spectators fifty yards away could feel the heat, causing audible gasps and some nervous chatter.
A lesson in the horrors of war not likely to be soon forgotten by those who's only previous reference comes from movies….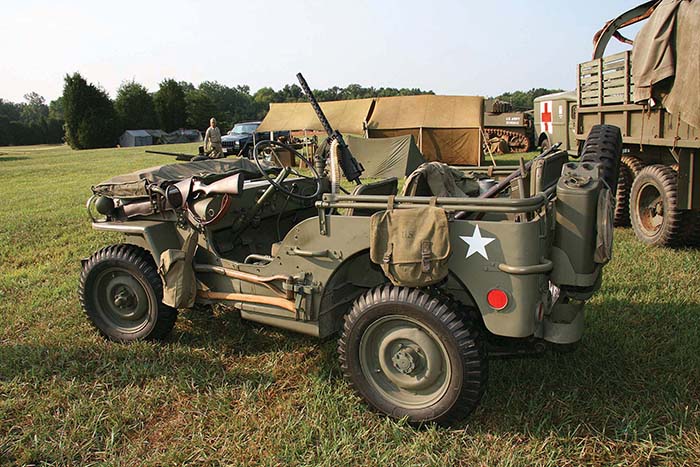 Climb Aboard
Sign up for the Americans In Wartime Museum's email list for regular notices and an invitation to attend next year's Open House (www.nmaw.org/)
Virginia Museum of Military Vehicles

www.vmmv.org
The VMMV is the result of the work and enthusiasm of many people. It was founded in 1989 by Allan Cors as an outgrowth of a lifelong interest in military history and years of collecting a wide variety of historic artifacts that relate to the subject. In 1982, the acquisition of a WWII jeep initiated the passion for military vehicles. Dodge command cars, weapons carriers, GMC and White trucks followed.
In 1984, Allan met fellow collector, Fred Ropkey, whose support and guidance were critically important in opening new vistas for this new endeavor. The first tank was acquired in 1985 and the collection of operational military vehicles has grown dramatically since then. Allan's collection is shared with the public under the name, Virginia Museum of Military Vehicles.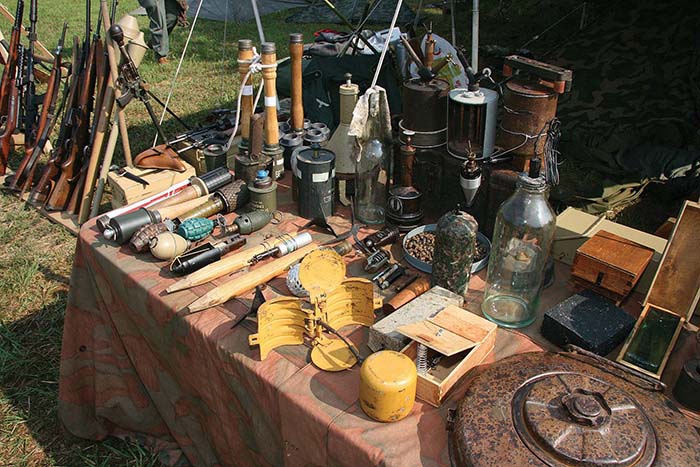 The VMMV is located at the "tank farm", a grass airstrip and several adjoining properties located in Prince William County in northern Virginia. Here, under the direction of Operations Manager Marc Sehring, the vehicles are restored and maintained for the collection. It is also the site of the VMMV's Open House events that have been held since 1991. On these occasions, the vehicles and other historic artifacts are demonstrated to support and enhance the speeches made by the veterans who served their country with this equipment.
In addition, there are other special programs that are provided for current members of the armed services, veterans groups, research organizations, youth groups and charitable institutions. The collection is shared, also, with the public at air shows, parades and veteran reunions. See this website for photos from recent events.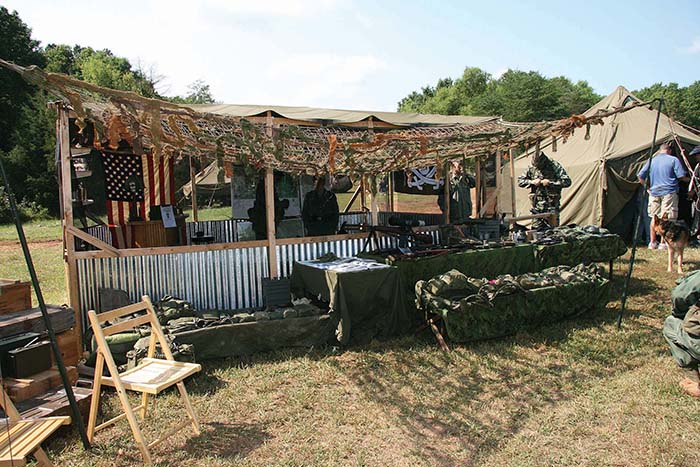 What They Do
The vehicles are kept in or restored to original operational condition so that current and future generations will have an opportunity to see, touch, hear and even smell these important pieces of military history.
Hopefully, this equipment will give visitors a clearer personal understanding of the events and conditions experienced by those who "were there." The events and programs at the VMMV, as well as the condition of the collection, are the direct result of the hard work and dedication of the full time staff and the many volunteers. These people have a wide variety of experiences and interests, and include veterans who served their country as far back as WWII. They come from a number of states in the eastern U.S. and from as far away as the United Kingdom.
(Need tanks or other military vehicles for your movie? Contact tankstogo.com)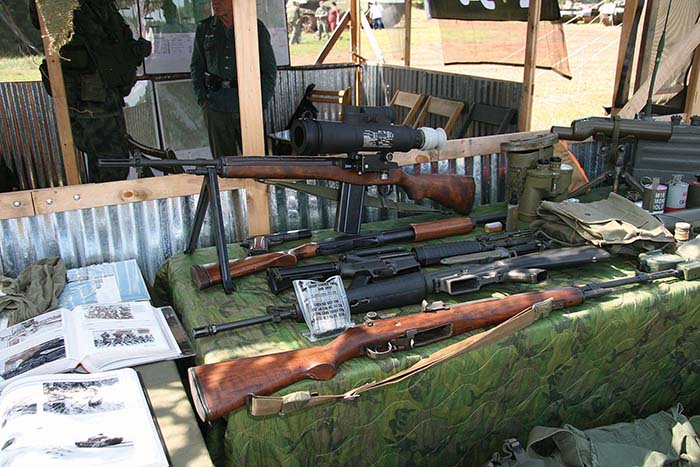 Americans in Wartime Museum

www.nawm.org
The Americans in Wartime Museum is a not-for-profit cultural and educational institution dedicated to honoring those who served in all branches of the United States military and on the home front from World War I to the present, and to educating the public, especially young Americans, about the personal experience, realities of war, and sacrifices made by Americans striving to preserve our freedoms. The Museum's exhibits inspire their visitors by providing a dynamic, interactive experience, the ability to touch and explore military vehicles and artifacts, and to participate in reenactments and special programs.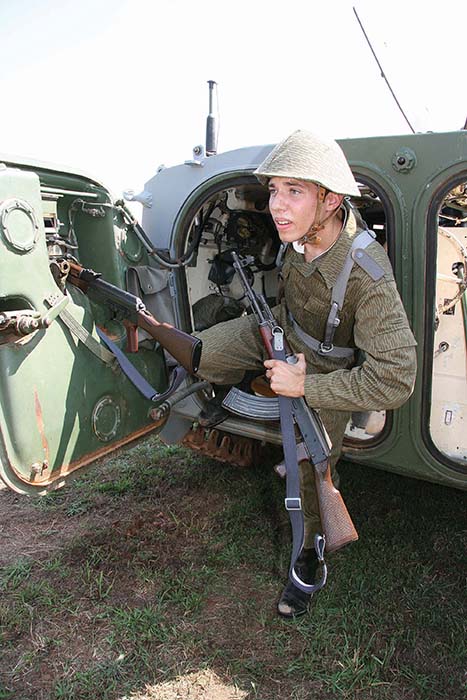 About AIWM
"Ordinary" Americans are the foundation of the Americans in Wartime Museum. Theirs are the stories the Museum will tell – the stories of an entire nation answering the call to serve:
The "ordinary" citizen who becomes a hero in uniform;
The parent, spouse or child who sacrifices every day on the home front;
The veterans who survived their experience as prisoners of war or are still listed as missing in action;
The young Americans who have given their lives on behalf of our nation. For the millions who served in the military, those who worked and waited at home, and those who have only experienced America's wartime events in a textbook, the Museum will answer the questions:
Who were America's citizen soldiers?
How have Americans answered the call to serve?
What have we gained from their courage, their commitment, their sacrifice?
The site is on 70 exceptional acres in Prince William County, Virginia. The land, which is immediately adjacent to Interstate 95 at Dale City, will provide the perfect setting for the Americans in Wartime Museum. The location, only 23 miles from the nation's capital, also provides easy access to other museums, shopping, restaurants and amenities.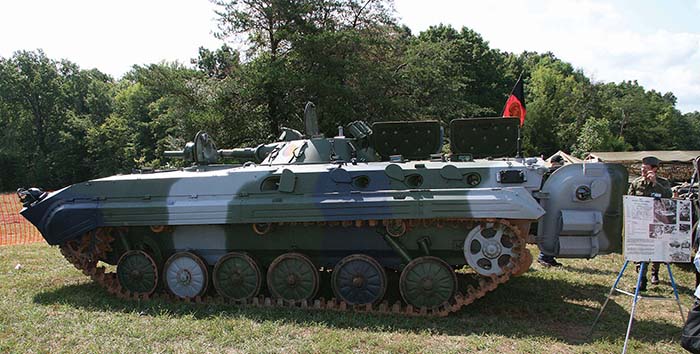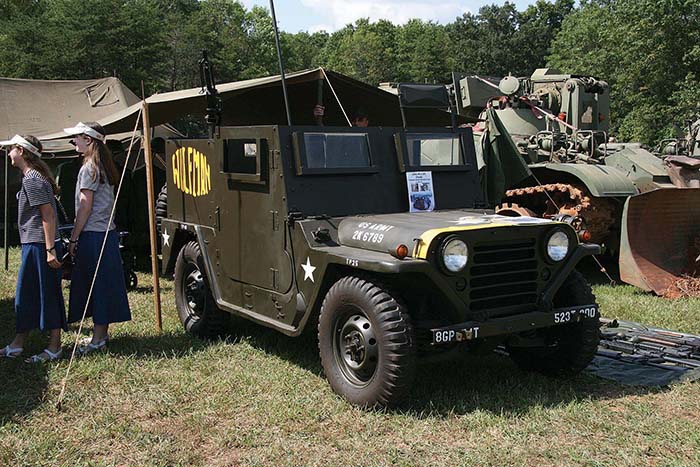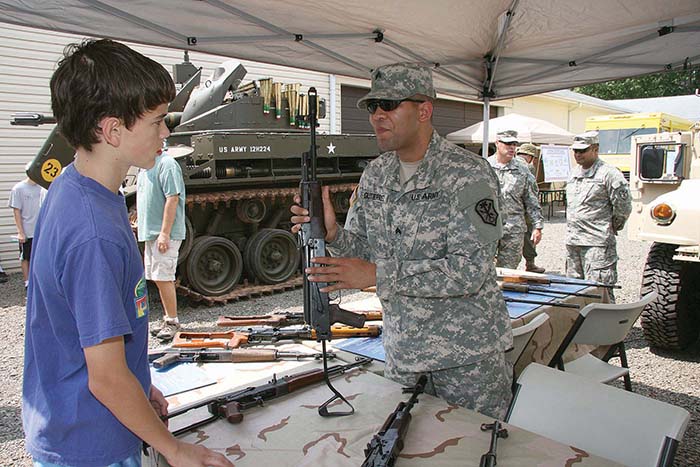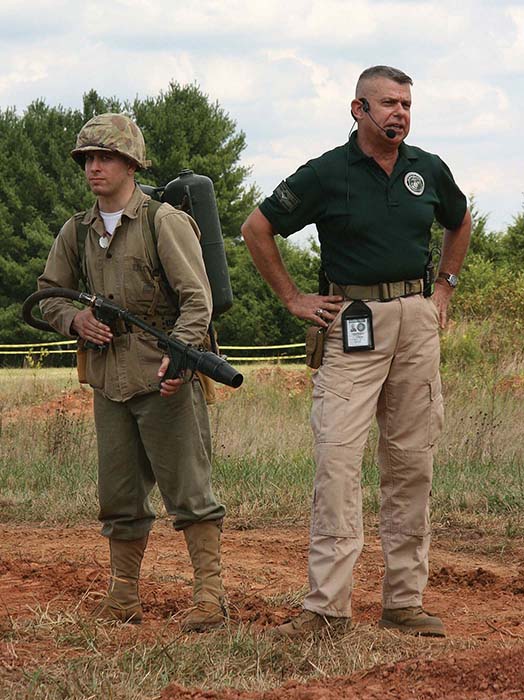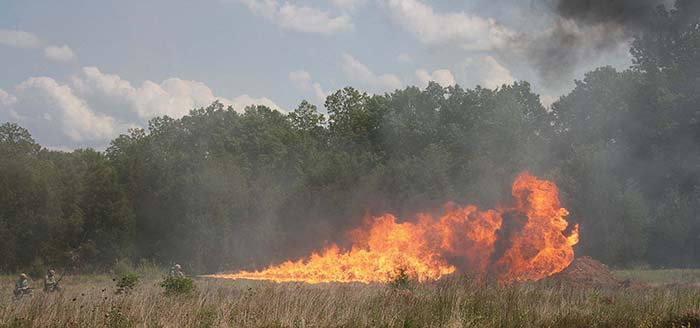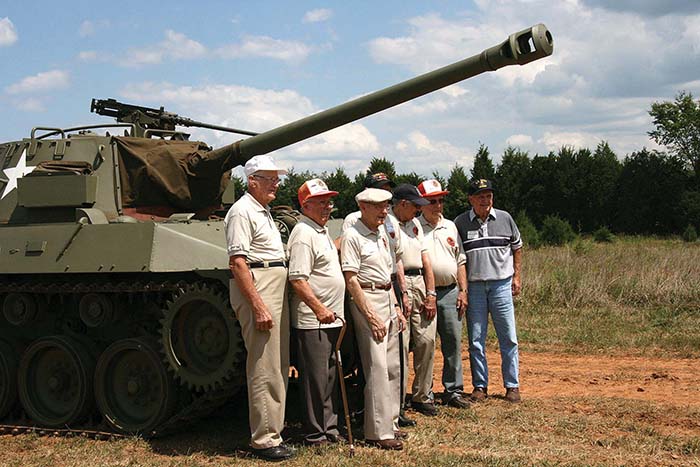 This article first appeared in Small Arms Review V17N1 (March 2013)