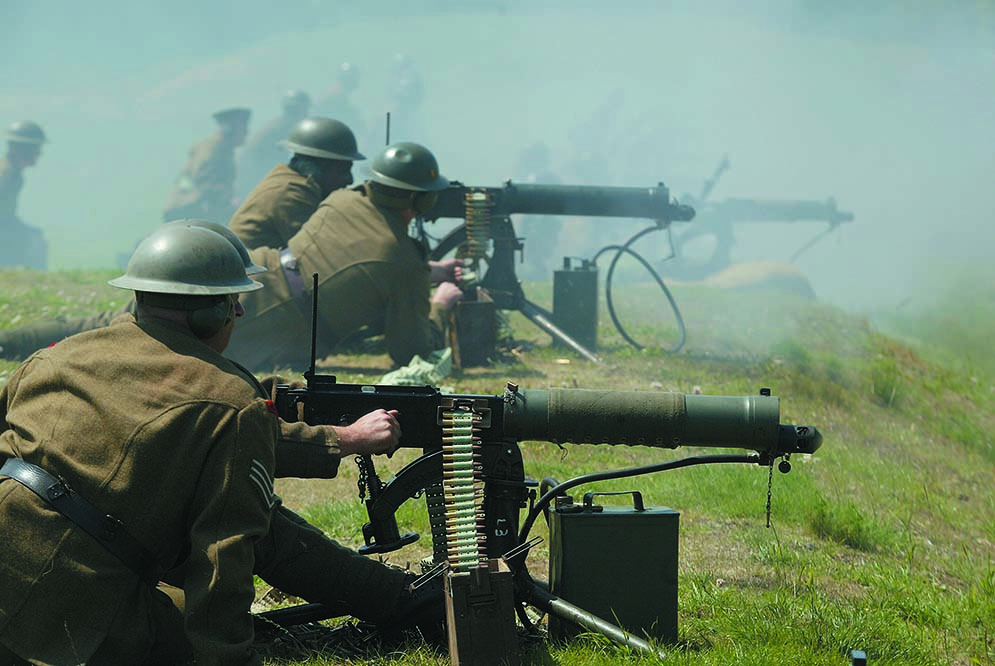 By Dan Shea

14 July, 2002, Stickledown Range, Bisley, United Kingdom. Hundreds of people have gathered together on a glorious South England summer day, in a spirit of remembrance of those who made sacrifices in the Great War so very long ago. The Machine Gun Corps was active from 1915-1922, a total of seven years. In that relatively short time, the bursts of machine gun fire from their guns echoed over Egypt, Italy, Mesopotamia, Belgium, France, Palestine, Salonika, India, North West Russia, and East Africa. They were part of a new paradigm, a new order to the battlefield. They literally changed the way battles were fought and won. Of the 170,500 officers and men who served in the Machine Gun Corps, 13,791 lost their lives, while total casualties killed, wounded, missing or prisoners of war was 62,045. That is a 36% casualty rate. In modern terms, they were "Walking dead". In the terms of their day, they were called "The Suicide Club". Machine gunners tended to be out at the front, as much as infantry in general and the casualty numbers show the results of that exposure.

Exercise Parting Shot was sponsored by the Machine Gun Corps Old Comrades Association in cooperation with Bisley Camp, and 25 Training Support Regiment RLC. This event was given in remembrance of the 80th anniversary of the retirement of the Machine Gun Corps, which occurred in 1922.

On the field at Bisley, the tents were set up, the belt loaders clacking away industriously as the soldiers prepared for the event. Captain Peter Laidler and other armorers were checking and re-checking their guns. The MGC Old Comrades Association was set up, and many interesting "De-acs" were there: machine guns that had been deactivated, or were dummies. Maxims and Vickers were the order of the day in the display tents. As the crowd gathered round, the supervised firing started about mid morning.

Each person who was to fire a Vickers gun had purchased not only an admission ticket for approximately twenty dollars, but a special ticket to fire 100 rounds of Her Majesty's ammunition down Stickledown Range. One hundred rounds cost forty-five quid, about sixty-five dollars. All proceeds of this event were given to Service Charities. The prospective machine gunners were led down a path to an instruction tent, given suitable briefings on the firing and procedures, then, off to the firing line. Hearing protection required, of course.

Over 40,000 rounds of .303 ammunition were fired from ten guns. It was an awe inspiring demonstration of firepower, and for many it was their first time on a machine gun, let alone a Vickers. The crowd was upbeat, paying attention to detail, and having a general good time. In the process, quite a few of them were educated not only on the history of the Machine Gun Corps, but on the general history of the machine gun. Many luminaries of the small arms world were present, and there were several contingents from the United States, including a group from Small Arms Review.

Mid morning, the firing was stopped and opening addresses were made. There was then a Drum Head service, where the colors were flown, songs and prayers were shared, and memories were recalled and spoken over the field. This was truly a once in a lifetime event.

In a somewhat tongue in cheek notice, the fees were waved for anyone who had been in the Machine Gun Corps or served prior to 1923. As it turns out, there were three who attended the service and had been members of the Machine Gun Corps, fighting in World War I. It was with great pleasure that the crowd heard of their service, and it was even more inspiring when the elderly veterans were taken to the firing line, and put behind a Vickers to fire some bursts.

Just after noon, 25 Training Support Regiment RLC came out in full period uniform, and gave us demonstrations of gun mounting drills. Our center spread shows part of this process. Gun mounting drills are the training sequence a machine gun squad utilizes to emplace, operate and feed the machine gun. The tripod is set, gun mounted, ammunition and water can brought forward, gun loaded, then the firing commences. In the drill, the ammunition supply is established as members of the squad keep bringing ammunition to the position and moving debris and used belts out of the way. In our instance, the squad kept the belts going back to the ammunition tent for refilling. Without the staunch soldiers who did this all day long, the firing would have been short-lived.

On another interesting note, the Commemorative Shoot was considered to be a formal occasion, and we were invited to "Dress Appropriately". The guidelines were that re-enactors could wear period uniforms, it was expressly stated that mixing civilian and military uniforms was not to be done. We considered this a civilized touch to the event.

The Machine Gun Corps Old Comrades' Association was formed in 1935. They had previously sponsored a memorial, Derwent Wood's "Boy David" at Grosvenor Place, and it was moved and placed in a new location in 1963. Each year, the OCA has memorial services in May, then in other locations in October and November. The organization has 400 members presently, and at the time of Exercise Parting Shot, 3 of them were original members of the Machine Gun Corps. The OCA is active in encouraging a continuation of research on the history of the Corps, and they are presently attempting to write that history. Much of the information was lost in a fire, but members have been working for many years to rebuild the data pool.

Many thanks to all involved, and in particular to Lt Col E. G. Waite-Roberts TD RLC, Major John Butler TD RLC, Judith Lappin, Honorary Secretary MGC/OC, and Captain Peter Laidler REME for their outstanding efforts in bringing Exercise Parting Shot to life.

Dolf Goldsmith, author of "The Grand Old Lady of No Man's Land" and "The Devil's Paintbrush", is currently working on a similar book regarding the Browning Machine Guns. As a byproduct of that interest, Dolf is attempting to organize a similar event to Exercise Parting Shot, with the Browning Machine Guns and to do it in the United States. We will keep you updated on this event as it takes form.
This article first appeared in Small Arms Review V6N11 (August 2003)