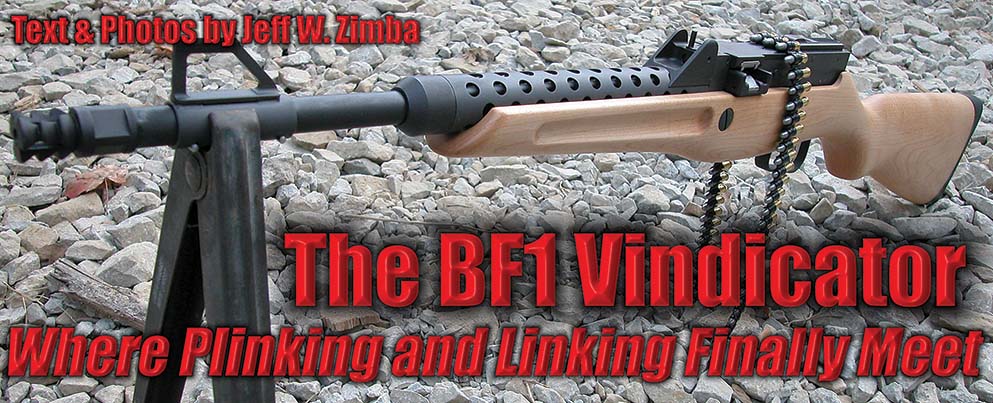 (c)By Jeff W. Zimba
There is a special place in the hearts and minds of shooters for anything that is belt-fed. For some shooters a belt-fed firearm is their goal as the trophy of their gun collection. For others it is the beginning of a new adventure in firearms ownership, one that is usually rich in history with prices that are often not for the faint of heart. Thanks to Lakeside Machine and the introduction of their BF1 Vindicator, the "belt-fed club" just got a little bigger.
Belt-feds and budgets are not usually two words that go together in the same sentence. No matter what you have for a belt-fed firearm, your ammo budget is certain to multiply with each trip to the range. This can, and does, get quite expensive, even when ammo prices are reasonable. Unless you are paying $25.00 per thousand rounds!
The .22 Long Rifle BF1 Vindicator is the brainchild of Eric Graetz from the well-known Tippmann Miniature Machine Gun line. It is the world's only belt-fed, rimfire carbine currently in production. It is sold as a semiautomatic carbine but is available as a fully automatic Post-86 Dealer Sample to qualified Class III dealers or police departments. As a semiautomatic carbine, it is legally treated just like any other sporting rifle and can be sold on a 4473 with a NICS check just like any other rimfire rifle.
The current barrel length available is 16.25 inches. With an overall length of 36.5 inches, the BF1 Vindicator shoulders and handles like a standard, full size hunting rifle and weighs in at just under 8 pounds. Stocks are currently being offered in walnut and there will be a few stock options available in the very near future. Each rifle is shipped with 2 fifty-round belts and additional belts in various lengths are currently available. Several accessories are also in the works including a belt box and a brass catcher.
Shooting the Vindicator
Small Arms Review was provided with the original, pre-production prototype to evaluate. Due to machining time constraints, we only had it for a short period of time before it had to go back to Lakeside to assist them in the actual production phase of the program. Because there was not enough time for a proper range evaluation including grouping, chronographs, pact-timers or endurance testing, I decided to fall back on something that our Managing Editor used to use years ago, on occasion, in similar circumstances. The Buddy Test. We would spend our limited amount of range time with local shooters who are not industry people but certainly fall into the RKI category. Other Class III enthusiasts who are typically end-users and can give a non-biased evaluation based upon their thoughts about the test gun.
The range time consisted of two separate outings, both with long-time, local Emma-Gees to get their input on the Vindicator. Jim Hubert, who used to help me back in the days of "The Outpost", was the first to get behind it. We fired a 50-round belt and followed it with a 75-round belt. That poor tree stump at the range never had a chance. After a few initial jams caused by the hanging belt swinging and twisting around under fire, I started feeding the belt for him and we never had another malfunction. He said this was the first time he needed an assistant gunner for a rimfire rifle.
On the second outing, I was accompanied by Mark Sandy and his 13-year-old son Ben. Both are very well known in the Northeast machinegun circuit and were regular line workers at the Hiram Maxim Shoots. Ben has been an Emma-Gee since he was 5-years old and has grown up around machineguns. He is extremely safe and proficient with a firearm. He is also an accomplished hunter. I brought the rifle during an unannounced visit and asked for a quick range evaluation. Within minutes, we were at the range and going over the loading sequence. I fired a few rounds at another helpless stump and passed the rifle to Mark. After firing a quarter of a belt, he smiled and passed it to Ben. The belt was promptly emptied and the next one was loaded. The honors were given to Ben who punished the stump even more and finished the second belt. On this outing, there were no jams and the rifle functioned flawlessly. The consensus was that it was lots of fun. It is comfortable to shoot and there is virtually no ammunition expense compared to anything else with a belt feed mechanism. Everyone liked how portable the rifle was compared to other belt-feds and there was no more set-up or takedown than any standard sporting rifle. While talking to Eric, the issue of a twisting and hanging belt from shoulder's height would be addressed with the addition of a hanging belt box, something that is already in the works. CCI Blazer ammunition that was obtained at the local Wal-Mart was used in the range sessions and never failed to function as intended.
At the Fall Knob Creek Shoot the author had the opportunity to spend a little time shooting a fully automatic variant of the BF1. While shooting over 1000 rounds in one volley, the only feeding problems encountered were due to the A-gunner allowing the belt to twist.
A Sight for Sore Eyes
In an attempt to create an even more unique rifle than the Vindicator already is, Graetz has designed an entirely new sighting system for it. The rear sight is a simple cylindrical post. The front sight resembles a "spade", one of the suits on a deck of playing cards. The front sight has a horizontal white line running across the "shoulders" and the rear post is lined up even with this white line. The point of the front sight is then held at a 6 0'clock bull on the target. It sounds much more complicated than it is, and the author actually found target acquisition very fast, even while shooting in fully automatic, at a high cyclic rate. The purpose behind this new design is to avoid the problem of the target being partially obstructed as it often is with traditional peep and buckhorn style sights. To test this new system we engaged a small tennis ball thrown downrange. The ball was rolled all over the range as we scored multiple hits and continued to keep the ball moving through the entire belt. This was repeated several times with the same results.
Hold The Presses
Just before this article was getting ready to go to print, Eric contacted me with something he said was too exciting to leave out. After talking with him for just a few minutes, I have to agree. For the first time ever, disintegrating links are now available for these rimfire guns. These new links will function in any of the new Lakeside Miniature belt-feds, the BF1 Vindicator Carbine, and any of the older Tippmann Miniature belt-feds with absolutely no modification to the guns. The links are completely compatible with, and will function flawlessly using .22 Long Rifle, .22 Magnum, .17 HMR and .17 Mach II ammunition! The links function in both the semiautomatic and fully automatic variants. This solves the long time concern that belts and belt material would only be available on a limited basis leaving the owners with no method of feeding their firearms. This also lets the owner get as creative as he would like in his belt lengths. This is very exciting news! New links are currently available from Lakeside Machine for $170 per thousand links with no order limitations. For you traditional shooters the woven cloth belts can still be purchased for $17.00 per 100-round belt.
Summary
Lakeside Machine has designed a belt-fed rifle priced under $2,000 that you can shoot without needing a second job to feed it. While a bipod is handy to have if you are shooting from a bench or while lying down, it is not necessary. A rimfire rifle in the 8-pound class has no noticeable recoil, so target acquisition on multiple shots is a breeze. The noise is not a factor where some ranges are a little more "sensitive" to their neighbors. Thus, long afternoons of plinking should not be a problem like it may be with other belt-fed firearms. With the attention this little carbine has already gathered in it's initial offering, it looks as though there will be many more belt gunners than there were just a few short months ago.
Current retail on the BF1 Vindicator is $1,995 and they are available for sale and shipping at this time. There were units on display and available for sale at the Knob Creek shoot in October of 2004. They will also be available at the SAR Show 2004, December 3-5 in Phoenix Arizona. You can view several photos and videos of their current and future projects by visiting their website at: www.lakesideguns.com.
Technical Specifications
BF1 Vindicator
Caliber: .22 Long Rifle or .17 Mach II
Overall Length: 36.5 inches (927.10mm)
Barrel Length: 16.25 inches (412.75mm)
Weight, unloaded: 7.9 pounds (3.58kg)
Method of Operation:Blowback operated, semiautomatic, fired from a closed bolt. Fully automatic version available with police demonstration letter.
Feed Mechanism: Bolt actuated, double-pawl mechanism.
Ammunition Capacity: 25-round, 50-round & 100-round belts. Custom belt lengths available upon request as well as individual injected molded nylon disintegrating links.
Barrel: 4140 chrome moly 6-groove, rifled barrel with a 1/14 inch twist.
Sights: Proprietary Post & Spade design, adjustable for windage and elevation.
Finish: Dark grey Milspec Phosphate. (Parkerized)
Furniture: Walnut in .22 long rifle and Blond Maple in .17 Mach II
Retail Price: $1,995.00
Lakeside Machine
Department SAR
N5391 County Road S
Pound WI 54161
Phone: (920) 897-4682
Fax: (920) 897-4688
E-mail: sales@lakesideguns.com
Website: www.lakesideguns.com
This article first appeared in Small Arms Review V8N4 (January 2005)