By Kyle Shea
A mercenary who serves aboard the spaceship Serenity, Janye Cobb is a man who can be both admired and hated. Played by Adam Baldwin, Jayne is a lover of "good guns and fine women" while not being afraid to use violence to get what he wants. He became a crewman of Serenity after he was offered a better place to sleep and better pay. He also became the "Hero of Canton" after he accidently dropped a ton of stolen cash on a bunch of unsuspecting poor townsfolk. He does have a softer side when it comes to his mother, even wearing an ugly wool hat she sent to him as a present.
Jayne has quite a collection of guns, including his personal favorite, "Vera." It is an interesting firearm that needs oxygen to fire. The most famous scene with it is when Captain Malcom accidentally ends up married and Jayne wants to exchange Vera for Mel's wife. He is often seen using it in gun fights, including when the crew of the Serenity has to save Mel from a crime lord. According to Jayne, he got the gun during a fight with six men, one of whom was using Vera.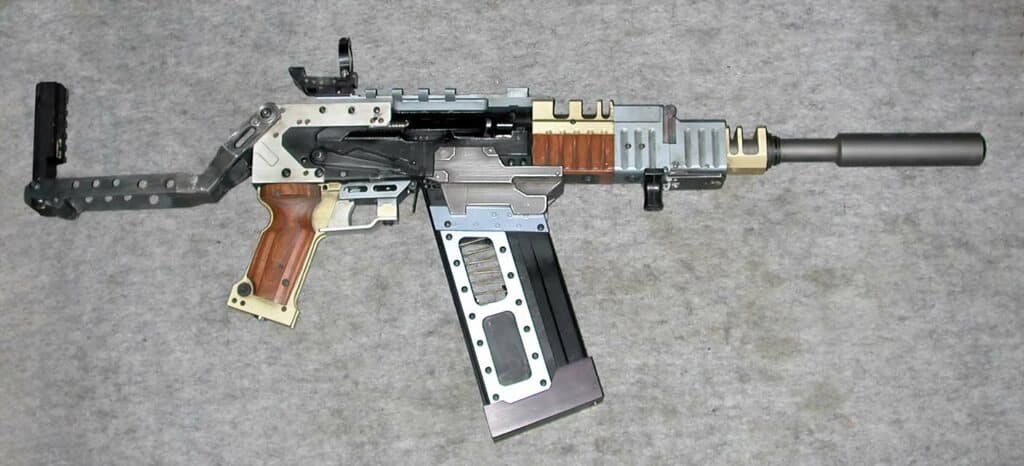 Vera was previously used in a 2002 movie called "Showtime." It is actually a Saiga-12 with an insane amount of props on it. This semi-automatic shotgun, named after a type of antelope in Russia, is actually modeled after the AK-47 rifle, though there were are a few differences. The gun is used both by military forces and civilians, as it makes a good hunting shotgun. Some Saiga shotguns have an AK hand grip, while others are more like sportsmen shotgun, with the grip being part of the stock.
The Saiga shotguns come in a number of variants. Depending on the variant, the gun shoots ether 12-gauge, 20-gauge, or .410-gauge shells. The ammo is loaded into the gun through magazines. These magazines vary in sizes, from five rounds to ten rounds. There also drums, that holds from 12 rounds to 30 rounds. The gun weighs about eight pounds and varies in length depending on the gun variant and what type of stock the gun has. The insides are larger than the AK-47 so they can handle the shotgun shells. The safety is like the AK-47, so when the lever is up, it will not fire, and when it is down, it will.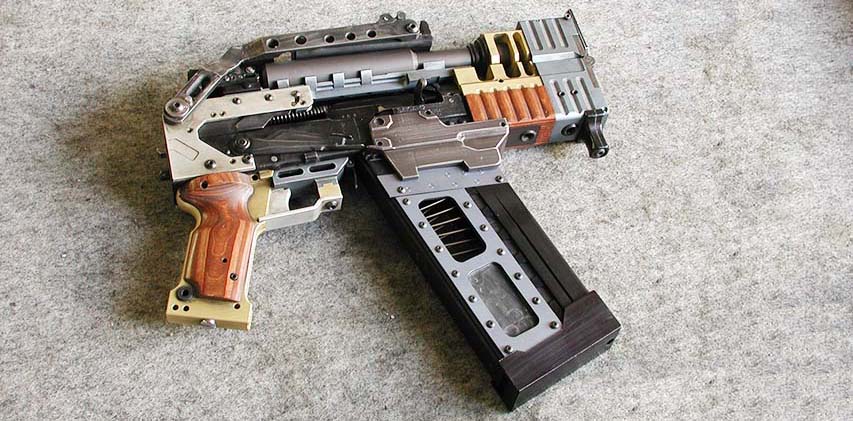 Jayne actually has a large collection of guns. While a group of Alliance soldiers is searching his quarters, they find a Kimel AP-9, a SIG-Sauer P220 Sport, a Claridge LEC9, and a host of others. Other guns used by Jayne include a Colt Single Action Army Revolver, H&K770 sniper rifle, and a SIG-Sauer P229. In one scene in the first episode, Jayne sneaks up on a sniper, beats him and uses his sniper rifle, a Blaser R93 LRS2, to take out some enemies.
There are actually a lot of guns in the show "Firefly." Some are western guns with a large amount of props on them that don't do anything but make them look cool and futuristic. Mel's gun is a Taurus 85 modified to look larger and like a gun from the old west. Most of the guns don't have props on them, like some H&K MP5SD3s, L85A1s, and MP40s that are used by Alliance soldiers. Zoe, Mel's second in command, has a cut-down Winchester Model 1892 as her weapon of choice. There are also Browning M2s made to look like DShk machine guns, though the author thinks they could have just tried to make them look more like a futuristic space gun.
The show "Firefly" is a great show. It may only be 14 episodes of one season, but it has a large following. All the characters in the show are great and acted well by good actors. Adam Baldwin was excellent as Jayne Cobb, playing a brutish man that can have a heart of gold. Nathan Fillion shines as Malcolm Reynolds. Summer Glau is outstanding as River Tam. Gina Torres, Alan Tudyk, Morena Baccarin, Sean Maher, Ron Glass, and Jewel Staite are all very good in their roles and all have their moments. The special effects and computer graphics are well done, especially the ships. It is a good series and definitely worth a watch, especially whenever the "Hero of Canton" is on screen.
SAR would like to thank the Weapons Department of Independent Studio Services in Sundale, CA for allowing us to photograph and record the history of these Movie Guns.
"Vera"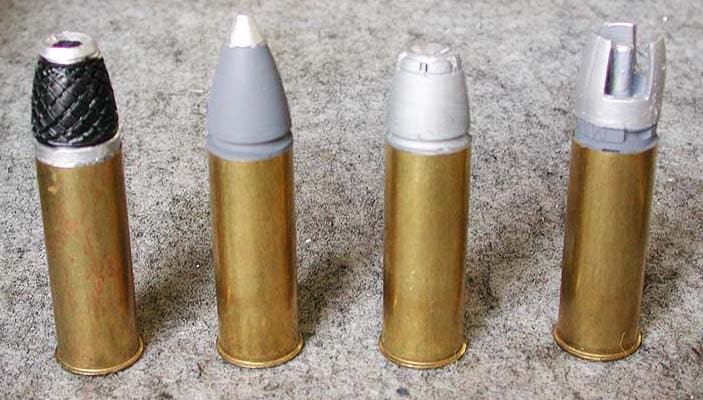 Jayne Cobb's "Vera" started out as a Saiga-12 shotgun, and was initially made into a fantasy gun for the movie "Showtime" starring Robert DeNiro, Eddie Murphy, Rene Russo and William Shatner among others. The gun is a fable "Supergun" in the movie and the movie pretty much got panned by critics and audiences. Nice to see the "Supergun" turn to a place it can be appreciated, as Jayne Cobb's favorite "Vera." 
This article first appeared in Small Arms Review V26N3 (March 2022)