By David Albert
Estate papers recently surfaced documenting the life of a fascinating individual named Jean Koree of Romania. Mr. Koree owned 1/4 patent rights to the Hyde Model 35 Submachine Gun. Information from the documents shed new light on the weapon's development and history.
Koree was an industrial engineer who moved to New York City in 1919, serving in various Romanian consulate positions. He left the government, going into business for himself in 1923. Koree developed a razor blade, which he began manufacturing in 1925. He later patented 3 different safety razor designs. He registered the trademark "ABC" for "American Blade Company" in 1926, (U.S. Trademark #216,330) and "Flexo," for one of his razor designs in 1930 (U.S. Trademark #281,818). Koree saw good business success.
Auto-Ordnance Connection
Koree had an interest in small arms, particularly the Thompson Submachine Gun. He attempted twice to purchase Auto-Ordnance Corporation from the estate of Thomas Fortune Ryan in 1932 and 1935. Both attempts involved Auto-Ordnance company executive Col. Marcellus H. Thompson, son of John Thompson, namesake of the Thompson Submachine Gun.
The Auto-Ordnance deals fell through, which disappointed Koree. He may have seen a similar opportunity when he met George Hyde, who looked to approach the market with a new submachine gun design.
Association of George Hyde and Jean Koree
Hyde and Koree probably became associated through Koree's interest in small arms, and Hyde's observation of Koree's business acumen. A 1935 letter said of Koree; "Mr. Koree has always impressed me as a man of unusual ability, with an unusual knowledge of foreign matters, and with unusual connections and selling capacity."
The earliest record of Koree and Hyde's association exists in the form of invoices for 450 rounds of .45 ACP ammunition purchased in late March 1935 for the purpose of "Testing Hyde Gun."
Koree and Hyde contracted on April 11, 1935, and Koree began the patent paperwork. Hyde exchanged 1/4 of the weapon's patent rights for Koree's assumption of all costs involving patenting, manufacturing, and marketing of the weapon. The two agreed to form a corporation, which later became Triangle Ordnance Corporation.
The Hyde SMG Patent
The following list summarizes Koree's patents leading up to and including the Hyde SMG patent:
Vehicle Wheel, Patent #1,428,243, September 5, 1922 (Shared with Assad Malluk of France)
Lockable Cover for Automobile Fuel Tanks, #1,447,260, March 6, 1923 (Shared with Assad Malluk of France)
Resilient Bumper for Motor Vehicles, #1,457,259, May 29, 1923 (Shared with Assad Malluk of France)
Safety Razor, #1,929,982, October 10, 1933
Vehicle Wheel Rim, #1,931,229, October 17, 1933
Safety Razor, #1,932,110, October 24, 1933
Safety Razor, #1,981,958, November 27, 1934
Gun, #2,049,776, August 4, 1936 (This is the Hyde SMG patent: 75% Hyde, 25% Koree)
Koree used other gun patents, and small arms manuals of the 1930s to aid in presentation of the Hyde gun in the patent application, and for marketing ideas. He developed a specification sheet for the Hyde based on one for a Steyr-Solothurn S1-100 SMG. Patent attorney Daniel Morris worked the details, including potential Hyde patent infringement on Auto-Ordnance patents for the Model of 1921 Thompson and box magazine with the U.S. Patent Office in late 1935.
The Hyde 35 patent was approved on August 4, 1936. The weapon was originally developed by Hyde in the early 1930s at Lake Erie Chemical Company, and refined to the patented model sometime in early 1935.
Koree's excitement about the weapon's prospects was apparent in his letters to various government agencies seeking marketing research information. He inquired regarding the total number of U.S. banks and sheriff's departments existing at the time, in an attempt to determine potential marketability.
NFA of 1934 and Neutrality Laws: Industry Jitters
Since the National Firearms Act of 1934 was newly enacted, Koree familiarized himself with the law, and appeared to mostly follow the rules. As a foreign national showing interest in machine guns, and with the situation heating up in Europe, he nevertheless attracted some attention.
Koree made several inquiries regarding parts suppliers, and received an appointment with a Mr. Carpenter at Remington's Bridgeport, Connecticut plant in March 1936. The meeting organizer mis-communicated the backgrounds of the attendees, and Koree subsequently arrived with an associate from his former Romanian government work. Since the gentleman with Koree served in a foreign government capacity, Mr. Carpenter chose to shun both men, as Remington was nervous about recent neutrality laws, and the potential for trouble involving public discussion of armament sales to foreign countries. Mr. Carpenter was described as "surprised and disturbed" when Koree introduced the Romanian representative, and the situation resulted in embarrassment. Remington chose to "do nothing, rather than run the definite risk of doing anything that might be misinterpreted."
Nervousness abounded in the 1930s firearm industry, as an inquiry to Winchester by Koree regarding manufacturing Hyde barrels raised concerns with Winchester, and subsequently, the Feds. Edwin Pugsley, a vice-president at Winchester who later gained notoriety during development of the M1 Carbine, wrote a letter to Koree on April 7, 1936 regarding barrel pricing. Pugsley stated, "…we are all set as soon as we can find out from the Government what the regulation is so far as making the barrel is concerned. To date we have been unable to get a ruling on this and have written again for an interpretation of the law." A follow-up letter from Pugsley to Koree on May 4, 1936 stated Winchester had received an answer from the government, and could proceed with a price quote based on the submitted sample. The quote was $6.75 each in lots of 1,000, and $5.75 each in lots of 5,000, and indicated they could deliver at a rate of 40 barrels per working day. The quote was for barrels made of "regular Winchester proof steel, which is a chrome molybdenum alloy having extremely good physical properties, insuring great strength and long life."
Federal Scrutiny
Winchester's inquiry to the Feds regarding the barrel deal prompted federal action. On May 18, 1936, Treasury Deputy Collector Harry Frankel sent a letter to Koree, "…in reference to some information regarding firearms the government would like to know." The Treasury Collector had tried to contact Koree on several occasions, and seemed apprehensive in the letter. Frankel finally spoke to Koree on the same day he mailed the letter, and he followed up in a May 19th letter stating the following: "As per our conversation, I would like you to send me an affidavit, sworn to by a notary, whether you had any firearms in your possession on or before July 26, 1934 – and what use you intended in the machine gun barrels you were negotiating for with the Winchester Repeating Arms Co. of New Haven, Conn., also full details of your regular business at that time, and at present."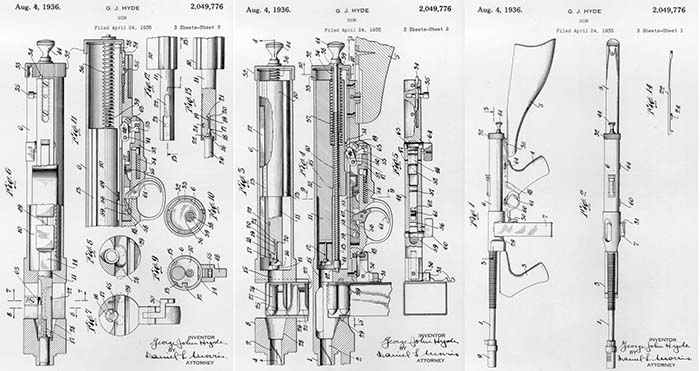 Koree replied to Frankel on May 25, 1936: "In answer to your letter dated May the 19th I am glad to state, that I did not have any firearms in my possession on or before July the 26th 1934 or thereafter. I am interested in a new invention in Sub Machine Guns however and have therefore asked the Winchester Repeating Arms Corp. of New Haven Conn. to let me know what their quotation in lots of 1,000 and 5,000 barrels would be, in case such barrels and such quantities should be required.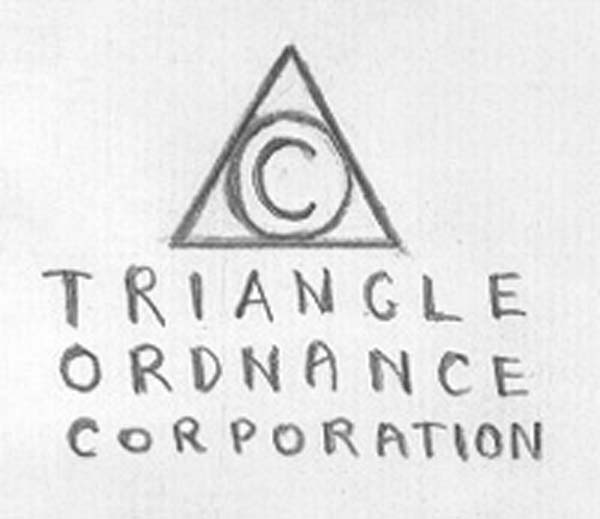 "It is my intention to organize a company for the manufacture and/or sale of such new and improved guns and to endeavor to sell them to such organizations (Police, Banks, etc.) as the Company will have the legal right to sell to.
"I have been engaged for the last 5 years in the sale and manufacture of Safety Razor Blades and had the honor of serving as a member of the Code Authority of the Razor and Blade Industry.
"Numerous inventions on Razors and Blades take my time now. Until last month my offices were at 187-189 Mercer Str. N.Y. where we occupied the entire second and fifth floors."
Koree provided some inconsistent information to the Feds. He understated his time of engagement in the razor business, and also possessed a Hyde SMG for the photographic session in June 1935. Perhaps Hyde accompanied him with the weapon, but only Koree's name appeared on the invoice. He also received a 1936 letter thanking him for demonstrating multiple Hyde guns to the Federal Reserve Bank of New York.
"Dear Mr. Koree,

We were more than pleased with your demonstration last week of the sub-machine gun which I hope to be able to put in use with the bank in the near future.

As you know, the guns were tried out by some of our expert shots and they found them most accurate, and the men were impressed with the simplicity of the mechanism. They noticed that the weight of the gun was so much lighter than other guns used by us.

One of my experts commented about the gun having little or no kick notwithstanding its lightness in weight.

Very Truly Yours,

Myles C. McCahill
Manager, Administration Department"
The lighter weight comparison undoubtedly referenced the 1921 Thompson Submachine Gun, used by the bank at the time.
Triangle Ordnance Corporation and Hyde Arms Corporation
Hyde's 75% patent share produced a contract guaranteeing payment of $3.75 for every gun sold during the 17-year patent term. He agreed to work for 5 years at a salary scaling from $75 to $125 per week. The corporation recognized "the unique and extraordinary character of the knowledge and experience of said Hyde, and that his services cannot be duplicated." His employment was retained to "carry on experimental work and make inventions in ordnance and to perform such other duties as may be assigned to him by the corporation from time to time." Koree received $1.25 for every gun sold.
Triangle Ordnance Corporation incorporated in New York on July 9, 1936. Koree owned 50% of the company.
While Koree and Hyde assigned their patent rights to Triangle Ordnance Corporation, Hyde Arms Corporation was granted exclusive license to manufacture and sell Model 35 Submachine Guns. Hyde Arms conducted the only business that occurred with the gun, and they subcontracted most manufacturing to Griffin and Howe. Hyde Model 35 Submachine Guns cost about $75 to produce, and sold for $125.
Triangle Ordnance Corporation was an umbrella company that was well intended to engage in ordnance business, but never engaged in any substantial business. Koree faced New York State franchise tax problems between 1941 and 1943, and stated the following about Triangle Ordnance Corporation in 1941: "This corporation has not transacted any business since its incorporation. The owners of it wish to retain it as it is possible that it will become active in the near future."
Lake Erie Chemical Company
Hyde first worked independently, and then for Lake Erie Chemical Company on his weapon as competition for the Thompson. Lake Erie wanted a submachine gun to compete with Federal Laboratories, who had exclusive distributor rights for the Thompson in the U.S. This hurt Lake Erie's chemical agent sales, as most such sales to police forces were made in conjunction with weapons purchases.
The Hyde Model 35 Submachine Gun was evaluated during the U.S. Submachine Gun Trials at Aberdeen Proving Ground in late 1939. While the weapon was not adopted, it demonstrated some favorable aspects, including controllability and operation under certain adverse conditions.
George Hyde probably abandoned the project in 1939. The weapon never proved commercially successful, and the government trials sealed its fate. Hyde's later projects are well known, and he appears to have disassociated from Koree after it became apparent the Hyde 35 wouldn't be successful.
Koree did not give up, and retained rights to the Model 35 through Triangle's patent ownership.
The ABC Automatic Hand Machine Gun
Koree began using his "ABC" razor trademark as a new name for the Hyde Model 35 SMG in January 1940, and the gun's name changed to "The ABC Automatic Hand Machine Gun."

No photographic evidence exists of a smaller model, but availability of a compact Hyde Model 35 was referenced in "European" calibers. A prototype may have been produced by Abercrombie and Fitch Co.
Koree believed strong foreign markets existed for the Hyde gun. As World War II began, more restrictive U.S. weapons export laws made many potential markets disappear.
Following the U.S. trials, sales efforts were focused on South America, including Peru and Argentina. Peru seemed interested, but wanted the weapon's caliber changed to 7.65mm. Argentina did not respond to an invitation to demonstrate the weapon in their country.
Koree formed a sales commission agreement with an individual for sales to Canada, Britain, and France in March 1940.
Total Production Numbers
Estimates put total production of the Hyde Model 35 Submachine Gun between 86 and 101 guns. This figure does not include prototypes, or earlier models that were produced in small numbers by Hyde prior to his association with Koree. Winchester produced 100 barrels for Koree directly in 1936. An April 1940 Griffin and Howe document reaffirms this number, and references an additional 100 produced by Winchester for Hyde Arms Company after the first batch. An undated assets and liabilities sheet lists 99 barrels remaining in inventory. The Hyde barrels referenced in the document are probably the barrels Numrich has sold for many years, one of which was purchased by the author to look for markings. The barrel, which is the only remaining Hyde part available for current purchase, appears of high quality, and no markings exist except for an index mark.
An undated assets and liabilities sheet found in a Triangle Ordnance folder lists assets totaling $3,392.09, and liabilities of $4,798.25. Included in the liabilities were $1,629.48 owed to George Hyde, and almost $3,000 owed to either Seymour Griffin personally, or to the Griffin and Howe Company. Hyde formerly worked at Griffin and Howe, and Hyde Arms subcontracted them for manufacturing.
Remaining inventory included $203 cash, $1,700 worth of machine tools, 99 Hyde barrels, 1 Thompson barrel, 46 straps, 64 swivels, 24 Mauser sights, 3 complete guns, and 15 partially complete guns.
The list represents all that remained of the venture. Griffin and Howe probably got paid, based on a letter to Winchester in 1940 releasing to Koree any tools they had paid for that Winchester used for making Hyde barrels.
Conclusion
George Hyde saw his subsequent submachine gun design adopted by the U.S. Army as the M2, only to be eclipsed by the cheaper M3 after production startup problems with the M2 caused cancellation. He died in 1964.
Jean Koree achieved other successes, including invention of a new subcutaneous injection device, and prosperous real estate deals. His interest in ordnance continued through his life.
The Hyde Model 35 Submachine Gun compared favorably to the Thompson, but never saw success. Some mystery remains, and we may never learn its entire story. Examples of the weapon exist in the NFA registry, but the total number remaining is unknown.
The Koree estate documents provide a fascinating glimpse into small arms history. Other undiscovered paper treasures undoubtedly exist that can provide more insight into this and other weapons. We just have to keep looking.
This article first appeared in Small Arms Review V9N8 (May 2006)