By Christopher R. Bartocci
New at SHOT Show 2013, Geissele introduced two new armorer tools for the black rifle. The Reaction Rod offers a new way to install the barrel not yet seen commercially before. Normal tools for remove/install of a barrel on a M16/M4/AR-15 rifle, the upper receiver is held in place by a receiver block or by the takedown/pivot pins. When the barrel is being torqued to specification, the stress of the tightening all goes onto the aluminum receiver. The Reaction Rod takes ALL of the force off of the receiver and puts it all on the barrel. Held at one end to a vice, the reaction rod has a star shaped tip that slides into the locking lugs inside of the barrel extension. Hence, when the barrel nut is tightened, no stress at all is exerted on the receiver. This also protects the receiver from damage from any of the mounting devices. The Reaction Rod can be mounted either vertical or horizontal making it universal for even some of the most proprietary receiver/barrel nut combinations. The rod is cut from a solid bar of 4140 Chrome Moly steel, properly quenched/tempered and ground to an exact diameter that is smooth and straight so the rod will enter an upper receiver without wobble. This is without doubt the finest tool currently available to remove/install a barrel. The Reaction Rod has a MSRP of $59.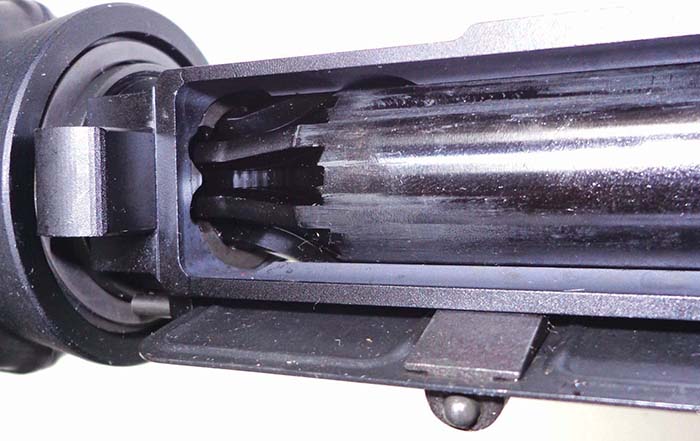 Also introduced by Geissele is a Gas Tube Roll Pin Tool. The hole in the end of the tool is perfectly made to accept the 0.078 inch roll pin. This pin without bending or damage, secures the pin for installation into the gas block of the rifle securing the gas tube. The user need only to stand the roll pin on a hard surface and tap the tool onto the pin and seat it into the tool. When the hole in the gas block grabs the roll pin, the pin will collapse enough so the tool can be removed from the roll pin. Then a standard punch is used to fully seat the pin. The Roll Pin Tool has a MSRP of $12.50. Contact Geissele Automatics, 1920 W. Marshall St., Jeffersonville, PA 19403. Phone: (610) 272-2060. Fax: (610) 272-2069. www.geissele.com.
This article first appeared in Small Arms Review V17N2 (June 2013)