Small Arms Review Editorial Staff
GEMTECH
.22LR 42gr Match Subsonic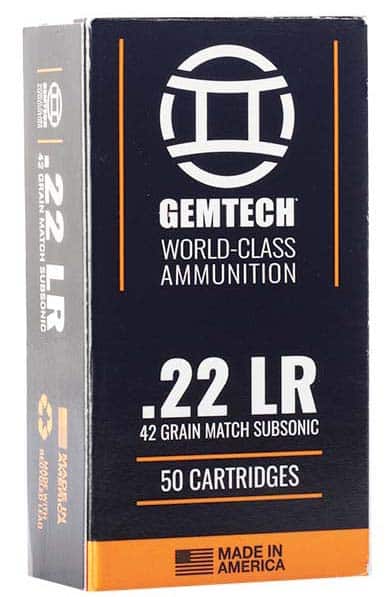 Optimized for use with a suppressor, Gemtech .22 Long Rifle Ammunition is the perfect choice for the peaceful plinker. With a premium heavy 42-grain lubed lead bullet and clean burning powder, Gemtech .22LR ammunition delivers consistent 1020 fps subsonic velocities, hard hitting performance and match grade accuracy. Sold in 500-round bricks or 5,000-round cases.
MSRP: $7.00 per 50rd box • Where to buy: Gemtech.com and Gemtech dealers nationwide.
VIBRA-TITE
Hot-Lock Threadlocker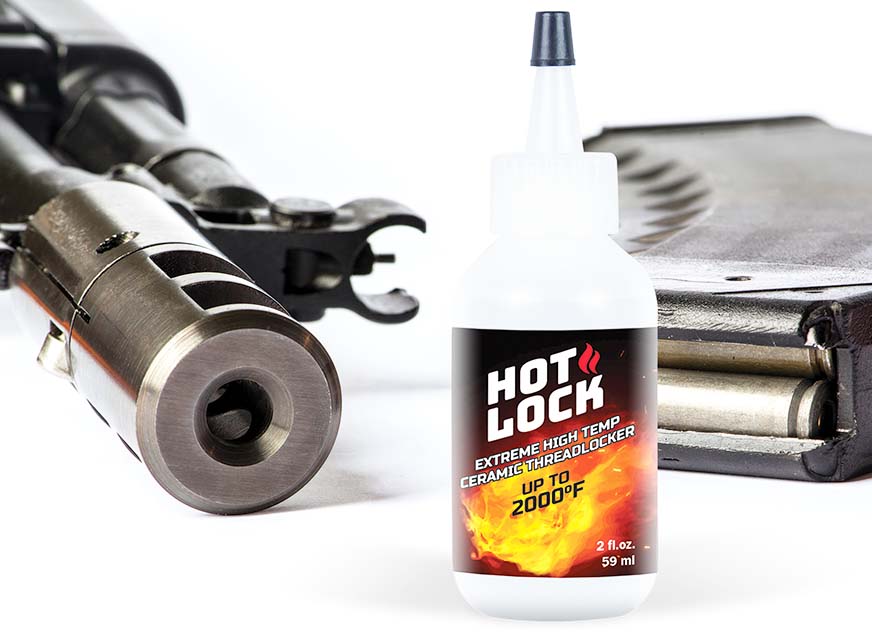 Vibra-Tite Hot-Lock is a medium–high strength, ceramic-based thread locker which exhibits unparalleled temperature resistance up to 2000°F and excellent performance across many different substrate finishes.
Hot-Lock Extreme Temp Threadlocker will lock threaded barrel devices in place at temperatures where standard thread lockers would disintegrate. In addition to handling extreme heat, Hot-Lock resists vibration to keep those parts locked in place, round after round.
Whether you compete or just plink, keep your firearm in good working order.
MSRP: $15.00 • Where to buy: amazon.com
FEDERAL
350 Legend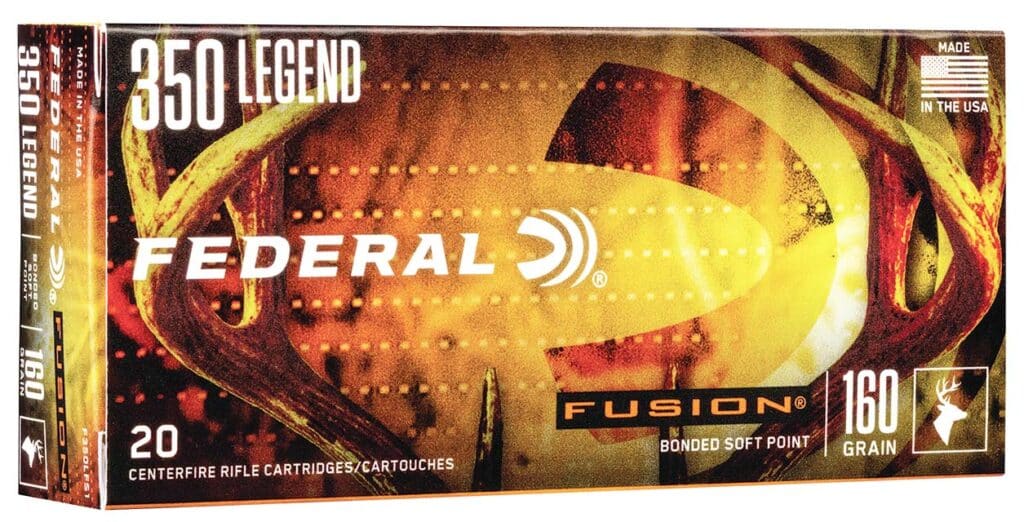 Blow the doors off straight walls. The new 350 Legend offers higher velocities than any straight-wall deer cartridge, with significantly less recoil than 450 Bushmaster in a compact, maneuverable platform. It's an ideal fit for both MSRs and bolt-action rifles, penetrates deep and delivers ample energy to take down any buck. Federal has harnessed all the 350 Legend has to offer with three new loads in our Fusion, Power-Shok and Non-Typical lines. All get peak accuracy and terminal performance from the round thanks to consistent bullet designs that expand reliably at 350 Legend velocities.
MSRP: Starting at $26.95 • Where to buy: federalpremium.com
SPEER
Gold Dot G2
The next generation of protection has arrived. Previously only offered to law enforcement, Speer Gold Dot G2 offers the ultimate performance for self-defense thanks to an exclusive nose design. Instead of a large hollow-point cavity, Gold Dot G2 has a shallow dish filled with a high-performance elastomer. On impact, the material is forced into engineered internal fissures to start the expansion process. The result is extremely uniform expansion, better separation of the petals and more consistent penetration across barrier types through full-size handguns.
MSRP: Starting at $28.95 • Where to buy: speer-ammo.com
CCI
Clean-22 Pink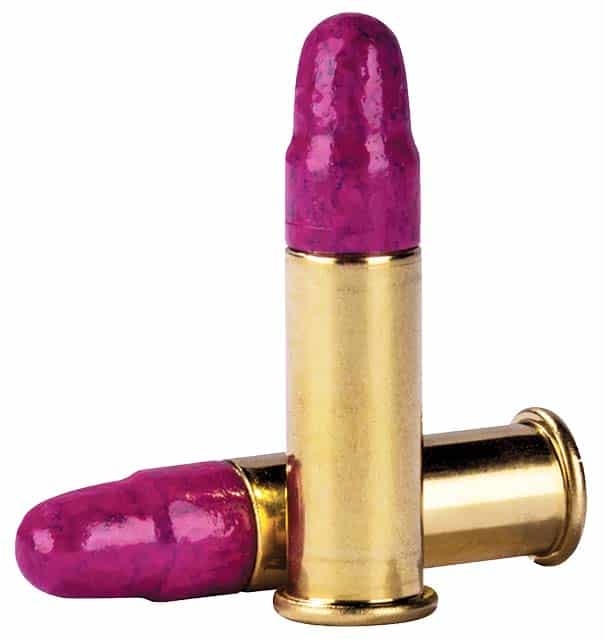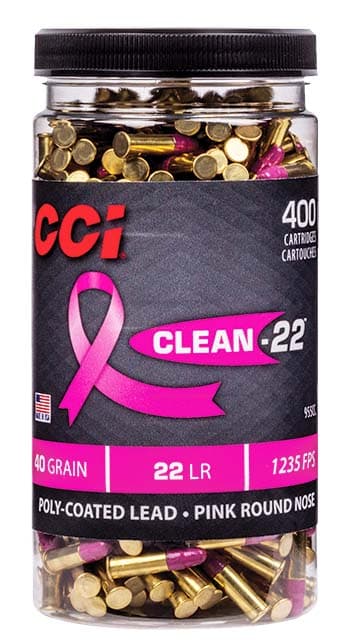 Keep your rimfire running cleaner and help fight breast cancer with new CCI Clean-22 Pink. A portion of the proceeds from every box sold goes directly to the effort to find a cure. Like other Clean-22 loads, its exclusive polymer bullet coating greatly reduces copper and lead fouling in the barrel—without leaving a residue. It also cuts lead buildup in suppressors 60 to 80 percent and comes in a 400-round bulk bottle that's perfect for long days at the range. With dependable CCI priming and consistent propellant, Clean-22 Pink provides flawless cycling through semiautomatics and all .22 LR firearms.
MSRP: $29.95 • Where to buy: cci-ammunition.com
CHIPOTLE PUBLISHING, LLC
1-Year Subscription to Small Arms Review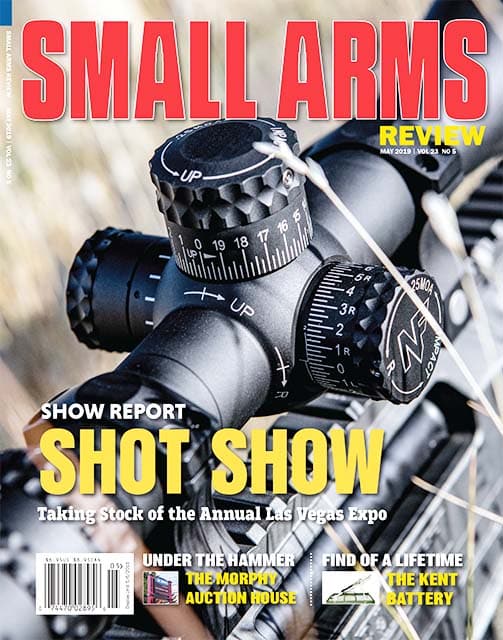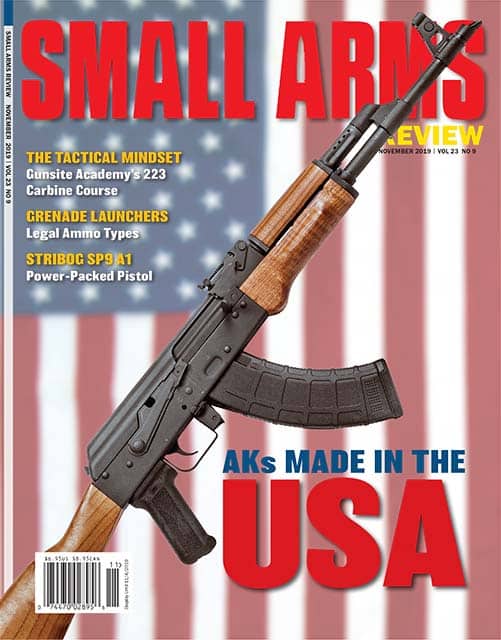 The ultimate Small Arms Resource on industry practices, historical archives, new products, legal issues and breaking news. The 10-Issue Subscription comes with free online access to articles and content
MSRP: 39.95 • Where to buy: smallarmsreview.com
ALIEN GEAR
Cloak 3.5 IWB Holster
The sophistication of Alien Gear's enhanced Cloak 3.5 IWB Holster can't be comprehended until you experience the soft backing and perfect retention for yourself. It's an experience not to be missed. Two adjustable clips securely attach to your belt, while a CoolVent Neoprene backing comfortably and flexibly conforms to your body. A custom-molded shell securely retains the firearm while properly protecting your trigger guard. You'll want to treat your firearm to this masterful creation.
MSRP: Starting at $49.88 • Where to buy: aliengearholsters.com
CHIPOTLE PUBLISHING, LLC
The U.S. M14 Rifle: The Last Steel Warrior (2nd Edition)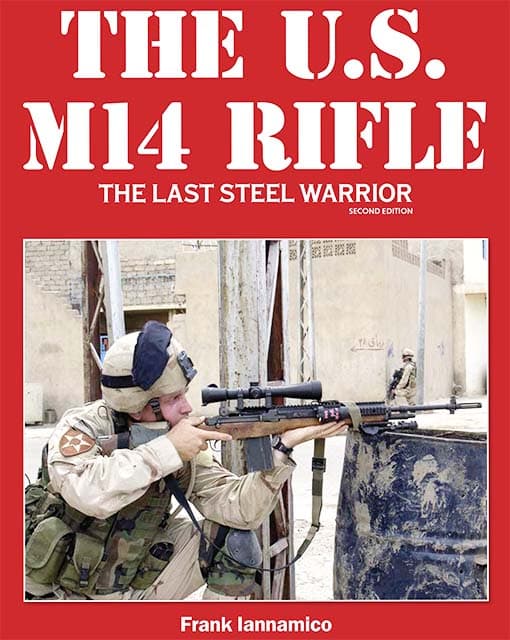 Now in hardback format, the second edition of this classic work is now expanded to 430 pages and includes new information from recently discovered government documents and numerous color photographs. What's included: Prototypes and production M14 rifles and their commercial semiautomatic counterparts, contractors, subcontractors, experimental models, match and sniper rifles, modern M14 rifles, training, magazines, parts and accessories, ammunition, maintenance and more!
MSRP: $69.95 Where to buy: smallarmsreview.com
STREAMLIGHT, INC.
Streamlight ProTac 90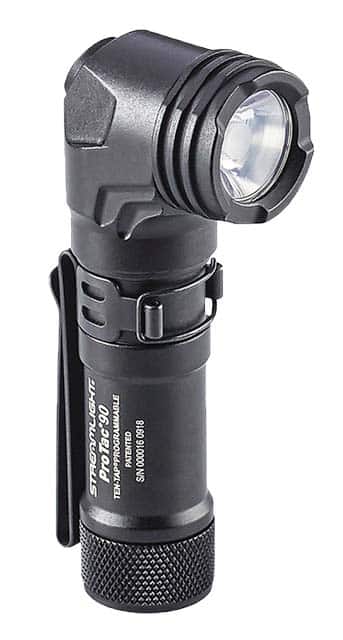 At just 3.75 inches, the ultra-compact ProTac 90 is a super-bright, right-angle tactical light that delivers up to 300 lumens and a 1.5-hour run time on high. The light features a 90-degree head and a multi-function clip designed for hands-free options, which fits MOLLE and other gear. The light's proprietary TEN-TAP® programming allows for three modes: high/ strobe/low; high only; or low/high. The ProTac 90 features convenient multi-fuel technology with three battery options: CR123A lithium battery, AA alkaline or AA lithium battery.
MSRP: $68.00 Where to buy: streamlight.com
DTLGEAR
Bleeding Control Kit
Our Bleeding Control Kit (IFAK) is a much needed item for your range bag, car, ATV, or to have anytime you're in the field. Accidents can happen anywhere, and a person can bleed out and die within 2 minutes. The kit includes a SWAT-T or SOFTT-W tourniquet, chest seals, CPR mask and more needed to save a life.
MSRP: $79.95 • Where to buy: dtlgear.com
HACKETT EQUIPMENT
Little Bertha 2 Pistol Range Backpack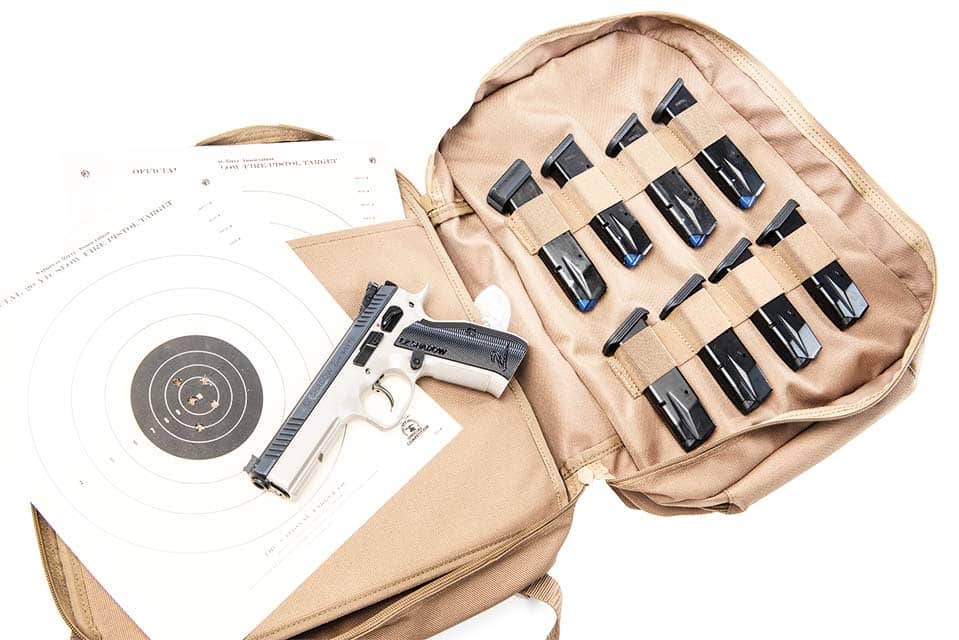 Don't let the name fool you … The Little Bertha 2 Pistol Range Backpack is not little, and it is not just for the range. This is your everyday gun bag for the range, work and travel. It has two pistol holsters, spots for eight magazines, eight ammo box pouches and compartments for the rest of your gear. It comes in Coyote Tan and makes a perfect front seat companion. The backpack comes with a Lifetime Warranty.
MSRP: $79.99 • Where to buy: hackettequipment.com 
DOUBLESTAR
Ahab Fixed Blade Knife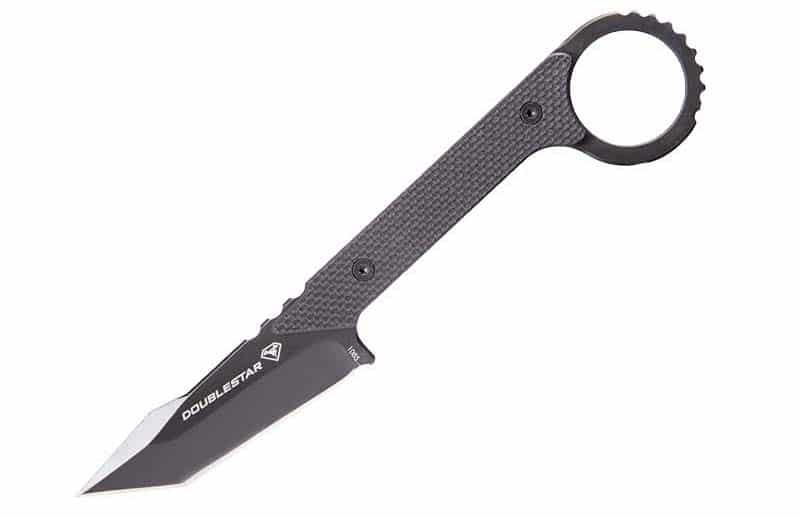 This everyday carry knife was designed to be discrete and compact without sacrificing relevance. Elements like the oversized ring and precision thumb break provide the best amount of retention for quick deployment. The Ahab's strong, lightweight construction makes it the perfect duty belt utility that will be there when you need it most. The Ahab is made from 1084 Carbon Steel and includes a kydex sheath and Safe-Lock belt clip.
MSRP: $84.99 • Where to buy: doublestarusa.com
BIGFOOT GUN BELTS
Suspenders
Bigfoot Gun Belts Suspenders are beefy, brawny but classy. Straps of rich English Bridle leather, in black, brown or tan, with elastic back straps create the perfect fit. Large and small suspender clips are included, but additional clip styles are also available, including belt hooks, trigger snaps and button tab attachments so you can customize your experience. Bigfoot Suspenders are built strong but make an elegant appearance. Business or outdoor styles are available!
MSRP: Starting at $85.88 • Where to buy: gunbelts.com
FEDERAL
Syntech Bulk Bucket
There's never been a better way to have an epic day at the range. All-new Syntech Bulk Buckets boast 250 to 500 rounds packed in rugged plastic buckets that stack, store and transport easily. The one-of-a-kind TSJ® projectile uses a polymer jacket to eliminate metal fouling and drastically reduce damaging barrel heat and friction. The bullet style also minimizes splash-back on steel targets. Its exclusive Catalyst™ primer provides hot, reliable ignition without the use of lead.
MSRP: Starting at $96.95 • Where to buy: federalpremium.com
ALIEN GEAR
ShapeShift Core Carry Pack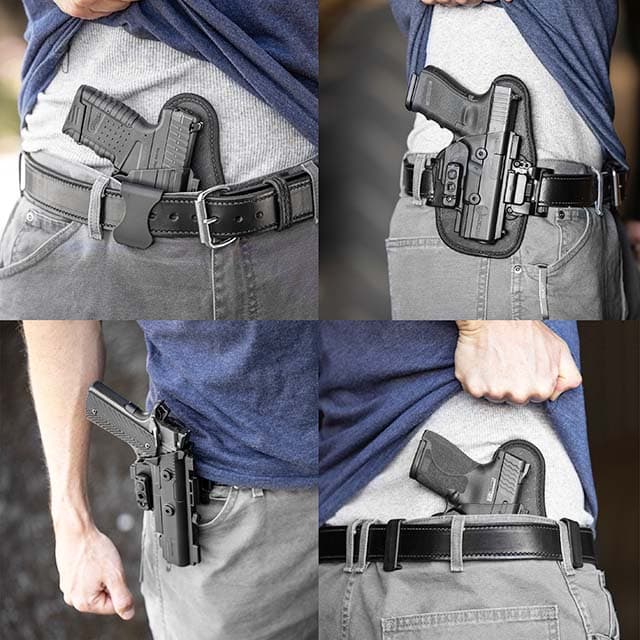 You have what it takes to become a master shapeshifter, and we have what you need to experience concealed carry perfection. Introducing the ShapeShift Core Carry Pack. This transformative system equips you with everything you need to seamlessly transition between four distinct concealed carry positions. From IWB to OWB to appendix carry, you'll be efficiently and effortlessly carrying how you want, when you want. We invite you to become a master shapeshifter today.
MSRP: Starting at $99.88 • Where to buy: aliengearholsters.com
DTLGEAR
First Aid Kit
Our high-quality First Aid Kits are designed by and for shooters / sportsmen. It includes a complete IFAK kit for major situations including SWAT-T or SOFTT-W tourniquet, chest seals and CPR mask. It also includes items needed for minor emergencies including adhesive bandages, eyewash, compression bandages, gauze, tape, splinter removal tools and more. Weighs just 1 pound, 14 ounces.
MSRP: $99.95 • Where to buy: dtlgear.com
DOUBLESTAR
Stronghold Pistol Grip with G10 Panels
DoubleStar has taken pistol grips to the next level by combining durability and customization in one awesome package. Introducing the Stronghold Pistol Grip. This innovative design utilizes a lightweight, anodized aluminum frame and customizable textured G10 grip panels. The palm swell provides a secure but comfortable surface for the shooter's hand even in gloves. The high-quality U.S.-made G10 panels round out the package with rugged style. Available in Black, Red, FDE and Gray.
MSRP $99.99 • Where to buy: doublestarusa.com
CONCEALED CARRIE
Compacts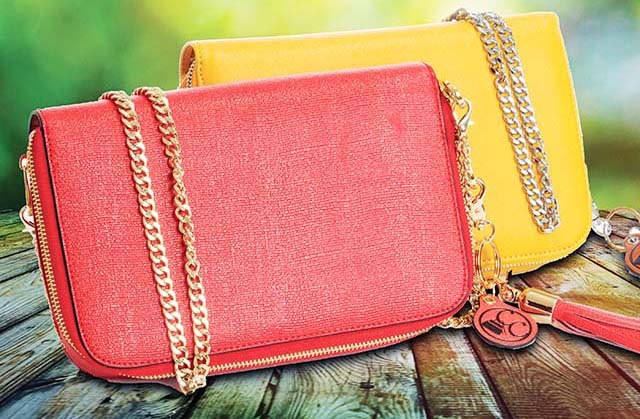 In direct response to their valued customers, Concealed Carrie offers fashionable compacts and matching cross body chains, the perfect accessory to your handgun. Stay organized and protected with Concealed Carrie's Compacts. The double-sided design acts as a wallet on one side while keeping your firearm separate and secure on the other. The zippered main compartment is full of dividers for currency, credit cards and personal items. The adjacent double-zippered Hook-and- Loop-lined firearm compartment safely stores your handgun.
MSRP: Starting at $109.00 (Chain sold separately for $15.) Where to buy: concealedcarrie.com
SPYDERCO
Endela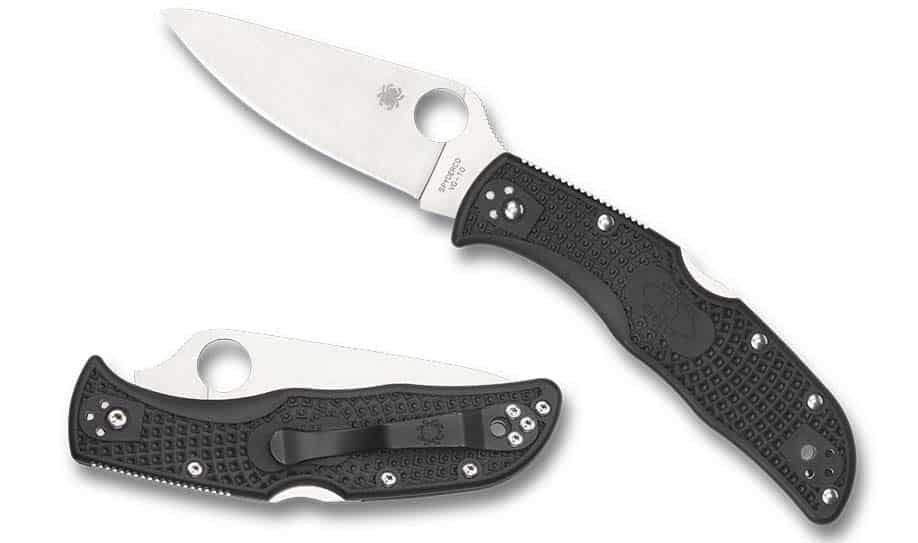 Sized to literally split the difference between Spyderco's iconic Endura 4 and Delica 4 Lightweights, the Endela offers all the highly refined features of each in the perfect "in-between" format. Its full-flat-ground blade is crafted from VG-10 stainless steel and sports a fully accessible Trademark Round Hole for ambidextrous one-hand opening. Available in either PlainEdge or SpyderEdge, the blade is supported by a sturdy back lock, skeletonized stainless steel liners and injection-molded, fiberglass-reinforced-nylon (FRN) scales.
MSRP: $123.00 • Where to buy: spyderco.com
GEMTECH
22 QDA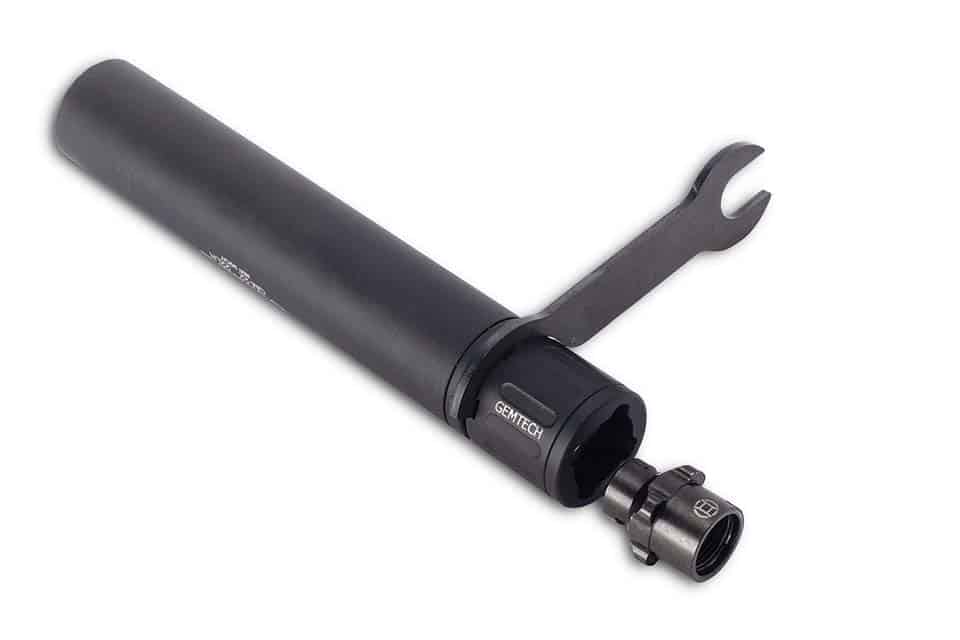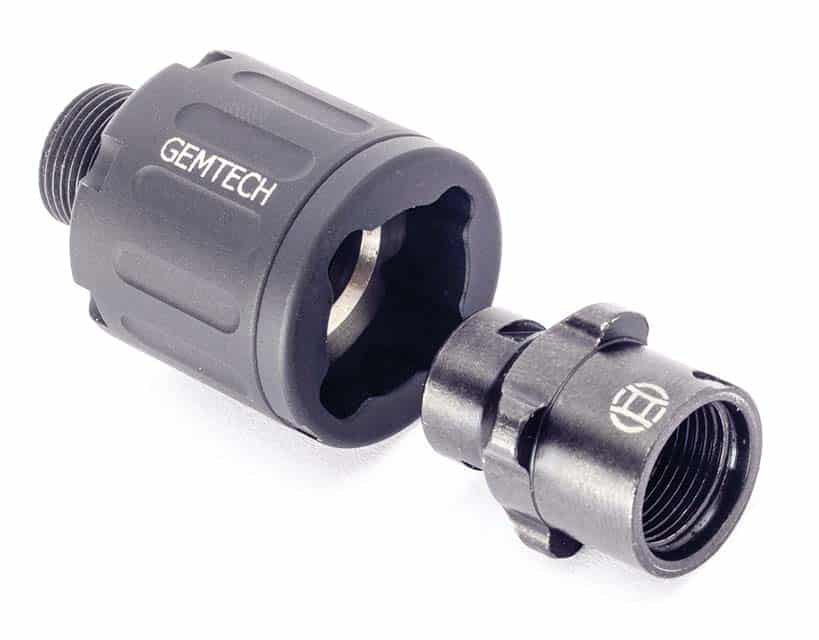 Add quick-detach capability to all ½-28 threaded .22LR and .22Mag rimfire suppressors. The Gemtech 22 QDA (Quick Detach Adapter) system includes a four-lug muzzle device, threaded ½-28 for use on all standard rimfire threaded barrels, a quick-detach mount that threads into the rear of the suppressor and an installation wrench. Swap rimfire suppressors between host firearms in seconds with this fast and secure mounting system.
MSRP: $130.00 • Where to buy: Gemtech.com and Gemtech dealers nationwide
TACTICA
Concealed Carry Sweater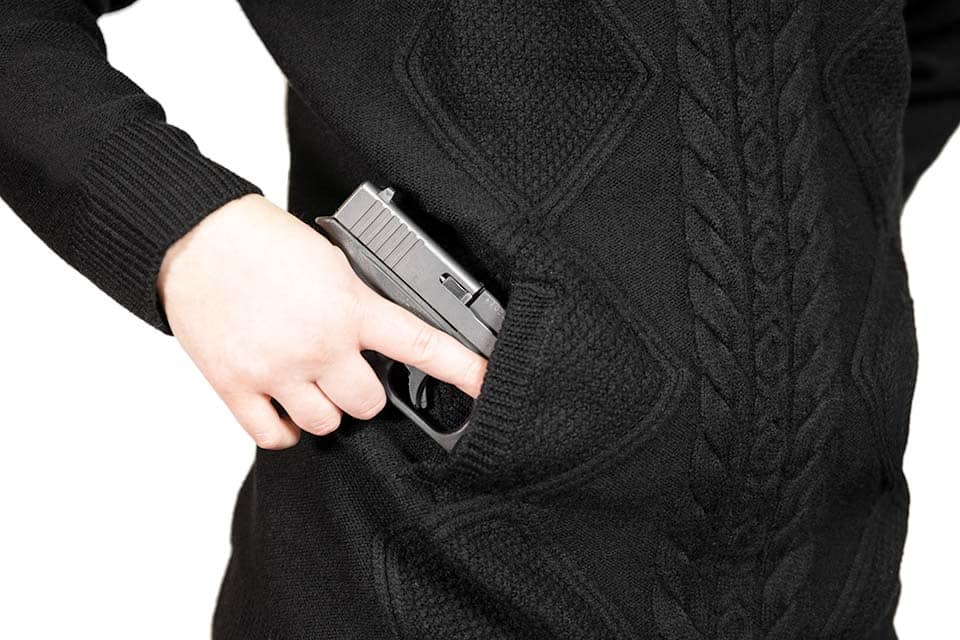 Your concealed carry wardrobe deserves a revival, especially if your clothes get in the way of your draw. Our Concealed Carry Sweater understands your pain and was expertly designed to solve your concealed carry problems. Made of 100% Merino Wool, this ultra-soft sweater not only keeps you warm, but deeply conceals your firearm. With two ambidextrous faux draw-through pockets, you'll be able to draw from your corset or belly band holster in seconds.
MSRP: Starting at $149.99 Where to buy: tacticafashion.com
KELTEC
KelTec P17 .22LR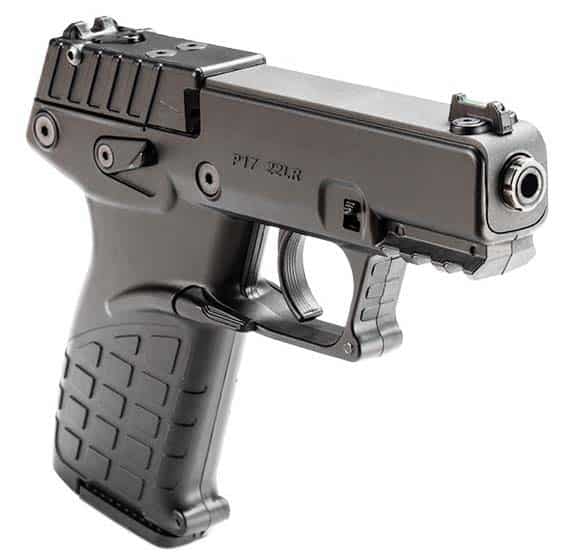 At less than 14-ounces fully loaded, the KelTec P17 .22LR is easy to handle for almost anyone. Add its threaded barrel, Picatinny-style accessory rail, ambidextrous controls, three 16-round magazines, and this package offers a value far greater than its MSRP. Thanks to its excellent trigger, fiber optic front sight and adjustable rear sight this innovative, new KelTec pistol not only burns bullseyes, but it builds confidence on a budget.
MSRP: $199.00 • Where to buy: Local dealer
MANTIS
Mantis X10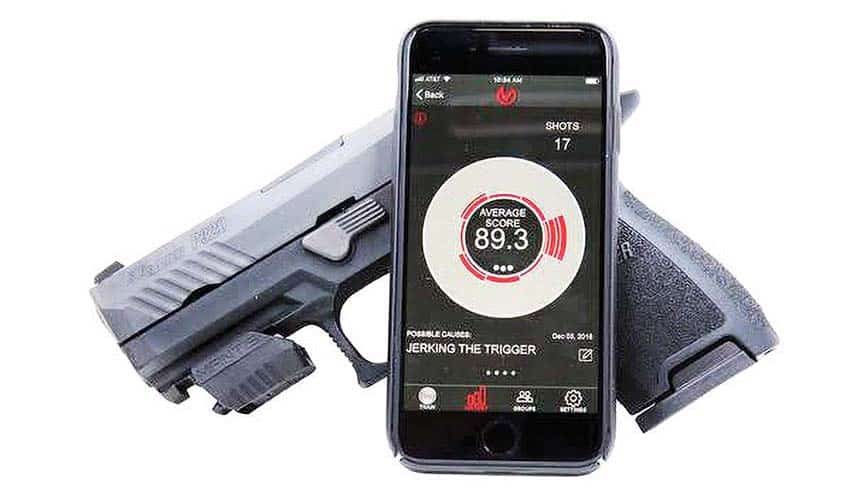 The Mantis X10 is the next evolution of the original MantisX. The X10 features a completely redesigned hardware set and powerful algorithms that give users real-time feedback on their shooting performance. The X10 features a RecoilMeter, holster draw analysis and other dynamic shooting analyses and feedback.
MSRP: $250.00 • Where to buy: mantisx.com
SPARTAN BLADES
Spartan-Harsey Dagger

Designed by prolific knife designer William W. Harsey, Jr., the Spartan-Harsey Dagger was designed as a real-world combat dagger. Based on Mr. Harsey's extensive experience working with Special Operations Forces, he has developed what many believe to be the epitome of what a combat dagger should be. Its timeless design is matched only by the use of premium U.S. materials which include: S35VN, double-deep cryogenic treatment, pressure tempering and full tang construction making for a knife that will most assuredly become an American classic.
MSRP: Starting at $390.00 • Where to buy: spartanbladesusa.com
MEPROLIGHT
MEPRO Micro RDS and Picatinny QD Rail
The MEPRO MicroRDS, is a small, rugged, energy-efficient, electro-optical red dot sight designed for handguns, shotguns and rifles with a large display window and a clearly defined red dot for fast target acquisition with both eyes open. The MicroRDS Kit includes a patent-pending dovetail adapter with a quick detach mechanism that allows mounting and dismounting the MicroRDS on the gun with a click of a finger. The adapter includes high-quality Meprolight Night Sights that allow accurate and fast shooting under any lighting conditions when the MicroRDS Optic is removed. Meprolight just introduced their MicroRDS Optics- Ready-Guns QD rail plate for GLOCK, Smith & Wesson M&P pistols and the new IWI MASADA pistol.
MSRP: $440.00 • Where to buy: meprolight.com
ADVANCED ARMAMENT CORPORATION
Jaeger 30

A high-performance Suppressor built with AAC's industry-leading efficiency, which allows us to deliver what every hunter and the game they pursue deserve: superior suppression, great accuracy and rifle control, all at an affordable cost.
MSRP: $449.00 Where to buy: advanced-armament.com
STREAMLIGHT, INC.
TLR- 8 G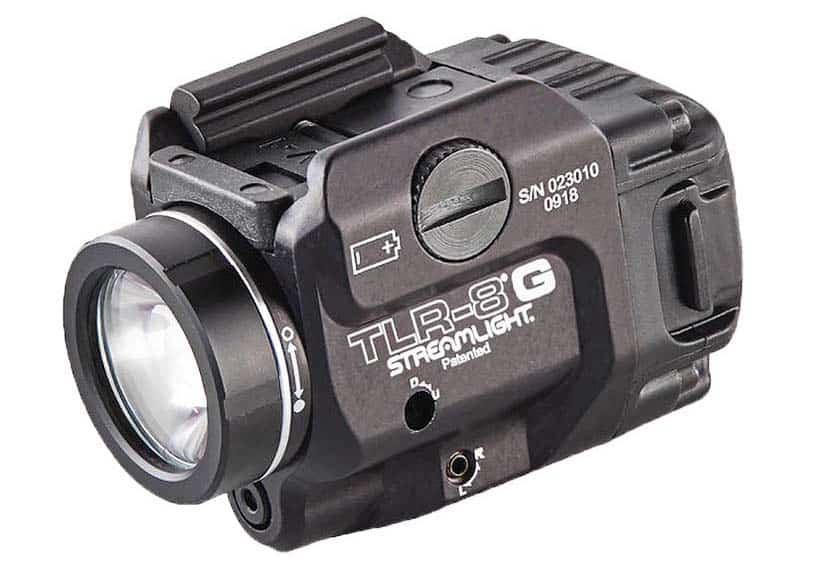 Featuring an "eye-safe" green aiming laser visible in daylight, the TLR-8 G is a compact rail-mounted tactical light designed for maximum visibility and long-range targeting. The light features three modes, including Laser-only to keep the light on target; LED-only for 500 lumens of bright, focused light; and Dual Mode, which combines the laser and LED. With a low-profile ambidextrous switch to protect hands from gun muzzles, the TLR-8 G is easily mounted to a wide range of weapons.
MSRP: $450.00 • Where to buy: streamlight.com
IWI
MASADA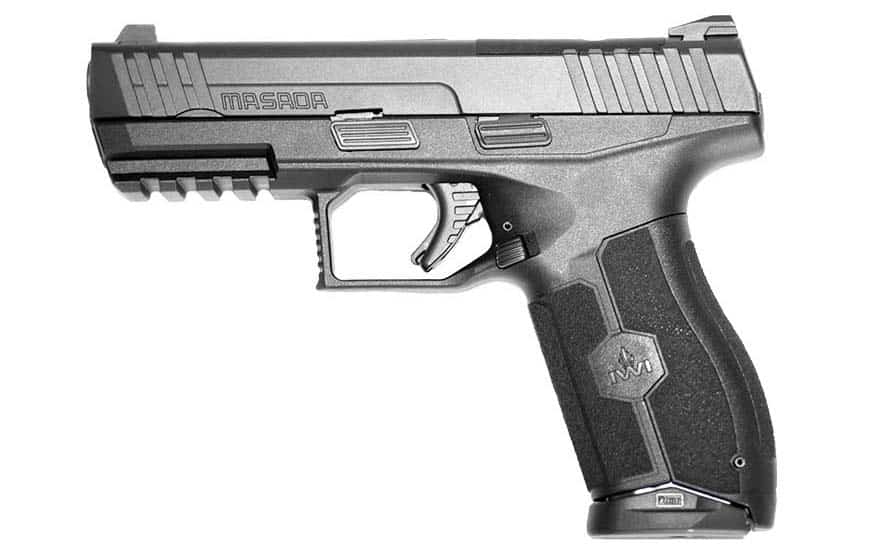 The MASADA takes user preferences to a new level, with each feature carefully selected based on input from military, law enforcement and gun enthusiast alike. The MASADA was engineered to endure all elements while maintaining IWI legendary attention to detail and reliability.
MSRP: $480.00 • Where to buy: iwi.us
CZ-USA
457 Lux

Designed in the European style, the 457 Lux has a hogback stock fashioned from Turkish walnut. With a cheekpiece and comb ideal for use with its crisp iron sights, this 457 is one classy plinker. Like all 457s, it has an 11mm dovetail for mounting optics and can be quickly and easily swapped to a different chambering with the addition of a second barrel set to include .22WMR and .17HMR (sold in our webstore). One 5-round magazine is included.
MSRP: $499.00–$522.00 • Where to buy: cz-usa.com
SPYDERCO
Respect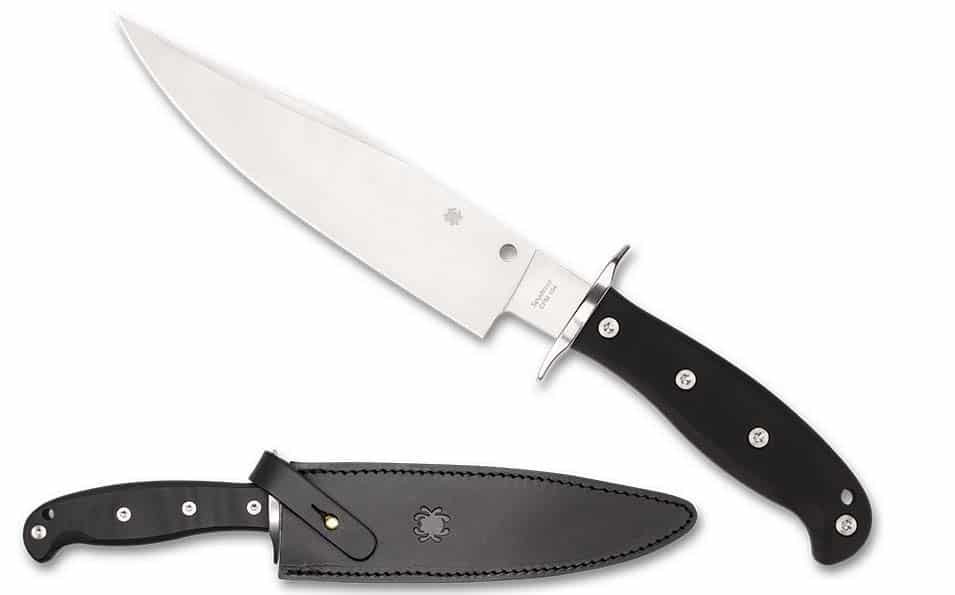 Designed by Spyderco founder Sal Glesser, the Respect represents his personal interpretation of the classic American Bowie Knife. Its dramatic clip-point blade is made from 300-inch-thick CPM 154 stainless steel and has a broad profile for exceptional edge geometry. The two-piece handle is machined from solid G-10 slabs and seamlessly attached to the concealed tang with oversized Torx screws. A knife truly worthy of its name, the Respect comes complete with a handcrafted leather sheath.
MSRP: $560.00 • Where to buy: spyderco.com
SMITH & WESSON
M&P9 M2.0 4" Compact Flat Dark Earth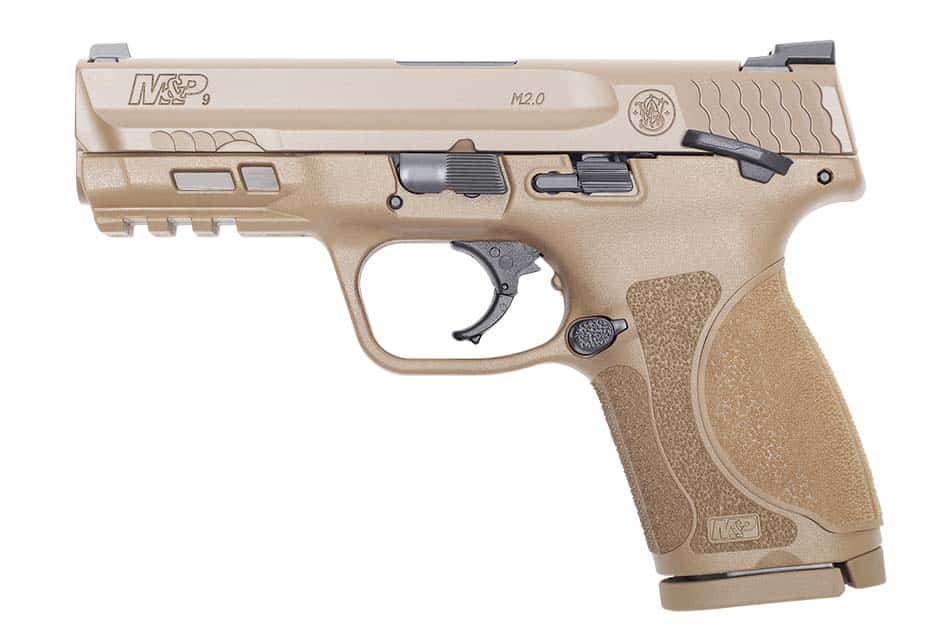 The award-winning Smith & Wesson M&P 9 M2.0 Compact 4-inch Pistol is now available in the desirable Flat Dark Earth (FDE) color. The M&P 9 M2.0 Compact pistol is purpose-built for personal and professional use and features a Cerakote FDE slide, polymer FDE frame and the enhanced M2.0 feature set. Available with or without an ambidextrous thumb safety, the M&P9 M2.0 Compact 4-inch pistol comes standard with a white-dot front sight and a white two-dot rear sight, a capacity of 15+1 rounds and ships with two magazines, including two magazine extender sleeves for use with full-size magazines.
MSRP: $569.00 • Where to buy: smith-wesson.com
MEPROLIGHT
MEPRO Foresight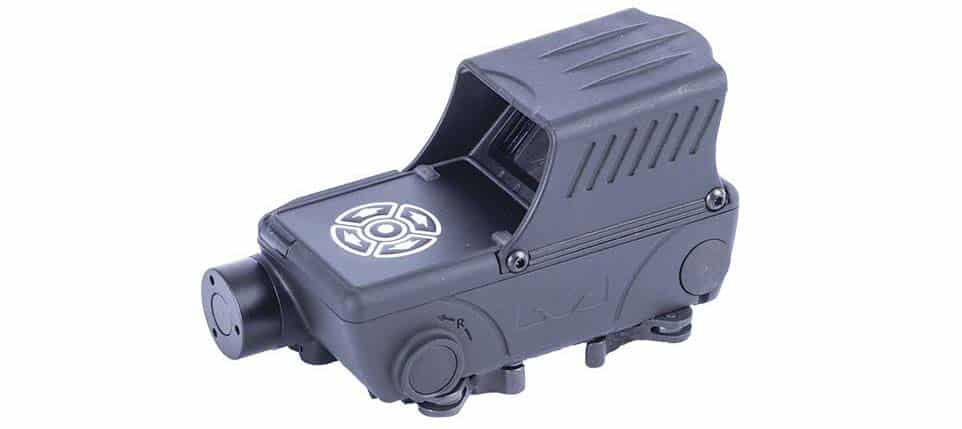 Meprolight introduces the first augmented reality (AR) weapon sight that uses real-time data or is used in conjunction with the MEPRO Foresight Mobile App (Android and IOS Bluetooth interface). It has 5 preset reticles, digital zeroing, a built-in compass, leveler and real-time projected data right on the transparent optical lens to keep the user informed at all times. The Foresight also features a built-in sensor for automatic brightness adjustment and a rechargeable battery using a USB. The mobile app provides for constant firmware updates and additional features including storing profiles and the ability to load a preset zeroing profile from the app. The large viewing window allows the user to keep both eyes open for increased situational awareness.
MSRP: $714.00 • Where to buy: meprolight.com
TRIJICON
SRO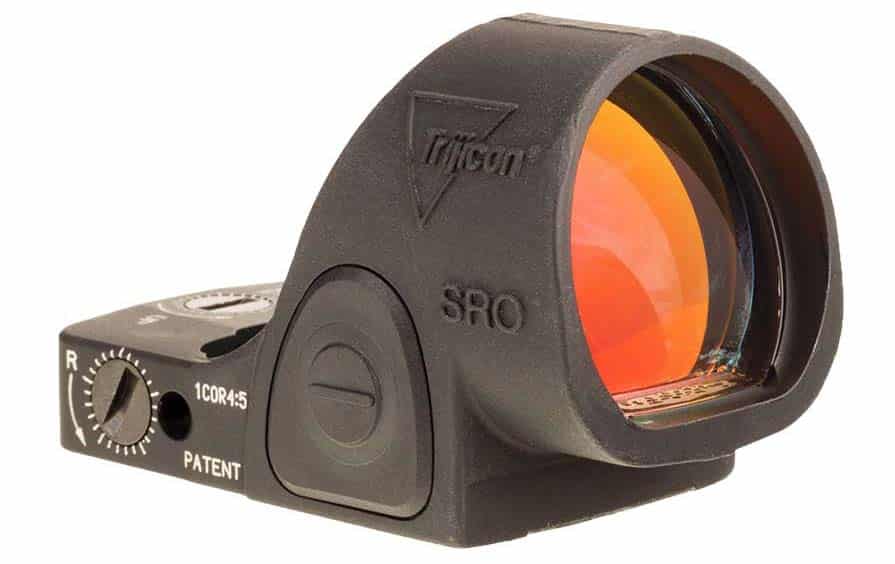 The Trijicon SRO (Specialized Reflex Optic) is specifically designed for pistol use. The wide field of view and clean, crisp dot makes it easy for users to find and track the dot in both target and competitive shooting applications. Every SRO features both manual and automatic LED brightness modes. Additionally, a top-loading CR2032 battery provides a 3-year battery life (at setting 4 of 8). These features make the SRO a great choice in any application.
MSRP: $749.00 • Where to buy: trijicon.com
MARLIN FIREARMS
336/1895 Marlin Dark Series Rifles
The speed and accuracy of Marlin lever actions, blacked-out and tricked out for the modern hunter. Our new Dark Series rifles feature a stealthy-tough black matte parkerized finish and a black-webbed hardwood stock, with a host of performance enhancements, including a threaded barrel, big-loop lever and XS Lever Rail with ghost-ring peep that also accommodates a wide variety of optics.
MSRP: $949.00 • Where to buy: marlinfirearms.com
REMINGTON ARMS COMPANY
V3 Tactical Shotguns

New for 2019 the V3 tactical line of shotguns are designed to offer a new generation of home defense shotguns to the market. Utilizing the patented Versaport gas system and the V3 platform design we are able to offer lightweight, soft shooting and utter reliability. All tactical models feature the enhanced ergonomic features of our pro series field guns and make this the ultimate home defense shotgun for the 21st century.
MSRP: $1,095.00 • Where to buy: remington.com
WINDHAM WEAPONRY
20-inch A1 Government Rifle

Windham Weaponry's new 20-inch A1 Government has the original A1 look and feel but is built to shoot with modern conveniences. The A1 upper includes a brass deflector and teardrop forward assist. The rifle-length handguard has an A1 delta ring. The 20-inch barrel with a 1-in-7 twist includes an A1 flash suppressor. The A2 stock includes a trapdoor storage compartment. Every rifle comes with Windham Weaponry's transferable lifetime warranty.
MSRP: $1,160.00 • Where to buy: Through your local dealer
BLACK RAIN ORDNANCE
Patriot-America Rifle
Black Rain Ordnance has made a promise to make your firearm exactly that, your firearm. With the addition of the Spec + Series, you have over 100 different build configurations and 21 different finish options to choose from. If you are looking to add something special to your arsenal, without breaking the bank, the all new Black Rain Ordnance Spec + Series would be a good choice for you.
MSRP: $1,199.00 • Where to buy: blackrainordnance.com
WINDHAM WEAPONRY
.450 Thumper Pistol

Windham Weaponry's .450 Thumper pistol has become widely popular for people looking for a firearm to combat feral hogs. The pistol is chambered for the .450 Bushmaster round. It includes a 9-inch medium profile barrel that is capped with the proprietary Nor'easter muzzle brake and covered by the Windham Weaponry 7-inch, free-float, railed handguard. It is fitted with the adjustable SB Tactical pistol arm brace. Every firearm comes with Windham Weaponry's transferable lifetime warranty.
MSRP: $1,254.00 Where to buy: Through your local dealer
BLACK RAIN ORDNANCE
Ion 9
The Ion 9 is a pistol caliber carbine which is fed from Glock-style magazines and operates on a complete billet platform utilizing a patented side-charging, non-reciprocating upper that is mated to a dedicated billet lower with a flared magazine well for quick reloading. With various build options within the Ion 9 series, you are sure to find the best subcompact pistol caliber firearm to fit your needs.
MSRP: $1,259.00 • Where to buy: blackrainordnance.com
CZ-USA
Dan Wesson Vigil Series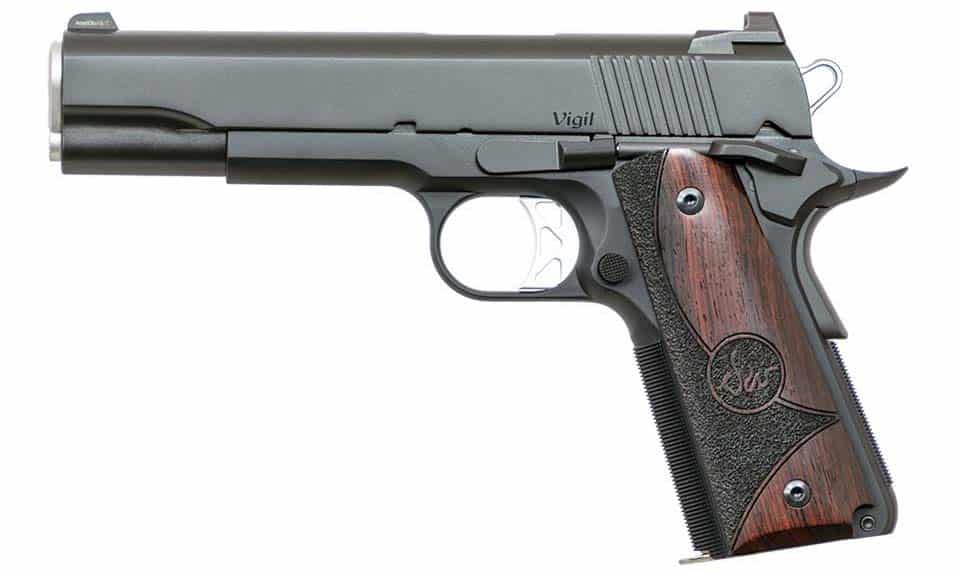 A more affordable entry into the Dan Wesson lineup, the Vigil Series pistols are all built around a forged aluminum frame with a stainless slide. The round-top slide wears a tritium sight on the front and a serrated tactical rear. The frontstrap is checkered 25 LPI, as is the rear that also features a rounded butt for comfortable carry, available in 9mm and .45ACP. With four different models the Vigil can be purchased in Government, Suppressor-Ready, Commander and CCO platforms.
MSRP $1,298.00 • Where to buy: danwessonfirearms.com
BARRETT
MRAD Barrel Conversion Kit
Barrett Firearms Manufacturing, Inc., the leader in long range, has been awarded a contract from the U.S. Department of Defense to provide an undisclosed number of MRAD rifle systems chambered in a new caliber, 300 PRC. The MRAD's robust design, user modularity and unfailing accuracy, combined with the new precision rifle cartridge designed by Hornady, offer an unbeatable system for long-range effectiveness. 300 PRC MRAD Barrel Conversion Kits are available on Barrett's webstore.
MSRP: Starting at $1,535.00 • Where to buy: store.barrett.net
CMMG
BANSHEE 300
BANSHEE 300 Series 10mm rifle. 8-inch barrel, 30-round SGM Tactical Magazine, radial delayed blowback, AR platform—Last round bolt hold open.
MSRP: $1,649.95 • Where to buy: cmmginc.com / Local retailer
NIGHTFORCE OPTICS
NX8 1-8×24 Riflescope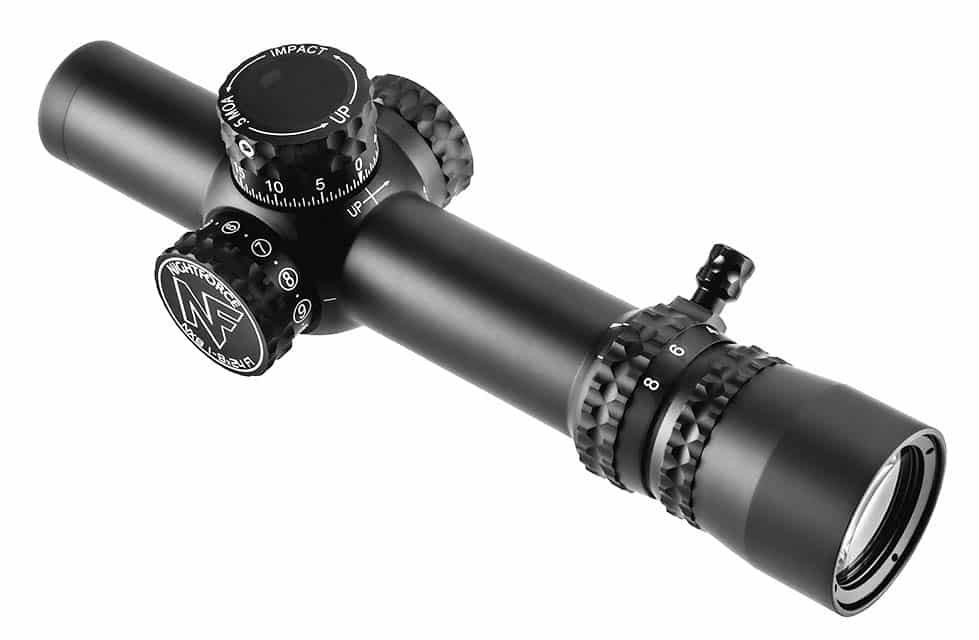 The NX8 1-8×24 F1 puts the power of an 8x into a compact and lightweight riflescope. Optimized for short- to medium-range shooting. Its daylight visible, center red dot allows the shooter to engage targets with the speed of a red dot sight, but as range increases, its first focal plane reticle provides precise hold points. In close quarters, the NX8™ 1-8×24 provides a wide field of view; a quick turn to 8x allows precision shots.
MSRP: $1,750.00 • Where to buy: nightforceoptics.com
IWI
TAVOR 7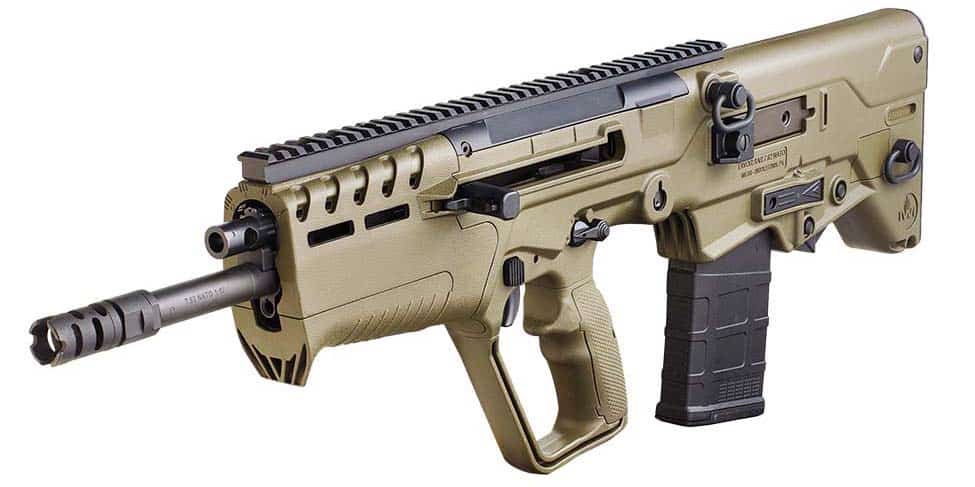 The all-new TAVOR 7 is the next evolutionary step in the Tavor bullpup family. It is an innovative, powerful and reliable weapon that can be rapidly and easily deployed in all combat situations. TAVOR 7 carries the usual reliability expected of all IWI products with some increased ergonomic features.
MSRP: $2,099.00 Where to buy: iwi.us
WEATHERBY
Backcountry Rifle

This rifle provides the craftsmanship and quality expected from a Mark V rifle only surpassed by the stunning color combination and true rugged dependability that embodies its name, Backcountry. This model carries many of the same innovative technologies including a carbon fiber stock, 3D HEX recoil reducer, TriggerTech Trigger and Accubrake ST. The Backcountry weighs in at a mere 5.3 pounds built on a 6-Lug receiver.
MSRP: $2,499.00 • Where to buy: weatherby.com
WEATHERBY
Mark V CarbonMark Rifle
The Mark V CarbonMark is a custom-built, stunningly precise rifle ready for any adventure. This carbon barrel is lightweight, accurate and fast-cooling. 95% of the carbon fiber does not touch the barrel allowing air to foil around the steel and rapidly cool the barrel. If you are looking for a combination of breakthrough rifle performance and rugged reliability this rifle should already be in your gun safe!
MSRP: $2,499.00 • Where to buy: weatherby.com
NIGHTFORCE OPTICS
ATACR 4-16×50 Riflescope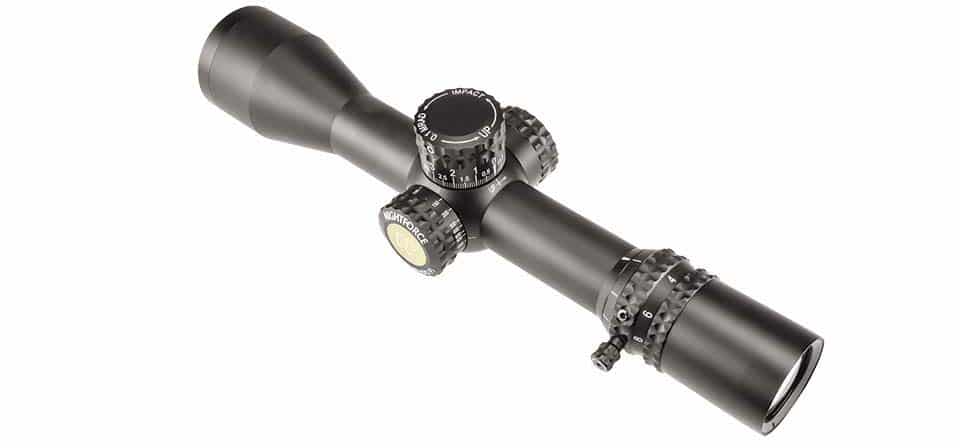 If there is such a thing as a "professional" riflescope, it is an ATACR. They are designed for military, law enforcement and other tactical professionals … and for those who simply want to shoot like a professional. Shooters who choose the ATACR 4-16×50 will enjoy superb low-light performance, ED glass, extensive elevation adjustment, all housed in a riflescope impervious to recoil from the largest calibers. A range of first focal plane reticles address any shooting environment.
MSRP: $2,500.00 • Where to buy: nightforceoptics.com
TRIJICON
1-8×28 VCOG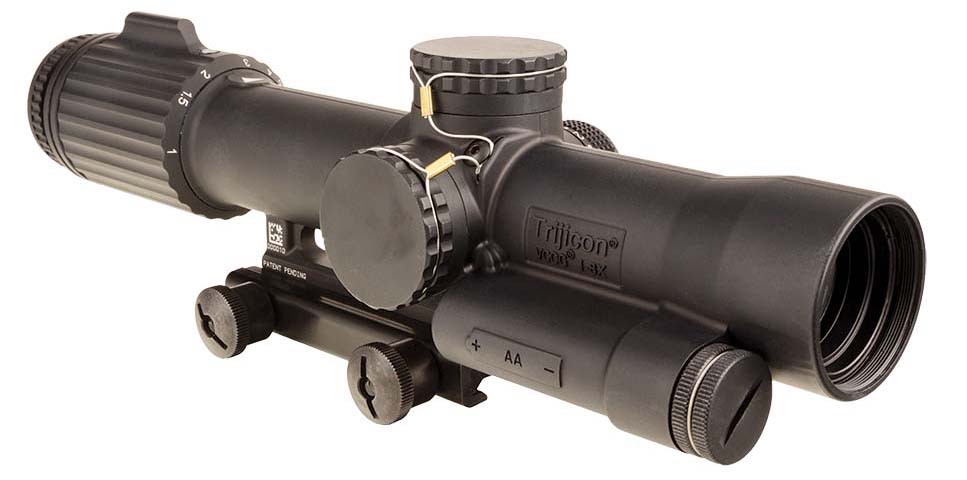 The Trijicon 1-8×28 VCOG (Variable Combat Optical Gunsight) is a highly rugged, variable magnification riflescope designed for close-quarter battle (CQB) and long-distance marksmanship. With a forged aircraft-grade 7075-T6 aluminum housing, the VCOG is nearly indestructible. Superior glass provides exceptional clarity and color with zero distortion. The universal segmented circle crosshair dot reticle is designed for multi-platform use, offers 11 user-selectable brightness settings and is powered by a lithium AA battery.
MSRP: $2,800.00 • Where to buy: trijicon.com
FLIR SYSTEMS, INC.
Scion PTM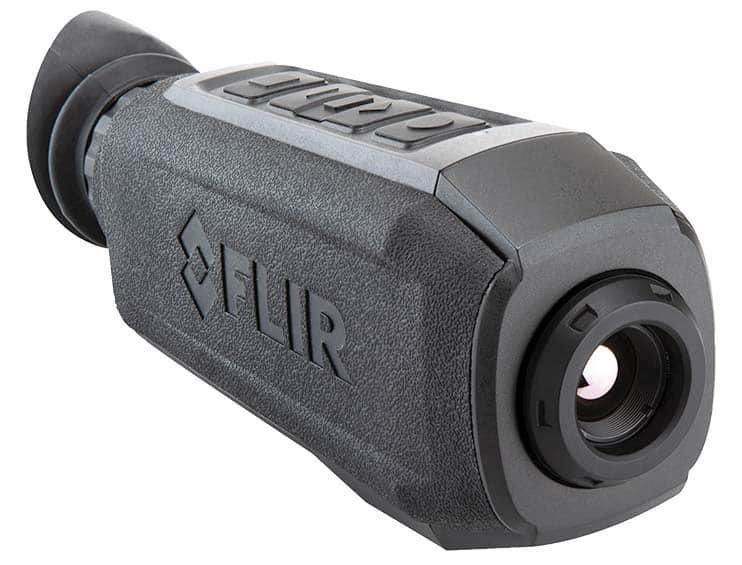 FLIR Scion PTM packs high-performance thermal imaging into a rugged, IP67-rated handheld monocular. Capable of geotagged video recording and live video transmission, the Scion PTM can instantly stream encrypted thermal footage of any pursuit, evidence recovery or search and rescue effort to the command center via wireless network. A smooth 60 Hz refresh rate and picture-in-picture zoom capture minute details from a distance and maintain peripheral awareness for constant thermal supervision of suspects, team members, and standbys.
MSRP: Starting at $3,295.00 • Where to buy: flir.com
FLIR SYSTEMS, INC.
ThermoSight Pro Series PTS536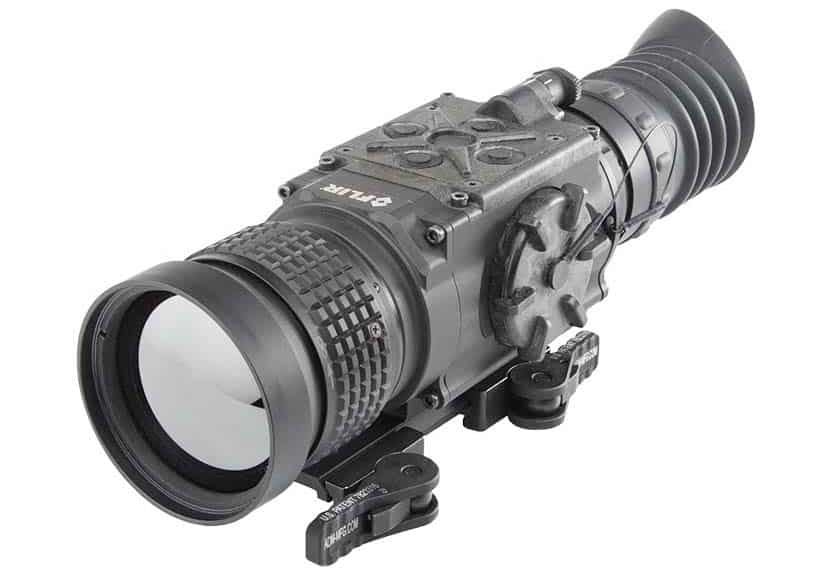 Powered by the breakthrough FLIR Boson core, the ThermoSight Pro Series PTS536 weapon sight sets the standard for thermal detection and classification. Featuring a 12 μm pixel pitch sensor and 50mm lens, the PTS536 delivers brilliant, clean thermal imaging with a focused 4.5° × 3.5° field of view. The entire ThermoSight Pro Series offers an uncompressed video signal, a high-definition display and shot-activated video recording.
MSRP $3,795.00 • Where to buy: flir.com
BARRETT
MRAD Rifle System

Barrett Firearms Manufacturing, Inc., the leader in long range, has been awarded a contract from the U.S. Department of Defense to provide an undisclosed number of MRAD Rifle Systems chambered in a new caliber, 300 PRC. The MRAD's robust design, user modularity and unfailing accuracy, combined with the new cartridge designed by Hornady, offer an unbeatable system for long-range effectiveness.
MSRP: Starting at $6,000.00 • Where to buy: store.barrett.net
This article first appeared in Small Arms Review V23N10 (Dec 2019)