By Jim Schatz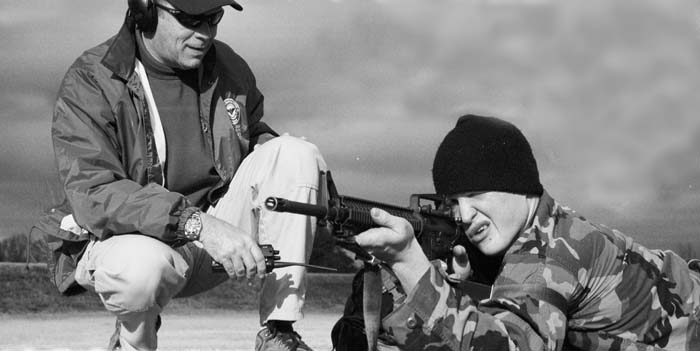 America has long been considered a country occupied by an untold number of expert riflemen. Volunteer militiamen and uniformed members of America's military services have skillfully employed countless types of rifles and handguns in the defense of this country, both here and abroad, for a very long time. It is often said that a man is only as good as his equipment. While that may be true, it is the proficient use of sound equipment that makes the difference "down range." Firearms proficiency is a direct result of ones understanding and ability to master "the integrated act of firing one round," or the fundamentals of marksmanship, as it is more commonly known. There is simply no substitute for marksmanship regardless of the technology offered in the firearm. Laser sighted weapons with full solution fire control systems firing air bursting munitions still must be accurately aimed and fired by skillful operators to bring steel on target. Like the Laws of Physics, the fundamentals of marksmanship cannot be changed and must be applied if positive results are expected with each pull of the trigger. When applied correctly, the proficient application of the fundamentals of marks-manship can make a man armed with even a simple WWII-era bolt action rifle a very dangerous man on the battlefield. Developing, scrutinizing, pushing the envelope and applying and teaching the art of advanced marksmanship has been the specialty of the US Army Marksmanship Unit (USAMU) (www.usamu.com) since it was formed in 1956 by President Eisenhower.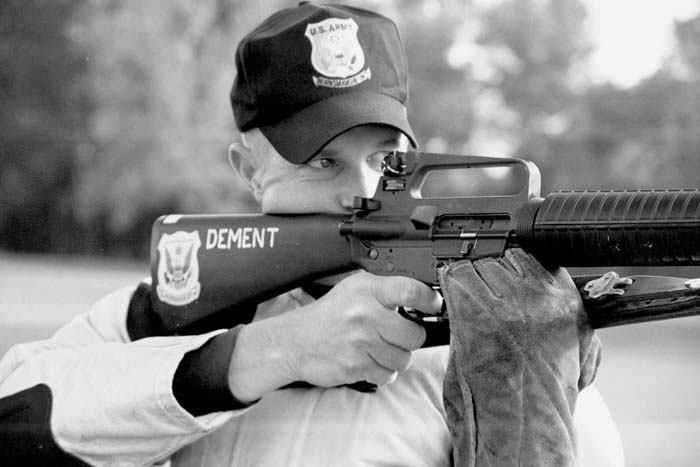 50-Year AMU Reunion

More than 630 individuals attended the 50-year anniversary of the USAMU during a grand 3-day reunion at its home base at Fort Benning, Georgia, the "Home of the Infantry." Sponsored and organized by the Military Marksmanship Association (www.militarymarksmanship.org), formerly the Army Marksmanship Unit Association, and the USAMU, this event "brought home" many well known distinguished rifle, pistol and shotgun shooters and their spouses to honor the many achievements of the unit and its past and present members.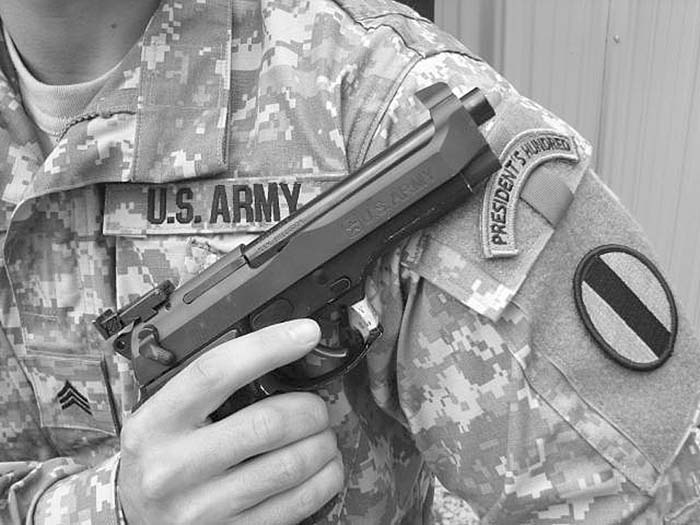 Mission First

To better understand the varied mission of the AMU, one must first understand the organization itself. The AMU is presently commanded by LTC Charles Connett. A highly decorated combat veteran of the US Army Special Forces, LTC Connett directs the daily activates of the 125 member organization, which includes both military and civilian personnel. Armed with a surprisingly modest annual operating budget, the AMU is able to field, train and support winning teams and winning weapons systems, and maintain the necessary training facilities, in support of the many activities and programs described below.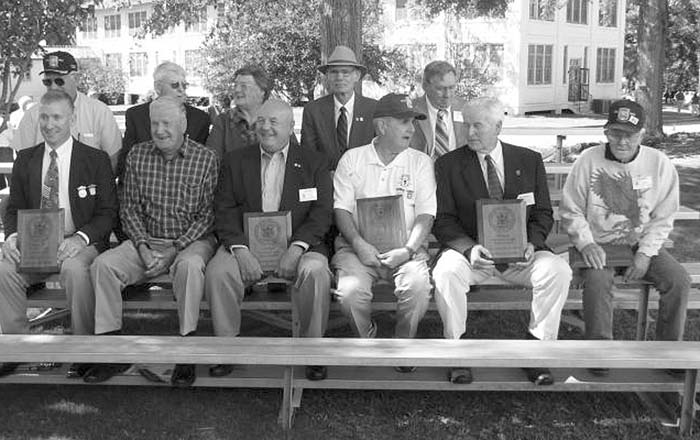 The USAMU is composed of eight sections that include a Support Staff, a Custom Firearms Shop and six competitive shooting sections, or "teams" as they are often called. These sections include Service Rifle, Service Pistol, Action/Combat Shooting, International Rifle (which includes Air Rifle, Small Bore Rifle, 300- Meter Rifle (calibers up to 8mm)), International Shotgun (which includes Trap, Double Trap and Skeet), and International Pistol (which includes Air Pistol, Free Pistol, Rapid Fire Pistol, and Sport Pistol). AMU shooters compete with calibers ranging from .177 caliber to .45 ACP, 12 gauge and .300 Winchester Magnum.

Each team has its own coach and is staffed by active duty Army competitors who are also advanced instructors in their chosen shooting discipline. The Service Rifle and Service Pistol teams employ stock and/or highly modified variants of standard-issue US Army weapons such as the M16A2 rifle and M9 pistol. Past service weapons like the US M14 and M1911A1 can and are still seen on the service category ranges in competition, and at the annual National Matches at Camp Perry, Ohio, the zenith of small arms competition in America. Even M1 Garands and 1903 Springfields are not uncommon sights on service rifle ranges around the country.

The International teams use a variety of non-standard and custom made firearms from highly respected makers like Anschutz, Walther and Hammerli that must comply with the strict standards of the sport. International team members compete in international events to include Military World Games known as "CISM" as well as various World Cups, the World Championships, the Pan-American Games, and for those who qualify, the summer Olympic Games. In fact since 1956, AMU shooters have won literally hundreds of team and individual titles including more than 454 individual and team World Championship medals and 21 Olympic medals. This is one reason why the AMU is called the Home of Champions. As of late 2006, USAMU shooters have earned seven Olympic quota slots for the 2008 Olympic Games to be held in Beijing. These slots include two male and one female shotgun slots, two men's pistol slots and two men's rifle slots.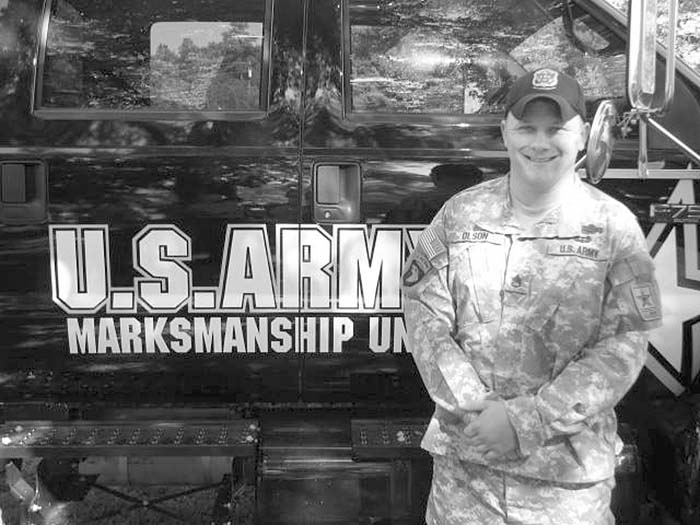 Real World Contribution to the War Fighter

One should not be mislead by the highly publicized quest for gold of units like the AMU. Each military service has its own version of a shooting team and they all meet and compete throughout the year against Reserve, National Guard, law enforcement and civilian teams. Often and inappropriately maligned as "just a shooting team," the skills and contributions of the men and women who wear the coveted AMU black cap should not be overlooked.

Since its creation in 1956, the charter of the AMU has been to raise and maintain the overall marksmanship proficiency within the Army. Unlike some other services that have career fields assigned for their shooting team personnel, active duty personnel assigned to the AMU retain their Military Occupational Skill (MOS) when assigned to the unit. New Army enlistees can enlist directly into the AMU but this has been a relatively rare occurrence. For this to occur, the prospective AMU member must have a written recommendation from an AMU coach and approved by the AMU commander. Once assigned to the unit, it is now possible to remain there for an entire career. Of course this is greatly dependent upon maintaining ones skill level at a constant national or world class level; not an easy task by any measure. Interservice transfers into the AMU from other services are also possible and recently quite common. Six or more members of the US Marine Corps Marksmanship Unit, to include two gunsmiths, have made the transfer in the past 10 years to the Army Marksmanship Unit. Candidates must first leave the service and then enlist anew into the Army.

AMU shooter/instructors train novice and expert marksmen to compete in Division/ Corps/Post, Interservice, National and International shooting competition. Not all competitors who shoot for the AMU are assigned to the unit. Many promising candidates are picked up on temporary orders from Army units of all types to travel with the team on the shooting circuit throughout the spring and summer shooting season. This provides the participants with the priceless chance to learn highly advanced marksmanship skills from the distinguished AMU shooters and the opportunity to apply and practice these skills under the stress of individual and team competition. At the close of the summer tour, most attached team members return to their units and in turn pass on these newly acquired or recently honed skills to other members of their units and other units on their posts. In many ways one can say that the AMU acts as an incubator for the Army's overall marksmanship proficiency. Promising summer pick-up shooters may even be offered the chance for a permanent change of station assignment to the AMU.

AMU members develop new weapons, ammunition, marksmanship concepts and applications. They teach in Army schools such as the Army Sniper School, and/or run AMU-created courses such as the Squad Designation Marksman Course (SDMC) and Close Quarters Marksman (CQM) programs of instruction, as well as the DoD mandated National Small Arms Firing School conducted each year during the National Matches at Camp Perry . They provide input, write and update instructional manuals that all Army personnel refer to when conducting unit marksmanship training. They support collegiate (ROTC), regional, high school and sometimes club small bore rifle programs. AMU instructors have conducted countless small arms firing, safety and marksmanship instruction clinics to an untold number of US and friendly foreign military service members, law enforcement and civilian students. AMU "Black Hats" are often seen at public events and expositions helping to recruit civilians for the challenges and associated benefits derived from an Army career. They are goodwill ambassadors "packing heat" one might say. The Service Rifle section estimates that only 20-25% of their time is spent on competitive practice. The balance of their day is spent preparing for, teaching classes and training the trainers.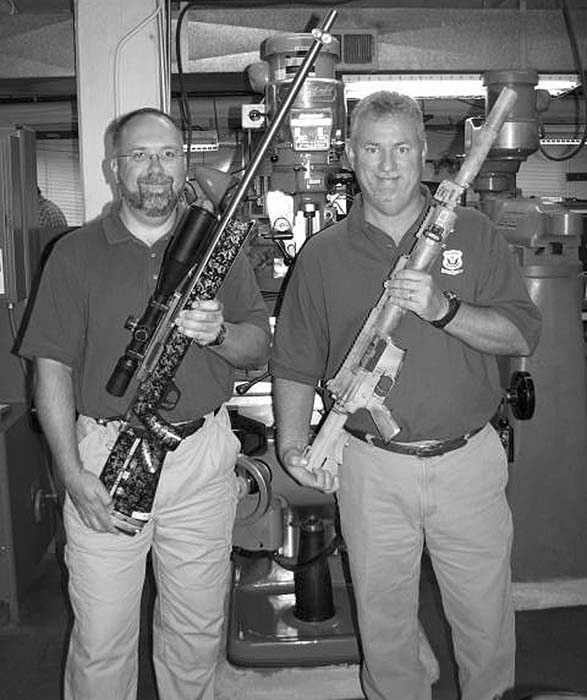 Ignore It and It Will Go Away


Marksmanship is a highly perishable skill demanding intense focused concentration, fine muscle movement, learned muscle memory from repetition and a host of capabilities not often found in most military activities. The Army's attention to marksmanship proficiency has, shall we say, "varied" over the last few decades and started into a fast decline in the early 1980s when leadership disbanded the three regional AMU detachments located at Fort Riley, Kansas, Fort Ord, California and Fort Meade, Maryland, as well as the many hard working post AMTU's (Advanced Marksmanship Training Units). This reduced the number of AMU experts available to regional commands and thus the access to their instruction and skills to many units sorely in need of proper and sound marksmanship training. For a time, unit marksmanship training was conducted mostly from Army field manuals by admittedly well intentioned NCOs and officers who unfortunately had no real hands on marksmanship training beyond what was learned during their basic and unit training. At the same time many Army posts canceled post unit marksmanship competitions and the crop of promising new shooters selected by the regional AMU detachments for the summer tour to Camp Perry all but dried up. The realization brought on by combat operations in "Gulf I" and elsewhere, helped refocus Army training to include sound and critically important marksmanship training, especially in the area of intermediate (less than 300 meters) and long range rifle shooting (600 meters or greater). The Army learned once again the hard way the value of the well trained rifleman as they employed Designated Marksman and Snipers to counter enemy sniper threats. The hard earned talents of the men and women of the AMU, and other like units within the other services were once again realized as an extremely valuable asset within the ranks of the Army that needed to be tapped.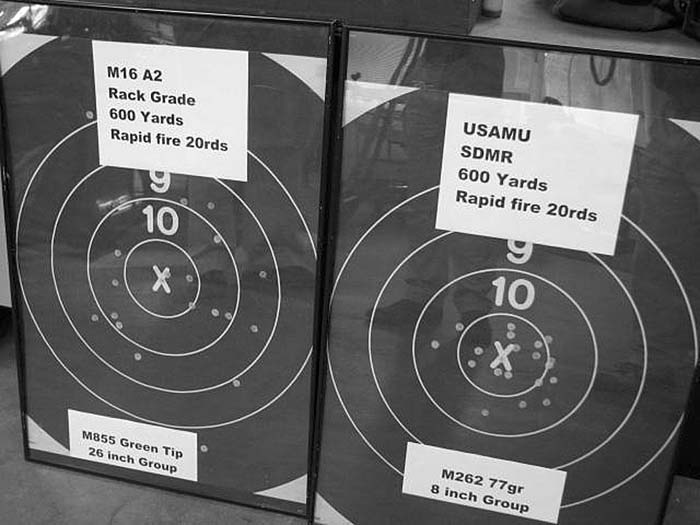 Black Magic?

Competitive shooting at the level of an AMU shooter is a true form of physical human art and can best be compared in some ways to golf or free throw shooting in basketball. While is can be physically demanding at times, especially the action sports, most national and world class distinguished marksman "earn their money" in a fixed position intensely focused on the sights, or target downrange depending on the shooting discipline, with often no perceivable movement visible. Those unfamiliar with this display of high level marksmanship skill often describe a rifle or pistol match as boring. It is anything but boring for the competitor and requires great skill, dedication and an almost fanatical attention to doing the exact same thing time after time after time. That is accuracy defined from the human form. The correct action, the "integrated act of firing one round," done over and over again to near perfection. Any golfer will know how easy that seems, but how very hard it is to accomplish consistently and under varying conditions.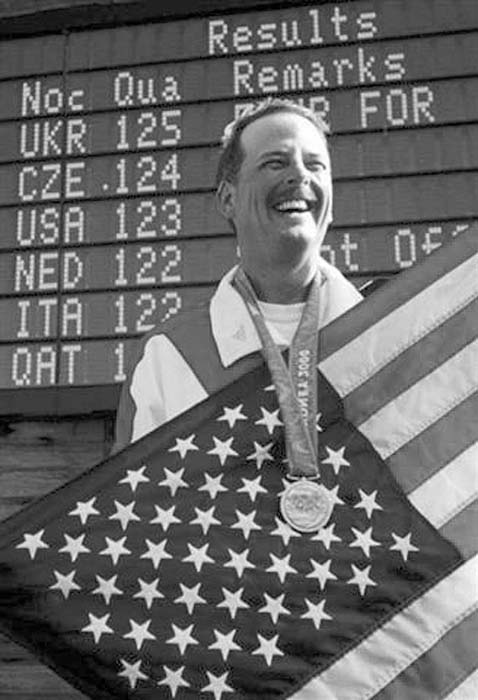 The accomplishments of competitive shooters like those from the AMU are astounding, often unimaginable. For instance, take International Free Pistol. In this event competitors fire a .22 caliber single shot pistol at stationary targets at 50 meters from a standing unsupported position using only one hand to hold the pistol. The X ring, or highest scoring zone in the center of the bulls eye target, is less than 2 inches (50mm) in diameter. A perfect score in a 60 round match, fired over the course of 2 hours, is 600 points. A world class competitor will score somewhere around 565 points. That means that the majority of those rounds fired must impact within that 2 inch circle at more than half the distance of a football field. It is akin to trying to shoot a bullet down the length of a 2 inch diameter pipe without it touching the sides over the distance of 50 meters. Not impressed? Okay. Take a nationally ranked Service Rifle shooter who wins a Long Range Rifle Match firing an AMU-modified M16A2 rifle at a 10-inch X ring at a distance of 1,000 yards. That's an M16A2 rifle with IRON SIGHTS! Still not moved? Try the AMU International Section-developed 1,000 yard Palma rifle with optical sight. Chambered for a 6.5mm wildcat cartridge called the "6.5/284" and specially loaded at the AMU, the round launches a 142-grain projectile with far less felt recoil than .300 Win. Mags often used in this match. In this match armed with these rifles the four man AMU Palma team set a new national record in 2006 (799 points out of a possible 800) by placing 79 out of 80 shots into the 10-ring at 1,000 yards. The 10-ring is only 20 inches in diameter. 53 of the 80 shots fell within the 12 inch diameter X-ring. The vast majority of the shots fell within a 6 inch group, at 1,000 yards.

Not Your High School Metal Shop

One of the little known but critically important elements of the AMU is their inhouse ability to modify, and in fact create from raw materials, intensely accurate firearms and ammunition in all categories. This is the job of the skilled gunsmiths and technicians of the AMU Custom Firearms Shop. Staffed by 15 members, which includes 5 machinists, both civilian and Army personnel, "The Shop" produces top-quality, match-grade rifles, pistols, shotguns, scope mounts, rails, buttstocks, whatever is needed by the competitors to win on the range, on modern CNC machines, such as the Fadel 22-tool, four access, CAD-programmed milling center.

The successes of the AMU shop in the specialized fields of R&D and rapid prototyping are not well known outside of competitive shooting circles. AMU has initiated and/or performed on many special programs to develop and field much needed firearms and weapon enhancements of service "rack" grade weapons in support of the US war fighter. National Match M14 rifles and M21 sniper rifles developed and in many cases built by AMU gunsmiths, have and still serve with US Army combat units today in the Global War on Terror (GWOT). AMU has been a one-stop rapid prototype shop for many special requirements for US special operations units. The concept of the 6.8x43mm Special Purpose Cartridge was jointly developed by AMU personnel working in close concert with US Army Special Forces personnel to address recorded combat failures of 5.56mm M855 weapons in Afghanistan and Iraq. The first prototypes of the highly accurate and optionally sound suppressed M16-based Special Purpose Receiver (SPR), officially type classified in USSOCOM as the MK12, was first developed at the AMU and has since served with great distinction in US special operations units operating in "the sand pile," and other unmentionable places. AMU pistol smiths have developed highly specialized M1911 pistols for sound suppressed use by SOF personnel, a feat once thought impossible due to the locking system employed in the pistol. AMU rifle smiths have developed sound suppressed .308 Winchester and .300 Winchester Magnum caliber sniper rifles on special order for "special customers" that are highly regarded works of "functional gun art" from this very well respected organization.

Some of the unit armorers in today's US SOF units and DoD and special law enforcement tactical units have trained, worked, consulted with or have even been assigned to the AMU Customs Firearms Shop at one time or another. Like the competitive shooting sections of AMU, The Shop is also an incubator in its own right for precision firearms and ammunition developments. The AMU Ammunition Loading Section loads thousands of match rounds each day in support of the unit's mission, each round measured to within 1/10th of a grain of propellant. They are also working on the fringes of advanced ammunition technology to meet the unique needs of their customer base, whether they are punching holes inpaper or people.

SDMR – Bad News for the Bad Guys

It was the AMU where the Army Squad Designated Marksman Rifle (SDMR) was first envisioned and built to meet an urgent combat need from the 3rd Infantry Division for use during combat operations in OEF/ OIF. 240 SDMRs were built by the AMU for the 3rd ID in an effort to provide the infantry squad with a much needed counter sniper and precision engagement capability that before SDMR did not exist, and was being exploited by the enemy. Many other conventional Army units have since also received SDMRs and SDMR instruction as provided by the AMU. The SDMR is a highly modified M16A2 rifle assembled by the experts at the AMU and is fitted with a 1-inch diameter AMU-fluted match grade barrel with 1/8 inch twist for use with the 77-grain MK262 match-grade ammunition, free-floating Daniel Defense 4-quad rail system, Trijicon ACOG 4×32 reflex sight with A.R.M.S. QD mount, Harris bipod and Knight's Manufacturing Company 2-stage match trigger with the automatic sear removed. While the excellent Charlie Milazzo 2-stage trigger is preferred, they are no longer readily available.

After modification by the AMU gunsmiths, the SDMR is capable of firing a rapid fire 10-shot group of under 8 inches at 600 yards. 10-shot groups are a far better indicator of true accuracy over 5-shots groups fired by many shooters and commercial rifle makers as they can be up to 50% larger in diameter and more realistic as to what one would experience in combat or on the range. The SDMR is intentionally left to look like a standard M16A2 rifle so the Squad Designated Marksman does not appear to an enemy combatant or sniper as any greater threat than the basic riflemen. That is likely his last mistake.

As part of the AMU SDMR effort to support combat units, the AMU Service Rifle section teamed with civilian and retired military members of the Civilian Marksmanship Program (CMP), best known to most readers as the place to acquire a USGI M1 Garand "cheap" from US arsenal stocks. These combined government/civilian mobile training teams, comprised of expert riflemen from around the country, created and conduct SDMR courses for Army Squad Designated Marksmen to insure they can get the most out of the SDMRs assigned to their units. The CMP procured 40 SDMRs from a highly respected US rifle vendor for use in joint USAMU and CMP Train-the- Trainer courses that are conducted over 35 times a year to soldiers being deployed in support of the GWOT.

Likely You Won't Find These in Your Arms Room

The service grade AMU M16A2 and M9 pistols, used by AMU shooters in national competition, are highly modified variants of the standard issue firearms. You won't see these on the shelves at FN or Beretta. Various enhancements created at the AMU are incorporated into the weapons to improve their "shootability" in the hands of the competitors. For instance, in the M16A2 the weight of the rifle is actually increased. Most Service Rifle section shooters prefer a heaver rifle when firing in the off-hand or standing position during the Slow Fire stage of the rifle matches. This additional weight, consisting of specially contoured lead weights added under the hand guards and within the butt stock, help to stabilize and "settle in" the rifle during the critical final aiming process. M16A2 "Service Rifles" are also fitted with 1/4-minute rear sight drums fabricated on AMU machines. This allows smaller adjustments to be made to the rifle's zero during competition to account for the smaller targets engaged and for wind and ammunition variances experienced at long ranges compared to the 1- minute adjustments of the issue rack-grade M16A2's that are designed and sufficient for hitting man-sized targets. 2-stage match triggers and match-grade barrels are also fitted to the AMU M16A2 creation.

Even the 9mm M9 Beretta pistol gets a thorough facelift to become an AMU certified Match Grade Service Pistol. Stock M9s are fitted with a new, reinforced Brigadier slide assembly, KKM Precision barrel, steel frame inserts, and high profile Bo-Mar click adjustable sights. The AMU pistolsmiths machine a flat on the barrel at the 6 o'clock position and add a set screw to insure positive and consistent shot to shot accuracy. An over-travel set screw is added to the trigger and the sear and disconnector are polished to provide a crisp and clean 4-pound trigger pull. In the end, the pistol is expected to fire a 10-shot group from a Ransom rest at 50 yards of less than 2 inches using match-grade 115-grain ammunition from Atlantic Arms.

There is a great deal of very clever professional "tinkering" that goes on daily by AMU technical staff in the never ending search for accuracy. In fact, it is hard to find a truly "stock" weapon within the walls of the AMU. They are there though. AMU shooters use accurized weapons for the Presidents Hundred rifle and pistol matches, but use standard issue weapons for matches such as the All-Army Small Arms Championships.

AMU Hall of Fame Inductees – Keeping "The Best" For Last

As is usually the case with all reunions, the 50th reunion of the Army Marksmanship Unit, held during October 2006, brought together many old faces and their spouses to relive old times and great accomplishments. The organizers of the three-day event planned informal roundrobin shooting events for the attendees on the AMU rifle, shotgun and pistol ranges as well as a tour of the US Army National Infantry Museum located adjacent to the AMU headquarters building on Fort Benning. The obligatory social events included Section dinners, a fantastic BBQ, a look at the draft of the 50th Anniversary AMU Book available through the Military Marksmanship Association web site, section photographs and the dedication of the new AMU Action Pistol Range, named for Army MSG William Krilling who was awarded the Distinguished Service Cross for gallantry during the Korean War. The last night reception at the glorious Columbus "Iron Works" was attended by many dignitaries to include the only current active duty Congressional Medal of Honor recipient, LTC Gordon R. Roberts, Columbus Mayor Robert Poydachef, LTG Robert L. Van Antwerp, U.S. Army Accessions Command Commanding General, Mr. Gary Anderson, Director of the Civilian Marksmanship Program and ten time individual World Champion and two time Olympic medal winner in 300 meter 3- position rifle, and ISSF President Olegario Vazquez Rana. Even Mr. Dieter Anschutz of the Anschutz company, long time supporter of international rifle and pistol shooting, was in attendance to celebrate his company's 150th anniversary, as was Lones Wigger, twelve time individual World Champion and 3 time Olympic medal winner!

During the reunion, past champions were recognized for their achievements. 23 AMU members were inducted into the Section Halls of Fame. This included 1LT Joe A. Deckert, LTC John R. Foster, SFC John P. Kingeter, LTC Harry A. Lucker, and MAJ Willis L. Powell, Running Target Hall of Fame; LTC Sallie L. E. Carroll, SGM Emil W. Heugatter, 1SGT Class Barbara Hile, and MSG Ralph O. Thompson, Service Pistol Hall of Fame; and MSG Burl Branham, Shotgun Hall of Fame. Six former AMU shooters were inducted into the AMU Hall of Fame. Those persons were MSG Erich Buljung, SSG Matthew A. Dryke, SGM Emil W. Heugatter, CPT Daniel Puckel, COL Thomas J. Sharpe, and SFC Earl Waterman.

Acknowledgements

The author would like to thank Ms. Paula Randall, USAMU Public Affairs Officer; LTC Charles "Ty" Connett, USAMU Unit Commander; Robert Aylward, USAMU Deputy Commander; SGM Ybarra, USAMU Sergeant Major; Mr. Bruce Meredith, 2005-2006 President of the MMU; Mr. Gene Clark, 20-year member of the USAMU Custom Firearms Shop; Mr. Glenn Sulser, USAMU Gunsmith, and finally SGT Robert Parks, Service Pistol shooter, for their assistance in preparing this article, and to the many volunteers who made the USAMU 50th reunion such a resounding success. SIGARMS, Ruger and various other commercial vendors deserve special recognition for their support of the reunion with the presentation of various firearms and related items.

The author would also like to dedicate this piece to fellow AMU Service Pistol shooter Dave Woodcock, a rising star destined for greatness, who tragically passed away unexpectedly in the 1980s. Had he stayed a little while longer, it is certain he would have been National Pistol Champion.

About the Author

Jim Schatz was a member of the Army Marksmanship Unit, detached to MTU # 1 at Fort Meade, Maryland, from 1981 through 1984. A Service Pistol and new Service Rifle shooter and Counter Sniper Instructor for AMU, the author was first introduced to formal competitive shooting by his father and advanced pistol marksmanship instruction under the watchful eye of Army coach MSG Oscar Gomez as part of the Advanced Marksmanship Training Unit (AMTU), a post level MTU at Fort Bragg.

Army Wounded Warrior Program

The AMU participates with great enthusiasm in the Army Wound Warrior program. Since 2004, the AMU and Walter Reed Army Medical Center have been collaborating on a program to allow select personnel a chance to train, compete and instruct at the AMU. While at the 50th reunion, I was honored to meet AMU team member SSG Josh Olson of Spokane, Washington. In his first year as a prone International Rifle shooter, SSG Olson qualified for the Paralympic Games. SSG Olson had never even shot competitively before signing on with the AMU. His goal is to shoot in the 2012 Olympic Games. He lost is right leg as a result of a RPG impact during combat operations in Telafar, Iraq in October 2003 as a member of the 1/ 187 RCT 101st Airborne (Air Assault) Division. Today he moves around smartly on an Army provided micro-processing prosthetic C Leg. The Army Golden Knights Parachute Demonstration Team, according to SSG Olson, also has two Army Wounded Warriors on their team, each with below-theknee amputations. Visit the Army's Wounded Warrior Program website at www.aw2.army.mil for more information.
This article first appeared in Small Arms Review V11N6 (March 2008)