By Jay Bazner
Thousands of Americans own the post ban style AK clones manufactured in China and by a host of other countries. Because these rifles are imported, they fall under restrictions set forth in section 922 (r) of the Gun Control Act, which states in part that "it shall be unlawful for any person to assemble from imported parts any semiautomatic rifle or any shotgun which is identical to any rifle or shotgun prohibited from importation under section 925(d)(3) of this chapter as not being readily adaptable to sporting purposes".
So, because pistol grip equipped AK clones were banned from importation, MAK-90s and the like come with ugly, sometimes difficult to hold thumbhole stocks. It is illegal to take an imported pistol grip stock set and install it on your out of the box post ban AK, so what can you do to get rid of that ugly thumbhole stock? Spend three to five times as much on a pre-ban AK? That's not a cheap solution.
Wesley Drennan of SoupBowl Enterprises wanted a better solution too. Originally he wanted a pistol grip AK for himself, and never intended to go into business. However, thanks to Wes, there is now a 100% legal, BATF approved kit that converts your post ban imported MAK-90 or Maadi (and potentially others) into a pre-ban style USA made USAK-97.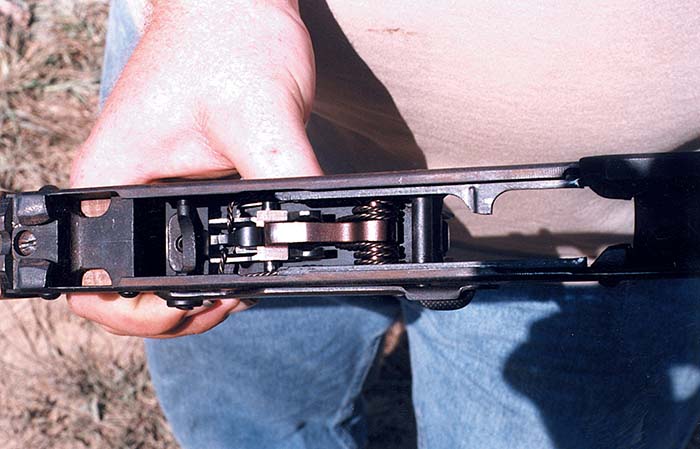 The author interviewed Wesley Drennan about the USAK-97 kit and here's what he had to say:
Wes: "There are three laws that cover the post ban AK type rifles in this country. The first is the semiautomatic assault weapon law. To comply with this law I had to make sure that the finished rifle was not an assault rifle according to law. Since the finished rifle has only one "bad" feature(pistol grip) it was legal in that respect.
The second was the law that made it illegal to build a semiautomatic rifle from imported parts if the finished rifle had more than 10 imported parts from a list of 20 that the ATF has come up with (see side bar for the list). The finished rifle will only have 10 or less depending on the configuration you use on the rifle. I have been able to get it down to only 8 imported parts in the completed rifle.
The third law requires the finished rifle to not be qualified to be a NFA weapon (short barrel or shorter than 26.5 inches). The finished rifle will not be considered an NFA weapon because it is longer than 26.5 inches and is not considered an SBR, or automatic weapon.
Since the finished rifle has less than 10 imported parts in it , it qualifies as being MADE IN THE USA and should be legal in ALL states including California."
JB: Is the kit ATF approved?
Wes: "The USAK-97 kits have been approved by the ATF. The ATF has told me that since the AK type rifle has a possible total of 16 parts of the 20 listed in the law, If I were to make 6 USA made parts and put them in the AK type rifle I can then have a pistol grip on the POST BAN rifle.
One thing, if the rifle does NOT have a muzzle brake or has a USA made muzzle brake then you only have to have 5 USA made parts in the completed rifle other than the muzzle brake. If there is no muzzle brake installed on the rifle, then only 5 USA made parts are needed to make the rifle legal."
JB: What kind of wood is the stock kit made of?
Wes: "The kits are made from Walnut, and custom wood is a possibility, but the price would have to be higher depending on the wood and how hard it is to work with."
JB: What sort of metal are the hammer and disconnector made of ?
Wes: "The metal parts are castings and are of 4140 or 4110. They have been Rockwell hardened to about 45 or so."
JB: Is there anything you'd like to add?
Wes: "One other thing I would like to say is that if any combination of USA made parts that make the imported total be 10 or less, then anyone can put a pistol grip on the AK type post ban rifles and be legal."
(The author and Mr. Drennan both caution that you should get approval from ATF Technology Branch in writing before proceeding with your own designs.)
The USAK-97 kit contains a USA made hammer, disconnector, pistol grip, buttstock, and both wooden forearm pieces, as well as a magazine floor plate and follower. Additional magazine follower/floor plate kits are expected to be around $3.50. The metal parts are known to fit the MAK-90 and Maadi, although Wes feels that they will "fit 90% of the stamped AK receivers out there". The wooden parts initially are only made for the stamped version of the MAK-90 or Maadi and will require minor fitting. The author inspected the original USAK-97 prototype at Knob Creek and found it to be virtually identical in function to the original MAK-90 host gun the kit was installed on, only with a more comfortable stock. The price of the USAK-97 is $157.00 to $167.00, and takes about 15 minutes to install with basic tools. Demand for the USAK-97 will probably outweigh SoupBowl Enterprises' production capability, so be prepared to wait in line for a kit. Interested parties may contact:
SoupBowl Enterprises
617 Sanders St. Dept. SAR
Four Oaks, NC 27524
Phone: (919)963-3343
E-mail: soupbowl@hotmail.com
BATF Parts List
*1. frame, receiver
*2. barrel
3. barrel extensions
*4. mounting blocks(trunion)
*5. muzzle attachments(certain variations)
*6. bolts
*7. bolt carrier
8. operating rod
*9. gas piston
10. trigger housings
*11. triggers
*12. hammers
13. sear
*14. disconnector
*15. buttstocks
*16. pistol grips
*17. forearms, handguards
*18. magazine bodies
*19. magazine followers
*20. magazine floor plates
This article first appeared in Small Arms Review V1N8 (May 1998)