Vickers Mark I water-cooled machine gun.
By Robert G. Segel
The British Vickers Mark I machine gun is an iconic water-cooled weapon that served Britain for over 70 years. Weapon improvements as years pass are noted by advancement in Mark numbers (i.e. Mark I, Mark II, Mark III, etc.) to denote the changes. It is worthy of note that the British Vickers started out as the Mark I in 1912 and ended its career in the 1970s as the Mark I. So robust, so accurate, and so utterly reliable was the Mark I Vickers that it soldiered on for decades without change.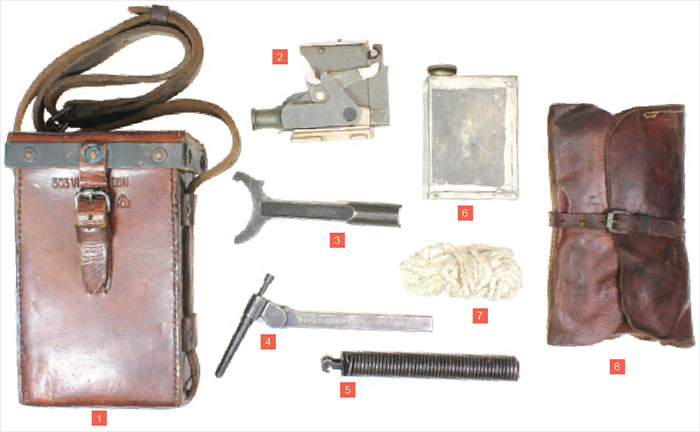 Like any well designed piece of machinery, for the Vickers to carry on and do its duty to protect, defend and work flawlessly and continually, it requires care and maintenance. Primary and first line care is dependent upon the actual gunners to take the necessary steps and responsibility to keep their gun running.
Since it was essential to have certain critical spare parts at the gunner's position, each Vickers machine gun was issued a leather "Case, Spare Parts" box and leather "Wallet, Spare Parts, .303" Vickers Gun Mark I" that contained all the critical things they would need to make immediate and expedient field repairs as well as general cleaning and oiling maintenance.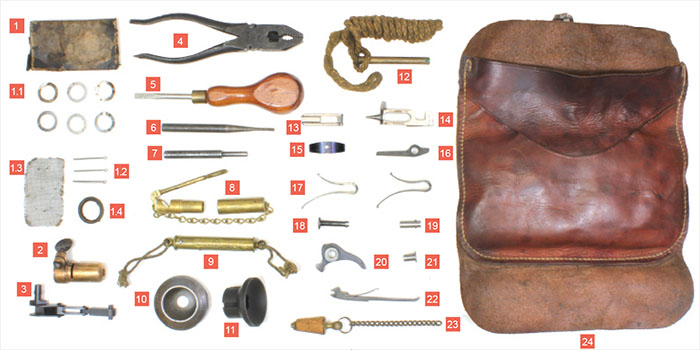 This simple 8 1/2 x 4 inch leather spare parts box, with shoulder strap, also contained a leather spare parts wallet that contained all the small bits and pieces and tools in a convenient wallet – all easily accessible to the gunner for quick and efficient repair or maintenance. With this kit on hand, Vickers machine guns had everything they needed to keep 'em running.
This article first appeared in Small Arms Review V19N6 (July 2015)