Todd Burgreen
The importance of holster selection is often overlooked, especially in terms of effective concealed carry.  If you are a full time member of the gun culture you probably have boxes full of holsters collected over the years.  This variety is spawned by different moods, changing handguns, or imagined needs and tasks to be fulfilled.  This whimsical attitude changes when someone commits to being a serious practitioner of full time carry. 
Holsters can not be chosen lackadaisically or thought of as merely expendable accessories when judged in the application of concealed carry.  A holster is part of the carry system that includes weapon, sights, ammunition, training, and shooter mindset.  Any deficiency in one part of the system impacts efficiency of the whole.  The adaptability and relative ease of changing/alternating holsters leads many to minimize the importance of their relevance.   Unlike handgun, sights, ammunition, holster choice can vary based on weather, clothing, and carry environment.   In terms of concealed carry, holster selection warrants the same seriousness of thought as weapon selection itself. 
Holsters are obviously important for carrying one's handgun. Any holster selected for concealed carry use should have as much thought put into it as the weapon itself.  If a holster is not comfortable, then the user will find reasons not to carry his or her weapon on some fateful day. Another important holster consideration is how well it conceals the handgun.  After all, effective carry is what we are focused on here.  Presentation (a fancy way of saying drawing the weapon) also hinges largely on one's holster of choice. A proper holster allows for a good firing grip on the weapon and quick, efficient clearing of the holster when it matters the most. When deciding on a carry holster, ease of re-holstering a drawn weapon should not be overlooked either. Different holster styles have different strengths and weaknesses based on design intent. For example, a deep cover maximizes concealment, but is detrimental to presentation.  Most have numerous holsters in inventory to support their main carry weapons.  The versatility of changing holsters should not cloud an individual's judgment on the holster's importance.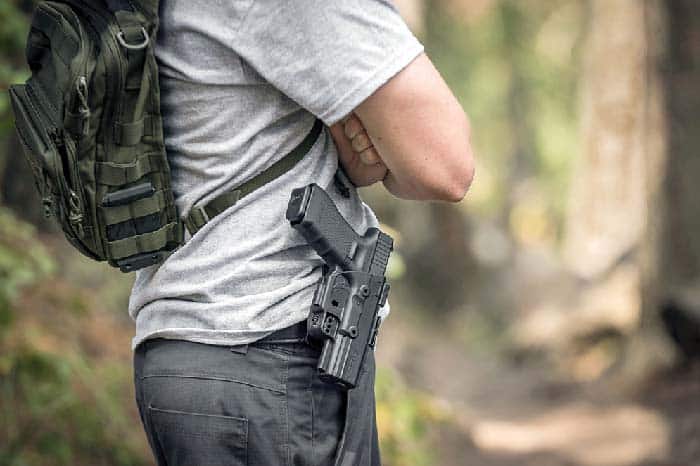 Based on the above criteria, anyone in the holster market would do well to check out Alien Gear's ShapeShift Starter Kit. For approximately $100 the Alien Gear kit offers users ability to configure four different holster styles: Inside Waist Band (IWB), Appendix IWB, Belt Slide Outside the Waistband (OWB) and Paddle Holster (OWB). An added bonus is the mount kit for vehicle, bed frame, etc. The ShapeShift holster emerged from Alien Gear's continued focus on evolutionary improvement of how best to carrying a handgun.
The ShapeShift holster is no compromise candidate. The quest for modularity did not sacrifice utility or functionality. Alien Gear created the modular nature of the ShapeShift via holster shells and backers. Attention to detail is evident. For example, the vented neoprene hybrid holster base allows the backer to breathe, circulating air and wicking away moisture while you carry inside the waistband. As this is the only point of contact for holster and the pistol, it is able to flex and conform to any body type or shape. Each polymer piece is manufactured with tough, premium engineered polymer and has been rigorously beta tested before initiating production. The innovative trigger guard "half-shell" that mates to the backer slims down overall package for better concealment and comfort. Embedded between the soft neoprene backer and durable thermo elastomer surface is a strip of steel that serves as a backbone to the entire system. This is a patent-protected element of the ShapeShift system.
Do not be overwhelmed by the numerous components contained within the Alien Gear Starter Kit. Converting the shell from one holster configuration to another requires just a few minutes at most thanks to the clear instructions provided in the user manual and quick start guide. Most of the polymer components simply snap together and are secured in place using Twist Lock knobs. Those few components secured by metallic screws can all be adjusted or removed using a single Allen key shipped in the kit.
A ShapeShift GLOCK 17 starter kit was employed over a period of months to better the Alien Gear concept. An optional thumb release provides Level II active retention if desired in the various configurations. The two configurations used the most proved to be the IWB and Paddle holster configurations. This is not a knock against the other two styles available with the Alien Gear ShapeShift system,…AIWB and Belt Slide…just personal preference prevailed. Handgun carry with the Paddle holster is extremely flexible with the right equipment. The ability to discretely remove and put back on your holstered handgun cannot be underestimated. An added feature is the wide range of cant adjustments (360 degrees) that can be customized with a simple push of a button to place in an optimal position for individual users. I like a 15 degree forward cant as it positions the pistols grip just right for me allowing a quick presentation combined with a proper firing grip. The Alien Gear ShapeShift Paddle configuration is the simplest to use with the Holster Mount. Just unclip from your belt and snap into the mount wherever you have prepositioned it.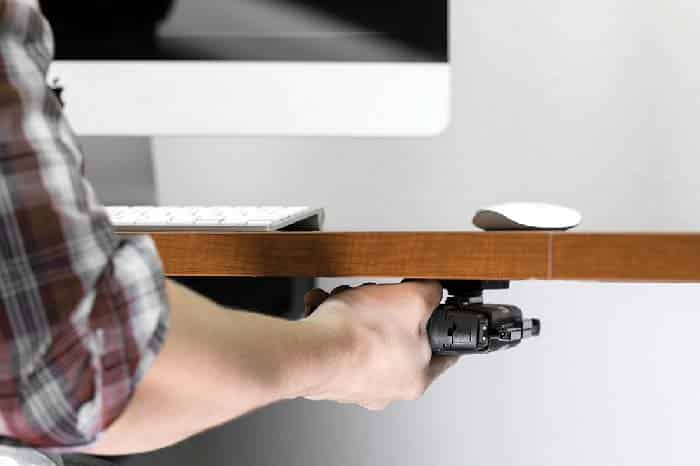 Inside the Waistband carry is a must in anyone's handgun carry inventory. The Shapeshift IWB with its single mounting point on its base offers a wider range of flex and improved comfort. Its design requires zero break-in time, so you can carry comfortably from the beginning. A layer of ballistic nylon reinforces the entire holster base. The improved holster belt clips require zero connecting hardware, making it simple and easy to adjust your concealed carry holster's cant and ride height. You can adjust or relocate your holster clips by hand without having to resort to tools.
In all Alien Gear ShapeShift configurations tension is adjustable allowing a user to customize retention to his or her preference. This is a twofold issue. You do not want a holster that does not retain your weapon securely when carried or is so slick that when you perform a hasty draw you end up empty handed with your weapon on the deck after leaving your hand. Trust me, I have seen it happen. Alien Gear Skin Surface combines durability with the perfect amount of drag to your gun draw further assisting in his aspect. The tension unit can be traded out for a thumb release lever if preferred. The thumb release is compatible with all of the holster configurations. This turns the ShapeShift into a Level 2 retention unit.
No matter what attachment method is utilized with the ShapeShift, the holster does not move around. A key component incorporated in many ShapeShift configurations is the ability to remove your holstered firearm without having to unthread your belt or draw your pistol thanks to clips. One often heard criticism of polymer is that it negatively impacts a weapon's finish. A lot of this criticism arose from early holster designs that were not properly fitted to the weapon being carried. Alien Gear holster molds are designed with tight tolerances for better fit and finish with contours keeping positive pressure on the handgun holding it more securely and eliminating excessive wear on a handgun. Abrasive particles and dust are less likely to cling to polymer as compared to leather, and polymer is easier to clean if it gets dirty or dusty. Another attention to detail item is that no screws or rivets are used around the holster's contact surfaces.
I carried the ShapeShift on numerous long driving trips in its various configurations. I have found that this is a good indication of a holster's comfort. Nothing like sitting pressed into a car seat to determine how a holster fits. To summarize my findings during the long drives, I can pay the Alien Gear ShapeShift the greatest compliment available to a holster; I forgot it was there. The Shapeshift is just as home on the range, allowing a shooter fast access, good initial firing grip, and quick presentation when a weapon is drawn. Importantly, the Shapeshift provides easy re-holstering, something some holsters designs neglect to provide.
Concealed carry practitioners need to be flexible in methods used to maximize discrete carry. Ineffective concealment can incur criminal charges for civilians. In an ideal world we would not need to think about carrying a handgun for personal defense. We all agree this is not the case. Thinking one holster type, or even weapon, is all you need for effective concealed carry is idealistic.
I found the Alien Gear Shapeshift to be not only one of most comfortable IWB holsters I have used, but also one of the best outside the waistband holster in either of its OWB configurations. A visit to Alien Gear website provides a great tutorial on its mounting options. Most popular handgun models are accommodated and in stock. All of this capability comes reasonably priced and backed up with great customer service.
SITES OF INTEREST
Alien Gear Holsters
This article first appeared in Small Arms Review V22N9 (November 2018)