By The Small Arms Review Editorial Staff
GLOCK, INC.
G45
GLOCK, Inc. announced a new addition to the 9X19mm family of pistols featuring the latest in design and engineering seen in the 5th Generation of GLOCK pistols. The GLOCK 45 combines the fast handling of the GLOCK 19 compact-sized slide with the full-size frame as a compact crossover. us.glock.com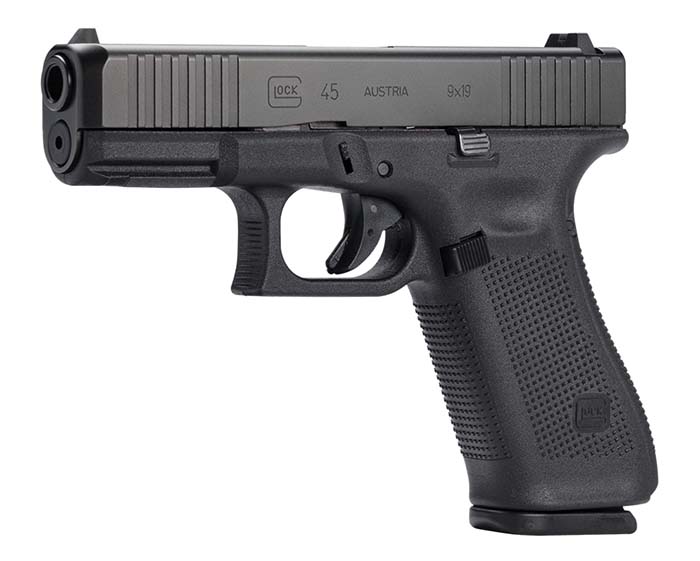 MAGPUL
Bipod for M-LOK
The Magpul Bipod for M-LOK offers serious strength and versatility at a price that provides unmatched value. The lightweight (just over 11oz) MIL-SPEC hard anodized 6061 T-6 aluminum and injection-molded polymer bipod brings innovation in ergonomics, functionality, strength and value together. An aesthetically pleasing, low-profile design conceals its mechanisms and hardware, smoothly brushing off snags and bumps. Spring-tensioned legs stow neatly forward and snap down and lock into place with one hand. Leg extensions slide and lock securely with the push of a button on any of the seven half-inch spaced locking detents. The legs extend a full four inches, from 6.3" to 10.3". An industry-exclusive 50° of total tilt and 40° of total pan are controlled by a glove-friendly knurled tool-less bipod locking knob located between the extended legs, allowing easy adjustment between shots. Additionally, the Magpul Bipod has the exclusive ability to lock pan at 0° while maintaining full-tilt functionality. magpul.com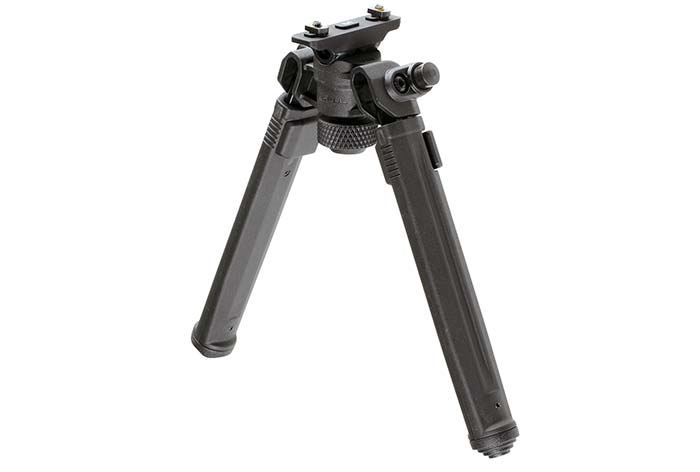 SIGHTMARK
Core Shot A-Spec FMS Reflex Sight
The Core Shot A-Spec FMS Reflex Sight bridges the gap between a full-sized and mini red dot sight. The mid-sized red dot sight delivers elite performance and accuracy in recreational, professional and competitive environments for avid shooters. Made out of aircraft-grade aluminum for a dependable compact, lightweight housing and includes external battery compartment for easier access to the battery. The Core Shot Includes a riser mount to work effectively on ARs. sightmark.com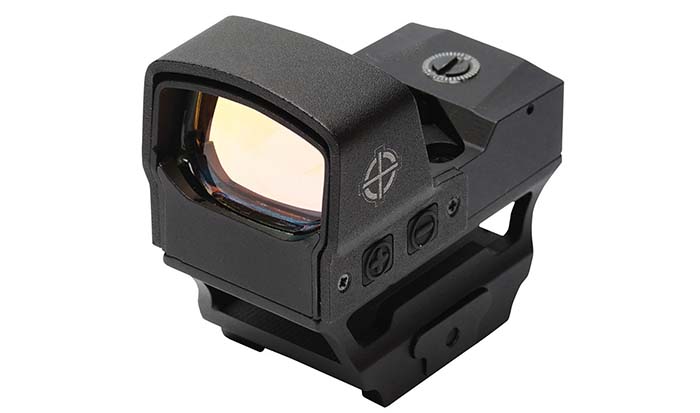 ELITE SURVIVAL SYSTEMS
GUARDIAN Concealed Carry Backpack, #7722
The unique design of the GUARDIAN EDC Backpack combines the versatility of a modular pack with the internal features of a daily carry pack, complete with a dedicated concealed carry compartment. The CCW compartment has an adjustable, movable holster and can be accessed from either side of the pack. The pack's comfortable yoke system carry, numerous organizational pockets and compartments and dedicated laptop compartment round out the Guardian's features for a perfect every day pack. Optional backpack armor insert also available. elitesurvival.com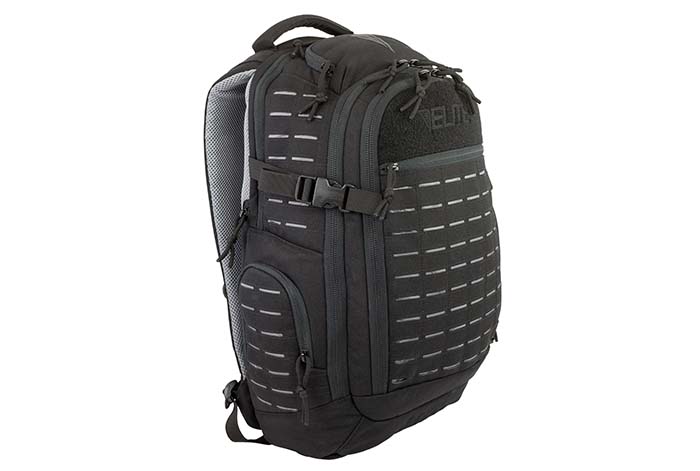 TANGODOWN®
AK BATTLEGRIP® BG-AK
TangoDown® Inc. is pleased to announce the latest addition to the lineup–the AK BATTLEGRIP® (BG-AK). The BG-AK is made from the same durable material as the entire BATTLEGRIP® line. It offers a comfortable ergonomic design, aggressive non-slip texture and patented internal storage for essential spare parts or optic batteries. The grip fits all true AK-pattern rifles. TangoDown.com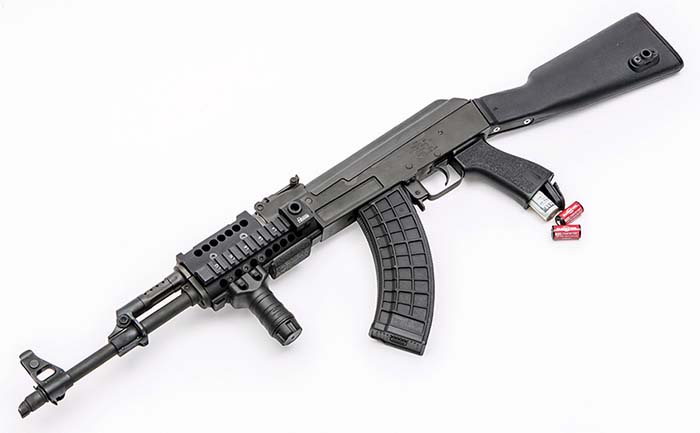 SAVAGE ARMS
Rascal Target
The industry's safest micro rimfire has come of age. The Rascal Target is built for accuracy and adaptability, thanks to a precision hardwood stock, heavy 16 1/8-inch barrel, one-piece Picatinny rail and threaded (1/2-28) muzzle. Like the original Rascal, the single-shot rifle cocks by lifting the bolt and unloads easily—without pulling the trigger. The design also builds superior shooting skills thanks to full-size rifle features, including Savage's user-adjustable AccuTrigger™ system. The platform offers far better safety, functionality and accuracy than competing designs. savagearms.com

TUFFY SECURITY PRODUCTS
Model 343 Under Rear Seat Lockbox
Tuffy Security Products has unveiled its Model 343 Under Rear Seat Lockbox for 2014 to current Chevy Colorado/GMC Canyon Crew Cab pickup trucks. The Model 343 is a full-width, form-fitting lockbox designed to mount under the rear seats of the pickup.
Comprised of powder-coated, 16-gauge steel, the security lockbox features more than 2,100 cubic inches of storage space which is further protected by Tuffy's patented Pry-Guard locking system with a 10 tumbler double-bitted security lock. Tuffy Security also incorporates an exclusive Pin-Lock hinging system with built-in weather seals to further protect the contents of the box. The lockbox is accessed by flipping either or both the rear seats up and opening one or both lids. The lid under the single seat has a center lock while the lid under the double seat has two locks. The Model 343 mounts into the vehicle by fastening to the original OEM hardware and does not require any drilling. tuffyproducts.com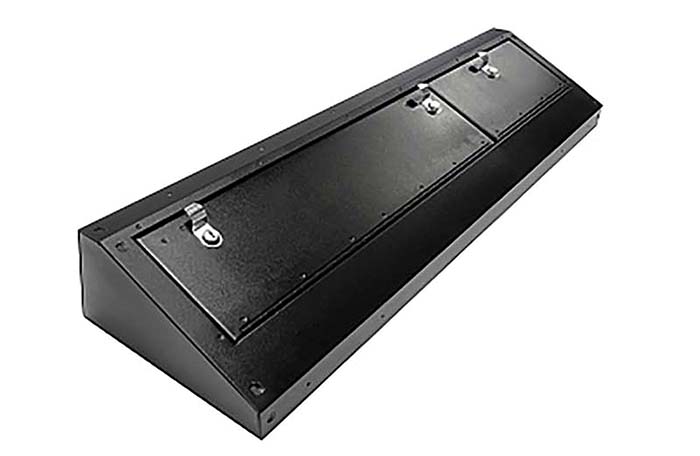 DEZ TACTICAL ARMS, INC.
DTA-10-GEN2 Rifle
Introducing the newest large frame AR rifle from DEZ Tactical Arms, Inc. The DTA-10-GEN2 rifle features a DEZ match-grade series barrel, individually tested and guaranteed to produce sub-MOA accuracy. Upper and lower receivers are milled together as a matched set and serialized. All rifles are fully customizable, including barrel length, handguard length, trigger, Cerakote and other accessories. Available in .308 caliber (16", 18", 20", 24") and 6.5 Creedmoor (22", 24"). DEZTacticalArms.com

VIRIDIAN WEAPON TECHNOLOGIES
V310 Illuminator
The V310 Long Range Illuminator is the ultimate access for night-time hunting. Illuminators deploy high-intensity, next-gen LED technology to throw a brilliant, tactical-grade light beam far downrange. Undetectable green, red or infrared beams paint distant targets in total darkness, without spooking your quarry, straining your eyes or blowing a paycheck on high price gear. The brilliant beam lets you find a trail or disorient an opponent instantly. viridianweapontech.com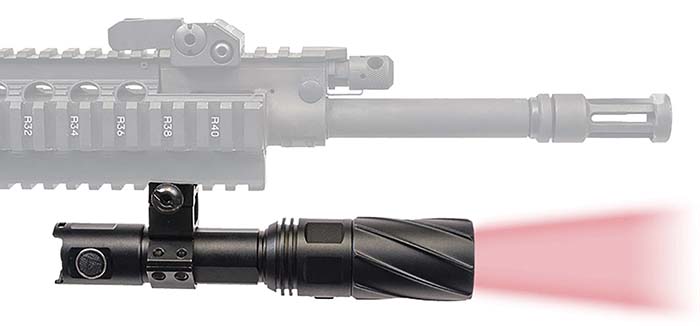 F.W. ARMS
Best Bench Mount
The Best Bench Mount attaches to a shooting bench using a heavy-duty clamp that quickly adjusts for bench surface thicknesses from 3/4 to 7-1/2 inches. Once secured in place, the Best Bench Mount easily adjusts to lock in the field-of-view of any target. The scope mounting plate is set just 4 inches above the bench surface, but it can be moved in seconds to its maximum height of 13 inches. The vertical (up/down) tilt of the scope mounting plate (and scope) allows for 1,600 minutes of total elevation adjustment via the threaded tilt adjustment knob. The F.W. Arms Best Bench Mount is precision-machined 304 stainless steel, brass alloy and hard-coat anodized aircraft grade aluminum making it an all-weather tough piece of equipment.
An optional mast extension can be threaded into the main mast adding 18 inches of height for offhand shooting using a bench for scope support. fwarms.com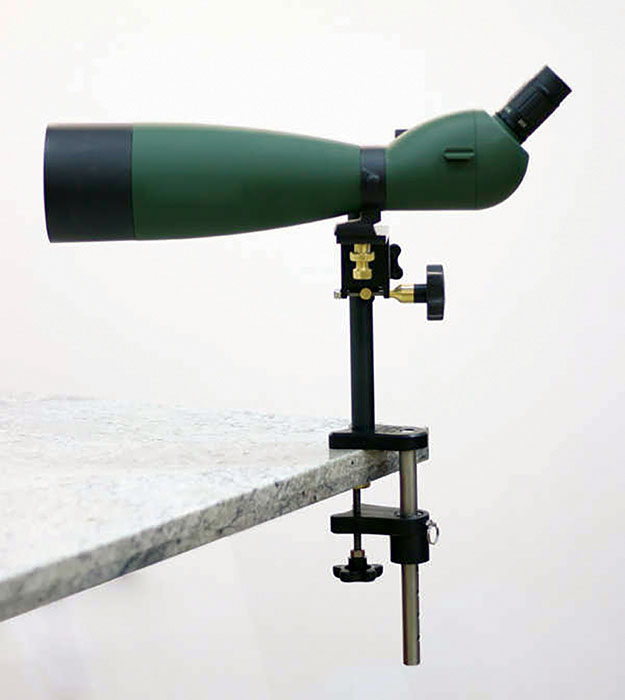 ASHBURY PRECISION ORDNANCE MFG.
SABER® M700™ Tactical Rifle
Ashbury Precision Ordnance Mfg is expanding its value line of sport utility SABER® M700™ Sport Utility Rifles with the new SABER M700 Tactical Rifle chambered in the venerable .308 Win and immensely popular 6.5 Creedmoor cartridges. SABER M700 rifles are manufactured using hand-select Remington Model 700 barreled actions mated with specially configured variants of the patented SABER modular rifle chassis. Every SABER M700 rifle is built entirely in the U.S., handcrafted by proud American craftsmen and veteran US Military Armed Service members in Remington's factory in Alabama and Ashbury Precision Ordnance's plant in Ruckersville, Virginia. ashburyintlgroup.net

This article first appeared in Small Arms Review V23N1 (January 2019)