Story & Photography by Thomas Gomez
The AMTAC MANTIS-P is an over-barrel, stainless steel, direct thread, monocore suppressor. It reduces sound by 26 decibels and is optimal for precision rifles. The over-barrel design can accommodate barrels up to .95 inches and will only add 5.7 inches to the overall rifle platform. The ruggedized nature of the AMTAC MANTIS-P weighs in at 23 ounces, and the model tested was designed for .30 and 6.5 calibers.
Whenever you thread a muzzle device on to your precision rifle, whether it be a muzzle brake or a suppressor, you run the risk of decreasing its accuracy. The machining and attention to detail for a precision rifle suppressor must be of the highest order. In an increasingly crowded market, a few suppressors stand head and shoulders above their competition. Four months' worth of testing demonstrated that the AMTAC MANTIS-P is one of the best suppressors currently available for the precision rifle market.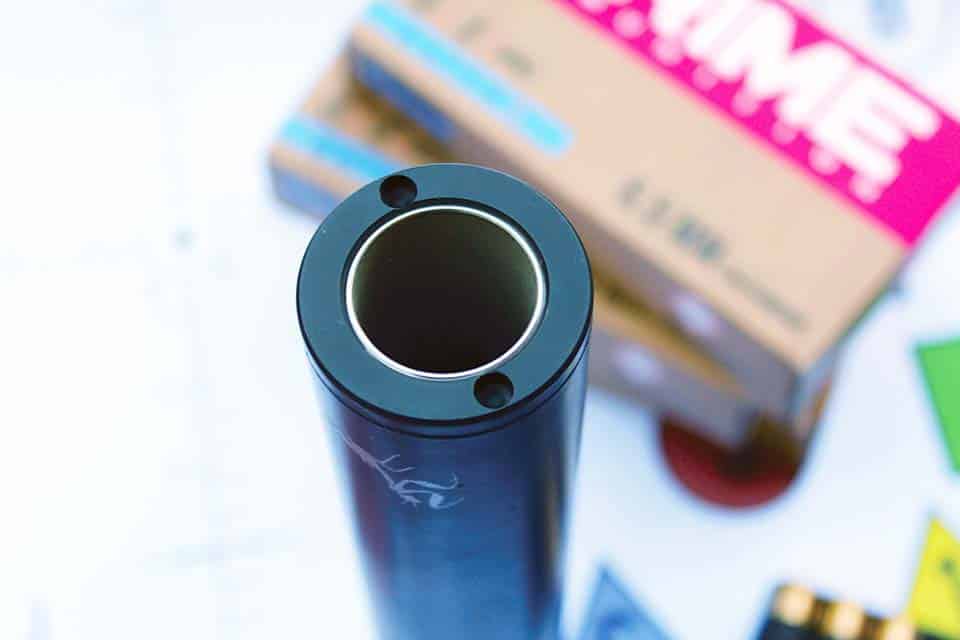 AMTAC's parent company, Advance Manufacturing Technology, has been in business for over 40 years. Advance Manufacturing Technology, based in Salt Lake City, does custom fabrication for the aerospace, defense and medical industries and is AS9100, ISO 9001 and ITAR Certified. A visit to their spotless factory several years ago showed a floor with rows of CNC machines and a professional and dedicated workforce. In the heart of the factory was a state-of-the-art quality control laboratory. 
Field Testing 
Field testing took place at a private ranch in the high desert of Central New Mexico over the course of several months. For testing, the AMTAC MANTIS-P was attached to a customized Howa 6.5 Creedmoor, which was mated to a Modular Driven Technologies (MDT) ESS chassis. To ensure that the threads on the barrel were concentric to the bore, the test rifle was sent to Whiskey Mountain Dynamics outside of Edgewood, New Mexico. Whiskey Mountain Dynamics removed 1 inch of the barrel, then re-threaded and crowned it. Ensuring that the outer threads of the barrel are concentric to the bore is vital when attaching a suppressor to a precision rifle. If they are not concentric, there could be a loss in accuracy, or worse, a bullet could strike the suppressor as it exits the barrel.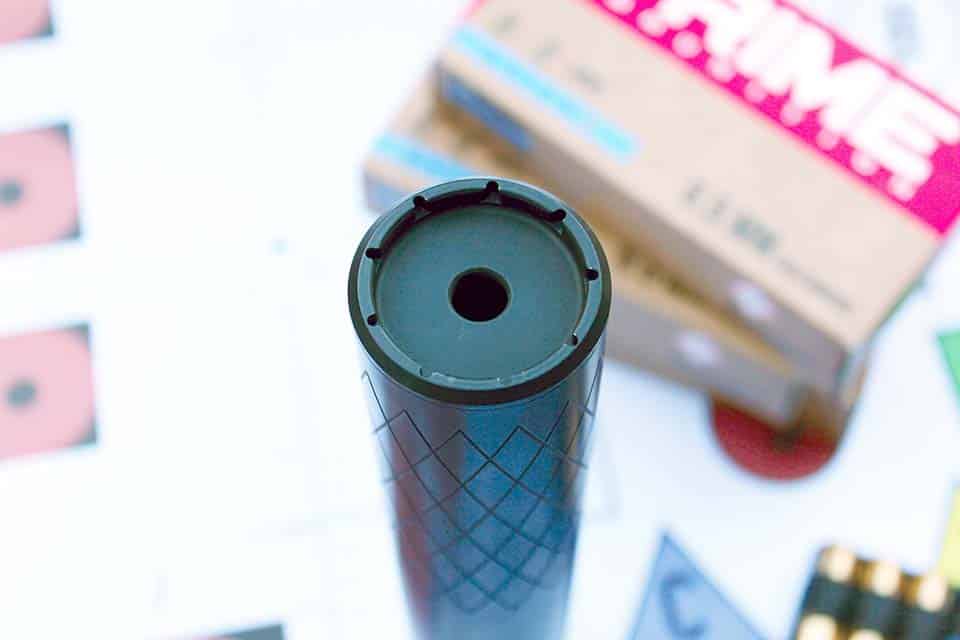 Accuracy, "First-Round Pop" and Impact Shifts 
Accuracy testing was conducted in the prone position using 147-grain Hornady ELD-M 6.5 Creedmoor ammunition. Attached to the MDT ESS chassis was the rock-solid Thunder Beast Arms Corporation bipod. Four 3-round groups were fired at 100 yards with and without the AMTAC MANTIS-P suppressor. Data gathered in testing, of group size when various calibers are shot with and without the suppressor, demonstrate the remarkable consistency achieved with the AMTAC MANTIS-P. The last group shot, with the suppressor, opened up slightly due to an aggressive full-value wind (Aerodynamic Jump). On average, groups shifted low 11mm/.43 inches with the suppressor attached.
Was there a "first-round pop?" First-round pop is when the first round fired through a suppressor is noticeably louder than subsequent shots. This additional sound is due to oxygen in the suppressor, which burns off with the first shot. During testing, all shots sounded acoustically similar. Please note that testing was done in the high deserts of New Mexico, which have an average elevation above 6,000 feet and density altitudes that swing between 7,000 and 10,000 feet.

Analysis 
The AMTAC MANTIS-P weighs 23 ounces, a few ounces heavier than its competitors. This weight difference is most likely due to the use of stainless steel. Most suppressors hang directly off the rifle at the muzzle, however, which leaves the rifle feeling front heavy. The over-barrel design of the AMTAC MANTIS-P causes it to sit closer to the receiver, thus shifting weight towards the shooter. This shift improves the balance of a suppressed rifle, which helps to counteract the minor increase in weight. AMTAC claims that the over-barrel design reduces gas blowback in semiautomatic platforms. This reduction is owed to the shortened baffles, which decrease pressure inside of the suppressor. Using a thread adapter, the .30 caliber AMTAC MANTIS-P was attached to a mid-length 5.56 AR-15 rifle. Though anecdotal, the rifle ran flawlessly with 55-grain XM193 and 77 grain .223 hunting ammunition. The rifle with the AMTAC MANTIS-P attached did not feel over-gassed.
In regards to 5.56/.223: Thinking about building a suppressed Mk18 clone? Use an 11-inch handguard and a 16-inch barrel. The AMTAC MANTIS-P will cover 4 inches of the barrel: The result is a rifle the same length as a suppressed Mk18 without a sacrifice of velocity.

From testing, AMTAC found that when a .30 caliber suppressor was placed on a 5.56 rifle, there was only a 2-decibel reduction in overall sound suppression. For example, the AMTAC MANTIS-P suppresses .30 calibers to a range of 26 to 28 decibels. When placed on a 5.56/.224, suppression dropped to 22 to 24 decibels instead.
Closing 
The AMTAC MANTIS-P is a rugged and tough suppressor, perfect for general rifle and precision rifle applications. It is rated for magnum calibers, and the over-the-barrel design only adds a few inches to your overall platform. The model tested has an MSRP of $899 at time of writing. AMTAC offers a suite of suppressors for rimfire, pistol and compact semiautomatic platforms. The AMTAC MANTIS-P is an outstanding suppressor. It would be an excellent complement to a ranch, precision, semiautomatic or hunting rifle. Consumers cannot go wrong with this product.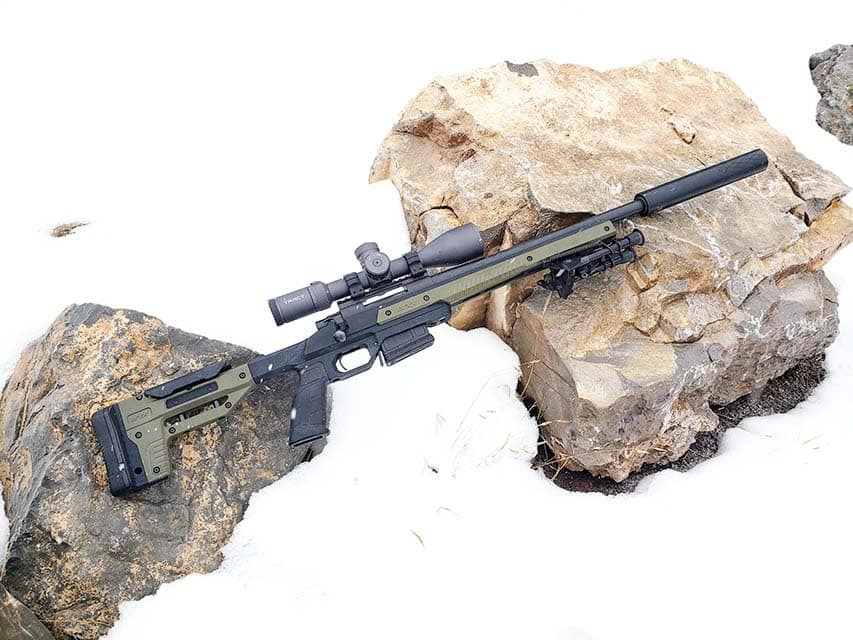 ACCURACY TEST USING HORNADY 147 ELD-M 6.5 CREEDMOOR 
| | MDTMuzzleBreak/NoSuppressor | AMTAC MANTIS-P |
| --- | --- | --- |
| Group 1 | 15mm/.59in | 15mm/.59in |
| Group 2 | 13mm/.51in | 11mm/.43in |
| Group 3 | 11mm/.43in | 9mm/.35in |
| Group 4 | 9mm/.35in | 20mm/.78in Group shot it 15-20mph full-value wind |
| Average | 12mm/.472in | 13.75mm/.54in |
 SPECIFICATIONS 
| | |
| --- | --- |
| Length | 9.7in |
| Over-Barrel Length | 4in |
| Diameter | 1.62in |
| Weight | 23oz |
| Thread | 5/8 x 24 |
| Max Barrel Diameter | .95in |
| Suppression | Up to 26dB |
| Calibers | .30 &6.5 |
This article first appeared in Small Arms Review V24N4 (April 2020)