By Todd Burgreen
Terminology is just not an exercise in word play. Modern Sporting Rifle (MSR) is an accurate description of what the AR has evolved into. You can no longer assume a rifle sports an M4 profile or is even chambered in 5.56mm anymore when you refer to an AR rifle. Yes, modern sporting rifle is a more appealing term than assault rifle in describing AR rifles, especially in the context of the one-sided media. It is also a more accurate description.
MSR parlance for the AR is an industry attempt to help define the growing role that AR-type rifles have assumed, which extends beyond the strictly tactical realm. AR rifles are versatile, easily accessorized, and suitable for a wide variety of recreational, hunting, sport shooting, and professional applications. While ARs were quickly embraced for varmint hunting, caliber expansion has steadily grown in popularity with hunters for larger sized game, as well. The Stag Arms Stag10 Pursuit is a great example of the growing potential of ARs in the hunting arena. The Stag Pursuit highlights all of the AR platform's positives in its MSR form, especially when combined with the 6.5 Creedmoor cartridge.
STAG ARMS
Stag Arms arrived on the scene in 2003. Their commitment to offering left-handed AR rifles as well as right-handed weapons helped create a market niche for them. Stag Arms gained a solid reputation for manufacturing quality AR rifles that often offered more than their price suggested. A lifetime transferrable warranty and "Infinite Shot Barrel" guarantee make strong statements about Stag Arms commitment to quality.
A change of scenery can spark innovation. This works with corporate entities as well. Stag Arms' relocation to Cheyenne, WY in late 2018 from Connecticut certainly rejuvenated their creative juices. The recently introduced Stag10 Pursuit is proof. Stag Arms is serving notice they are not going anywhere and are here to compete.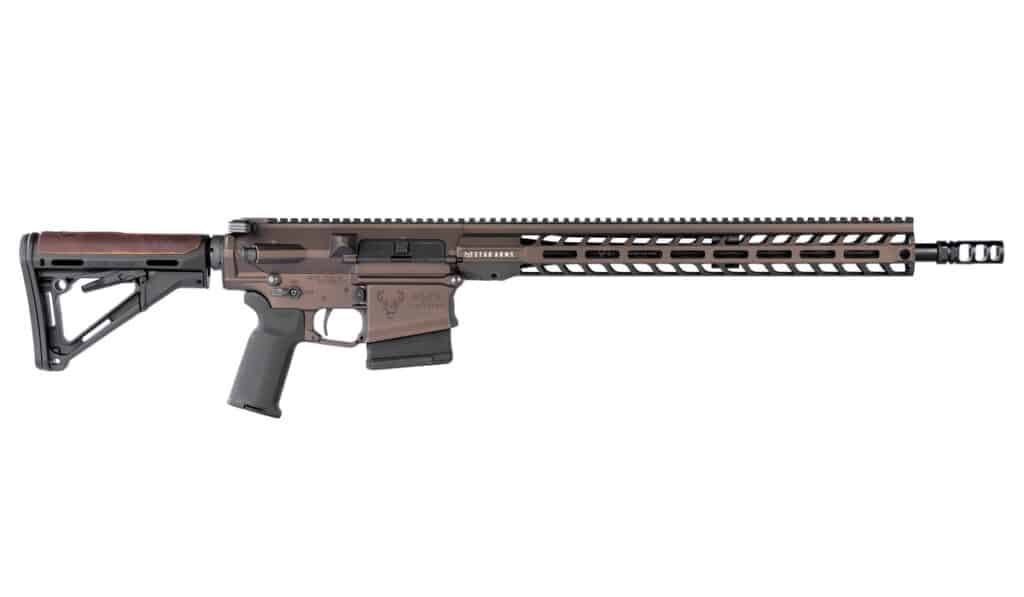 THE DEVIL IS IN THE DETAILS
Without a doubt, the Stag Arms Pursuit rifle will change users' thoughts on how an AR10-style rifle can be configured. Often the AR10 is associated with unwieldy profile, weighing substantially more than nine pounds. Stag Arms made a conscience effort with the Pursuit to harness the 6.5 Creedmoor's potential in a more hunter-friendly form. But, the Stag Arms Pursuit's profile leaves no doubt it is an MSR.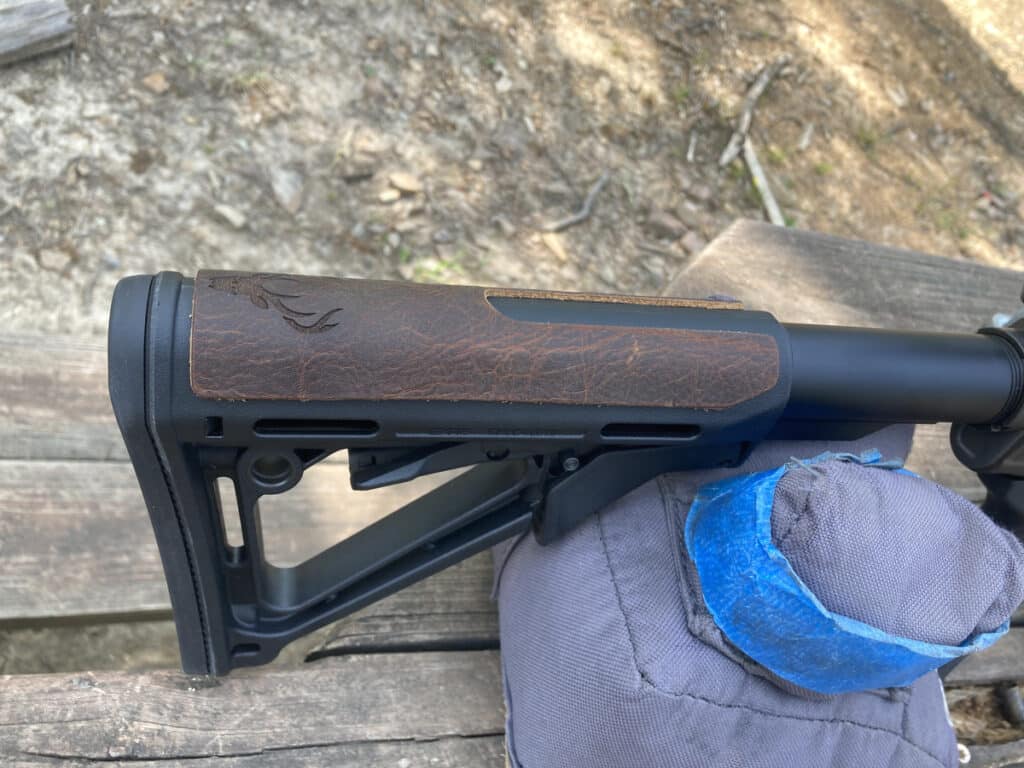 The Stag10 Pursuit is evidence that conscientious attention to detail can pay big dividends for the overall package. You do not have to reinvent the wheel to offer consumers something out of the ordinary. For example, the Pursuit's Midnight Bronze Cerakote is not merely for aesthetics. This color chosen to compliment the user's camouflage efforts when afield. No matter the pattern chosen, the Pursuit will not be out of place. The adjustable Magpul CTR buttstock minimizes weight but allows the user to lock it down once the length chosen. The Stag Arms leather cheek piece a unique attribute offering distinct looks with functionality. Stag Arms ambidextrous Breach charging handle is another nice touch. Anyone who has operated an AR10-style MSR knows the extra leverage needed to manually operate the bolt group, especially if a variable powered optic is mounted (limiting the ability to "grip and rip" the charging handle). Magpul MOE K2+ pistol grip features rubber overmolding for secure purchase, even with gloves on, along with more vertical 17-degree angle placing shooters hand in superior position to interact with Timney Triggers "Curved Short 2-Stage Trigger."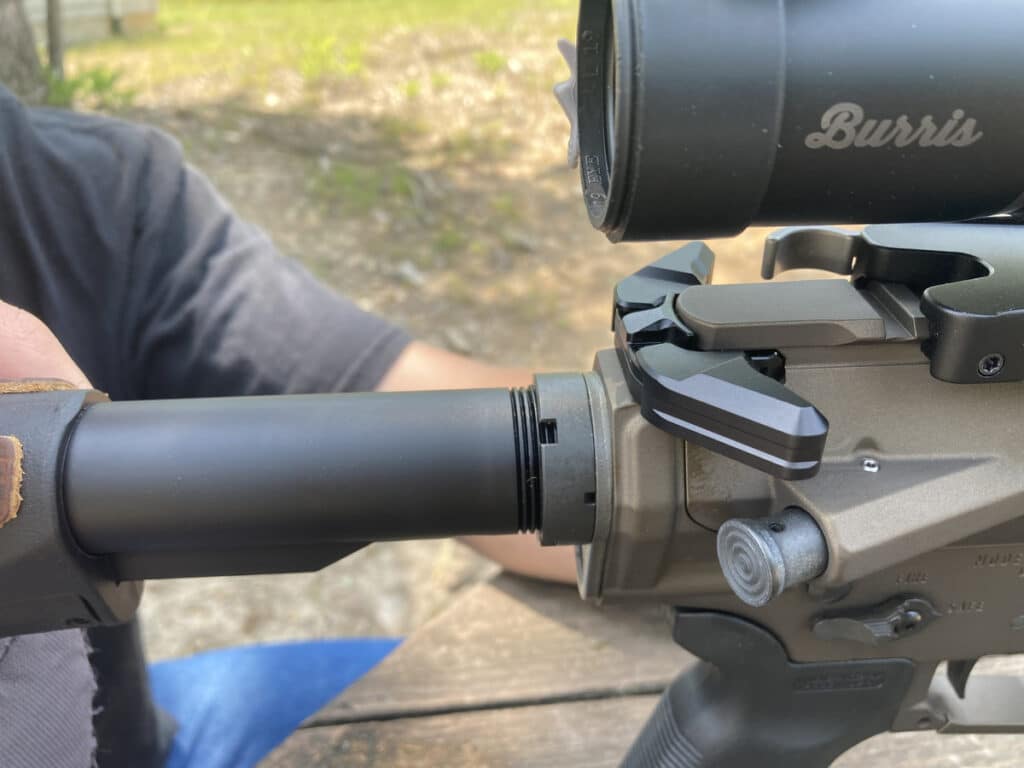 A Stag Arms Slim Line aluminum 16.5-inch forend surrounds an 18-inch Ballistic Advantage Hanson profile barrel made from 4150 CMV steel that's then nitride coated. The BA Hanson barrel is a major distinguishing component of the Stag Arms Pursuit package. The BA Hansen profile barrel wears a VG6 Precision Gamma hybrid muzzle break compensator. The 18-inch barrel is a good compromise between performance and portability. A 24-inch barrel may wring the most out of the 6.5 Creedmoor cartridge but something that long and heavy will probably be left home when it is time to carry for a hunt. A 24-inch barrel for PRS competition? Sure. A 24-inch barrel for scrambling up and down hills or making your way through thick terrain, not so much. The Stag Arms Pursuit 6.5 CM weighs in at 8 pounds, 4 ounces with its 18-inch tube. Also, the 18-inch barrel maintains the feasibility of mounting a suppressor without totally destroying its handling, if a user desires.
The Ballistic Advantage Hanson profile barrel is not just about a weight. Much more thought is put into the Pursuit's barrel besides shaving metal from it. It's a medium contour barrel with more weight and material near the chamber to help dissipate heat. The most noteworthy aspect of the barrel is lack of a right angle (shoulder) at the gas block journal. (The "journal" being where the gas block rests on the barrel.) The theory is that, by removing the shoulder, barrel whip/harmonics are reduced, thus increasing accuracy potential. As the barrel transitions from the journal to the muzzle, it tapers down to a smaller outer diameter reducing the overall weight of the barrel.
The added weight of most AR10 platforms (compared to the smaller AR15) negates the inherently good handling qualities of an AR in many users' minds. Not the Stag Arms Pursuit. The combination of the great handling Stag10 Pursuit platform with the increased power provided by the 6.5 CM cartridge is the key to its allure as a versatile performer afield. The Pursuit headlines what the MSR offers as a hunting package. This is speaking in terms of lethality and effective range while still allowing for easy carrying. The accuracy potential of a quality AR15 or AR10-type weapon is on par or exceeds that of a bolt action. The Stag Arms Stag10 Pursuit reinforces this assumption.
PREMIUM SUPPORTING CAST
The 6.5 CM cartridge was introduced by Hornady in 2007 for long range target shooting applications. The 6.5 Creedmoor typifies the short and efficient cartridge principle. 6.5mm bullets have a reputation for high ballistic coefficient (BC) rating as well as sectional density (SD). SD is the ratio of a bullet's mass to its cross-section. All things being equal, a high SD penetrates better than a low SD. BC is a measurement of how well a bullet moves thru the air. Velocity loss and impact of wind drift is minimized the higher the BC rating as the round travels downrange. The final sweetener is how the 6.5 CM provides mild recoil. 120-140 grains bullets have always attracted hunters/tactical/target shooters. It's hard to beat 130 grains moving at nearly 3000 feet per second!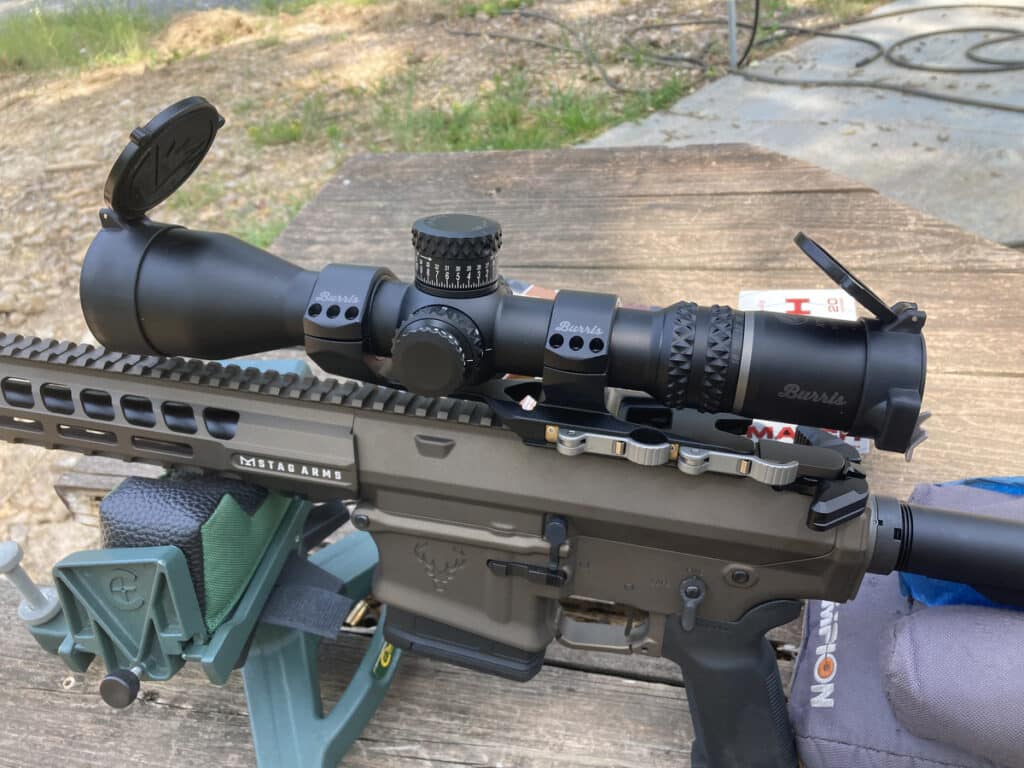 I agonized over scope selection. I did not want to put an anchor on the top rail; yet still wanted magnification range to take advantage of an MSR chambered in the potent 6.5 CM. We are talking about true multipurpose roles…. stalking game while maintaining long range punch across a clearing. An important part of the accuracy equation is a quality optic to go along with cartridge and rifle. A Burris XTR III 3.3-18x optic was mounted to the Stag10 Pursuit using a Burris AR-Signature QD P.E.P.R. Mount. The Burris mount is almost as impressive as the optic. The Burris QD mount ensures 0.25 MOA re-mount capability, and includes Burris' Signature polymer ring inserts, which provides adjustment from 5 to 40 MOA without using windage/elevation knobs.
The Burris XTR III 3.3-18x's versatile, nearly 6-times zoom, provides a larger field of view at close ranges and better target acquisition at long ranges. The XTR III utilizes front focal plane reticle. Burris has equipped the XTR III with eleven red and green illumination settings. The XTR III is built with a 34mm nitrogen-filled body tube for increased strength and extended adjustment range. Elevation adjustments up to 120 MOA on the 3.3-18x50mm take the 6.5 Creedmoor past one mile and expanded side parallax adjustment on both models allows fine-tuning focus at shorter distances. Premium glass and optical designs, including a smaller eyepiece signature and larger eye box, provide best-in-class field-of-view, deeper depth of focus, and outstanding light transmission.
RANGE TIME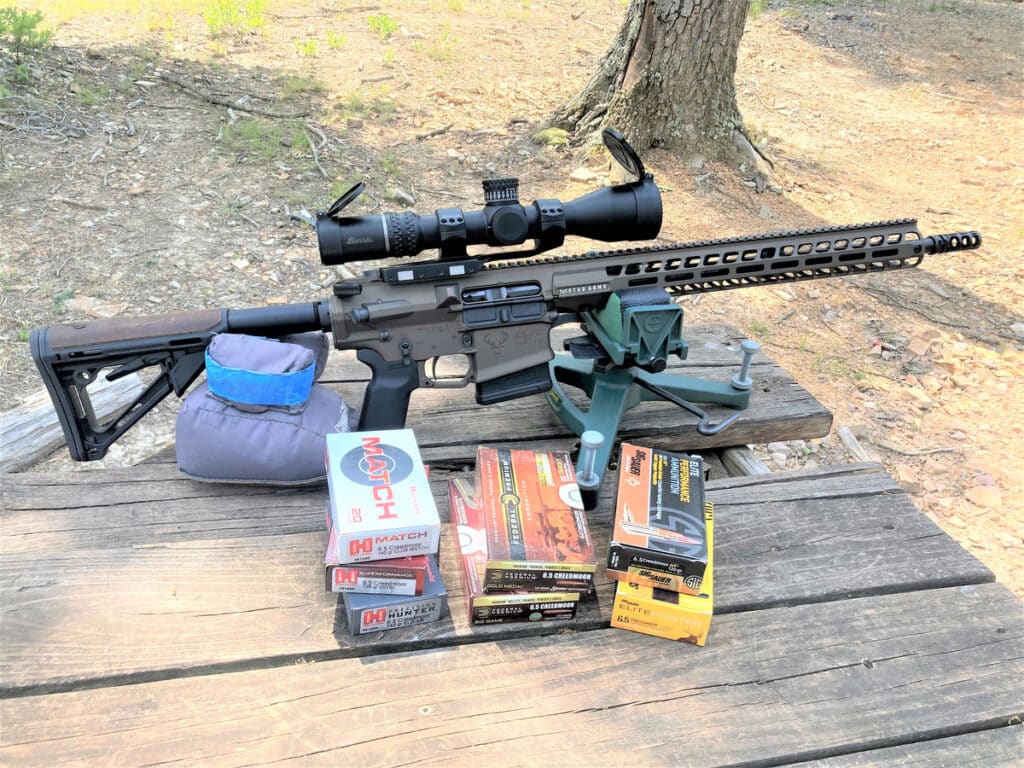 The Stag Arms Stag10 Pursuit was initially sighted in at Echo Valley Training Center's (EVTC) Range #2 with a 100-yard zero. Different 6.5 CM loads were fired from the bench to determine a base accuracy level. Various loads from Hornady and Federal consisted of a mix of hunting and match loads to illustrate the ballistic flexibility inherent in both the Pursuit and the 6.5 CM cartridge. These specific loads were Federal Premium 120-grain Trophy Copper and 140-grain MatchKing. Hornady was represented by the 129-grain SST, 140-grain ELD Match, and 143-grain ELD-X. SIG Sauer 120-grain HT and 130-grain CET were also included. This is just a small splattering of the 6.5Creedmoor loads available from each company with other companies offering even more. Overall, accuracy was impressive with no load producing groups over 1.5 inches at 100 yards with most hovering in the 1.25-inch range. The Timney trigger is a real treat with the Stag10 Pursuit. It provides a short take up and a 3.75-to-4-pound break per our RCBS Trigger Gauge.
| | | |
| --- | --- | --- |
| LOAD | VELOCITY AVG. | AVG@100yd |
| Federal 120 grain Trophy Copper | 2774 fps | 1.66 in. |
| SIG Sauer 130 grain CET | 2731 fps | 1 .25 in. |
| Hornady 129 grain SST | 2793 fps | 1.33 in. |
| Hornady 143 grain ELD-X | 2682 fps | 1.25 in. |
| SIG Sauer 120gr HT | 2804 fps | 1.5 in. |
Performance: Stag Arms Stag10 Pursuit
After the strong 100-yard accuracy performance, the 300 yard and 550 yard tests were eagerly anticipated. In conjunction with individual training bays, EVTC features a multi-stepped target berm that are strewn with reactive steel targets at ranges varying from 150 yards out to 350 yards. A 750 yard known distance (KD) range is also available. Firing the Stag Arms Pursuit from the prone position produced consistent hits on the quarter-scale man steel targets placed at 350 yards. Firing at paper targets produced 2.5 to 3.5-inch groups at 300 yards, depending on load used. EVTC's KD range allows for up to 750-yard target engagements. The accuracy exhibited at 100 yards proved invaluable at extended ranges. As long as I did my job reading wind conditions, the Stag Pursuit produced solid strikes on the steel targets. The premium ammunition along with Burris XTRIII optic certainly assisted with such high-level performance.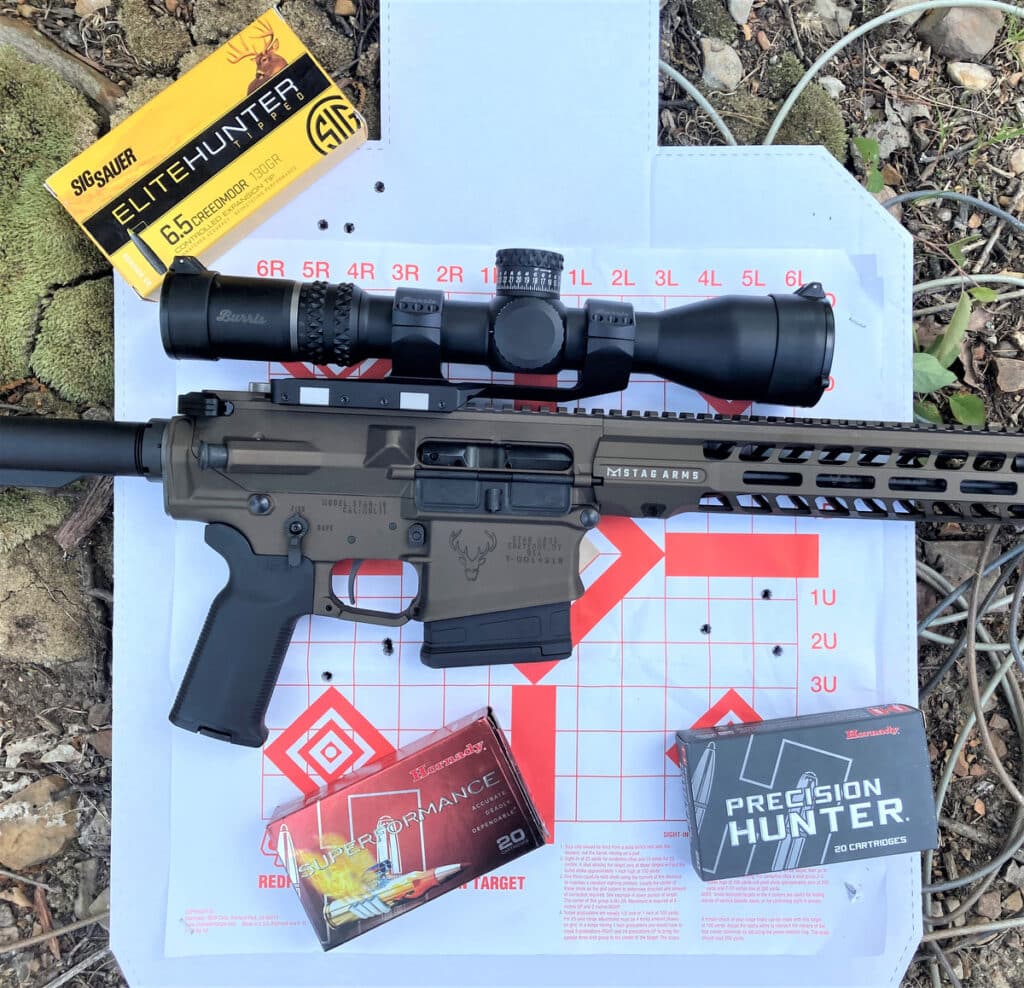 THE QUINTESSENTIAL AR
Many contend that the 6.5 CM chambered in an accurate semi-automatic like the Stag Arms Stag10 Pursuit is the epitome of a MSR. A trained marksman will definitely be able to put to good use the ballistic advantages offered by the 6.5 CM Stag Pursuit with its precision semi-automatic firepower. Yes, first round hits are paramount. However, do not underestimate the importance of fast follow up shots after observing initial impact or if more targets are available.
Stag Arms did not enter into the MSR market without serious forethought and conscience decision to try and separate their rifle from other offerings in a cluttered market. The Stag10 Pursuit succeeds in this mission.
SPECIFICATIONS
| | |
| --- | --- |
| MAKE | Stag Arms |
| MODEL | Stag10 Pursuit |
| CALIBER | 6.5 Creedmoor |
| BARREL | 18 in. 4150 CMV nitride treated 1:8 5R twist |
| WEIGHT | 8 lb. 4 oz. |
| SIGHTS | Railed for mounting optic/BUIS |
| ACTION | Semi-automatic direct impingement mid length |
| CAPACITY | Magpul PMAG 10-, 20-, or 25-round detachable magazine |
| MSRP | $2199 |
Specifications: Stag Arms Stag10 Pursuit