The Armalite 15-inch forend rail dominates the M-15 3-Gun's aesthetics. A Trijicon VCOG scope was easily installed. LUTH buttstock and Ergo pistol grip comprise other furniture aspects.
By Todd Burgreen
It is definitely the heyday of the AR platform. Labels have emerged to help distinguish certain AR rifle types, for example: M4, Recon/Recce, SPR, DMR, etc. The Recon and SPR ARs are multi-purpose, ubiquitous weapons with flat-top upper receivers for easy mounting of optics plus a 16- to 18-inch free floated medium profile barrel with 1:7 or 1:8 twist, surrounded by a forend rail system. Each seeks to minimize weight and keep the weapon's profile sleek for better handling while offering superior accuracy and longer range terminal performance than shorter barreled ARs. These ARs are required to be equally at home in CQB encounters characterized by multiple rounds fired rapidly with distances measured in feet while still offering precision fire out to 350-400 yards. It is easy to see how these characteristics could also benefit both personal defense and competition shooters alike.
We all accept that professional competition shooters are some of the most highly skilled weapon handlers in the world (after all, that is what they do for a living) and they get to expend time and money on improving skill levels that most just cannot imagine. There are reports of Tier 1 Special Operations units inviting world-class competition shooters to train with them in an effort to wring out all possible kernels of knowledge in running a handgun or rifle more efficiently and ruthlessly in CQB environments. Why wouldn't a rifle configured to perform in competition be viable as well? Of course, a wary eye must be present to ensure that reliability and ruggedness is not compromised for the sake of "gaming" enhancements.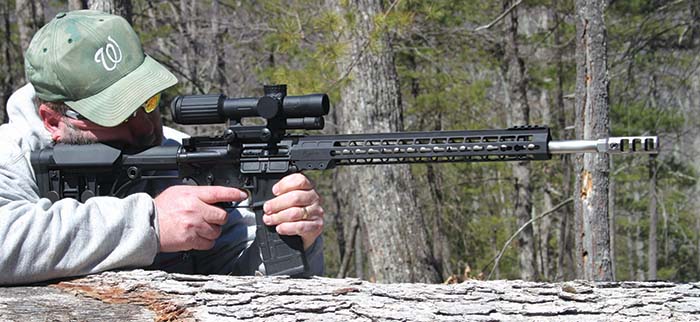 Armalite's M-15 3-Gun models are direct descendants from rifles used by Team Armalite shooters, including Greg Jordan and Tommy Thacker. Tommy is not only Captain of the shooting team, but also President of Armalite. It is refreshing to have such a proficient shooter as the head of a firearms manufacturer. The specific model evaluated for this article is the recently introduced Armalite M-15 3-Gun Rifle. Weighing less than 8 pounds, it is one of lighter AR-type versions on the market, especially considering it features an 18-inch barrel. Overall length of the M-15 3-Gun is 39.5 to 40.5 inches. A 13.5-inch barrel 5.56mm variant with pinned muzzle brake is also available, as are 7.62 NATO/.308 Win rifles. A minimalist, "airy" rail measuring 15 inches defines the Armalite M-15 3-Gun aesthetics. Armalite produces the forend rail system in house for quality control reasons. The Armalite forend permits the barrel to be free floated for increased accuracy potential. Armalite is using the KeyMod attachment system for increased weight savings. Most of the upper Picatinny rail is eliminated for further weight savings. Armalite has left an M4-like rail section on the forged upper receiver and only a short section of Picatinny rail for mounting a detachable front sight.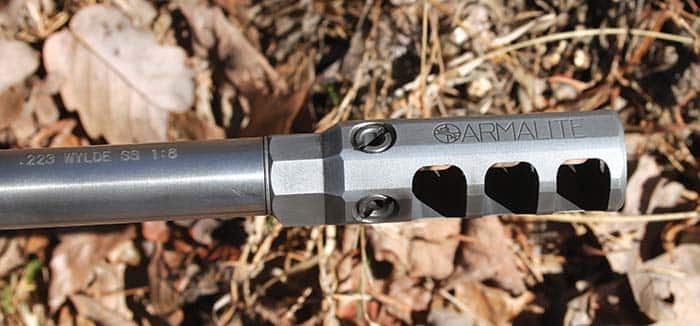 Thacker's competition input is obvious with the M-15 3-Gun Rifle. The 18-inch stainless steel, medium contour barrel uses a 1:8 twist rate. This facilitates use of heavier long-range .223 bullets, as well as lighter grain types. Armalite has gone with a .223 Wylde chamber with the M-15 3-Gun. The .223 Wylde was designed as a match chambering for semiautomatic rifles. It will accommodate both .223 Remington and 5.56mm ammunition. It is relieved in the case body to aid in extraction and features a shorter throat for improved accuracy. As many know, the 5.56mm is not synonymous with the .223 Remington chambering. Generally, it is acceptable to fire .223 Remington in a 5.56mm, but not the other way around. The .223 Wylde was meant to give a slightly tighter body spec than 5.56mm (but a bit looser than .223 Remington) while retaining a longer leade/throat. In effect, the .223 Wylde is a hybrid, splitting the difference between the 5.56mm and .223 Remington while extending benefits in terms of accuracy and reliability.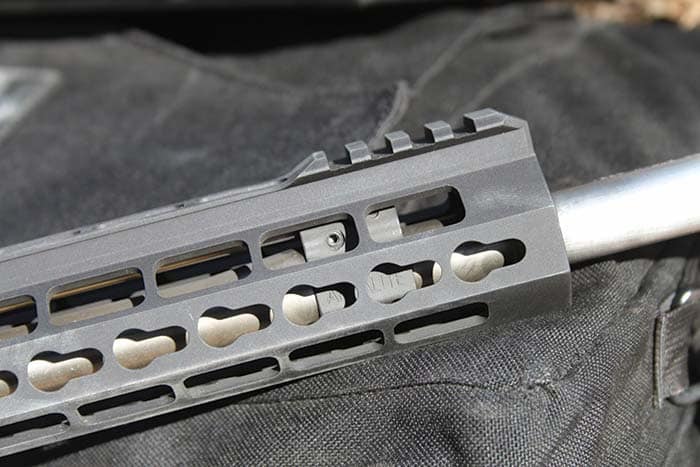 A single-stage, 3 pound Timney trigger and ambidextrous Raptor charging handles are standard features on the M-15 3-Gun Rifles. A LUTH-AR MBA-1 adjustable buttstock is also standard with the new Armalite ARs. The LUTH-AR MBA-1 is a lightweight, modular stock which allows for secure adjustable length of pull and comb height without the use of tools. An enhanced Ergo Tactical Deluxe pistol grip is found on the Armalite AR. The Ergo Tactical Deluxe is a larger, more rounded grip than the original Ergo Grip, providing exceptional comfort and control. It features hand-filling palm swells for both left- and right-handed shooters. All of these items show positive influence from active hard use on the competition circuit, with thousands of rounds fired, determining what works most efficiently. The 7075-T6 Aluminum forged upper is equipped with a standard forward assist and case deflector, as well as an ejection port dust cover.
Other competition-influenced enhancements found on the M-15 3-Gun are an adjustable gas block and a tunable muzzle brake. The adjustable gas block is atypical for a direct impingement operating system. Both features bring something new to shooters and were proofed during Team Armalite's multiple competitions over the last year. Armalite's new baffled muzzle device features three adjustable ports, allowing users to fine tune the rifle's recoil pattern. The gas block is also tunable, giving users the ability to tailor the performance of their rifles to various applications and ammunition. With a hex key, the adjustable gas blocks act as a valve to control the amount of gas being used to cycle the action. This is especially important when using a suppressor or for competition shooters who rely on fast follow-up shots with minimal recoil.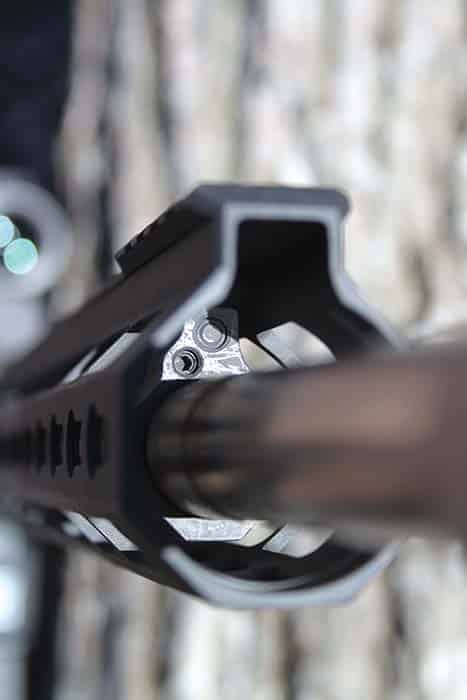 A discussion with Armalite President Tommy Thacker described the reasoning and best method to utilize the M-15 3-Gun's tunable muzzle device and adjustable gas block once a specific load is settled on for use. Tommy stressed that shooters should not balk at spending the time required to fully utilize the two features, as this maximizes the rifle's capability. He stated that the already great-handling M-15 3-Gun rifle would improve into something most would assume unobtainable in terms of smoothness and controllability. There is a reason professional shooters can obtain such mind-blowing results: rifles tuned to their specific traits. Armalite wants to share this. Adjusting the gas block begins with backing off a set screw at the front of the block. This allows for the screw on the right side to control gas flow to the bolt carrier. It is best to fire a few rounds of ammunition to observe the ejection pattern. Steady ejection to 3-3:30 o'clock position of the receiver is the desired goal. This assures only the required amount of gas is directed towards the bolt carrier for reliable function versus over pressuring the bolt, which increases recoil impulse. After the gas block is set, the tunable muzzle brake can be addressed.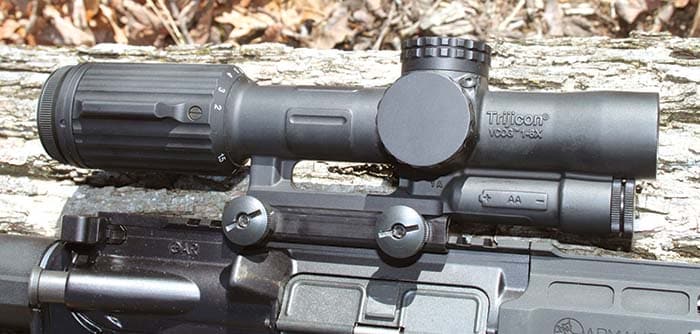 Tommy suggests arranging four pieces of white paper in a large square 40 yards away and aiming at the center via a 6x optic. The 6x magnification allows a better snapshot of how the rifle tracks during recoil. The goal is to observe recoil pattern against the white background, i.e. up and left or right, and to what degree. This allows for the left or right baffle to be drilled out after backing out the set screw on top of it. The diameter of the drill bit controls the amount of gas allowed out to counteract muzzle climb accordingly. Every shooter holds the rifle differently, thus the reason for Armalite making available the means to tune muzzle climb for maximum efficiency. An important facet of setting the gas block and muzzle brake is to standardize what ammunition brand is used and stay with it.
Iron sights are not included with the M-15 3-Gun Rifle. It is assumed that an optic will be mounted, with the user being given opportunity to install his or her choice of BUIS (Back Up Iron Sights). A Trijicon VCOG (Variable Combat Optical Gunsight) 1-6x with Illuminated Reticle was used with the Armalite M-15 3-Gun Rifle. This was my first opportunity to evaluate the VCOG, even though it has been on the market for a couple years now. The VCOG is designed for both instinctive close-range/low-magnification situations with variable intensity red illuminated reticle, yet it still allows shooters to engage targets with greater precision at longer ranges, thanks to the 6x. The VCOG scope will strike many as unconventional in terms of optics on an AR-style rifle. However, recent combat experiences in Africa and the Middle East served as the catalyst for new optic types, such as the Trijicon VCOG, compared to only non-magnified red dot or fixed power magnified optics. For law enforcement, soldier/Marine, civilian or private security contractor, the VCOG is worthy for consideration as it enhances an AR like the Armalite M-15 3-Gun's performance.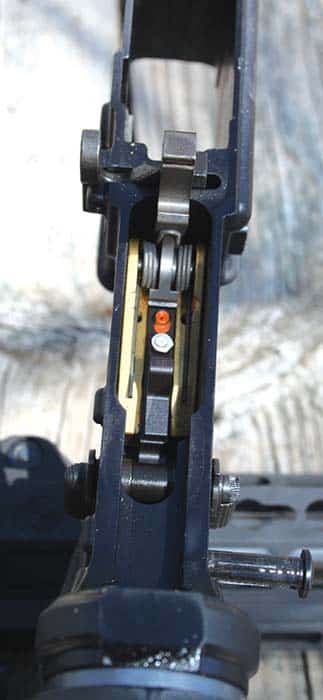 The Armalite M-15 3-Gun AR mated to the variable power VCOG is able to handle diverse roles, i.e. close range or distant engagements as mission/stage dictates. The concern for operating the eye relief dependent Trijicon VCOG in a CQB environment is quelled once one becomes familiar with the Bindon Aiming Concept. Human vision is based upon a binocular (two-eyed) presentation of visual evidence to the brain. The addition of a bright red or green dot in the center of the crosshairs makes it very easy to keep both eyes open, especially at a 1x power setting. Even if you're using a higher power, setting the brain merges the two images. During dynamic movement, the scene through the telescope blurs because the image moves more rapidly due to magnification. The one eye sees the bright dot against the blurred target scene, so the brain picks the scene from the unaided eye. The shooter swings the weapon towards the target while perceiving the dot indicating where the weapon is pointed. As soon as the weapon begins to become steady in the target area, the brain switches to the magnified view.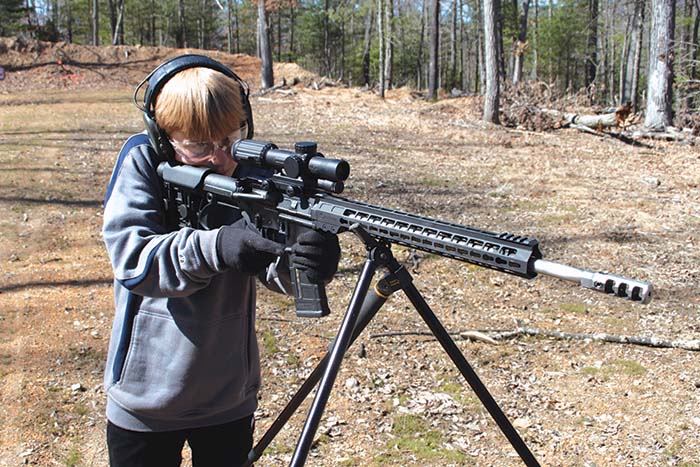 Trijicon was committed to making the VCOG as rugged as its combat-proven ACOG sibling. Manufacturing in the U.S., Trijicon machines the VCOG from 7075-T6 aluminum forgings and coats it with a MIL-SPEC hard coat anodized finish. The VCOG underwent rigorous shock and vibration testing to ensure it met the standards of a Trijicon brand optic. The VCOG is waterproof to 66 feet and its illumination electronics are based on MIL-SPEC proofed electronic standards. Extra thick tube walls give the VCOG unprecedented toughness. The VCOG offers 90 MOA of windage and elevation in ½ inch increments. Lenses are multicoated with an anti-reflective coating for ultimate light transmission combined with abrasion resistance. The VCOG separates itself from most variable optics in that it functions with a constant 4-inch eye relief at all magnification settings; no more sliding cheek weld positions depending on power setting. The VCOG's power adjustment lever gives the user the ability to shift magnification quickly, even with gloves on; no need to install an aftermarket accessory, as some optics require. The VCOG is offered with different illuminated reticle styles, such as segmented circle and horseshoe/dot, combined with reticles ballistically matched to a specific cartridge load type such as 300 BLK, 5.56mm, and 7.62 NATO. The reticles are located in the first focal plane, allowing the ballistic reticle to be used at any magnification. The red illuminated reticle is powered by a common AA battery, accessible underneath the objective, delivering 700 continuous hours of runtime at setting 4 of 6 with a lithium battery. A rheostat is located on the main tube opposite the windage turret, and has an off position between each of its six brightness settings. An integral mount secures the VCOG to any MIL-STD-1913 Picatinny rail and its height is perfect for a flattop AR-style rifle.
Ammunition tested with the Armalite M-15 3-Gun consisted of Black Hills Ammunition 68 grain Match and 77 grain OTM, Hornady 75 grain loads, and Federal Gold Medal Match 69 grain. The emphasis was on premium, heavier 5.56mm/.223 Remington loads. This was a nod to requirement of greater accuracy and better long-range performance. Federal 55 grain and American Eagle 62 grain FMJ was used during CQB-type drills; a nod to basic economics in terms of ammunition costs. The M-15 3-Gun Rifle kept all loads tested at 1 inches at 100 yards with Black Hills 77 grain OTM, Federal Premium Match 69 grain, and Hornady 75 grain Match producing sub-MOA groups. This accuracy was obtained with the 6x setting on the Trijicon VCOG scope. Accuracy test protocol consisted of three five-shot groups with each ammunition type; group sizes were averaged. Velocity figures ranged from 2600 to 3000 feet per second over RCBS chronograph with the 18-inch barrel.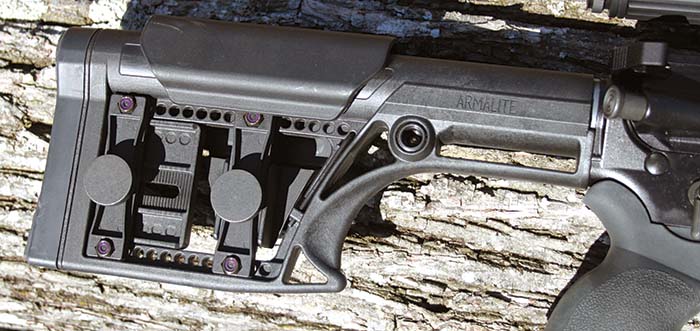 The M-15 3-Gun was evaluated at Echo Valley Training Center (EVTC) in High View, West Virginia. The layout and availability of various steel targets and simulated barricades at Echo Valley Training Center are convenient for allowing full spectrum firearm evaluations. The Armalite AR was used within the 100 yard bays at EVTC firing from barricades and engaging multiple targets, prepared firing position line with targets placed out to 300 yards and EVTC's Jungle Walk range. Numerous drills were run involving magazine changes and moving between barricades. Steel silhouettes were situated randomly from 35 to 310 yards. The M-15 3-Gun made short work of striking targets in quick fashion. Over 400 rounds were fired during T&E.
The inherent modularity of the AR is its greatest attribute for adapting to individual preference; whether it is for competition, target shooting, military & law enforcement, or personal defense. The AR platform seems to be coming full circle in terms of returning to a sleeker, more svelte form. The Armalite M-15 3-Gun is an excellent example of this. Generally speaking, there are minimal difference between AR labels such as Recon, SPR, DMR. All seek to maximize positive AR characteristics. The benefit of the M-15 3-Gun's handling while maintaining superior accuracy is hard to deny. The ability to custom tune its gas block and muzzle brake further sets it apart from competitors. A lightweight, fast-handling, accurate rifle is a premium when moving dynamically during training, competition, or real-world situations; the Armalite M-15 3-Gun represents such a rifle.
SITES OF INTEREST
Armalite
www.armalite.com
Trijicon, Inc.
www.trijicon.com
Echo Valley Training Center
www.echovalleytrainingcenter.com
Hornady Manufacturing
www.hornady.com
Black Hills Ammunition
www.black-hills.com
Federal Premium Ammunition
www.federalpremium.com
This article first appeared in Small Arms Review V19N10 (December 2015)