By Chris A. Choat
FREEDOM ORDNANCE RELEASES NEW 9MM BELT-FED UPPER FOR AR'S & M-16'S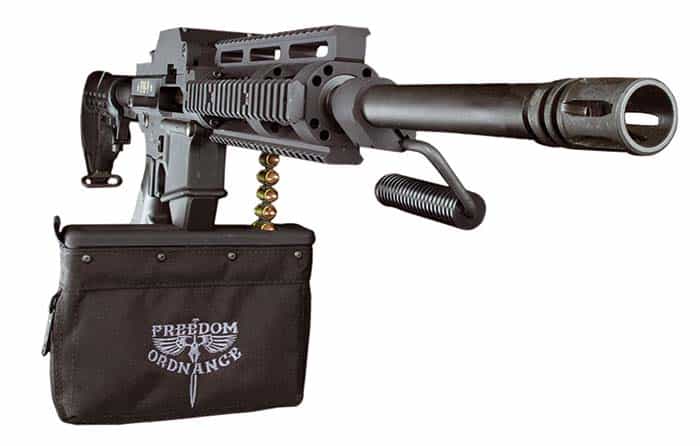 Freedom Ordnance is now releasing their new FM-9 9x19mm Belt-Fed AR-15/M-16 Upper Receiver. The new upper offers a quick change barrel system that is rigid and accurate with no tools required to change barrels. You can literally switch barrels in seconds! The new upper uses Freedom Ordnance's own proprietary disintegrating 9mm links that are designed especially for the 9mm cartridge, not modified military links. The upper is blow-back operated. The complete unit is machined from billet aluminum and ordnance grade steel. It is heat treated and features QPQ nitride finish on all steel parts to give the system extreme durability. The upper will drop on to any mil-spec AR-15 or M-16 lower receiver. A mag block is dropped into the mag well from the top before putting the upper on, this provides an attachment point for the belt bag and houses the ejector. Without the mag block in, the unit will not function. This is the only "modification" that is done and no tools are required so M-16 lower owners don't have to modify their precious lowers. It comes standard with the 16.5" barrel and the 11 inch barrel can be ordered as an option. It uses a supplied 150 round belt bag and also comes with 150 links. Extra links can be ordered in bags of 500 or 1000. Watch future issues of SAR for a test and review of this new belt-fed! For more information or see a video of the new unit go to www.freedomordnance.com.
TACSTAR TACTICAL SHOTGUN GRIPS FOR MOSSBERG AND REMINGTON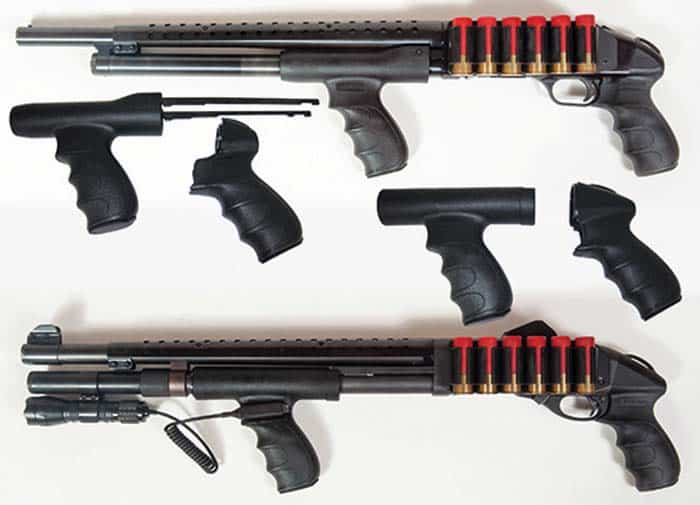 Increase the versatility and speed of your pump-action shotgun with Tactical Shotgun Grips from Tacstar. The new grips are designed with the proper width, rearward angle and back swell to distribute recoil energy evenly to both hands resulting in greater speed, accuracy and control when shooting. Injection-molded from a high-impact ABS polymer, these grips are tough and ready for hard use. Tactical Shotgun Grip Sets are available for the Remington 870 and Mossberg 500/590/600/Maverick. Sets include all the necessary hardware for quick and easy installation and require no alterations to the shotgun. They are available for 12 gauge only and include the action bars. The grips are also sold individually. The retail price is just $69.98 for the set. For more information go to www.lymanproducts.com.
MISSION FIRST TACTICAL INTRODUCES MINIMALIST STOCK AND 30 ROUND MAGS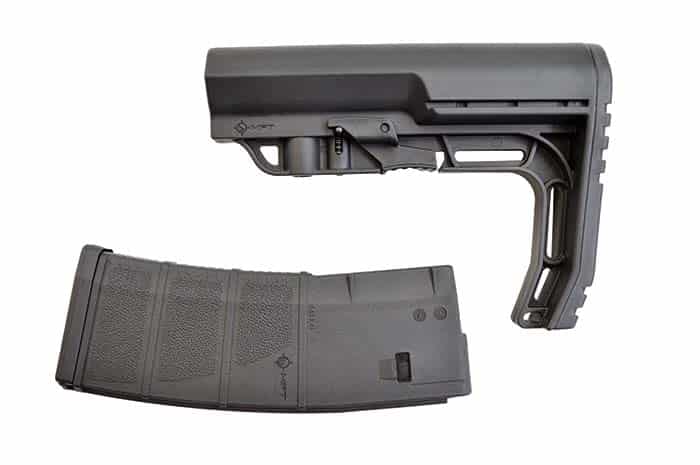 Mission First Tactical has recently introduced their new Battlelink™ Minimalist Stock. The new stock is made from an "evolutionary" new military grade polymer material that is stronger and lighter than other stocks. The stock is energy absorbent, impact and shatter resistant and has a very high weight to strength coefficient. It has been combat tested in jungle, desert and icepack conditions. It features a direct slide-on replacement and comes in either mil-spec or commercial sizes. It has an angled, non-slip buttpad and quick detach sling mount. The new Minimalist is available in Scorched Dark Earth, Grey, Foliage Green and Black. Also new from Mission First Tactical is their new 30-round magazines. The new MFI standard capacity polymer magazine is designed for the AR-15/M-16 platform but will work in all milspec AR platforms. A flared floor plate aids in extraction from tight magazine pouches. The magazines offer tool-less disassembly with double floorplate safety release tabs. The magazines also have paint pen dot matrix areas for easy identification and they also feature drain holes. They are equipped with stainless steel springs, four-way anti-tilt followers and an oversize bolt catch notch which provides increased bolt catch clearance. For more information on these as well as their full line of high quality AR accessories contact them at www.missionfirsttactical.com.
SIGHTMARK INTRODUCES READYFIRE PISTOL LASER SERIES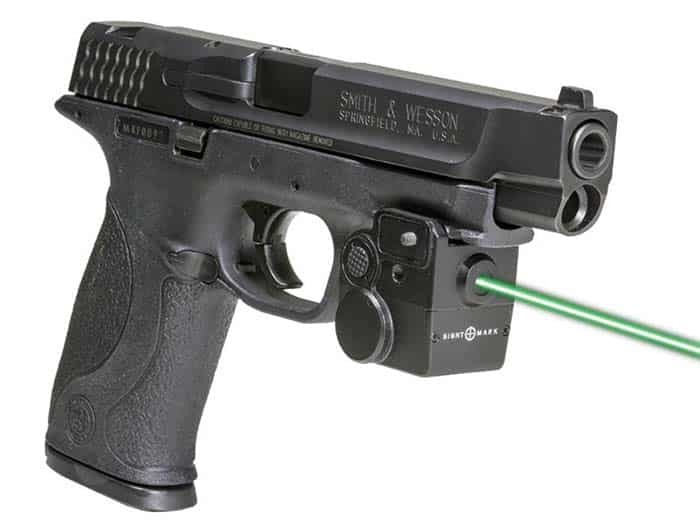 Sightmark is proud to unveil the complete ReadyFire Pistol Laser Series lineup, giving shooters the ultimate advantage with four different units; the R5, CR5, G5, and CG5. Each model in this lightweight series of pistol lasers features an ambidextrous digital switch activation, as well as continuous and pulsing operation modes. The ReadyFire series offer units with a red laser (R5 or CR5) and green laser (G5 or CG5). The R5 and G5 ReadyFire models fit both compact and subcompact pistols. The CR5 and CG5 units are compatible with full size and compact pistols. Sightmark ReadyFire Pistol Lasers are designed for when seconds count and there is no time to find your sights in the dark. The lightweight, streamlined G5 laser mounts between the trigger guard and muzzle of any railed handgun, decreasing snag points. Visibility for the G5 and CG5 extend to 50 yards during the day and an impressive 600 yards at night. The ReadyFire G5 is energized by a CR2 battery and features two modes, continuous and pulsing, to increase battery life up to 15 hours. The Sightmark ReadyFire R5 Pistol Laser is a compact, lightweight sighting system that's designed to fit any compact pistol with a weaver or picatinny mount. The visible red laser on the R5 has built-in windage and elevation adjustments and is energized by two AG13 batteries. The R5 also features a continuous and pulsing operation mode to increase battery life up to 10 hours. The ReadyFire CR5 Pistol Laser is designed with an integral weaver mount and is the ideal laser sighting system for any shooting scenario. The R5 and CR5 provide up to 300 yards of visibility at night and up to 20 yards in daylight. For more information you can contact them at www.sightmark.com.
NEW QUICK CHANGE CALIBER CONVERSION UPPER FROM WINDHAM WEAPONRY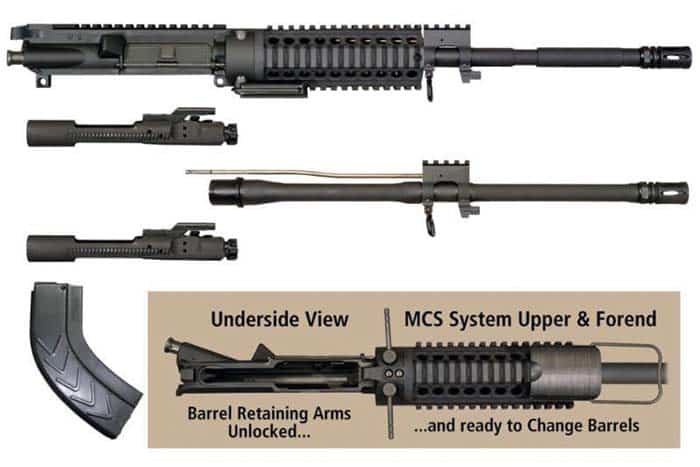 The Windham Weaponry Multi-Caliber Upper Receiver Assembly Kit is designed as a unique upgrade for the AR15 Type Rifle – offering quick & easy caliber changes by simply switching out the barrel, and if necessary, the bolt/bolt carrier and magazine. The kits are completely "ready for the range" once you add the optic or iron sights of your choice. As with their complete rifles, they are manufactured to the highest standards from the best materials available. Barrels are Chrome Lined for long wear and easy cleaning – machined from 4150 Chrome Moly Vanadium Steel, finished in Black Manganese Phosphate, and rifled appropriately for the intended caliber. Upper Receivers are CNC machined from forged 7075 T6 Aircraft Aluminum and finished in Hardcoat Black Anodize. Bolts are machined from Carpenter 158 Steel. The MCS 1 Kit includes a complete Upper Receiver assembly with .223/5.56mm caliber M4 barrel assembly; integral railed forend; (with barrel release levers, and barrel retaining block). Additionally, a .300 Blackout caliber barrel assembly is included allowing the change between .223/5.56mm caliber and .300 Blackout caliber by utilizing the same bolt / bolt carrier and .223 magazines. The .223/5.56mm bolt / bolt carrier and .223 magazines are utilized. The .300 Blackout caliber barrel assembly is complete with railed gas block, gas tube, and A2 flash hider. The MCS 2 Kit includes a complete Upper Receiver assembly with .223/5.56mm caliber M4 barrel assembly; integral railed forend; (with barrel release levers, and barrel retaining block). Additionally, a 7.62 x 39mm caliber barrel assembly is included allowing the change between .223/5.56mm caliber and 7.62 x 39mm caliber by utilizing 7.62 bolt / bolt carrier and the included 7.62 x 39mm caliber magazines. The 7.62 x 39mm caliber barrel assembly is complete with railed gas block, gas tube, and A2 flash hider. Their 7.62 Bolts are marked with 3 rings behind the locking lugs so as not to be confused with the .223 caliber bolt. More information can be found at www.windhamweaponry.com
This article first appeared in Small Arms Review V20N1 (January 2016)