By Miles Vining
Black Hills Ammunition will be debuting four new cartridges this year as the company continued to expand its ammunition offerings to the public. Of note for this year is a .357 Magnum lever-action round, an updated commercial offering of the MK 262 MOD 1, a .308 Win lead core offering and a new 6.5mm Creedmoor round that is aimed at the hunting market. All these rounds will be available for purchase this year from dealers and online stores that market Black Hills ammunition.

.357 Magnum HoneyBadger
The .357 Magnum load from Black Hills comes with a 127-grain HoneyBadger monolithic bullet that is CNC-machined. The round is intended for hunting with revolvers or can be used safely in the tubular magazines of lever-action rifles. Black Hills states revolver terminal ballistics in tests as penetrating up to 18 inches with a 4.5-inch wound cavity, while carbine-length barrels (18 inches tested) show a penetration of 24 inches and a wound cavity of 6 inches in diameter. In both cases, bullets are reported to retain 100% of their weight. 
Originally the HoneyBadger bullet design fell under the nomenclature of Lehigh Defense due to the collaboration during development, but it has been subsequently changed. The line includes a number of handgun loads for 9x19mm, .38 Special, .44 Special, .45-70 and even .380 ACP. What makes the round unique are three to four (depending on caliber) spiral flutes that form the composition of the copper bullet, in addition to the non-deforming and non-fragmenting characteristics when penetrating animals or barriers.
According to Black Hills' press release: "Since the projectile is a precision-machined monolithic bullet (solid copper), there is no chance of failure due to bullet fragmentation even at the much higher velocities generated when fired though the carbine. … This exceptional performance comes as the result of specially designed, fluted copper projectile, which does not rely on expansion to produce the desired terminal effect. The projectile instead is designed so the machined flutes cut and grab tissue as the bullet passes through tissue at high velocity, focusing and accelerating the tissue flow radially from the bullet."
Cartons come in 30-round segments marked as ".357 Magnum 127 Gr. HoneyBadger."
MK 262 MOD 1 Commercially Packaged
Black Hills first began working with the U.S. military in 1996 when the U.S. Army Marksmanship Unit needed a more accurate 5.56x45mm round for their shooting competitions. A successful 80-grain bullet was produced that proved accurate out to the 600m that the AMU was shooting at. This led to the beginning of a relationship with Naval Surface Warfare Center Crane in 1999 for fielding a better 5.56x45mm round for the MK 12 Special Purpose Rifle that began use in special operations but later migrated to the Marine Infantry as its use in combat with what would become the MK 262 MOD 1 77-grain bullet made by Black Hills Ammunition. Specifically paired with the MK 262, the MK 12 project sourced a number of different components over its timeline, but generally the rifle used M16A1 lower receivers and A1/A2 buttstocks, 18-inch barrels, Knights Armament handguards, Leupold optics and a quick detach suppressor. These rifles continued to see service with the Marine Infantry into the final stages of Operation Enduring Freedom where they were still being used in combat in 2014. The Marine Corps specifically liked the MK 262 enough to extend issue to beyond the MK 12 shooters and to Marines armed with M16A4s, M4s and M27 IARs.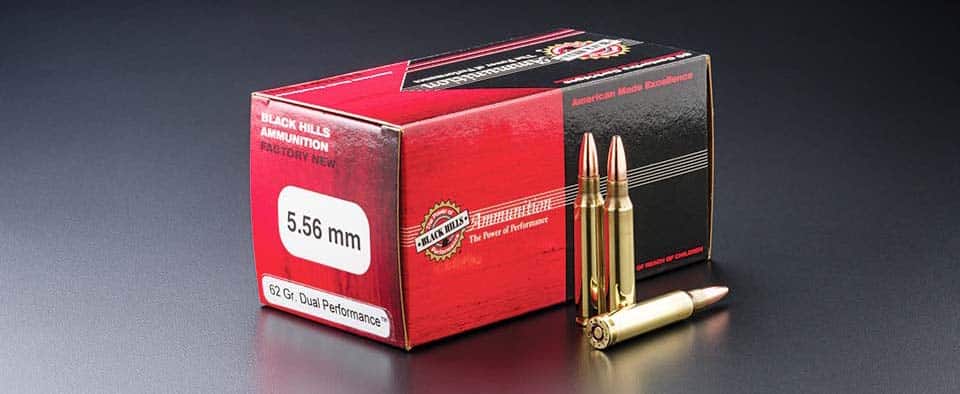 Black Hills initially offered the MK 262 MOD 1 to the civilian commercial market as the 77-grain Open Tipped Match (OTM) in standard 20-round cardboard packaging. This new offering from Black Hills will be explicitly packaged as MK 262 MOD 1-C in metal ammunition cans and the cardboard DOD packaging, with the "C" meaning "Commercial."
"This round is the exact construction and performance of U.S. Military MK 262 MOD 1. (Since this is not being shipped to the U.S. Military, it does not undergo full U.S. military acceptance procedures.) MK 262 MOD 1-C is available in a military can containing 460 rounds in 20-round cartons. It is otherwise identical, and each can comes with the same lot acceptance accuracy documentation that is provided on military lots. No lot of MK 262 MOD 1-C will ship unless it shoots group averages of 2 inches or less at 300 yards (.64 MOA maximum/10 shot groups)," according to Black Hills.
The price of 460 rounds is going to be approximately $460 where it is available through dealers and distributers. Ammunition will come packaged in cardboard cartons that are packed in metal ammunition cans. Cartons are marked, "20 Cartridges, 5.56x45mm Special Ball, LR 77 Gr. Sierra OTM MK 262 MOD 1-C" with their respective lot number.

Dual Performance .308 Win and 5.56x45mm
New for this year on the hunting scene is a monolithic copper bullet for both the .308 Win and 5.56x45mm platforms. Loads are available in 62-grain 5.56x45mm and 152-grain .308 Win bullets.
According to Black Hills, "The Dual Performance projectiles are precision-machined, monolithic copper projectiles that immediately expand upon impact to form a large temporary cavity exceeding that of conventional bullets. Once the large primary cavity is created, the petals release from the body of the projectile to cut separate wound tracks through the stressed tissue. The body of the bullet, still retaining a very substantial portion of the original weight, but now free from the unnecessary drag, penetrates deeply to ensure maximum effect on the target."
.308 Win rounds will come in yellow and black cartons packed in 20-round segments with ".308 Win Match 152 Gr. Dual Performance" marked on the side of the carton. 5.56x45mm rounds will come in red and black cartons packed in 30-round segments with "5.56mm 62 Gr. Dual Performance" marked on the sides.

6.5 Creedmoor 120-Grain Hornady GMX 
Black Hills is now loading 6.5mm Creedmoor with 120-grain Hornady GMX bullets. Gilded Metal eXpanding (GMX) is a bullet line that Hornady introduced in 2009. The design uses a monolithic bullet with a polymer tip that initiates the expansion of the round once it penetrates wild game. Black Hills went with Hornady GMX due to the increased performance over lead core bullets in weight retention (100% as compared to 50% to 70% as quoted). 
Black Hills stated: "The excellent GMX design causes the bullet to open immediately upon impact, over a wide range of velocities, causing large diameter wound cavities that anchor game quickly and humanely. Monolithic gilding metal bullets, because they retain their weight, do not need to be as heavy for caliber and application as conventional bullets and can thus be pushed to higher velocity." 
Cartons will come in yellow and black packed in 20-round segments marked with "6.5 Creedmoor 120 Gr. GMX" on the side of the carton. 
| | | | |
| --- | --- | --- | --- |
| Caliber | Bullet | Velocity | Energy |
| .357 Magnum | 127gr. Honey- BadgerTM | 1,365fps (6in) 1,900fps (18in) | 526 ft/lb |
| 5.56x45mm | 77gr. MK 262 MOD 1-C | 2,750fps | 1,293 ft/lb |
| 5.56x45mm | 62gr. Dual PerformanceTM | 3,000fps (20in) | 1,239 ft/lb |
| 6.5mm Creedmoor | 120gr. Hornady GMX® | 2,900fps | 2,241 ft/lb |
| .308 WIN | 152gr. Dual PerformanceTM | 2,800fps (24in) | 2,647 ft/lb |
This article first appeared in Small Arms Review V24N5 (May 2020)