By Dean Roxby
Another Fine Book from Wet Dog Publications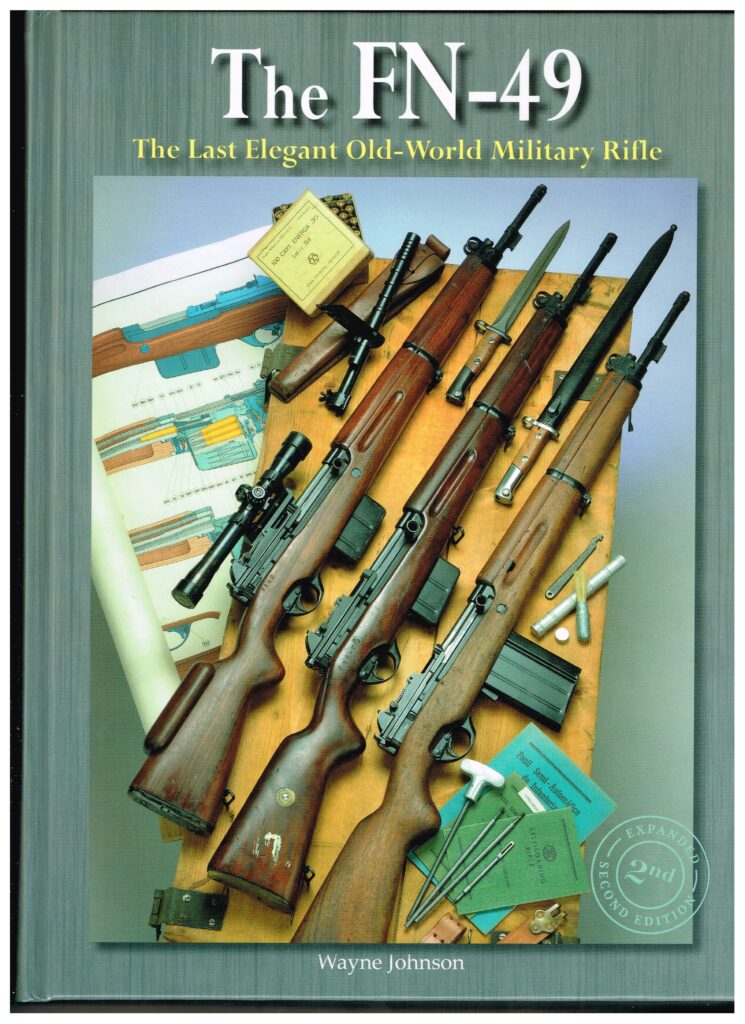 The FN-49: The Last Elegant Old-World Military Rifle (Expanded Second Edition)
Author: Wayne Johnson
Publisher: Wet Dog Publications
ISBN: 978-0-9981397-1-5
Copyright: 2019
Hard cover: Color laminated; 8.75″x11.25″; 460 pages; 1,100 color/B&W photos and Illustrations
Available from publisher and Amazon
Wet Dog Publications is a small, family-owned business with a stellar reputation for producing high-quality gun books. Regular readers of Small Arms Review may recall my reviews of FN Browning Pistols and FN Mauser Rifles (Anthony Vanderlinden). Those two titles were excellent books in their own right, so it should come as no surprise that this FN-49 book is also a great book.
Wet Dog is owned by noted FN authority Anthony Vanderlinden who wrote the Browning pistol and Mauser rifles books and also contributed two sub-chapters to this title. The primary author is Wayne Johnson. Mr. Johnson, a retired USMC veteran, authored the first edition of this book in 2004. This new expanded second edition FN-49 book was released in late 2019.
This new edition is a beautiful book! At 460 pages, it is well over double the size of the first edition. As with other titles from Wet Dog, it is printed and bound entirely in the USA, a point they take great pride in noting. The paper has a glossy finish that makes the photographs pop nicely. Speaking of which, it features clear, crisp, studio-quality color photos throughout.
Starting with an overview of Fabrique Nationale through the years, we learn about the Belgian-based FN company being formed in 1889 to supply Mauser rifles to the Belgian military. Then Johnson provides a bit of a history lesson. Twice, during WWI and again during WWII, the FN factory was overrun by German troops. In both cases, after war ended, the FN factory expanded its product line to keep it busy during the post-War economic slowdown. Over the years, FN has produced cars, bicycles, typewriters and even dairy milking machines.
Next is a look at the inventor of the FN-49 rifle, Dieudonné Saive. Mr. Saive was the chief assistant to none other than John Browning during Browning's time at FN. After Browning's death in 1926, Saive went on to complete the design of the FN Hi-Power pistol, Model 1935. He then began work on a self-loading rifle that would eventually lead to the FN-49.
Chapter 3 steps back in time to study the long road to a viable self-loading rifle design. The concept of harnessing energy to cycle the action of a firearm was understood, with both pistols and heavy machine guns being in service since before WWI. However, a pistol fires a very low-powered round, while a tripod-mounted machine gun is far too heavy to be carried by each soldier. Beginning with several early designs, this chapter looks at the progression toward the SLEM (Self-loading Experimental Model) and finally the FN-49. Much of this work was done in England, as Saive and several other FN designers had fled Belgium during the Nazi occupation.
Chapter 4 covers the introduction of the FN-49, while Chapter 5 examines proof marks, FN factory markings and contract acceptance markings as used by each customer country. Chapter 6 deals with production summaries and order lists. This should appeal to the accountants here.
Chapters 7 to 16 get into the real heart of the matter; a detailed look at each variant by country. There are many small changes made throughout the production run, with each customer country selecting different options. For me, this is vital to determine that a particular rifle is historically correct. Johnson includes many sidebars throughout the book that point out various things to note. Many of these sidebars are headlined, "Collector's Note." He points out specific things that may have been mismatched or outright forged. This alone could very well be worth the price of the book if you are looking to buy a rifle.
Another sidebar deals with the one-piece firing pin safety issue and the firing pin safety stop (FPSS). Many of the early guns had a one-piece firing pin. The Egyptian guns also lacked an FPSS. This creates the possibility of a slam-fire situation with soft commercial primers.
It is interesting to note that the FN-49 may hold the record for the service rifle available in the most number of calibers. While the AR-15 in civilian sales is available in many dozens of calibers, this is not the case for official service rifles. The FN-49 was produced in 7×57, 8×57, .30-06, 7.65×53 and later in 7.62×51.
Chapter 19 examines bayonets found on the various rifles. As expected, different countries selected different styles of blades and scabbards. These fall into three general types: the Model 1924/49 Long, Model 1924/49 Short and the Model 1949.
"Chapter 23: Parts Breakdown," "Chapter 24: Description of Operation …," and "Chapter 25: Disassembly/Assembly Instructions" go deep inside the gun and show detailed close-ups of the various parts. If any parts have been swapped out and replaced with non-standard parts, these chapters will let enthusiasts know.
Appendix A has many patent certificates and drawings reproduced in full color. While not required to maintain your rifle, these do add a lot of interest to the book.
Appendix B is titled, "Contract Requirement Extracts." It shows how each country specified how the rifles were to be shipped, and how the shipping crates were to be constructed and so on.
Appendix C is a complete list of the entire shipment of surplus rifles from Luxembourg to Interarmco, located in Alexandria, VA. All 154 crates are listed, and serial numbers for all 6,160 rifles are given. This seems a bit extravagant, but I suppose if I owned a Luxembourg rifle I might appreciate this.
Once again, Wet Dog Publications has produced a book that is both beautiful to look at and is a great reference source. It is limited to 2,200 copies. Each book is individually autographed by Johnson when ordered from the publisher.
This article first appeared in Small Arms Review V24N10 (December 2020)