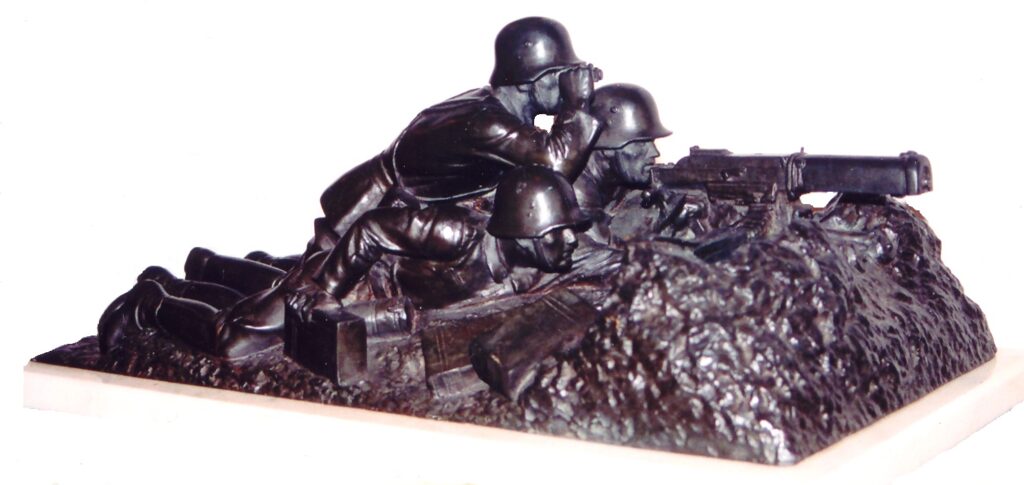 Large bronze casting (circa 1920s) by Hungarian artist Miltiades Manno (1880–1935) of an Austria-Hungary three-man machine gun team firing the Schwarzlose M. 07/12 water-cooled machine gun. Very detailed with soldiers in full combat gear all the way down to the hobnail boots. The large bronze casting combat set-scene is mounted on a marble base measuring approximately 30×17 inches (to further sit atop a waist-high plinth) and in total, weighs nearly 100 pounds. Coming from a family of Greek immigrants, Miltiades Manno was born in Pacsova, Austria-Hungary and died in Budapest, Hungary. He was an accomplished multi-faceted athlete in a number of sports competing in two Olympics. He was also a noted graphic artist, painter and sculptor, having studied at the Academy of Munich at the turn of the century. He fought in the Austro-Hungarian Army in WWI and was wounded several times while fighting the Russians in Galicia requiring him to retire from sports. He is best known for his anti-communist Hungarian posters of the 1920s.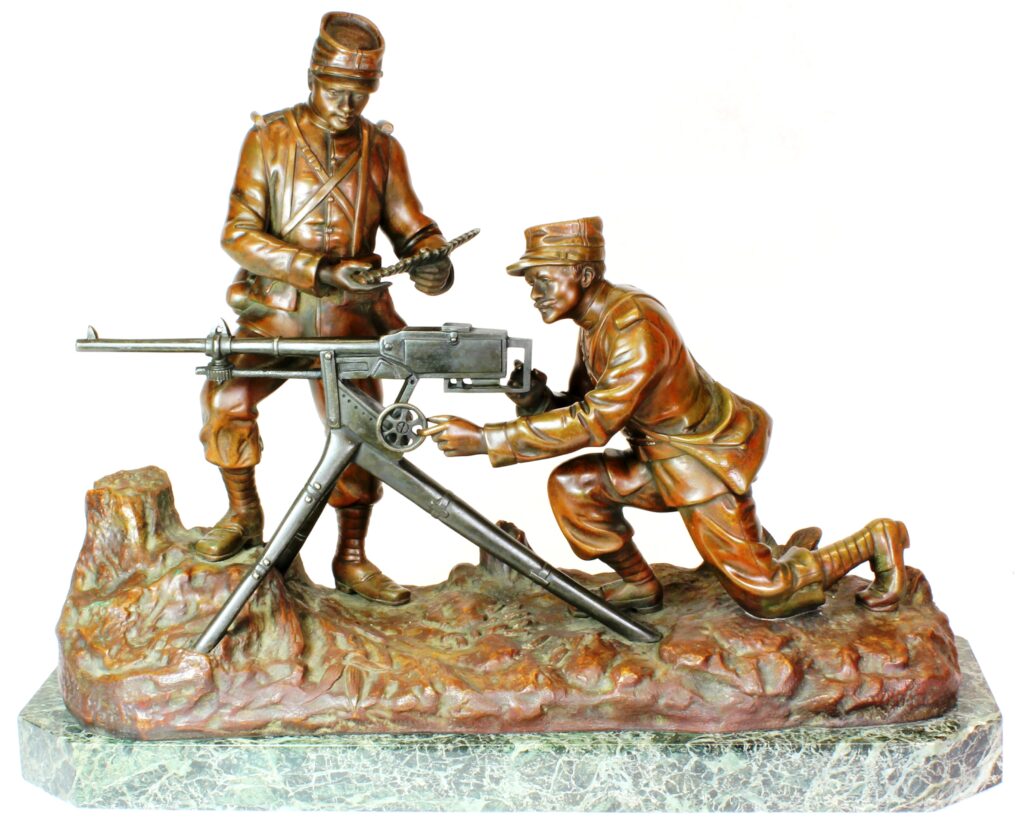 Immediate post-World War I (circa early 1920s) bronze table sculpture depicting two French soldiers manning a French M1907 St. Etienne machine gun on the Omnibus 1915 tripod. The bronze shows great detail in the uniforms and equipment. Signed by the artist Georges Omerth (1895–1925). Weighing almost 20 pounds, it is mounted on a green marble plinth. It measures 16¾ inches long by 6½ inches wide by 13¼ inches tall.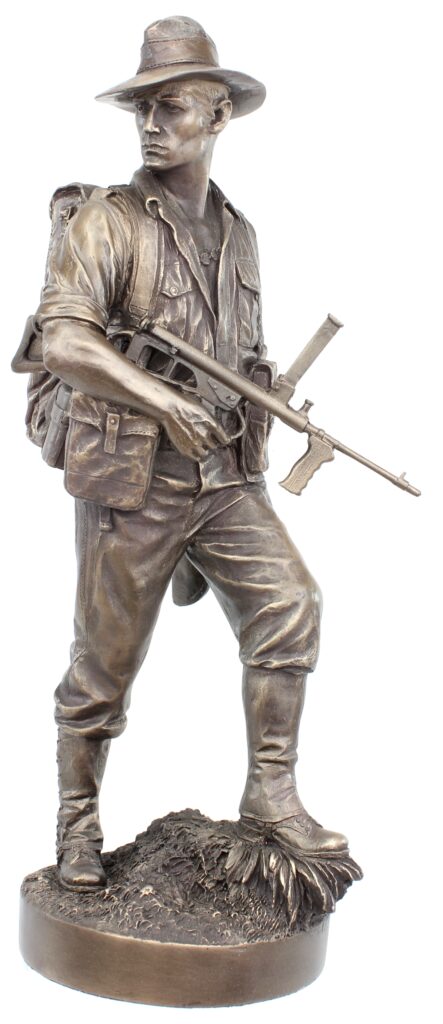 A cold-cast bronze figurine depicting a late World War II Australian Commando during World War II operating in the Pacific theater. The soldier wears jungle greens, a slouch hat bearing the double-diamond commando patch affixed to the hatband and carries the rugged and reliable Owen 9mm submachine gun. His gear is based on the Pattern 37 webbing equipment, modified to better suit the harsh jungle conditions. This statuette is made by Naked Army®, is serial number 632 of a limited production run that was created in 2015 and stands approximately 12 inches tall.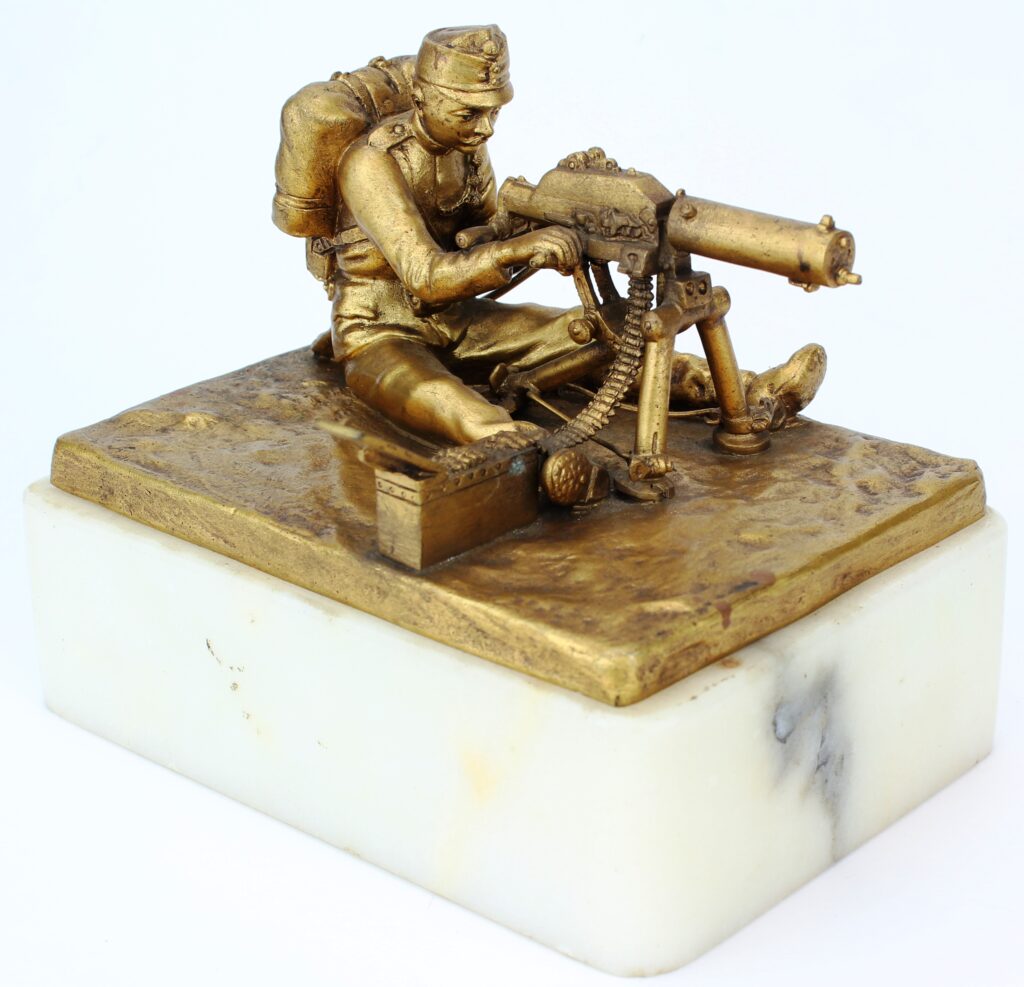 Highly detailed desk ornament casting in Austrian gilded bronze of an Austrian KuK storm trooper with field pack firing a Schwarzlose M. 07/12 water-cooled machine gun. The soldier is shown wearing the Austrian early issue cap with the full-issue uniform with field pack, canteen and bayonet in scabbard. He has the marksmanship award in the form of an aiguillette-looking braided cord worn from the left shoulder board. The artwork is signed by the artist "T. Henn" and is mounted on an Austrian marble base that is 1½ inches thick and measures 5½ x 4 inches.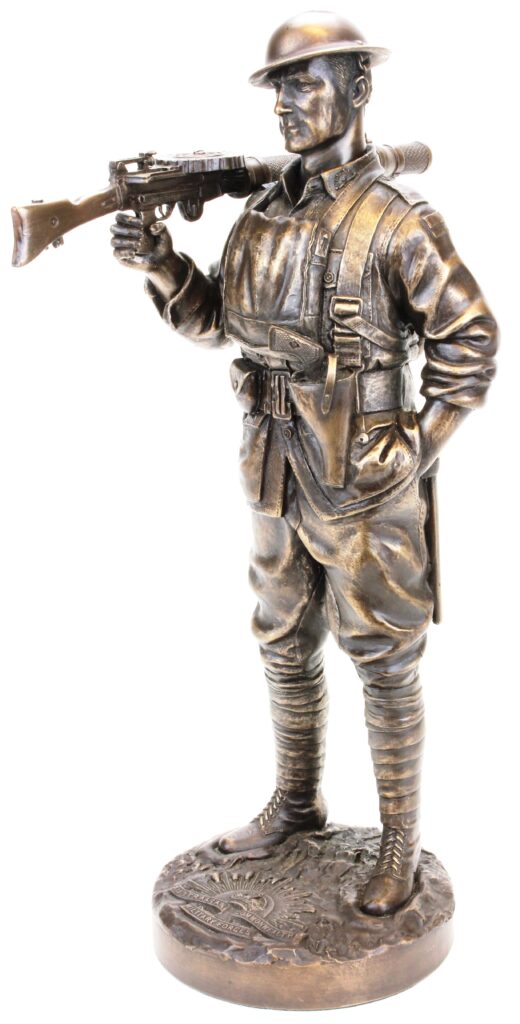 Cold-cast bronze statue of a World War I Australian Army Lewis gun soldier of the 1st AIF (Australian Imperial Force) in 1918. Exceptionally well-detailed, this typical Australian machine gunner on the Western Front carries his Lewis .303 caliber machine gun on his shoulder, with a Webley & Scott Mk VI .455 caliber revolver in his holster and wears the Pattern 08 pistol rig equipment in battle order. He also wears an English Brody steel helmet and carries his "small box respirator" gas mask slung around his neck in the "ready" position. The statue is approximately 12 inches high and made by Naked Army®. This is number 90 of a limited edition of 2,000 worldwide. Made in 2005.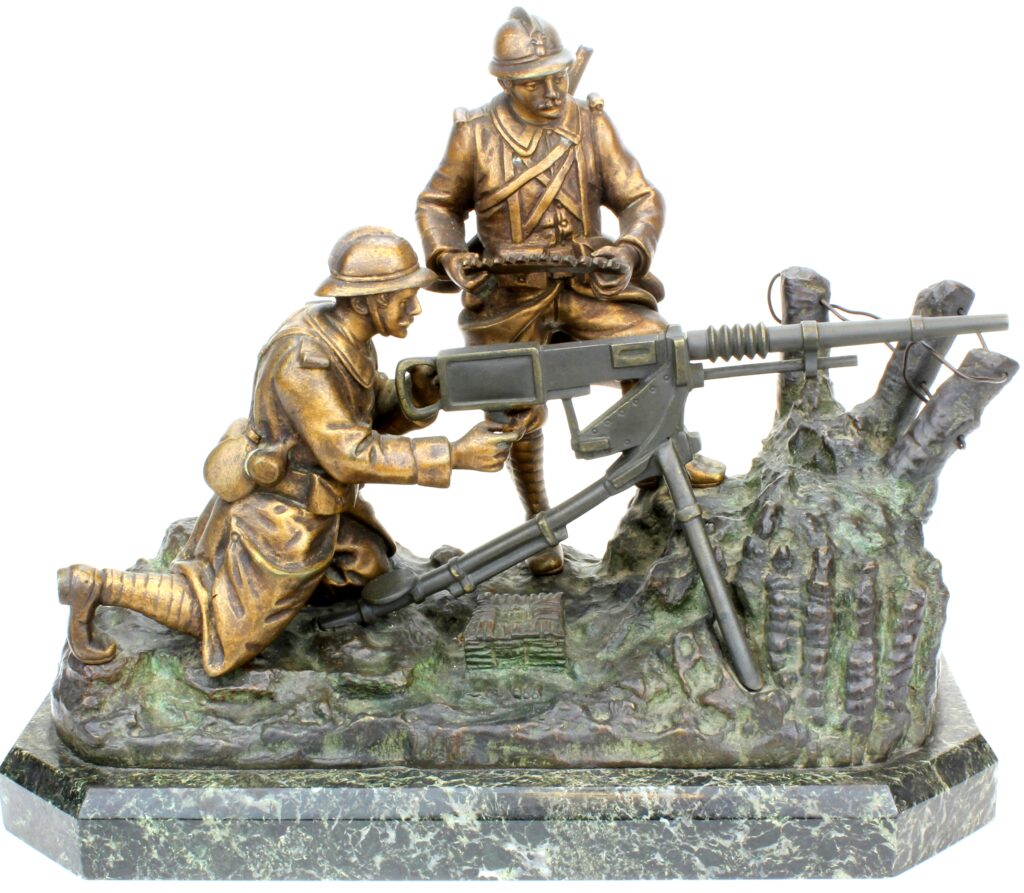 French bronze desk sculpture made post-World War I in the 1920s. The set-scene depicts two exceptionally well-detailed French machine gunners with the Hotchkiss Model 1914 air-cooled heavy machine gun mounted on a Model 1914 Hotchkiss tripod. They are depicted in the field behind a fence-line emplacement. Weighing approximately 8 pounds, the sculpture is mounted on a marble base 13×6½ inches and stands 10 inches high. Signed by the artist "CH Gillet" (Charles Gillet).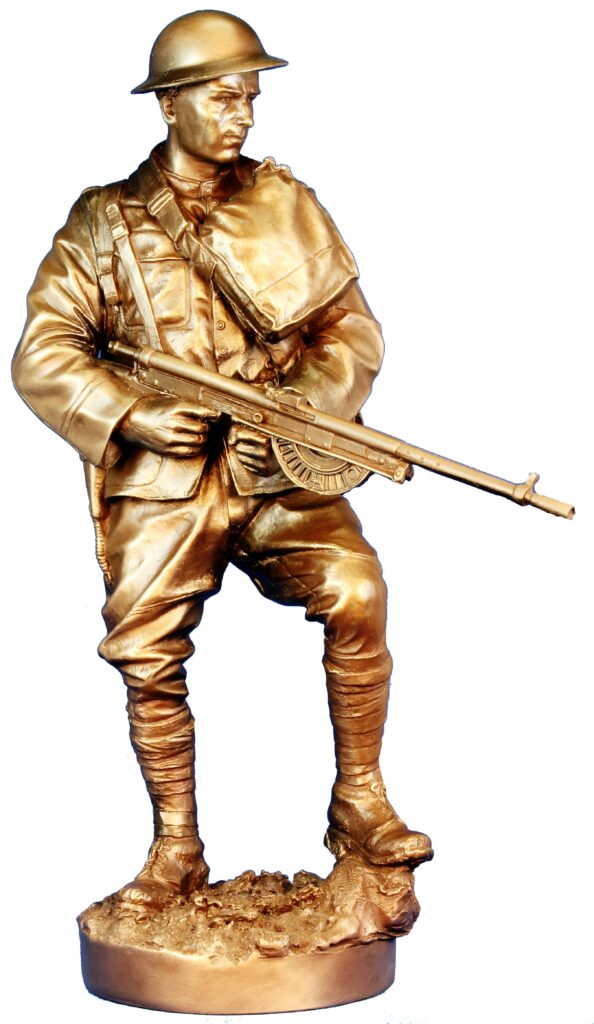 Statuette of a U.S. Marine "Devil Dog" Chauchat gunner in France, 1918. Cold-cast bronze figurine 12.5 inches tall. Cast by KHAKI-ARMY in 2013, this is serial number 44 of a limited production run. This WWI figure represents a U.S. Marine Chauchat gunner in action in late 1918 as attached to the 2nd Infantry Division. He wears the AEF M1917 khaki drab uniform, typically worn without collar insignia. His weapons are the French Mle. 1915 Chauchat (CSRG) machine rifle and Colt Model of 1911 .45 caliber semiautomatic pistol in a holster on his hip. His backpack is lightly loaded for the assault, and he carries extra 20-round magazines for his Chauchat in a French-made haversack. His gas mask, worn in the "ready" position, helmet and gear are all U.S. issue. The term Devil Dog has its origins at Belleau Wood where a dispatch from the German front lines to their headquarters described the fighting abilities of the Americans as fighting like "Teufelshunde."
This article first appeared in Small Arms Review V24N10 (December 2020)