By Dean Roxby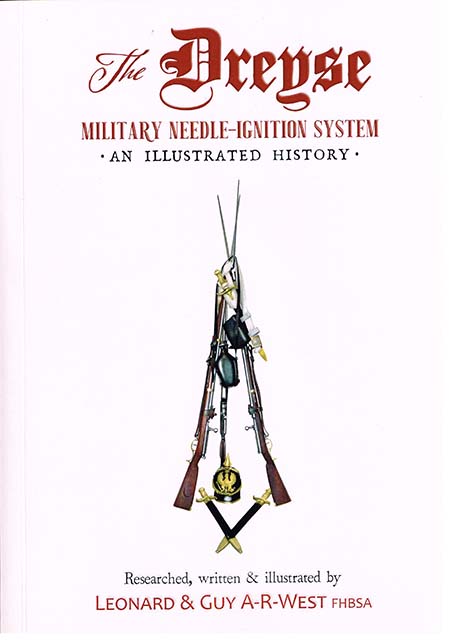 The Dreyse Military Needle-Ignition System: An Illustrated History 
Author: Leonard and Guy A-R-West
Publisher: Woodfield Publishing Limited
ISBN: 978-1-84683-190-4
Copyright: 2019
Soft cover: 8"x11.5", 164 pages, color/B&W photos, paintings and illustrations
Available from publisher or Amazon.co.uk 
It is perhaps appropriate that this review will appear during the summer of 2020, as it will coincide with the 150th anniversary of the start of the Franco-Prussian War. This war began on July 19, 1870, and lasted roughly 10 months, ending on May 10, 1871. The war between France and Prussia, or modern-day Germany, was the first war to see two nations both armed with "needle-fire" rifles. The French used the Model 1866 Chassepot rifle, and Prussia used the Dreyse system. 
Regular readers of this column may remember a review I did of the book The Needle-Ignition System of the Modele 1866 Chassepot, an Illustrated History (Small Arms Review, Vol. 22, No. 8, October 2018). This new title is by the same authors and publisher and follows the same basic format. In fact, it is second of three titles examining the various needle-rifle designs. (There is no release date yet for the third book. It will cover lesser known foreign needle guns.)
As with the previous Chassepot book, this Dreyse title fills a noticeable void. Until now, there has been very little quality information on Dreyse rifles and zero English-language reference books. The A-R-West brothers (Alston-Roberts-West) are well-known as antique arms collectors in Great Britain and beyond. They are long-time members of the Historical Breechloading Smallarms Association. They are also active on gun forums such as gunboards.com. 
The term "needle rifle" refers to the method of ignition. A long slender needle-like firing pin pierces deep into the paper case of the cartridge to ignite the primer contained within.
The book begins with a dedication to "family, friends, and all those who shoot and collect needle-ignition systems." Following, is an Introduction that covers the A-R-West brothers' own interest in antique military firearms. "Development and History" briefly looks at the system created by Johann Nicolaus von Dreyse, and then covers the various wars that raged across Europe during the mid-1800s. This was a surprisingly turbulent time in Western Europe.
Chapter 3, "Gun Models" is, of course, the main topic. There were numerous models and variants of Dreyse rifles introduced over its time in service, making it a challenge to become familiar with them. This book does a great job of sorting out the various models and making it all understandable. The authors tend to use photographs for close-up details and color paintings for side-by-side comparisons of the different guns. While this may seem a little odd, it actually works very well. Several different models can be compared together, even if the original subjects were not available for a group photo.
Between the data charts, photos and artwork of the different variants, close-up photos of the bolt stripped down and an in-depth study of receiver markings, this chapter provides a huge amount of information that is simply not available elsewhere.
Chapter 4, "Accessories" follows the same pattern, describing the various items in the text and then backing this up with crisp, clear photographs and illustrations. Numerous versions of brass muzzle covers and sight protectors are featured, along with leather slings, cleaning kit items and bayonets.
Chapter 5, "Beck Conversion" explains a retrofit to improve the ballistics of the original rifles. Besides the photos and artwork, there are three cutaway section views to show how the conversion works.
Chapter 6, "Ammunition" covers many types of ammo associated with the Dreyse system over its service life. As the gun matured, so did the ammo. This meant that the ammo was not interchangeable. Rounds for the M/41, M/47, M/55 Infantry Rifle, M/55 Carbine (3.5mm shorter than the Infantry Rifle round) and M/72 rifles are covered in great detail. Cartridge data charts, section view drawings, photos of battlefield pick-ups and even x-ray views of original cartridges are featured. 
While there is not any actual reloading data offered, there are three pages of photos showing specialized tools used to recreate working cartridges. Anyone with access to a machine shop should be able to copy these tools.
Chapter 7, "Miscellaneous" deals with many subjects. A section on the many types of rear sights is notable for the sheer number, 20 in total. There is a chart of manufacturers that produce either complete guns or parts. Enlarged drawings of receiver markings provide valuable information for collectors and researchers.
Chapter 8, "Evaluation and Observations" is a chance for the A-R-West brothers to share their opinions, based on their years of experimenting and testing. With their own refined loads, they can get an average of 108mm (a bit over 4-inch) groups at 100m. They claim to have achieved a 75mm (3-inch) group at 200m! That is amazing for a gun at least 150 years old.
Chapter 9, "References and Anecdotes" has a number of quotes from training manuals from the era, as well as observations made by British military observers.
I do have a minor complaint. The text that applies to the illustrations is quite small (the main body of text is fine), and some of the illustrations themselves are far too small. I would prefer larger type and pictures, even if this means a few more pages. Aside from this, it is a fine book.
This book has been long overdue. As noted above, there are no other English-language books solely on the Dreyse system and probably very few German language ones either. Yes, it is a rather specialized subject, and at £45.00 it is rather pricey, but if you collect this type of firearm this book is definitely recommended. 
This article first appeared in Small Arms Review V24N7 (Aug/Sep 2020)