By Todd Burgreen
Springfield Armory made a noteworthy introduction recently to their product lineup with the Echelon 9mm. Not resting on their laurels, the Echelon is a fresh Springfield design. Do not mistake it as a XD variant or anything else in the Springfield catalogue. It is made in Croatia to Springfield Armory's specifications by the same manufacturer cranking out Springfield's XDs, Hellcats, and Hellion bullpup rifles. The American consumer signaled their acceptance by snatching up Echelons from dealers' shelves. In many areas demand still outweighs supply. A nice problem to have if you are Springfield Armory.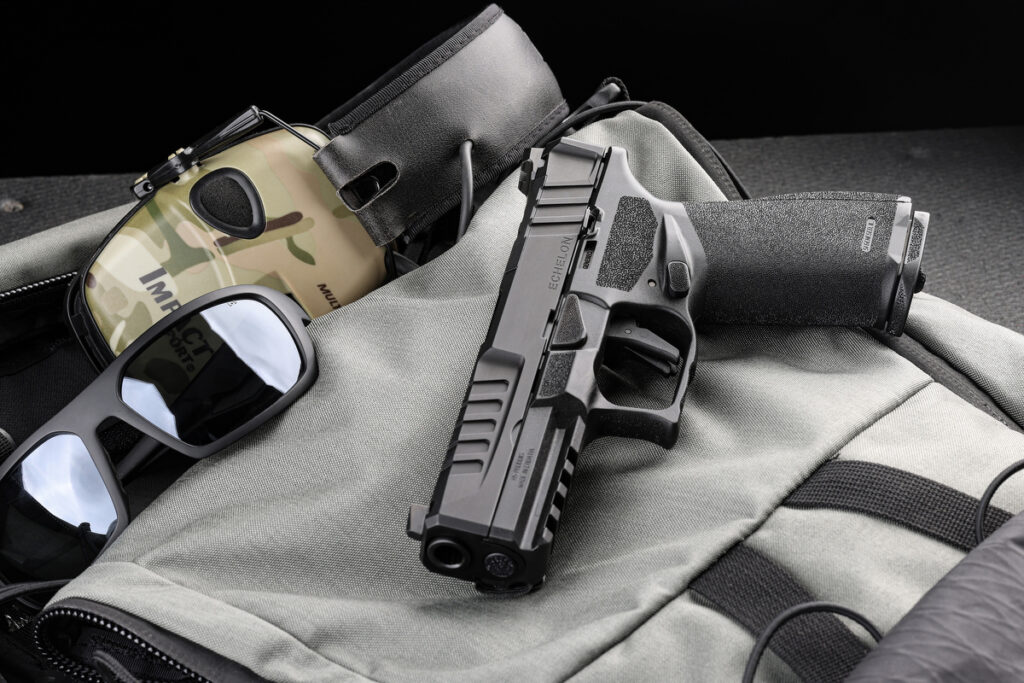 Many may ask what the Springfield Echelon offers to shooters compared to other polymer-framed striker-fired handguns already on the market. The answer lies more with refining the striker-fired concept that started more than 40 years ago than anything revolutionary. The Echelon benefits from lessons learned, combined with a manufacturer intimately familiar with what it takes to create a quality weapon.
REFINEMENT
The Echelon attracts admirers thanks to its ergonomics. For example, its grip angle offers a natural point of aim, especially when a red dot is mounted. With the Echelon, Springfield focused on enhancing the handgun's interaction with the user using its "Adaptive Grip Texture", oversized trigger guard that is undercut at frame, ambidextrous slide stops, and magazine releases, plus textured indexing points on both sides of the frame. The Echelon arrives with the medium grip module with small and large available for purchase separately… more on this later. This is further accentuated by three different backstrap contour options.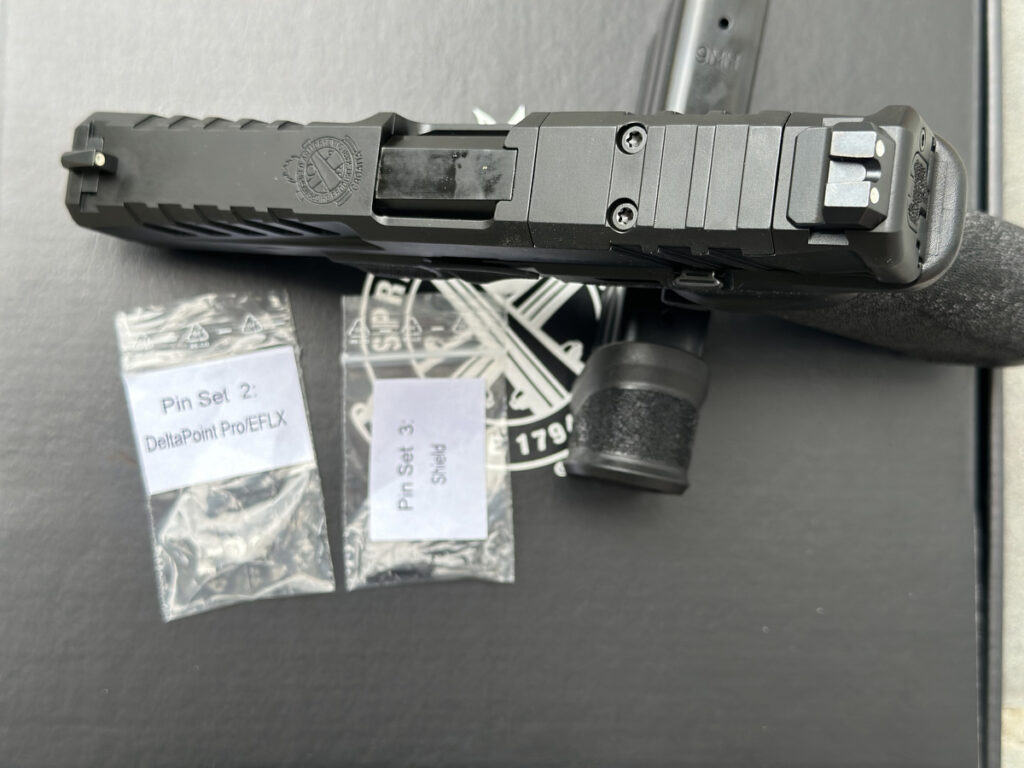 The Echelon slide's shape is engineered to aid in increased muzzle control and manipulation. Echelon's slide features four distinct engagement surfaces. A trench cut forward of the action gives shooters a natural index location for press checks and charging the firearm. The back of the slide is flared for positive purchase if this method of manipulating slide is preferred. Deep forward and rear serrations provide gripping surface from any angle.
INNOVATION
The heart of the Echelon is its chassis trigger group that bears the required serial number. Springfield labels it their "central operating group" (COG). The COG is self-contained and can be moved between grip modules in seconds. Think of the modularity options that will be forthcoming after the Echelon's initial rollout. Precision built from stainless steel, the COG provides a host for a patent-pending operating system i.e., the trigger group. The Springfield Echelon takes full advantage of the learning curve based on previously introduced chassis operating system handguns by other manufacturers. The Springfield COG features trigger bar and striker block safeties, reducing the opportunity accidental discharge incidents.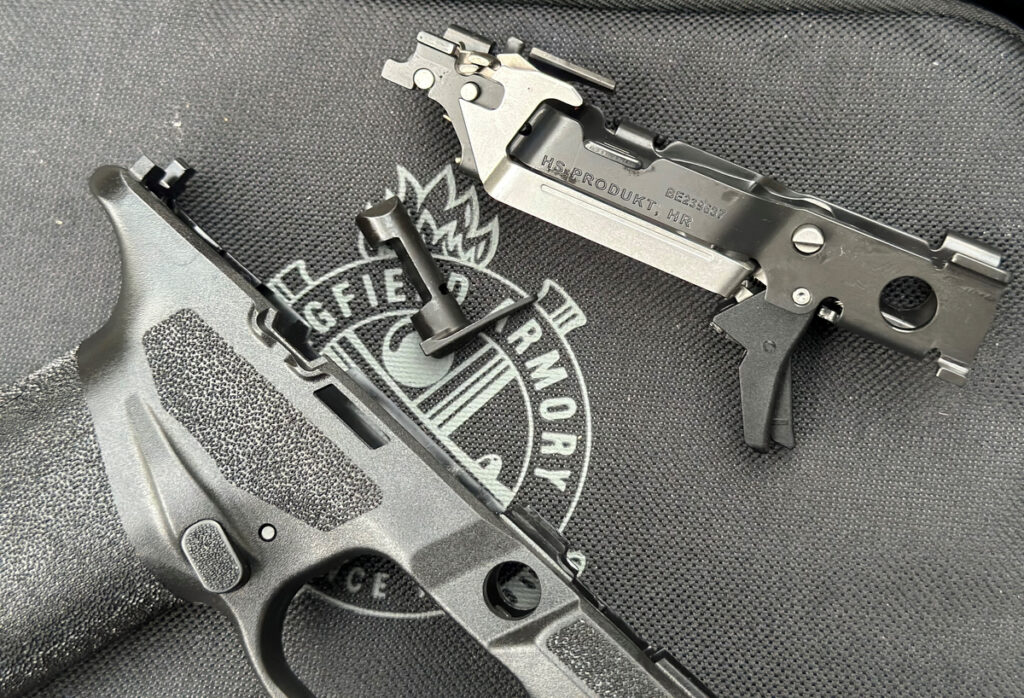 Concealed beneath the slide cover plate is the Echelon's patent-pending optic mounting system. The variable interface system (VIS) allows users to mount more than 30 optics directly to the slide without the use of adapter plates. In short, if your optic is or shares the footprint of Trijicon RMR, Leupold DeltaPoint Pro, or Shield RMSc you are good to go out of the box. Simply configure the self-locking pins for the footprint of your desired optic to achieve a low, direct mount for intuitive sight alignment.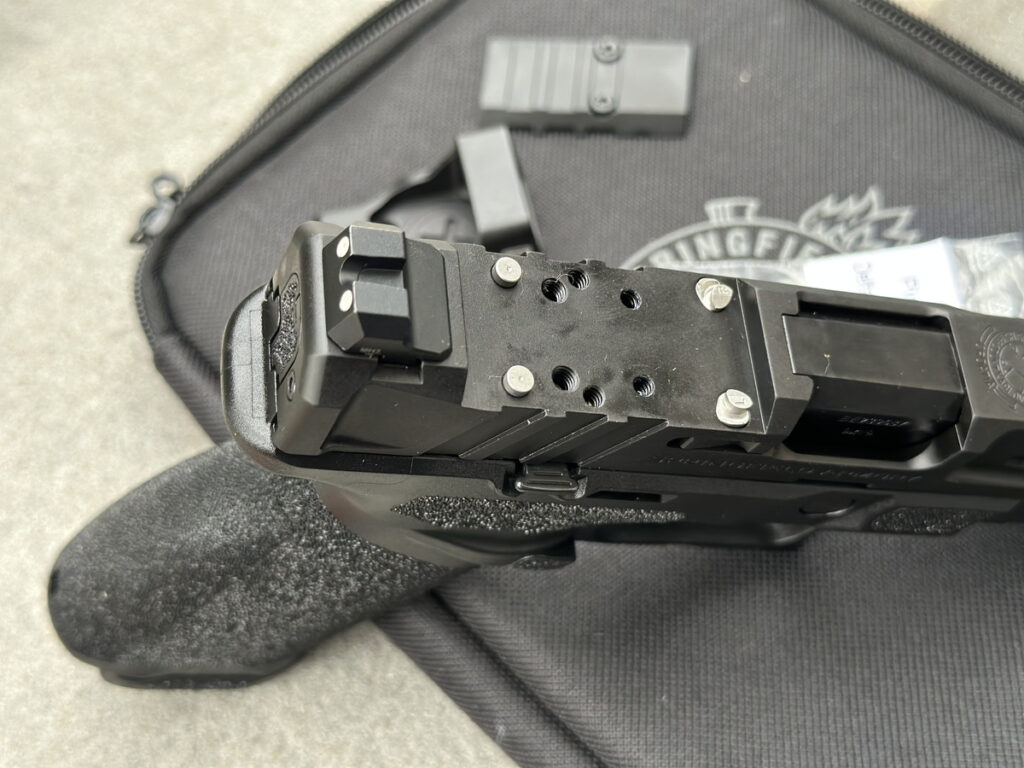 The Springfield Armory VIS employs patent-pending self-locking pins. As the optic mounting screws are torqued, the pins exert lateral pressure on the optic's interior mounting surface to eliminate variance and left/right movement. The result is an unparalleled fit between the slide and a wide variety optics. This Springfield VIS system mounts your red dot deep into the slide, keeping it as low to the bore as possible. This translates into seamless dot acquisition when combined with the Echelon's grip angle.
DESIGN INPUT
I think we all accept that elite competition shooters are the highest skilled "pistoleers" in the world — after all, that is what they do for a living. Expending time and ammunition that most people cannot imagine. Tier one special operation units often invite world class competition shooters to train with them in an effort to teach its members how to gain any advantage possible in running a handgun more efficiently and ruthlessly. After all, the physical aspects of shooting are the same in every realm i.e., grip, stance, weapon manipulation, trigger control, hand-eye speed, and coordination. Springfield Armory has one of the greatest ever — Rob Leatham — on their team. He surely collaborated on the Echelon project — especially regarding aspects of the trigger and the pistol's overall ergonomics.
The Echelon offers a repeatable 5-pound trigger pull with a minimal reset. Short tactile reset allows rapid, multiple shots placed on target. The Echelon's trigger is proof Springfield engineers listened to customer feedback… as well as one of the greatest ever competition shooters — Rob Leatham. To my way of thinking, the secret to striker-fired handgun success is minimal operating controls, high cartridge-capacity-to-size ratio, relentless reliability, and, to mis-paraphrase an famous political advertisement…."it's the trigger, stupid…" The Springfield Armory Echelon follows this formula and improves upon what was previously thought possible with striker-fired handgun triggers.
THIS IS THE WAY
What if there were ways to maximize potency of your personal defense handgun? After all, as a civilian, or even a law enforcement officer, if a hostile situation is encountered you may most likely be dealing with it with a handgun. So, what would be some of the ways to best boost your handgun's capability and functionality? The most obvious personal defense handgun equipment upgrade over the last 10 years has to be red dot sights (RDS). My first articles on red dot use appeared in 2010, thus dating my own journey. Though technology should not be used as a crutch that substitutes diligent practice and training, red dots are definitely a positive in supplementing the centuries-old iron-sight concept. With a red dot, a user can now do as nature intends–focus on the target/threat. Moreover, because the indexing of a red dot is far easier than shoving multiple pieces of steel back and forth on a pistol slide, shooters find they can perform beyond what was considered possible with iron sights. All simply because the concept uses the eyes in a more normal manner. The Springfield Echelon embraces red dot usage with their VIS system.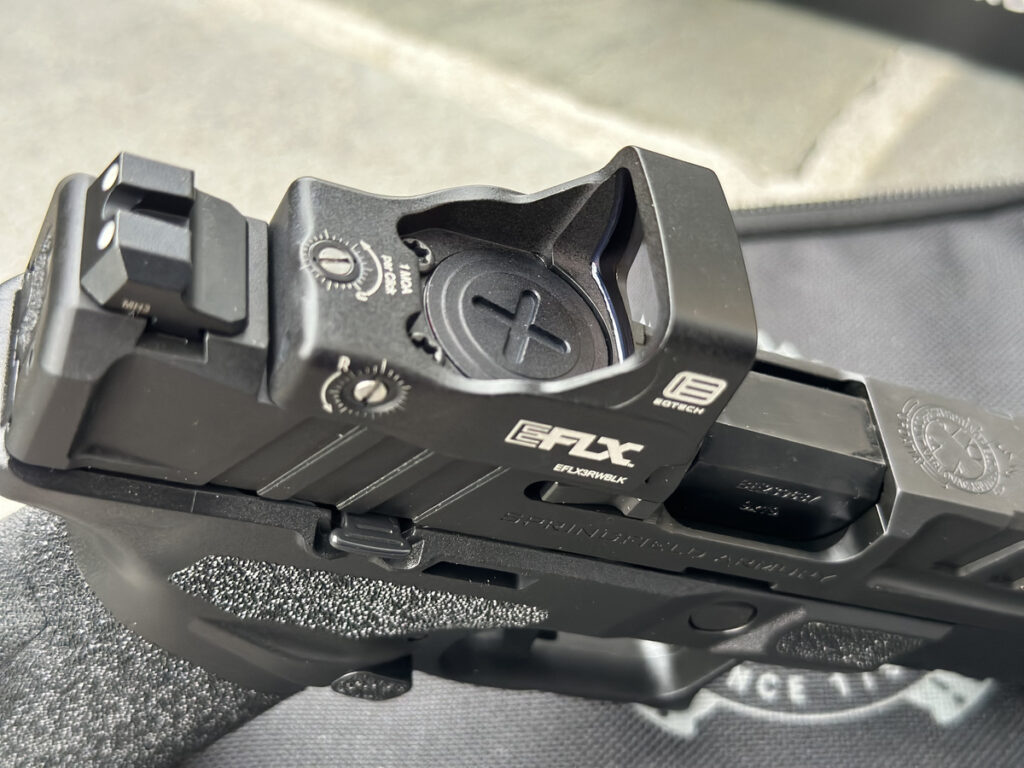 An EOTECH EFLX was mounted to the Echelon. The EFLX uses a top mounted CR2032 battery offering 20,000 hours of run time. The EFLX mounted on the Echelon features a 3 MOA dot (with a 6 MOA dot version also available.) EFLX's aluminum housing offers durability while only still only weighing 1.4 ounces. The Echelon's already low bore axis is further enhanced with the beavertail and undercut triggerguard allowing for a very stable sight picture no matter how many or how rapidly rounds are fired. The low mounting position of the Springfield VIS system is appreciated with the EO Tech EFLX's dot seamlessly located.
FEEL DOES NOT MEAN FIT
One note here of an important lesson relearned. While the medium backstrap fit my hand well, the position of the EOTECH dot seemed high in the screen. Out of curiosity the smaller backstrap was installed. The benefit of finding the dot upon extension of draw was immediate. In short, while "feel" is important, proper fit is crucial. Think about how custom rifles and shotguns are contoured to the end user. The same applies to handguns, especially those with a red dot.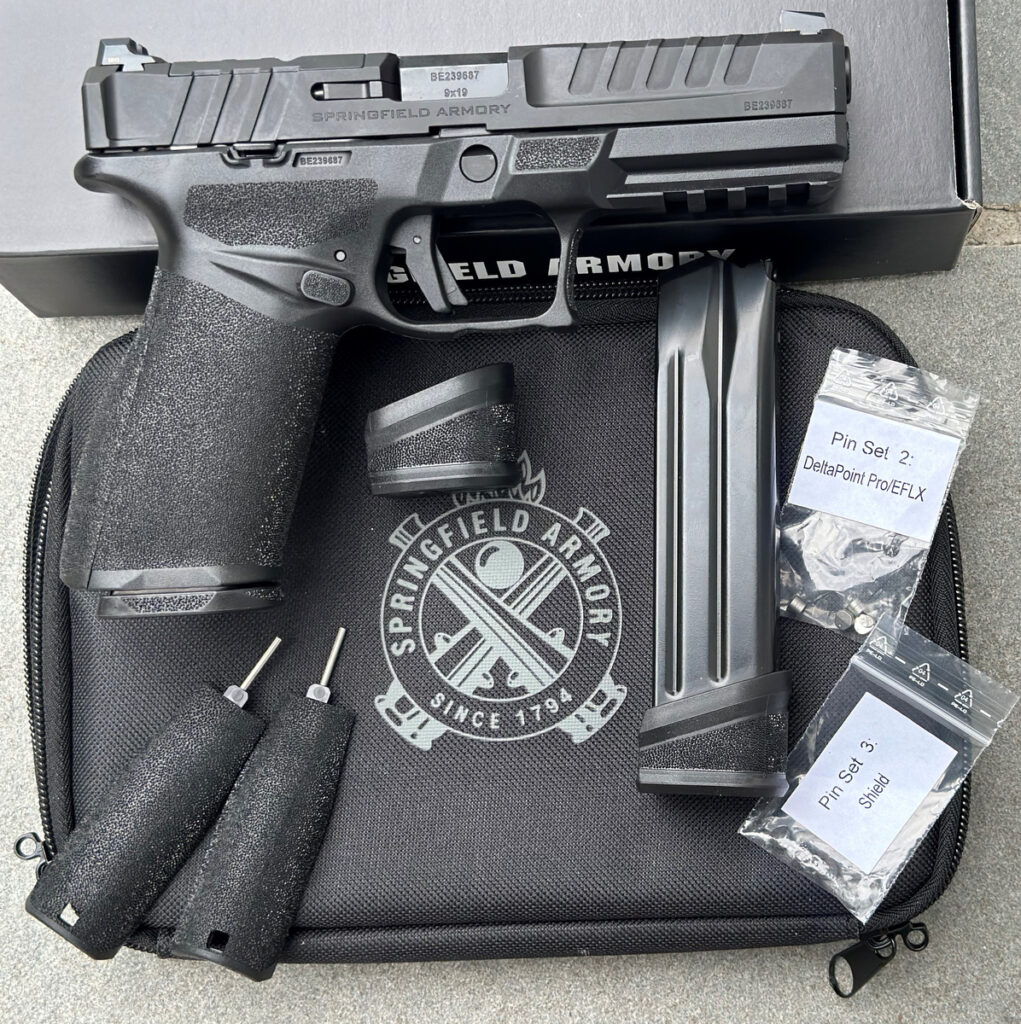 Proper grip starts from the holster and sets the stage for the most efficient use of a red dot-equipped handgun. The majority of aiming any pistol, red dot or not, is achieved through kinesthetic awareness. Kinesthetic awareness is a person's ability to sense the relative location of their body's parts based on the engagement and tension of muscles and joints. This especially pertains to red dots via proper grip and tension applied to the pistol as soon as possible with shooting hand from the holster and support hand close to the body under the dominant eye. Grip is the key for tracking the red dot vertically on target during multiple round drills.
Back to the earlier competition shooter reference, I got to take advantage of Origin Shooting's Ken Bloxton while testing out the Echelon. Ken was the 2015 Two-Gun Nationals Champion and placed fifth in the Three-Gun Nationals the same year. He created Origin Shooting in 2017 with an emphasis on enhancing students' speed placing rounds on target accurately, even when combined with movement. This, after all, would facilitate better performance, no matter the matter situation. Competing is encouraged by Origin Shooting to better define weaknesses; thus, allowing weaknesses to be overcome.
PERFORMANCE:
| | | | |
| --- | --- | --- | --- |
| | Velocity | Avg. 5-Shot Group (25 yards) | Best 5-Shot Group (25 yards) |
| Federal 124gr Syntech | 1126 fps | 2.75 in. | 2.33 in. |
| Black Hills 115gr JHP | 1180 fps | 3 in. | 2.25 in. |
| Hornady 147gr JHP | 915 fps | 3.25 in. | 2.5 in. |
| Federal 124gr HST | 1155 fps | 2.5 in. | 2 in. |
Echelon testing consisted of establishing reliability first, then testing accuracy and handling. The Echelon arrives with a flush fitting 17-round magazine and a 20-round magazine featuring an extended baseplate. Several magazines worth of ammunition was spent engaging plate racks and man-sized steel targets. Ken Bloxton and I took turns running the Echelon during an initial range visit with it. No malfunctions were encountered with nearly 300 rounds fired that first day. The Springfield Armory Echelon is a handgun you can count on being ready to go straight out of the box.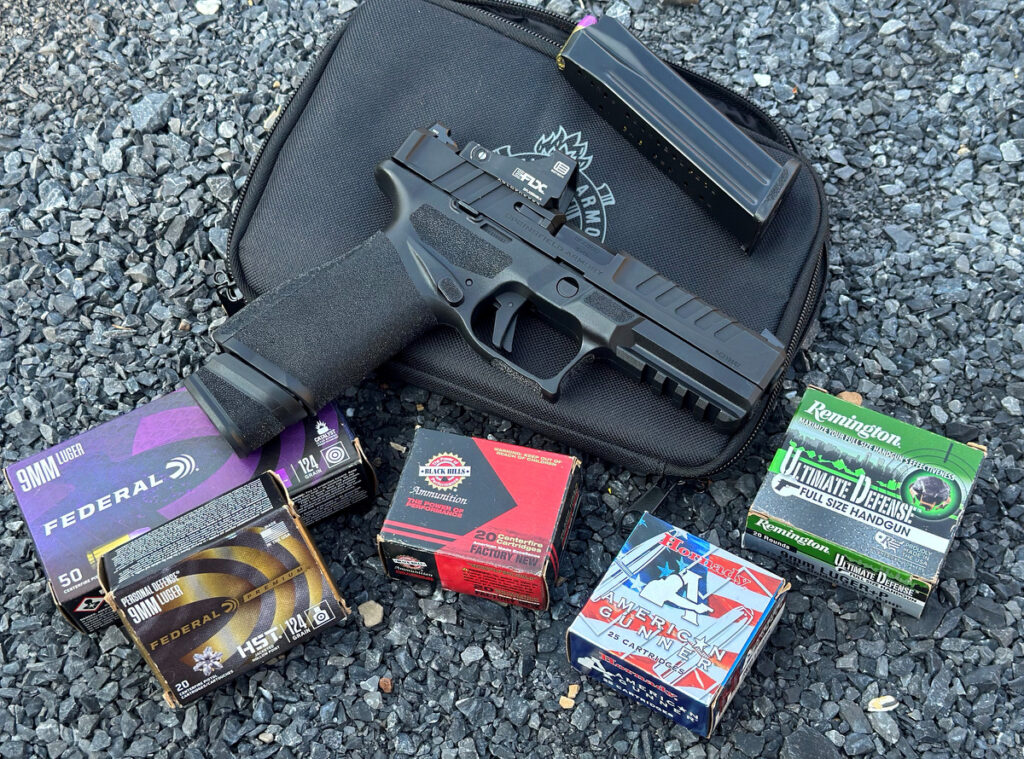 While technological quick fixes are not to be used in lieu of training, red dots on a personal defense weapon cannot be ignored. Focusing on the target is one of the key concepts of red dot use. The natural pointability of the Echelon comes into its own in this realm with the EOTECH EFLX doing its part, as well. The EFLX rectangular "wind shield" offers a superior field of view compared to other red dot options. The glass in the new EFLX is clear with no tinting or other coatings being obvious. The EFLX clarity gives better target acquisition without having to figure out what you're looking at through the glass. The dot is crisp with no halos or disfiguration. The Springfield Armory Echelon combined with the EFLX proved very capable at quick target engagement with shots broken faster than what it takes to read the description.
Two main evaluation priorities were making sure that the Echelon's reliability was beyond reproach and answering the question that the handgun offers something beyond what the other polymer handguns on the market offer. The Echelon handled several types of ammunition without a problem. Firing began with basic drills to get acclimated with the trigger, sights, and overall feel. Brass and steel ammunition was used along with various bullet weights and bullet profiles. Federal, Black Hills, Hornady, and Remington ammunition was used. Accuracy was in the 2.5- to 3-inch range for five rounds at 25 yards, depending on ammunition used. Drills quickly moved past stand and deliver drills to more dynamic drills involving movement, magazine reloads, and firing from behind cover. The Springfield Echelon's simplicity of operation allowed for rapid engagement of targets combined with well thought out ergonomics positioning the hand near optimum placement starting with the presentation from the Black Scorpion holster.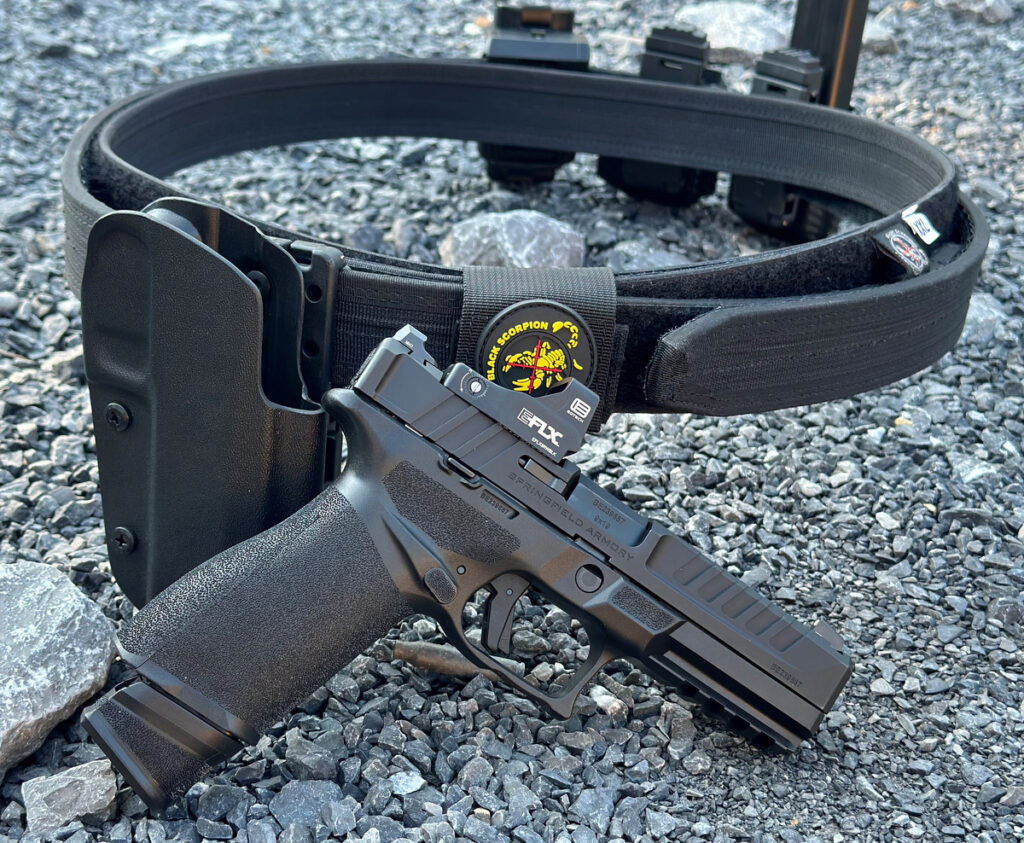 With the Echelon, Springfield Armory's attention to detail is instantly sensed. Crucial items such grip texture, trigger, and maximizing getting the shooters hand as near the bore axis are seamlessly interfaced between the handgun and shooter. Years of experience allowed for Springfield Armory engineers to take the nebulous concept of "feel" and translate it to being one of best shooting pistols on the market, right out of the box.
SPECIFICATIONS:
| | |
| --- | --- |
| Make: | Springfield Armory |
| Model: | Echelon |
| Caliber: | 9mm |
| Weight (empty): | 23.9 oz. |
| Overall Length: | 8 in. |
| Barrel | 4.5 in., 1:10 in. twist |
| Magazine Capacity | 17-rd & 20-rd |
| MSRP: | $679-730 |
| URL: | Springfield-armory.com |