By Dean Roxby
The Devil's Paintbrush – Sir Hiram Maxim's Gun
By Dolf L Goldsmith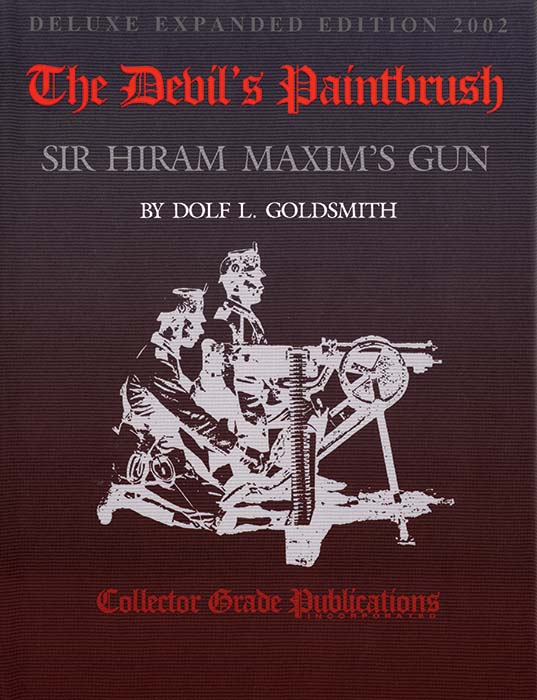 Published by Collector Grade Publications
Deluxe Expanded Edition, 2002
584 pages, 819 illustrations
$79.95
Reviewed by Dean Roxby
Sir Hiram Stevens Maxim is best known for the belt-fed machine gun that he designed, built and marketed worldwide. This book details not only the gun, but the unique story of a most fascinating man.
An American by birth and a prolific inventor in New York, Sir Maxim (he was knighted by Queen Victoria for his contributions to the British Empire) was a very successful businessman and electrical inventor prior to becoming involved with firearms design. A long list of his other inventions is included, ranging from light bulbs to medical inhalers for asthma and bronchitis. He even attempted to build a flying machine prior to the Wright brothers. He had a natural desire to invent, as indicated by his first invention during his teen years, a self-powered mouse trap.
As interesting as that is, the firearms enthusiast will no doubt want details of the gun that bears his name. This book certainly delivers. It goes into great detail documenting the original trial and error development of the automatic machine gun, and includes numerous period photographs and sketches. Maxim went though numerous versions of his design, creating a truly legendary machine. The change from black powder cartridges to smokeless powder was one such change well covered by this fine book.
From his first firearm patent, a lever-action Winchester converted to recoil operation, to his brilliant belt-feds, this book covers them in great detail. One gun featured in Chapter 2, History and Development, was named "Prototype". This early design was entered in the 1885 International Inventors Exhibition where it won a gold medal.
The book is divided into chapters set out in chronological order at first (during the initial development, patent, and early marketing stage), then changing to chapters based on users. As the Maxim in all its many variants was used worldwide and was manufactured under license by a number of countries, there are many nations discussed. Notable chapters include: Chapter 6 British Service, Chapter 7 Imperial Germany, Chapter 8 German Maxims at war, Chapter 9 Russia, and Chapter 11 The Maxim in America.
Chapter 14 The Maxim in Depth, discusses the actual operation of the system, including field stripping and disassembly of the feedblock and lock.
Chapter 15 The Troubleshooters Handbook details the various stoppages and how to rectify them.
The original first edition and updated 2nd edition (1993) ended here. Since then, a great deal more information has been collected. As explained by author Goldsmith, the decision was made to leave the original 366 pages as is, and add a 200 page Addendum for the Deluxe Expanded Third Edition. The rational is that readers of the first or second editions would have to sort through a huge amount of previously read information to get to the new bits. By adding a separate Addendum, the new research is readily available.
The layout is similar to the earlier works, chronological within each chapter, and the chapters based on nationality. Chapter 16 is titled More on the British Maxim, followed by chapters on German, Russian, USA, and everywhere else.
Besides the gun itself, there is a tremendous amount of accessories, tools, training material, and other collectables featured. A good lot of this comes from author Goldsmith's own personal collection. One can tell from reading this book that he truly cares about the guns he writes about. This also applies to any of the other titles by Goldsmith. He has several other large, thoroughly detailed books on belt fed guns, including a five volume set on the Browning .30 cal and .50 cal guns, and a long out of print classic on the lovely British Vickers MG, The Grand Old Lady of No Man's Land.
The Maxim book is published by Collector Grade Publications of Cobourg, Ontario, Canada and is well known for producing very high quality firearms books. This one is printed on quality semi-gloss paper and is hard cover bound. The hard covers have a dark brown simulated "leather" feel to them, and this is protected by a separate dust jacket. This gives a very nice appearance, something to be treasured.
This article first appeared in Small Arms Review V19N6 (July 2015)