By Dean Roxby
Guns of the Cold War
Communist Bloc Handguns does a wonderful job of describing and illustrating the various handguns originating in the former Soviet Union and other communist countries.
Drawing on author George Layman's 21-year career in the U.S. Army as an Intelligence Analyst and Translator and his lifelong interest in guns, this title will provide many details about "ComBloc" sidearms. This information has been difficult to find in the past.
The bulk of the book is comprised of the first 10 chapters. They detail the various communist countries that actually produced arms, rather than simply buying guns made elsewhere. The chapters are arranged alphabetically (the exception being the USSR being moved to Chapter 1) and then chronologically. This way, we read about Soviet production of the M1895 Nagant Revolver, followed by the TT-33 Tokarev, then the 9x18mm Makarov, and finally the extremely rare 5.45x18mm PSM pistol. The following chapters cover arms from Bulgaria, China, Czechoslovakia (still one country at the time), DDR/East Germany, Hungary, North Korea, Poland, Romania and Yugoslavia (still one country at the time).
The final three chapters are: Miscellaneous & Post-Cold War Copies, ComBloc Surplus Ammo and Shooting ComBloc Handguns. The Post-Cold War Copies chapter deals with commercial production (mainly for the U.S. market) following the collapse of the Iron Curtain. While Russia and China seldom sell their surplus military arms, they have willingly produced new commercial copies for the civilian market.
This is a high-quality book, with many clear, crisp, color photos throughout. The photos have a professional studio lighting look to them, which really makes them pop. The quality glossy paper also helps this effect. Many of the photos, and the guns themselves, are from one private collection. Beside the guns, there are many holsters and accessories featured as well.
This is another quality title from Mowbray Publishing. Regular readers of this column may recognize Mowbray as the source of other fine books reviewed recently by this author. These include: The Italian Vetterli, Military Rifle Disassembly and Reassembly, Military Pistol and Revolver Disassembly and Reassembly, and the superb M1 Garand Rifle book by Bruce Canfield.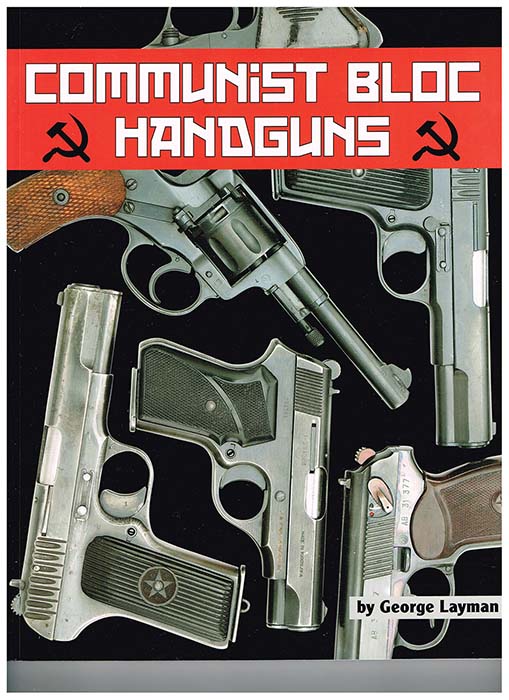 Communist Bloc Handguns
Author: George Layman
Publisher: Mowbray Publishing, www.gunandswordcollector.com
ISBN: 978-1931464819
Paperback: 8.5" x 11", 160 pages, 452 color photos
MSRP: $39.95
This article first appeared in Small Arms Review V23N2 (February 2019)