By Robert G. Segel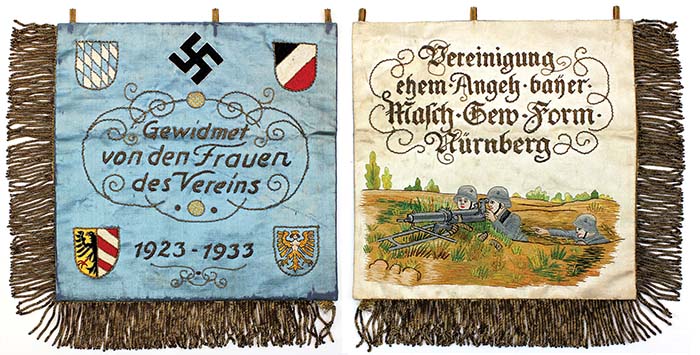 German veteran's machine gunners interwar reunion table hanging banner inscribed and embroidered on both sides. One side show a three-man crew with a Maxim machine gun on sled mount with Z.F. 12 optical sight with inscription in German (approximate translation: Former members of the Bavarian machine gun squad Nuremberg). The reverse side shows Bavaria Coat of Arms (upper left), Germany Coat of Arms (upper right), Nuremberg Lesser Coat of Arms (lower left) and Nuremberg Greater Coat of Arms (lower right) with the swastika added to the top. It is inscribed in German (approximate translation: Dedicated by the women of the club members 1923–1933). Handmade embroidery and stitching. This World War I Nuremberg raised unit had a reunion five years after the war in 1923. (See large wall flag commemorating that reunion in Small Arms Review, Dec. 2018, Vol. 22, No. 10, p. 89.) Ten years later in 1933, the Nuremberg machine gun veterans had another reunion for which this table banner was created. Measures 9 inches square, excluding the gold bullion fringe.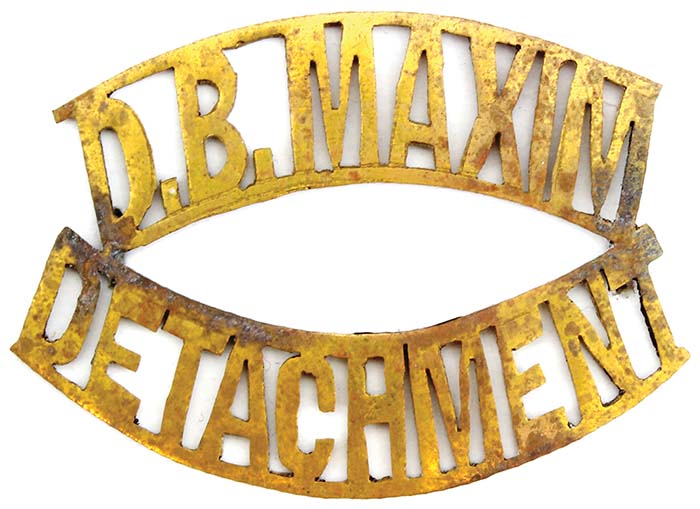 Boer War era (1899–1902) slouch hat badge for the De Beers Maxim Detachment. The De Beers diamond mines used Maxim machine guns to protect the diamond mines during the war. Two lugs to the rear.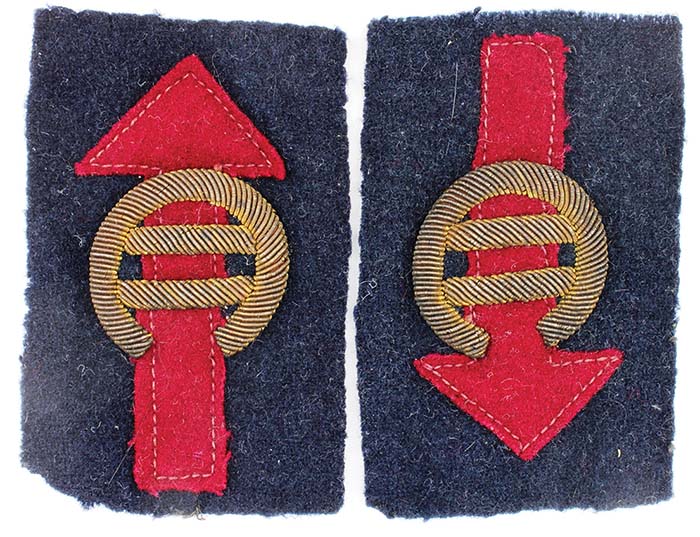 Pair of left and right Canadian formation patches for the 2nd Division. Machine Gun officer's dark blue wool battle flashes with applied red cranberry wool felt arrows and gilt bullion embroidered officer's "CII" cipher for the 2nd Canadian Division. Worn on the sleeve.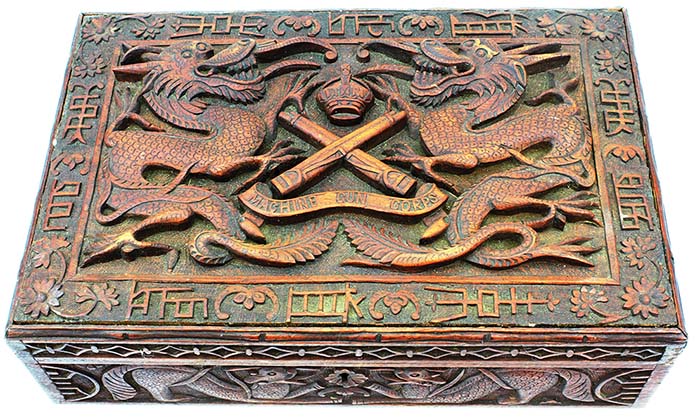 Heavily carved hinged lid souvenir trinket box with various dragons, flowers and Chinese style motifs on top and all sides. In the center of the lid is the insignia of the king's crown over crossed Vickers with "Machine Gun Corps" banner below. Inside lid also heavily carved with monogram in center "HMD." Acquired in North Scotland; veteran was a member of the Seaforth Highlanders. "HMD" could be person's initials or possible Highland Machine Gun Detachment. Due to Chinese motif, could be from Shanghai Volunteer Corps service or from Hong Kong.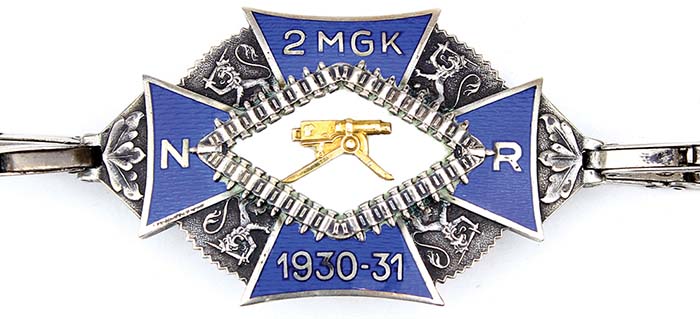 Finnish machine gunner's unit bracelet. Silver and enameled with gold Maxim machine gun in the center of white enamel surrounded by a belt of silver bullets in a diamond shape. Cobalt blue enamel cross with "2 MGK" at top (Maskingevärkompani—2nd Machine Gun Company) with "N" and "R" on each side (Naatali re Reimente—Nådendal Regiment) and "1930-31" below. Between the crosses are the Finnish royal lion. Rear engraved "Grönqvist, K." and maker-marked "Vellkset Sundqvist" with silver proof crown marks. Bracelet made of hinged links with clasp and securing chain. Finland has two languages—Finnish and Swedish. This bracelet reflects its Swedish language origins as Naatali Nådendal is near the city of Turku and is a partially Swedish town.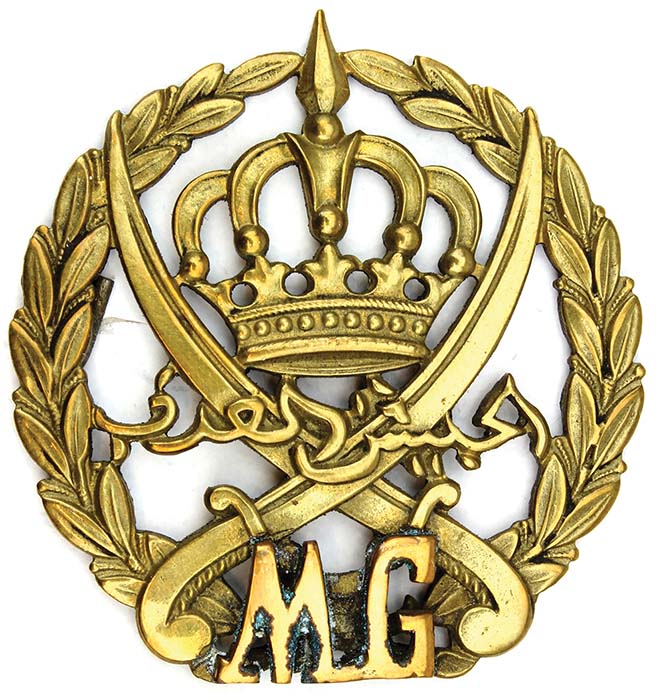 1930s-era Transjordan Arab Legion other ranks machine gun section cast brass cap badge. Hook pin back. The badge depicts the crown of the Hashemite Kingdom bordered by two crossed swords and the Arabic legend "Al Jeish al Arabi" ("The Arab Army" or more popularly known in English as "The Arab Legion.") It was to be worn on the front of the "Keffiyeh" cloth head-dress or on the front of peaked helmets.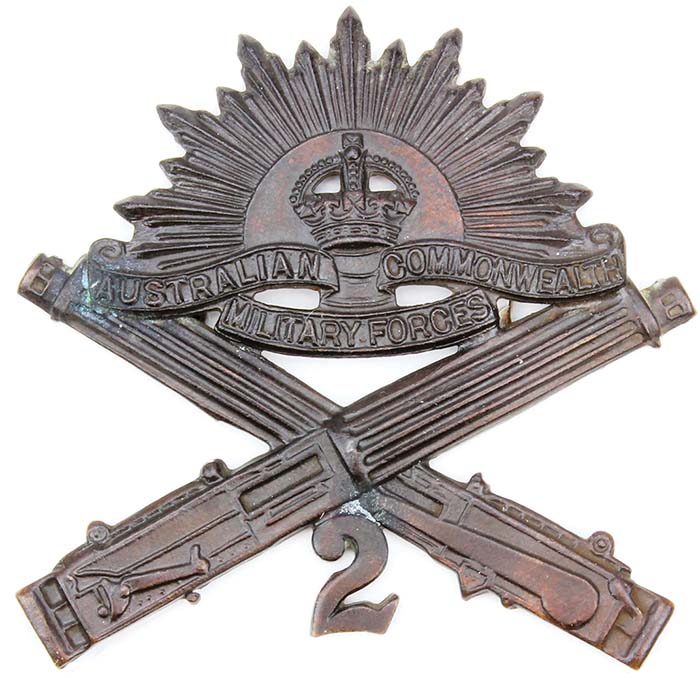 Australian 2nd Machine Gun Squadron. Stamped bronze cap badge of World War I Australian Commonwealth Military Forces insignia with the rising sun and king's crown. Crossed Vickers to center with the number "2" below. Two lugs to rear.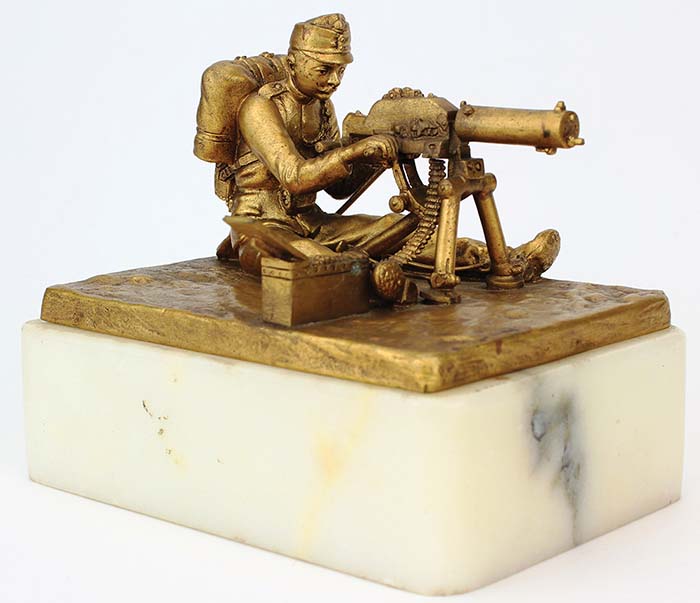 Highly detailed desk ornament of gilded metal of World War I Austrian soldier with field pack firing the Schwarzlose M07/12 water-cooled machine gun. Artist signed on edge "T Henn." Mounted on a thick, white marble base measuring 5¼ x 3¾ inches.
This article first appeared in Small Arms Review V23N2 (February 2019)