By Todd Burgreen –
Canik is coming out swinging in 2023, expanding their striker fired handgun stable. Recent additions such as the Rival S and, our focus here, the Mete MC9, give a sense of what a creative roll Canik has been on lately. The Canik and Century Arms partnership burst on the scene in 2012 here in the U.S. The Canik handguns are designed and manufactured in Turkey by Samsun Yurt Savunma, one of Turkey's biggest defense contractors since the late 1990s. Canik quickly became well known for their manufacturing and import efforts related to handguns.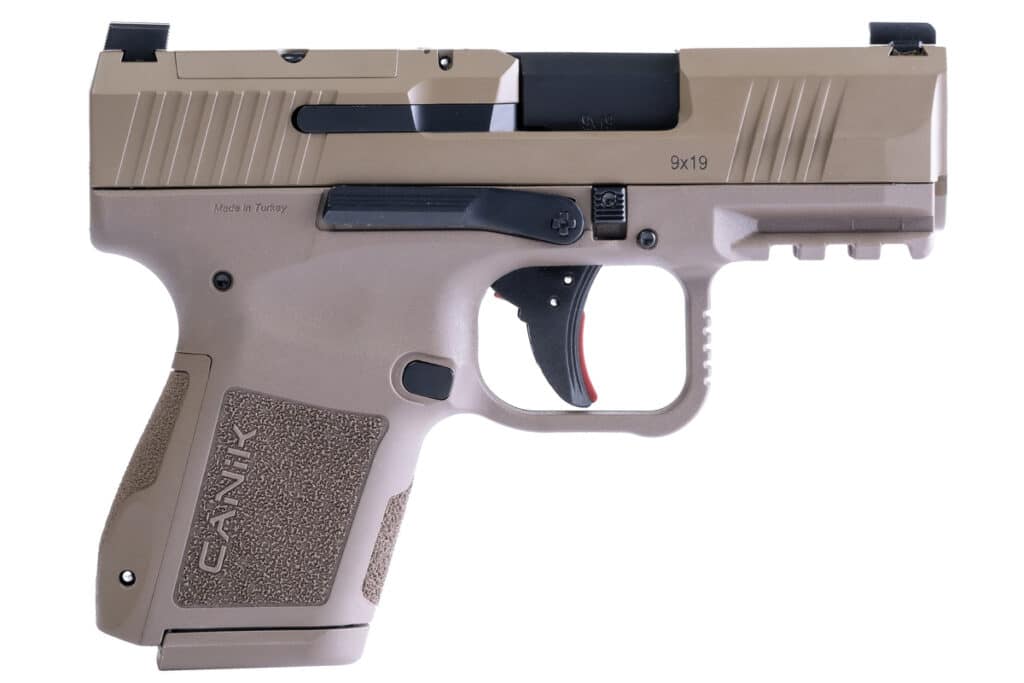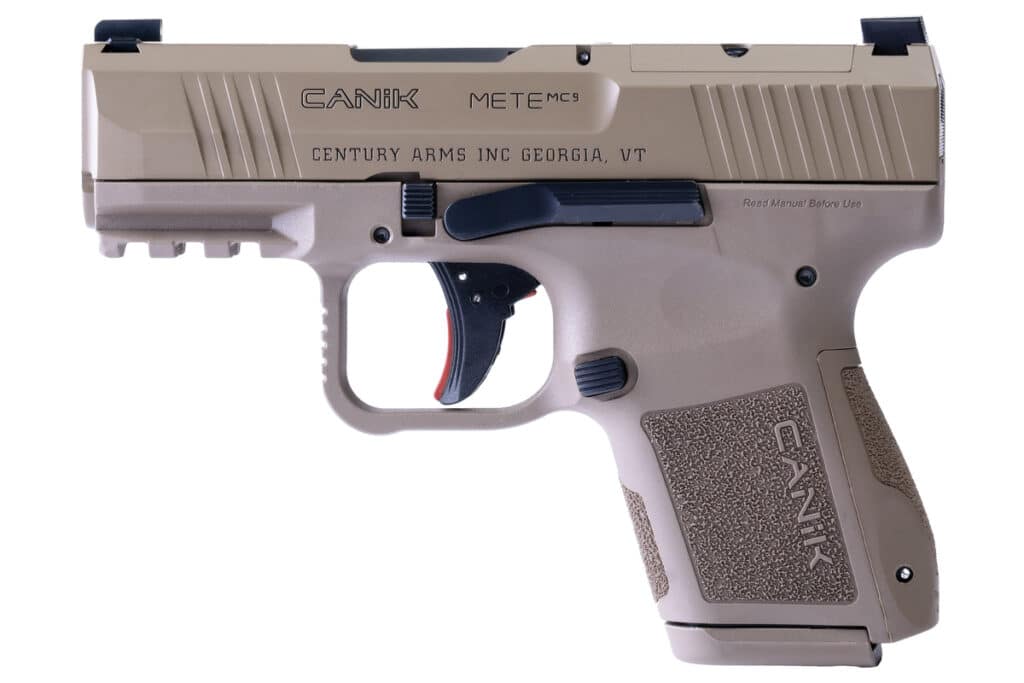 Many imports are "one and done" affairs. The Canik lineup has thrived. This is a testament to Canik quality. For example, the original TP-series of pistols were the first standard-issue polymer frame pistol of the Turkish Police Force. The initial TP9 offerings distinctly resembled the Walther P99. While certainly similar in appearance, the TP9 was not a pure clone with different frame/slide and barrel dimensions. During weapon trials, we're told the TP9 handguns underwent 50,000 round endurance testing multiple times without having to change out any damaged or failed components to keep them functioning as intended.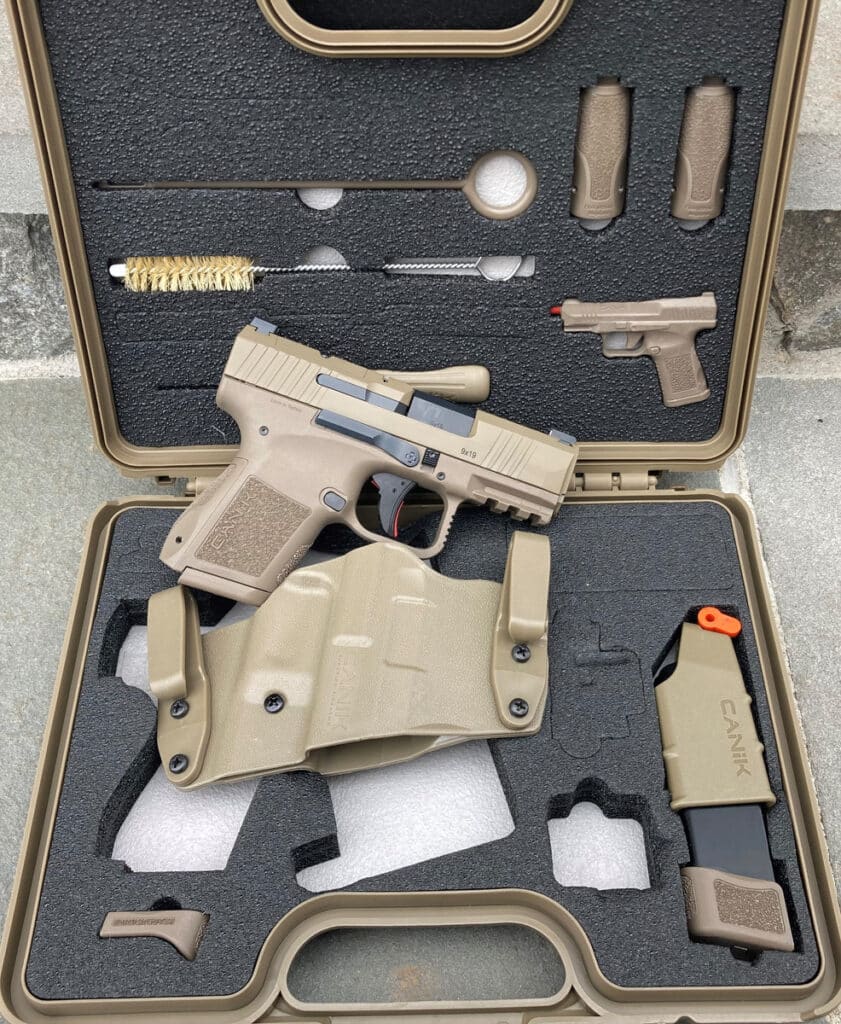 With such a grounding in quality, Canik is not afraid to innovate. There are currently 21 Canik variants listed on their website. The Canik Mete (pronounced Met-Ay) MC9 is the newest entry and the main focus of this article. The Mete name pays homage to a legendary Turkish hero. The MC9 was developed over three years going through different aesthetic and internal modifications until Canik was ready to present it to the consumer.
Form Follows Function
The Canik MC9 is a slim, petite, sub-compact polymer handgun chambered in 9mm. Dimensions lend it to pocket, ankle, belly band, or other deep cover methods of concealed carry. With that said, let's lay out what the MC9 consists of – chambered in 9x19mm with an ammunition capacity of 12+1 and 15+1 (both magazine options included in the standard packaging). The MC9 has an overall length of 6.1 inches, width of just 1.12 inches, height of 4.52 inches with flush fitting magazine inserted, barrel length of 3.18 inches, unloaded weight of a mere 21.2 ounces. The Mete MC9 comes optic-ready, milled to accept Shield RMS optics. This is a British manufactured sight. Shield has over 30 years in the firearms industry with tens of thousands of red dots sold to the British military. Other optics sharing the Shield footprint are SIG's Sauer Romeo Zero and Holosun's 507. Each Mete MC9 comes in a hard case and includes the two magazines mentioned, an inside the waistband holster that can be converted to outside belt carry, three backstrap options, tool kit and punch, speed loader, magazine pinky rest, and a cleaning kit. The Mete MC9 will be initially offered in black, flat dark earth (FDE), and two tone black/FDE. All three models carry a manufacturer's suggested retail price of $439.99.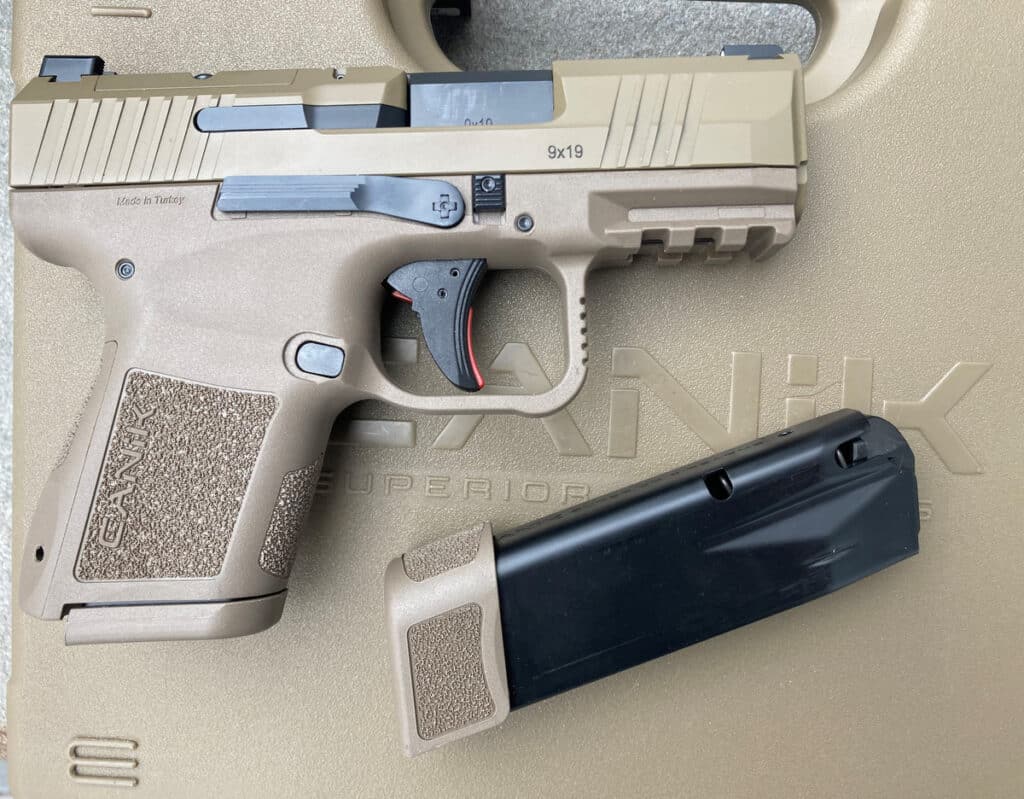 For description purposes, the MC9 can be compared to a Glock G43 in terms of size. However, the Mete MC9 arrives in a hard case with two magazines that indicate something different is afoot—one, a 15 rounder and the other a flush-fitting 12-round magazine. This is a significant improvement over the G43's 6-round magazine with the MC9 maintaining nearly the same dimensions of the G43—including height and width. This capacity increase is wrought by proprietary metal Canik magazines. The Mete MC9 shares the same magazines as the Canik TP9 Elite SC. In fact, it accepts all Canik magazines including the 18-round variety found with its Rival Dark Side and Rival S big brothers.
Canik enhanced the MC9's polymer frame via texturing pattern, lengthened backstrap skirt, and a streamlined and extended beavertail. These things were done so that the MC9 would feel like a larger framed handgun when fired. Accurate strings a fire with multiple rounds placed on target bears out Canik's design philosophy. The MC9 trigger pull measured just over 5 pounds. Reset length is minimal with a positive, tactile feel.
Evaluation
A variety of 9mm loads were tested with the MC9 including Norma, Federal, Hornady, and Black Hills Ammunition. The MC9 was fired one-handed, including use of the non-dominant hand, to verify no sensitivity in terms of reliability. Premium self-defense JHP and target 9mm loads including 65-, 108-, 115-, 124-, and 147-grain bullets were utilized. The MC9 digested anything fed to it. For example, the cutting edge (pun intended) Norma NXD 65-grain load, known for reduced recoil thanks to its light bullet and high velocity, had no issues. Finicky is not an endearing trait with a personal defense handgun. Nearly 400 rounds were put through the MC9 for this article.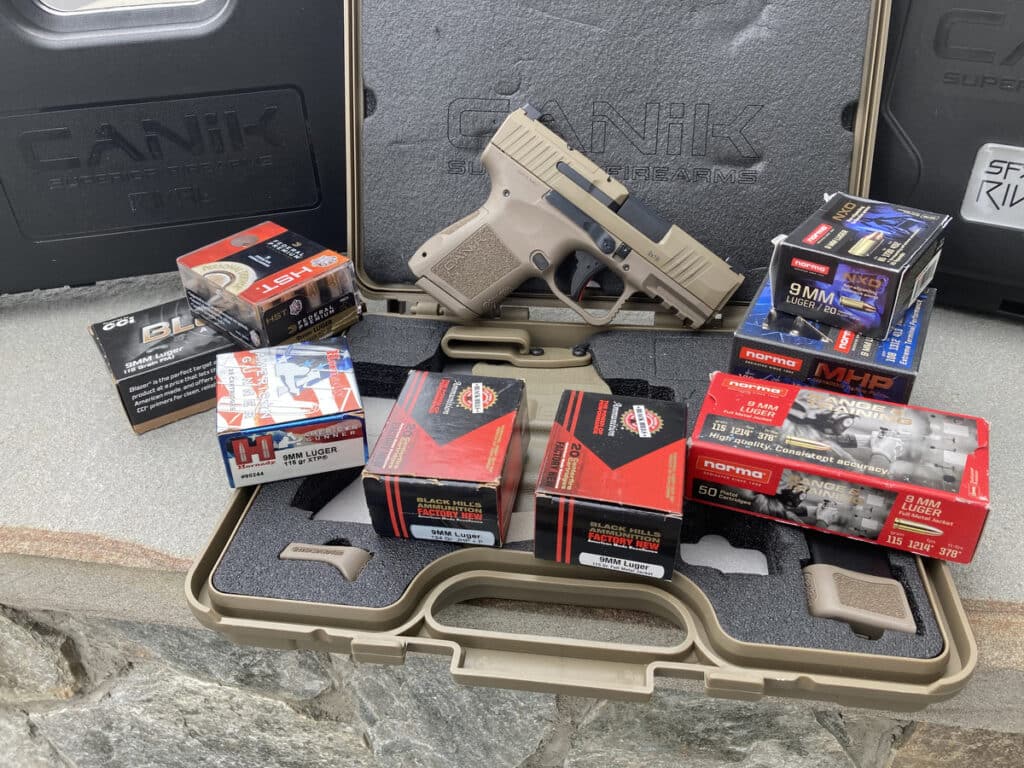 PERFORMANCE
| | | |
| --- | --- | --- |
| LOAD | VELOCITY AVG. | ACCURACY AVG@ 15 yds   |
| Federal 124gr HST | 1013 fps | 1.2 in          |
| Norma 108gr MHP | 1201 fps | 1.33 in     |
| Norma 65 gr NXD | 15637 fps | 1.5 in        |
| Hornady 115gr XTP | 1044f ps | 2 in    |
| Black Hills 124gr JPH +P | 1108 fps | 1.33 in |
Accuracy test protocol consisted of three five-shot groups with each ammunition type; Group sizes were averaged. Velocity figures obtained by averaging five rounds fired over Caldwell Precision Shooting chronograph.
Echo Valley Training Center's (EVTC) onsite Hesco shoot house and 360 range were ideal test locations. A premium is placed on a quick handling handgun such as the MC9 with multiple rounds fired in quick succession being the norm. The natural pointability of the Canik MC9 comes into its own in this realm. More of a point shooting or flash sight picture was used along with one handed firing grip while moving off the "X". I found this to be a more realistic way of analyzing what the MC9 brings to the table considering the role it was designed for—concealed carry personal defense.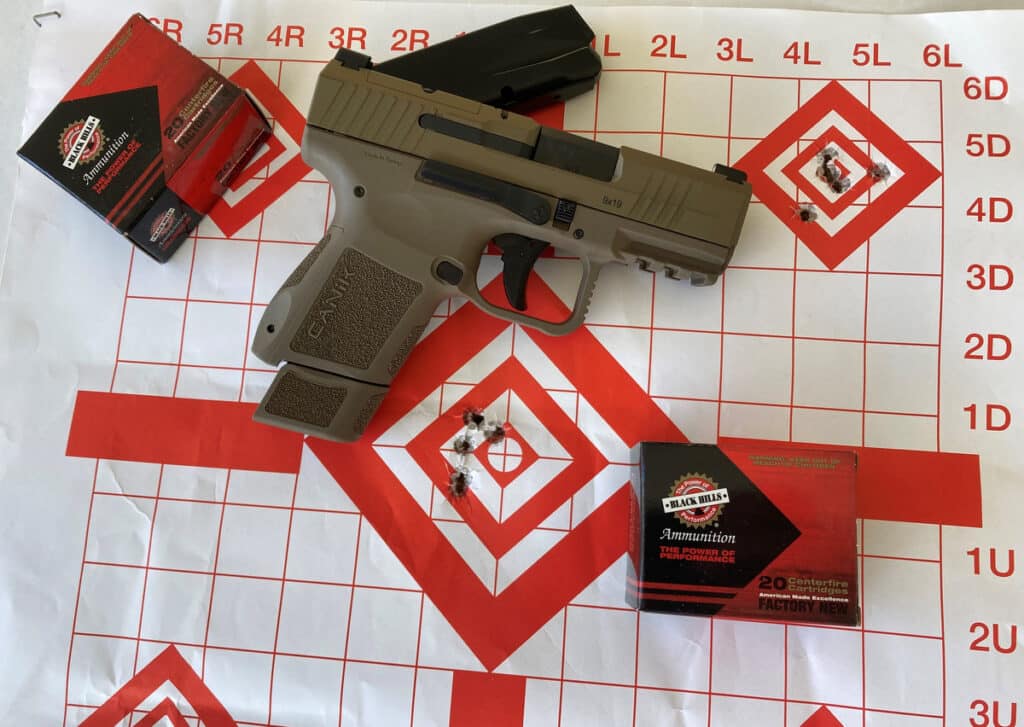 Considering the Canik MC9's design intent as an everyday carry (EDC) handgun, most drills purposefully started by drawing from concealment. Scenarios involving plate racks and dueling trees were run. Engaging targets from behind cover or on the move was incorporated into testing. Magazine changes were done for the dual purpose of getting a feel of manipulating MC9 and verifying how quickly it could get back on target.
Final Thoughts
The Canik MC9 is a near perfect blending of concealed carry compactness while maintaining performance. The ability to mount a red dot sight only increases its appeal. With that said, I was somewhat surprised by my preference of keeping the MC9 iron-sighted. This stems from maintaining as compact a profile as possible. I found under the right circumstances, the MC9 could be considered for pocket carry, especially without a red dot mounted. This is quite an upgrade over any of the miniature .380ACPs on the market.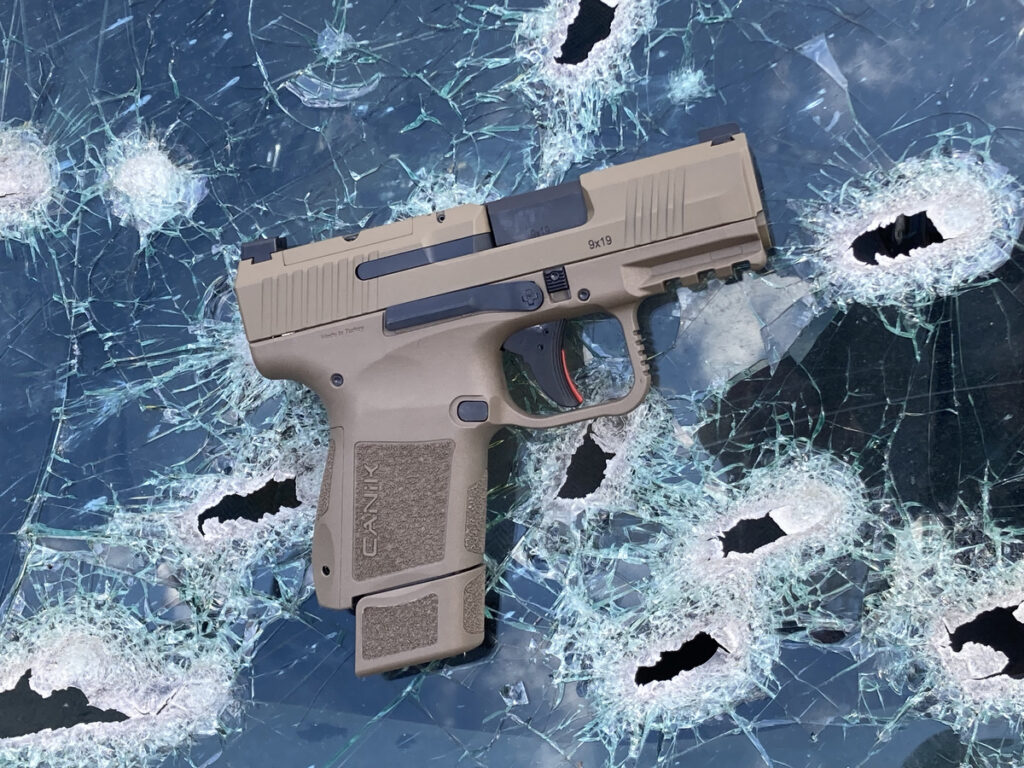 Many will find the handy nature of the MC9 make it indispensable; not being able to leave the house without it. It will become their primary carry weapon by default based on performance, especially in summer months or under social conditions where discovery of a concealed carry weapon is untenable. The reliability and accuracy of the MC9 evaluated here leads the author to believe it should be considered by anyone pondering a concealed carry handgun.
The Canik Mete MC9 balances size to firepower for the concealed carry practitioner. The MC9 is a compact handgun that pushes the envelope past "safe" norms, while still maintaining real world application. With the MC9, Canik's attention to detail is instantly sensed. Crucial items such grip texture, trigger, and maximizing getting the shooters hand as near the bore axis as possible are seamlessly interfaced between the handgun and the shooter. Years of experience allow for Canik engineers to take the nebulous concept of "feel" and translate it to being one of best shooting pistols on the market right out of the box.
SPECIFICATIONS
Make: Canik
Model: Mete MC9
Caliber: 9mm
Magazine Capacity: One each, 12- and 15 round magazines, provided.
Barrel Length: 3.18in
Overall Length: 6.1in
Height: 4.52in
Width: 1.12in
Weight Empty: 21.27oz
MSRP: $439