By Todd Burgreen
Any mention of Christensen Arms inevitably brings forth an association with their precision bolt actions. Various models of Christensen weapons have been introduced since Dr. Roland Christensen saw a way to apply his aerospace experience to firearms. He developed and marketed a carbon-fiber-wrapped barrel that has significant advantages over solid steel barrels in both weight and heat dissipation. He used his doctorate in mechanical engineering to look at how to apply carbon fiber to the benefit of shooters. Not resting on previous success, the company now builds a full range of firearms: tactical & precision rifles, 1911 pistols, rimfires and AR style rifles.
The adage "if you want it done right, do it yourself" might be the unofficial motto for Christensen Arms. The same Christensen Arms quality and attention to detail, which enabled the company to provide highly-accurate, rugged and reliable bolt-action rifles, were turned toward the AR platform. This article will feature the Christensen Arms' take on the AR platform, as embodied by the CA5five6 AR.

Christensen continuously evolves with various models offered. For example, the CA5five6 has AR siblings in the form of the CA-15 G2, CA-10 G2 and CA-10 DMR. Christensen listened to market feedback about how cost was the main reason new users would hesitate with these earlier introductions. They concluded both customers and the company would benefit if more users became familiar with their products via a less-expensive rifle. The CA5five6 series was the solution. Christensen responded with forged upper and lower receivers, along with different furniture with the CA5five6. The handguard was changed from the CA15 G2's free-floated, full aerograde carbon fiber handguard to hybrid aluminum handguard with carbon fiber inserts. All of this served to reduce price point while maintaining the carbon-wrapped barrel to deliver the Christensen Arms experience.
The CA5five6 is not a stripped-down base offering. It features a 16-inch 416R stainless steel 1:8 twist aerograde carbon-fiber-wrapped barrel with .223 Wylde match chamber, ½×28 threaded muzzle wearing a stainless steel 3-prong flash hider, forged upper and lower receivers, black nitride finish bolt carrier group, M-LOK®-compatible 15-inch hybrid aluminum/carbon fiber handguard, Trigger Tech® single-stage trigger and Mission First Tactical (MFT®) Minimalist buttstock. A mid-length direct impingement gas system was chosen. The CA5five6 is backed by Christensen's sub-MOA accuracy guarantee. Three color options are available: Hard Black Anodized, Tungsten Cerakote, Burnt Bronze Cerakote.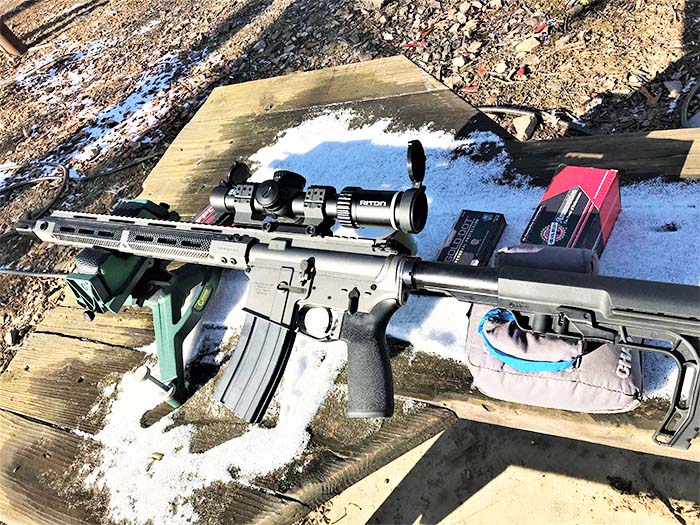 An overarching theme with the Christensen CA5five6 is using weight efficiency to maximize overall efficiency. The carbon-wrapped barrel is a key component for this. The CA5five6 tested herein weighs in at 6.3 pounds. The hybrid handguard design not only minimizes weight, but maintains weapon balance, especially when combined with the carbon-wrapped barrel. The handguard is textured, allowing for positive grip anywhere along its length. QD sling mounts are placed out on the forend. A single-stage Trigger Tech trigger group rides in the lower receiver, featuring a 3.5-pound pull weight.
A quick word about the CA5five6's .223 Wylde chambering is in order. The .223 Wylde was designed as a match chambering for semi-automatic rifles. It will accommodate both .223 Remington and 5.56mm ammunition. It is relieved in the case body to aid in extraction and features a shorter throat for improved accuracy. As many know, the 5.56mm is not synonymous with the .223 Remington chambering. Generally, it is acceptable to fire .223 Remington in a 5.56mm, but not the other way around. The .223 Wylde was meant to give a slightly tighter body spec than 5.56mm, but a bit looser than .223 Remington, while retaining a longer leade/throat. In effect, the .223 Wylde is a hybrid, splitting the difference between the 5.56mm and .223 Remington while extending benefits in terms of accuracy and reliability.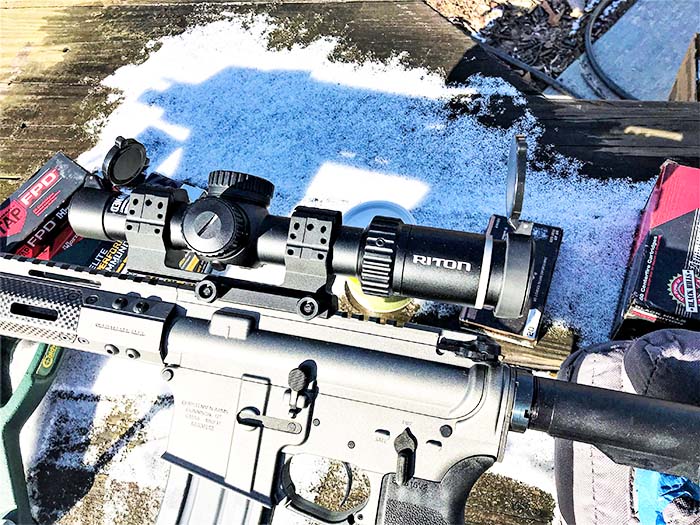 The CA5five6 was tested with a Riton Optics X5 Tactix 1-6×24mm optic. The X5 Tactix features daylight bright illumination and capped, zero resettable turrets. The X5 Tactix 1-6×24 illuminated, first focal plane (FFP) TF-1 reticle allows for quick, accurate ranging based on target size inside the unique diamond shaped reticle and spaced hash marks, as well as the ability to utilize bullet drop compensation (BDC).
Combat experiences since 9/11 served as the catalyst for new optic types such as the Riton X5 Tactix compared to non-magnified red dot or fixed powered magnified optics. The X5 Tactix offers a 1x illuminated reticle setting for quick target acquisition at close range with both eyes open. A quick turn of the knob to 6x enables longer-precision shots. The ability to access 6x while still being able to use an illuminated dot at 1x is a force multiplier. This optic is loaded with high-end features, such as 30mm aircraft grade aluminum tube with high transmittance glass for outstanding light transmission and clarity, as well as an integrated removable throw lever, ½ MOA windage/elevation adjustment, fast focus eyepiece and six levels of red illumination with on/off space between each setting. The X5 Tactix is assembled in an EP-level clean room and is 100% waterproof, fog proof and shockproof (tested up to 1200 Gs).
T&E with the CA5five6 rifle with Riton X5 Tactix optic produced consistent hits out to 500 yards on steel targets placed downrange at Echo Valley Training Center (EVTC). With budgets constantly under pressure, the CA5five6 with a Riton X5 Tactix 1-6x24mm optic could be the answer to fulfilling a multitude of roles: DMR, general-purpose patrol rifle and CQB/entry weapon. This is a positive reflection on how the Riton X5 Tactix positively influences the user/weapon equation. The Christensen CA5five6 displayed a high degree of accuracy, living up to Christensen's sub-MOA promise. Ammunition used was a combination of Black Hills Ammunition 69 Grain Match and 55 Grain FMJ, Hornady® 55 Grain TAP and SIG SAUER 77 Grain Elite OTM.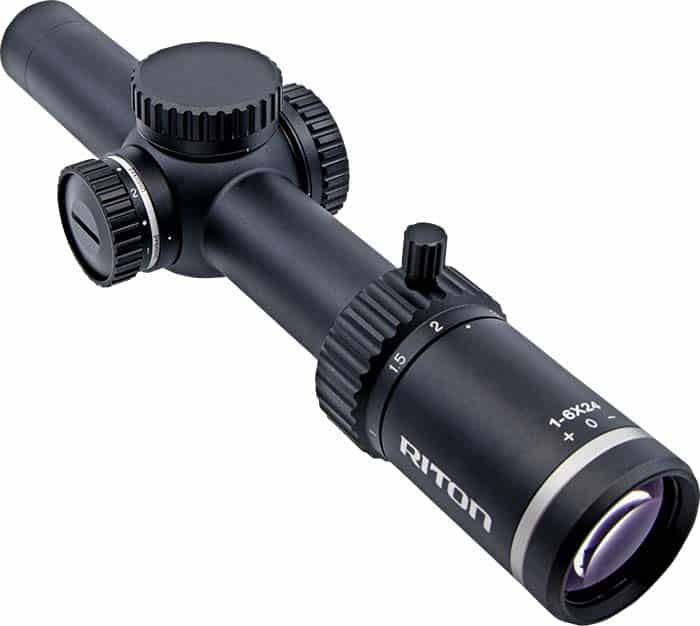 The 5.56mm/.223 round's flat trajectory aids in making center mass hits out to 300 yards without having to compensate excessively for bullet drop. Range evaluations consisted of functionality tests consisting of dumping multiple magazines at several targets in rapid fashion once sights were verified. Magpul and Brownells AR-15 magazines were primarily used in testing the CA5five6, with other magazines types utilized to verify the Christensen Arms rifle was not particular about what feeds it. Once the CA5five6 proved functionally reliable, it was then put through its paces on different rifle courses that were set up for a pending law enforcement competition to be held at the Echo Valley Training Center facility. The CA5five6 handled as expected from a lightweight AR carbine. Total rounds fired was near 500 over several range visits.
The CA5five6 is not marketed as the least expensive AR option, though Christensen has done a great job in lowering the price point with it. All CA5five6 design features are intended for maximizing effectiveness during a fight or realistic training on the range. The key component in a fighting rifle is reliability. No matter how accurate or powerful chambering a rifle is, if it does not work 100% of the time it is a liability.
The 16-inch-barreled Christensen AR showed its versatility by performing within EVTC 100-yard bays, Jungle Walk firing from barricades and engaging targets, but also back at the prepared firing position line with targets placed out to 370 yards. Numerous drills were run involving magazine changes and moving between barricades simulating cover. Several of the more dynamic drills experienced during the T&E showed the CA5five6 at its best, with unrelenting reliability even when scorching hot after multiple magazines fired consecutively.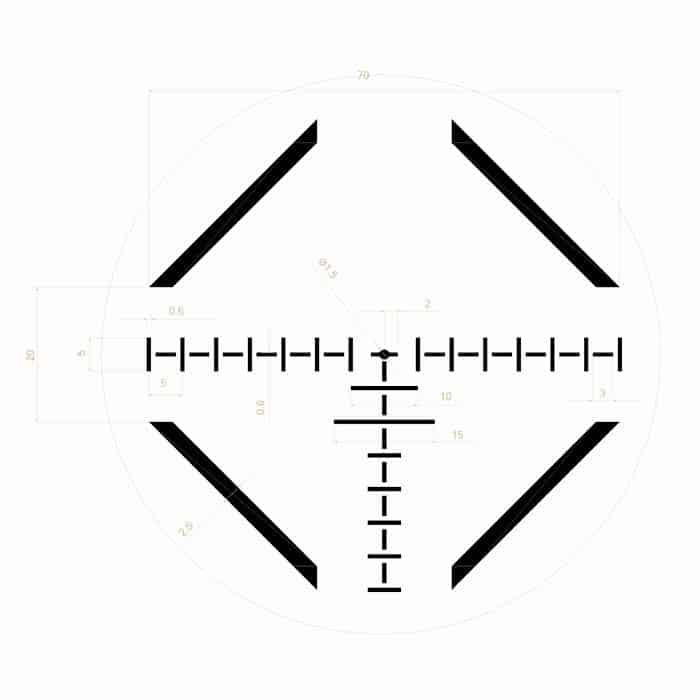 The Christensen Arms CA5five6's theme is evident. No one is advocating going retro and breaking out retired M16A1s for use. Christensen Arms is more than willing to utilize AR improvements as long as items contribute to effectiveness. However, the need for full-length quad rails adding weight and unbalancing the AR is resisted. Doubters are urged to attend a course with a rifle weighing 10 plus pounds, laden with accessories, and compare it to a rifle configured like the CA5five6. I guarantee which rifle allows its user to perform more dynamically, especially around cover, moving or unorthodox firing position drills. The ability to mount infrared laser designators, night vision devices or other sorts of hardware is not something most of us require. The CA5five6 balances performance with handling.
As with any personal weapon, and selection of a rifle is as personal as it gets, individual preferences and prejudices will decide interest level in the Christensen Arms CA5five6. There is a plethora of AR-style rifles vying for consumer attention from individuals, departments or other entities. The Christensen Arms CA5five6 is worthy of consideration based on the attention to detail and quality of materials used in its manufacture. The cliché of "buy right the first time" comes to mind, with the CA5five6 being a good example.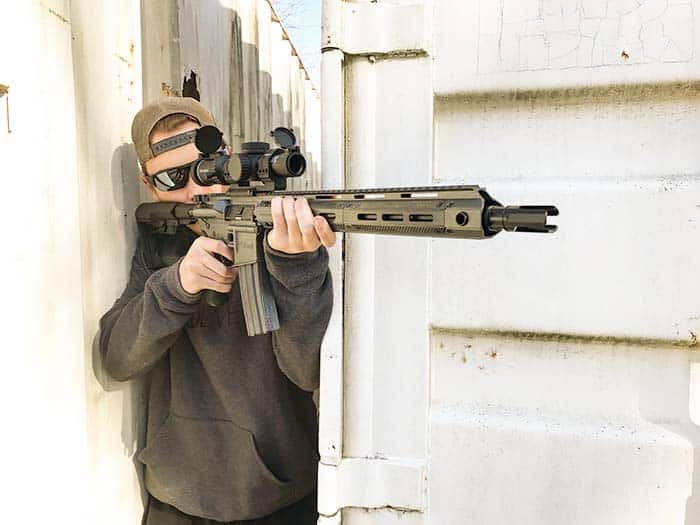 WEBSITES OF INTEREST
Christensen Arms
Riton Optics
Black Hills Ammunition
Hornady
SIG SAUER
This article first appeared in Small Arms Review V25N5 (May 2021)