Story & Photography by Will Dabbs, M.D.
There is an inevitable appeal to things crafted lovingly by hand. Whether it is a kindergarten Play-Doh creation we build for our moms that might resemble a leprous hippo or the priceless daisy chain gifted from a doe-eyed six-year-old daughter, the fact that somebody made something by hand is invariably moving. Stuff made on an assembly line might be cheaper, but even this deep into the Information Age there yet remains a place for Old World craftsmanship.

Origin Story
I have the gun nerd gene. Though geneticists have yet to identify the specific locus on the human genome, it is clearly a most powerful bit of DNA. My very earliest recollections were of creeping about my sundry play areas imaginarily shooting stuff with improvised firearms. You just can't fight nature.
I bought my first two transferable machine guns on my 21st birthday (I'm old. They weren't expensive back then). I also did my time in uniform playing with guns for real. After two more careers and a couple hundred gun articles, I finally took the plunge.
More than a dozen years ago I started a small business with a few like-minded gun buddies. They owned an extensive tool and die prototyping shop with all the bells and whistles. I had experience navigating government bureaucracy and could capitalize our initial efforts using writing proceeds. The end result was Advanced Tactical Ordnance, LLC (ATO) (ato-us.com).
Our logo is the cross between the Alpha and the Omega. Our common faith, friendship and brotherhood served as a foundation for the business. We started out making sound suppressors and cleared just enough money to keep the business afloat. After many years of toil, we have become fairly adroit at handcrafting precision rifles. It is indescribably satisfying to take a big inert chunk of steel and transform it into something that will produce truly world-class accuracy.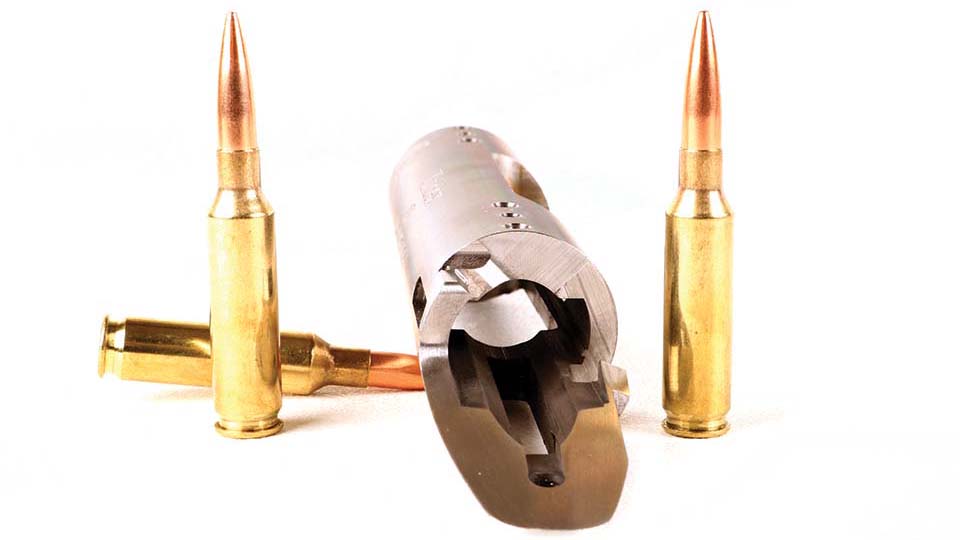 The shop that produces these rifles is a multigenerational family business. These guys literally grew up in this building. This state-of-the-art manufacturing facility is hidden away in a quiet piece of rural Mississippi. Nobody finds this place unless they are looking for it.
This amply equipped prototyping shop is surrounded by the homes of those who labor within. Little kids scamper around the place after school. The guys running these machines are the children and grandchildren of the folks who started the business but have passed on.
One of my partners built his first ammunition reloading machine from scratch at age 12. His dad who started the shop decades ago invented the self-cleaning oven. Massive CNC mills, CNC lathes and EDM (Electrical Discharge Machining) wire machines turn raw steel into objects d'art. A press the size of a semi-truck sits on one end of the building for those times when they need to make stuff that's truly huge. They can and do make most anything here. However, long-range rifles are their true artistic medium.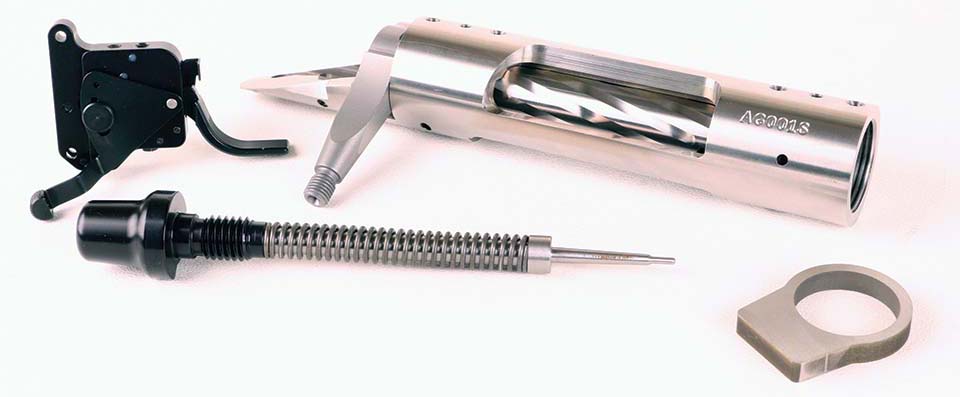 Blurring the Lines
You can walk out of most any box store with a mass-produced, bolt-action rifle that will reliably put venison on the table. Such a gun is inexpensive and will consistently shoot minute-of-whitetail at 200 yards in the hands of an experienced operator. That reliable assembly line rifle will be both cheap and effective. It will also look, feel and act just like any one of a zillion others just like it. By contrast, our guns are as much an experience as a firearm.
We build these rifles one at a time to the owner's individual specifications. You pick the caliber, chassis, barrel, trigger, optic, muzzle device and personality. You even pick the serial number; we recently custom-built a sports "741776." That's obviously Uncle Sam's birthday. Like most backwoods redneck gun guys, we take our patriotism fairly seriously.
At the end of the process, the shooter has a rifle that is a reflection of his particular skills, temperament and personality. If you want a bolt-action rifle that will group inside a jelly jar lid at 100m then go to your favorite Walmart and pick one that looks shiny. If you want to make a first-shot kill on a tangerine at 700m (true story), then come talk to us.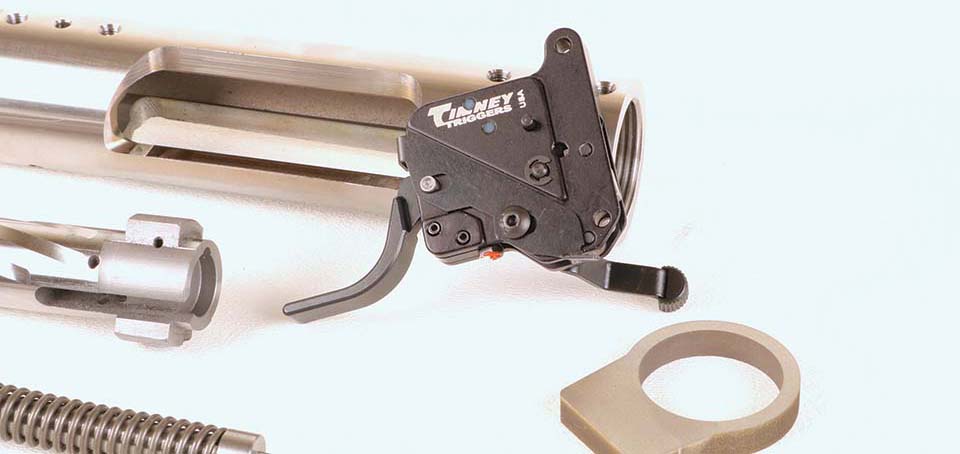 Raw Material
A proper precision rifle orbits around its receiver, and we build those from scratch. Each receiver starts life as a 5.3-pound cylinder of 17-4 PH stainless steel. This 17-4 stainless is a martensitic precipitation hardening stainless steel that contains around 15% chromium, 4% nickel and 4% copper. This same stuff would be right at home in a nuclear power plant or aboard the International Space Station. It also makes a great starting point for a simply superb precision rifle.
Not unlike a piece of artist's marble, the trick is to meticulously remove everything that isn't a superlative rifle receiver. Each receiver requires about 10 hours of machine time. The end result is as perfect as mankind can make it. Everything is true, square and smooth in every possible way.
We cut our recoil lugs out of the same stainless stock using an EDM wire machine. We then polish them to perfection with a precision grinder. This is what interfaces the receiver to the chassis, and it has got to be just right.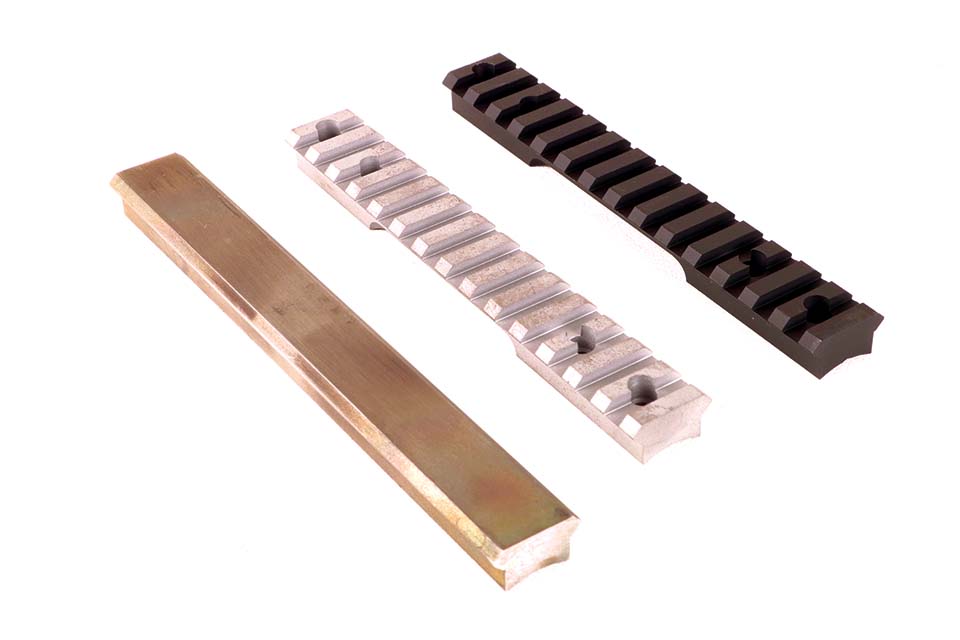 EDMs
In my opinion, EDMs are the coolest machines in the joint. I just enjoy watching them work. An English Physicist named Joseph Priestly discovered the concept in 1770. A pair of Russian scientists made the process practical in 1943 as an economical means of cutting ultra-hard tungsten during the War. A fine piece of brass wire is electrified as it passes through a dielectric fluid and cuts electrically conductive materials like butter. This tiny gauge wire is precisely manipulated by a computer-controlled mechanism to coax complex shapes out of steel stock.
Our receivers begin life as digital models carefully crafted in SOLIDWORKS, the shop CAD suite. Tweaking the design in its digital form is a technical skill that can be taught in a classroom. Translating that design into steel, however, takes passion, dedication and practice—lots and lots of practice.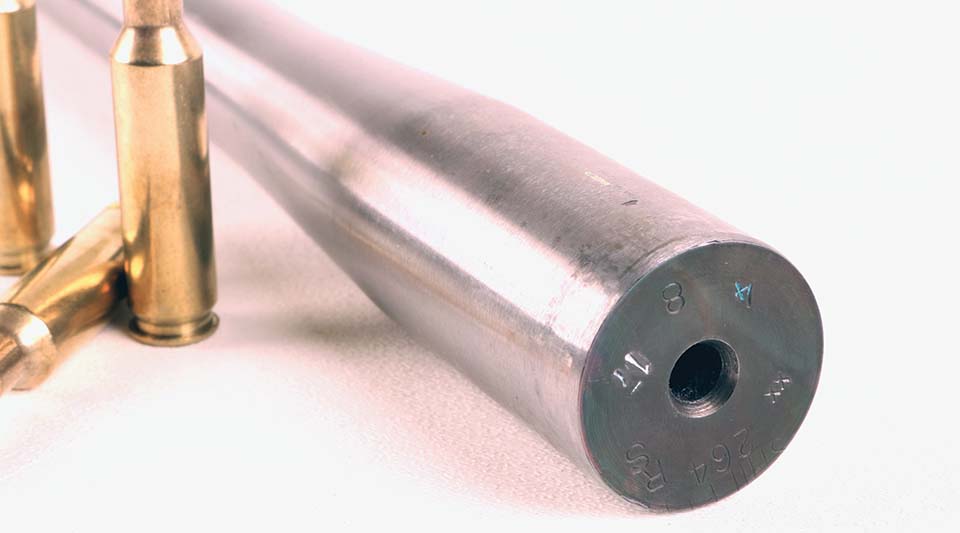 We get our heavy barrel blanks from several sources. The blanks come bored and rifled in either a bull or tapered contour. Different calibers obviously require different blanks. Barrels such as .234 Ackley, 6mm Creedmoor, 6.5 Creedmoor, .308 and .300 Winchester Magnum all begin life as long heavy steel rods.
These blanks become barrels after they are precisely chucked into a massive CNC lathe and have their chambers cut. The chamber is obviously where all the magic starts. Each step in the process requires the utmost patience and precision. This particular build used a Shilen 4-groove Ratchet barrel. The angry end is threaded to accept a muzzle brake or sound suppressor.
We cut our own scope mounts out of 4140 pre-hardened steel also using the EDM wire machines. The details of the mounts are scope-dependent and part of the custom building process. We cut the blanks ourselves, mill out the slots and then finish them in Cerakote to match the rest of the gun.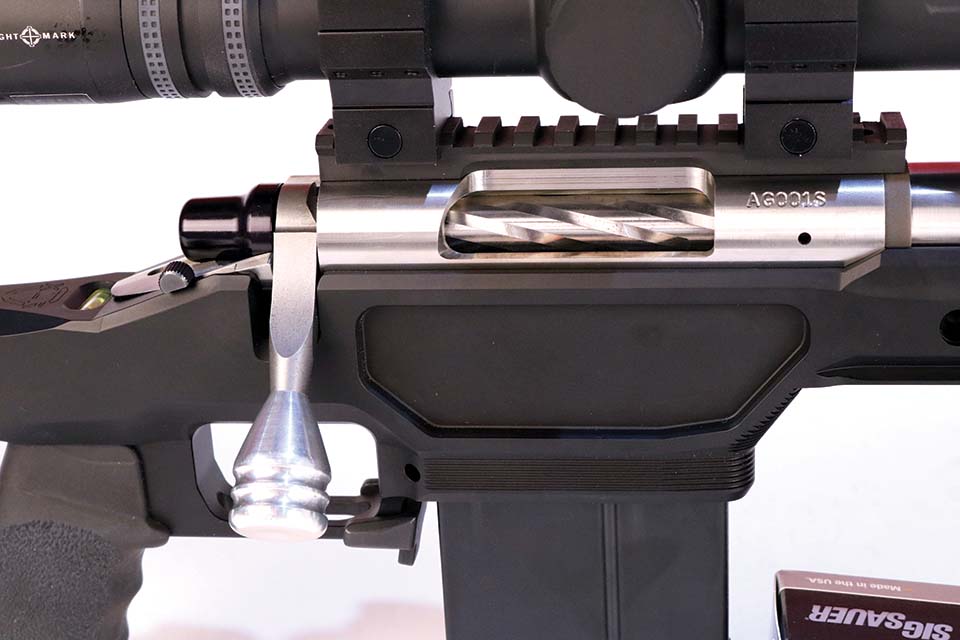 The Right Chassis
An integral part of the process involves determining the type of stock that will best complement a particular rifle, something that optimally suits the personality of the owner and the intended application. Providing sniper overwatch for your SWAT team requires a certain type of hardware. Nailing a record bull elk from an adjacent hilltop demands something different.
XLR Industries (xlrindustires.com) builds professional grade chassis, rails, buttstocks and scope rings. We opted for the superlative XLR ENVY chassis to transport this custom rifle build. The ENVY is the product of years of cooperation with some of the finest trigger pullers in the world. The buttstock folds to the left for easy portage or stowage.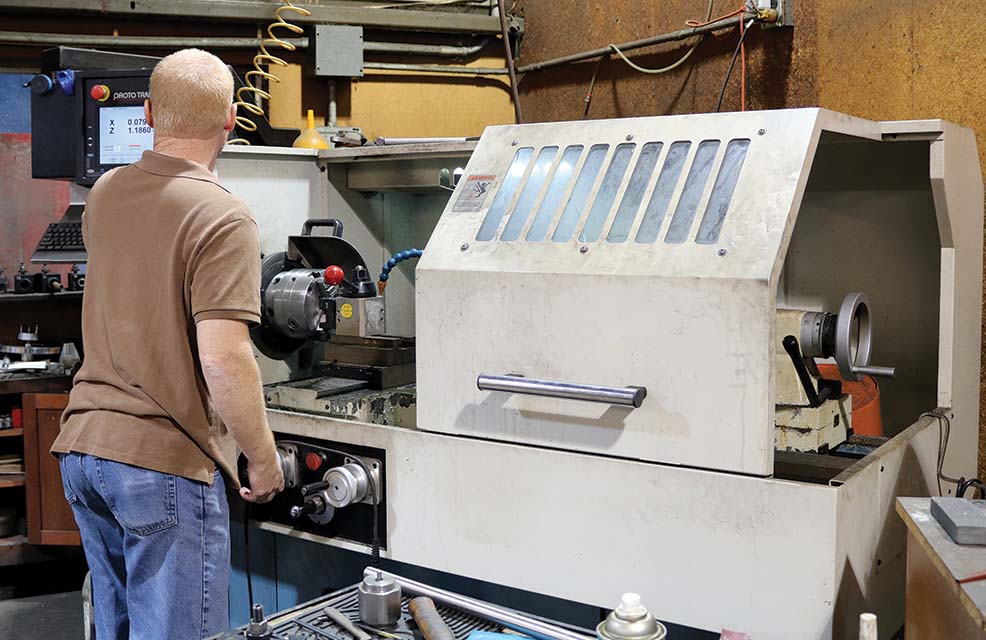 There is an Arca-Swiss-style dovetail mount to interface the chassis with a camera tripod. A 5.5-inch Picatinny rail is located on the bottom of the M-LOK-compatible handguard for accessories or a bipod. The various mechanical attributes of the stock adjust to fit your particular anatomy as well as might your favorite pair of high-mileage pajamas. There is also a handy built-in spirit level just below the tang to keep everything true.
The ENVY chassis is cut from a solid block of 6061 T6 aluminum and features a multipoint, radial cut inlet that maintains the receiver in a stress-free state for optimal stability and accuracy. The integral detachable magazine system accommodates AICS-style five- or ten-round magazines. The magwell is tapered for rapid magazine changes. The angled, serrated face serves as a barricade stop. The XLR ENVY naturally accepts your receiver without any extraneous gunsmithing, and there are five QD sling sockets.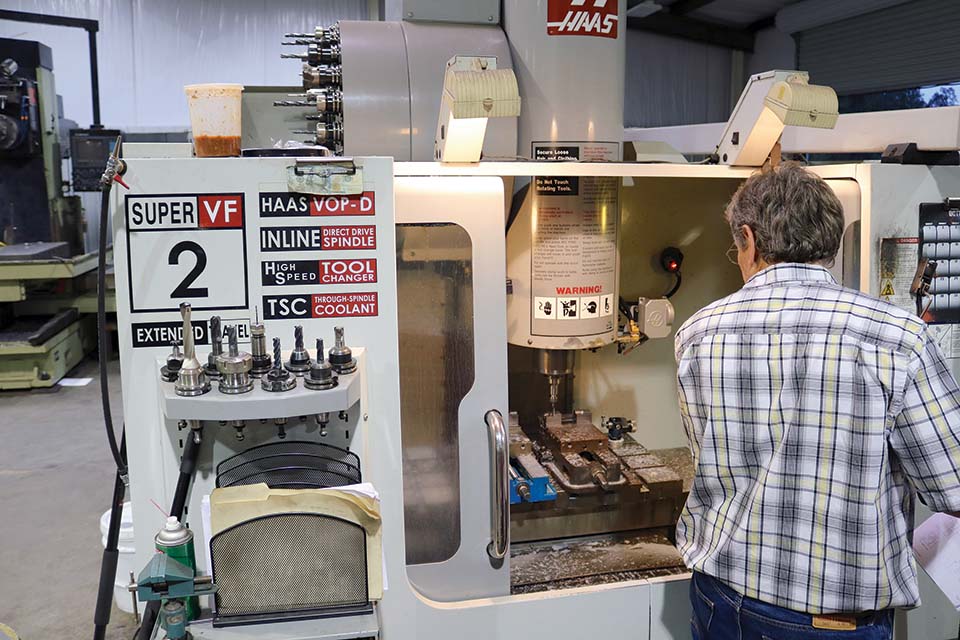 You Gotta See It to Hit It
The Sightmark Pinnacle riflescope (sightmark.com) offers flawless glass and professional features at a reasonable price. A scope of this sort is part precision instrument and comparable part rugged tool. That's a tall order for an engineer. The Pinnacle is designed to tolerate hard use in the field under brutal recoil while still delivering surgical-grade precision consistently and reliably. The Pinnacle delivers on all counts.
The Sightmark Pinnacle 5-30x50TMD is designed for F-class competition and law enforcement applications out to 1,000 yards and beyond. This first-focal plane optic includes zero-stop elevation dials that allow you to easily set a stopping point at the chosen sight-in distance. The 34mm tube maximizes the internal adjustment range and offers improved rigidity compared to smaller scopes.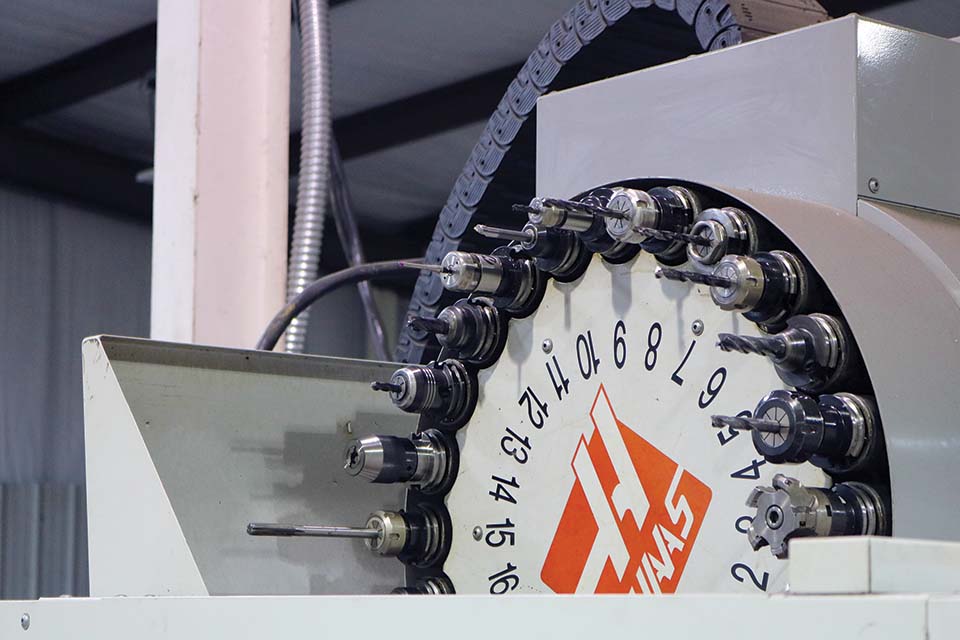 The Pinnacle's premium glass sports superb clarity from edge to edge. The TMD-HW reticle is easy to master. This reticle is designed for quick range estimation and on-the-fly holdovers for bullet drop, crosswinds and moving targets.
The first-focal plane design means that the reticle moves across the scope's full magnification spectrum. This allows range finding and holdovers to remain consistent without a lot of cumbersome math. The Sightmark Pinnacle 5-30x50TMD is the finest scope for the money I have yet encountered.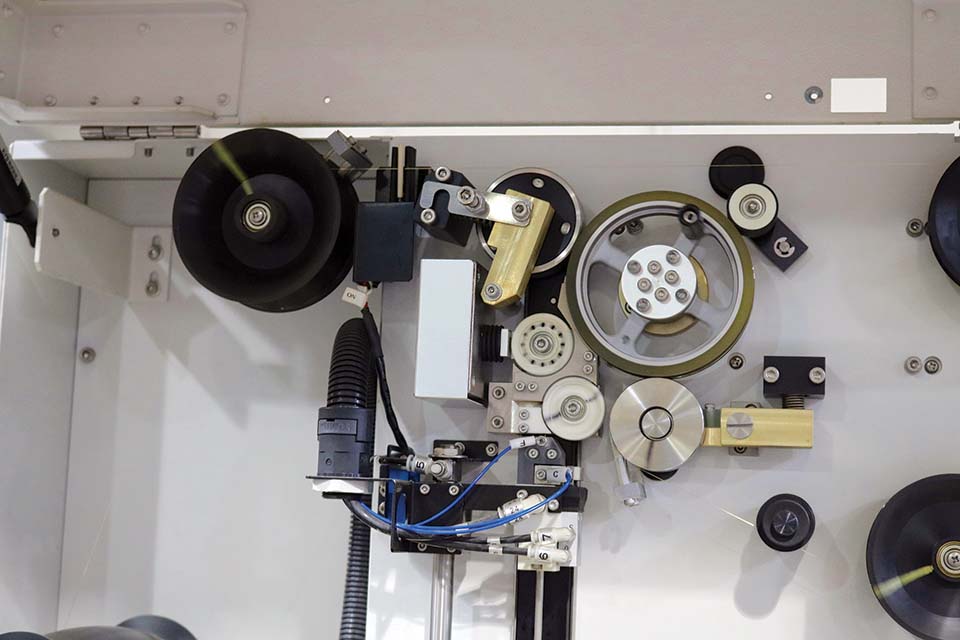 Crowning the Creation
The scary end demands something special. We build our own muzzle brakes that substantially decrease the rifle's recoil impulse. They are effective, rugged and cool.
However, if you want to do it up right you need a sound suppressor. We custom build our sound suppressors to complement particular rifles. Our heavy welded stainless steel baffles employ turbine stators to disrupt and slow the efflux gases from your rifle's muzzle.
A sound suppressor on a high-velocity rifle will effectively mitigate muzzle blast while also improving the gun's barrel harmonics and general comportment. It also substantially ameliorates recoil and masks muzzle flash. While the sonic crack from a supersonic bullet is beyond our control, our high-efficiency cans gobble up the gun's racket. Should you wish to handload subsonic rounds and work up the scope dope to support them, the gun loses a lot of range but does become movie quiet.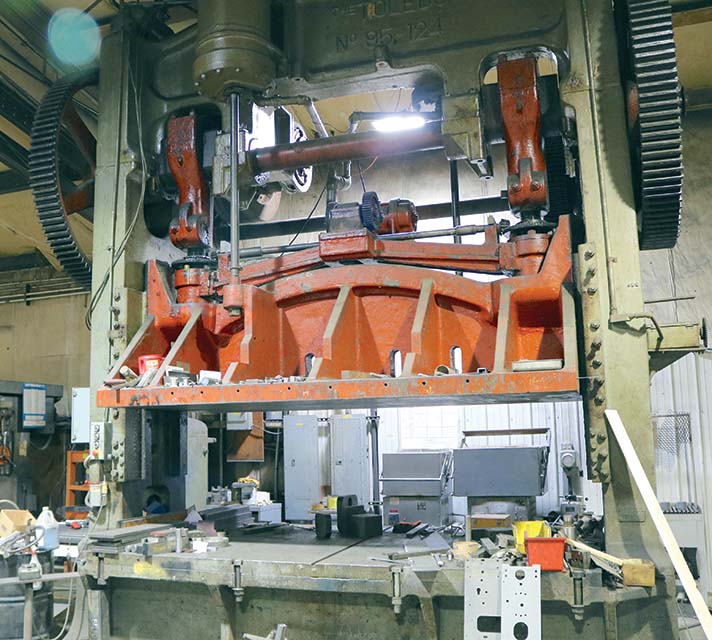 The trigger module is another critical piece of the equation. Triggers have personalities. There are some you just naturally like and others not so much. Some are gritty and abrasive. Others are silky smooth and fun. Matching the right trigger to your new custom rifle is part of the art. Lots of folks make them, and we have used them all. The rifle we built for this project sports a Timney Featherweight Deluxe trigger.
Lastly, pick a color. Most anything is on the table, so you can have your rifle in whatever hue suits. Each gun is a unique package that reflects the skill of those who crafted it as well as the comportment of its owner. For this build we opted to leave the piece a natural stainless.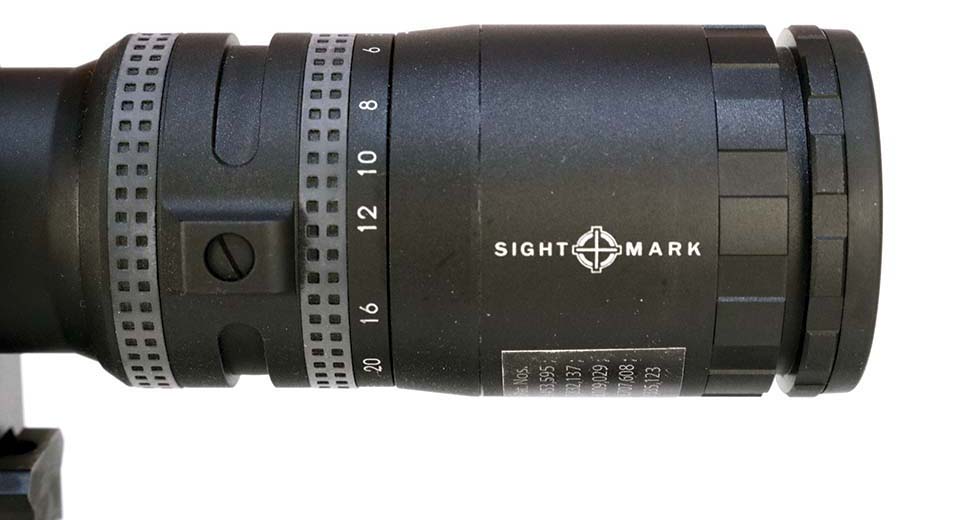 The Standard is Perfection
Of course our holes touch at 100m. That's kind of the point to a custom precision rifle of this sort. The shooter has to do his part, but the rifle is capable. Once we've printed a few close-range cloverleaves we can reach out a bit.
The application and particulars will drive the performance. Hunting guns might throw heavy game-dropping bullets accurately out to modest ranges. Tactical law enforcement rifles will demand uncompromising precision at 100m while still retaining breathtaking performance at many times that. Long-range target guns will reliably kill a piece of fruit out to a kilometer or more.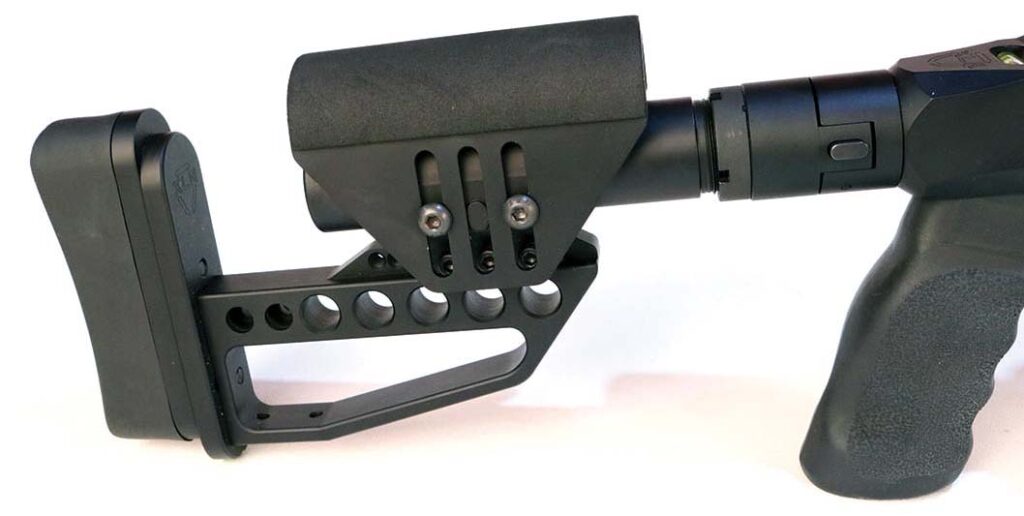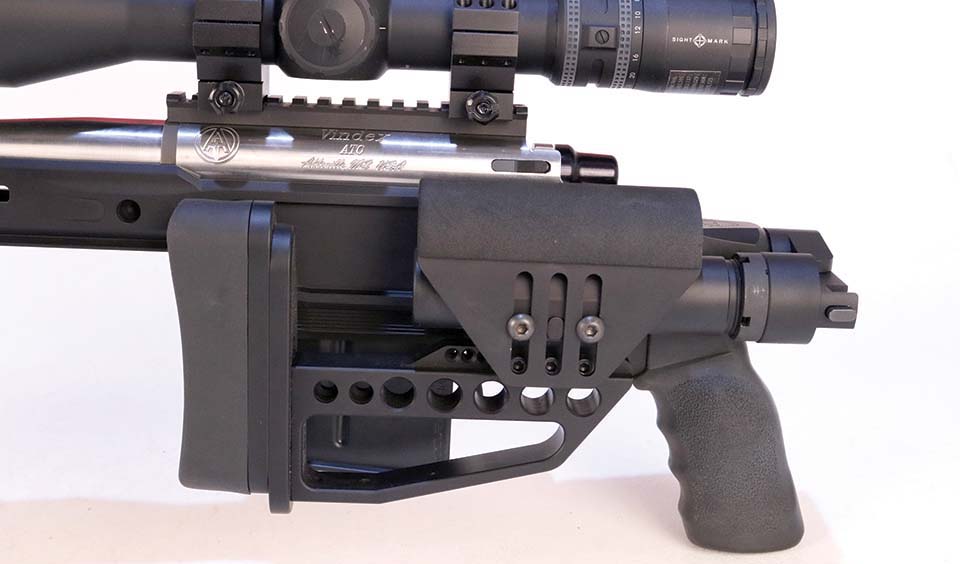 Each rifle is unique. Each creation has its own ambience. The end result is a gun that reflects a shooter's personality. Anybody with a clean record and a driver's license can pick up a box store hunting rifle and use it to drop a whitetail at a football field. However, if the mission is to punch tangent holes at 100m, humanely drop an elk or moose a terrain feature away or pulverize a watermelon that's been talking bad about your momma from another grid square, then you need a rifle hand-built by artists. I've watched these men handcraft custom smoke poles for a long time, and I am continuously amazed.
Some artists use marble. Others wield oils. These guys conjure art from big blocks of steel. The end result will never hang in the Louvre, but it remains art nonetheless.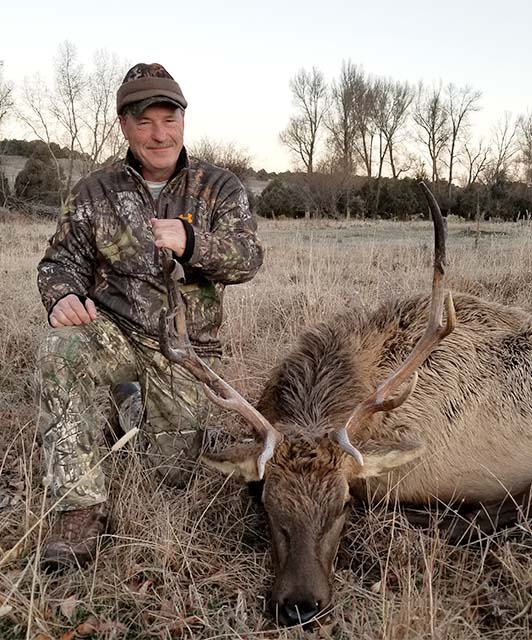 Meat on the Table
I'm just a gun nerd who likes to type—the word monkey. Dale and my other two partners, Brian and Durward, actually do the gun building. Dale is the guy who built the reloader when he was 12.
It's one thing to build a rifle and then use it to ventilate paper targets or ring steel. That's fun, and we all enjoy it. However, the real acid test for a custom rifle is a serious hunt in the field. Dale custom-built himself one of these rifles in .300 Win Mag for an elk hunt in New Mexico.
He built the gun from scratch as described in this article and zeroed it out behind the shop. His first bull elk was bugling broadside at 465 yards and maybe 200 feet below him across a wide snow-covered valley. Dale snugged up behind his self-made gun and dropped the old gentleman with a single shot to the heart. The big bull fell backwards without taking a step.
Later on, a hunting buddy wounded another bull and couldn't get back on the animal for a follow-up shot. The injured elk charged across a river and up a distant hillside, rapidly increasing the range. Dale dropped into the prone behind his rifle and got comfortable. The guide called out distance using a laser rangefinder and spotting scope.
The bull elk paused at 860 yards to take a breather. Dale laid his crosshairs on the animal's shoulder and dialed in his scope. He knew every inch of this custom rifle, because he had built it himself. He gently squeezed the trigger and sent one. Almost a full second's time of flight later, the big injured bull fell dead where he stood.
Two big elk. Two handloaded 210-grain Berger bullets. Two perfect shots. One at 465 and the other at 860. Neither animal took another step. That's what happens when you take an exceptional marksman and build him an exceptional rifle—ballistic synergy and plenty of meat.
Feeding the Beast
This particular creation is chambered for 6mm Creedmoor (CM). The 6CM is itself essentially a 6.5CM case necked down to accept a .243-inch bullet. Hornady developed the 6.5CM in 2007 using the .307 Winchester as a foundation. The .307 Winchester is a fairly oddball beast developed in 1982 to feed lever-action rifles with tubular magazines. The .307 Winchester is therefore typically loaded with round-nosed bullets. Only one production rifle was ever developed to fire it.
The upgraded 6CM delivers outstanding long-range performance along with modest recoil. Both the 6CM and 6.5CM occupy roughly the same space as a .308 Winchester, so they will run in a standard short-action Remington chassis. They are also amenable to a properly configured semiautomatic AR-10.
Hornady (hornady.com) is a plank holder in modern ballistics, and they were an early adopter of the radical 6CM round. Their Heat Shield bullet tip resists the effects of aerodynamic heating. Hornady's unparalleled experience in the field of precision bullet design and manufacture offers monotonously consistent performance. Whether the mission is hunting, tactical precision for LE or military applications or shooting fruit at a kilometer or more, Hornady makes the ammo you need to get the job done.
DETAILS OF THE HUNT
Place: Tierra Amarilla, NM
Altitude: 7,529ft
Temperature: 25° F
Wind: Light and variable
Gun: ATO-built .300 Win Mag with Hogue stock and detachable box magazine
Optics: Vortex Viper HS
Bullet: Hand-loaded Hornady Match brass, Federal Premium .215 primer, 72.0gr IMR 7828, 210gr Berger Match VLD Hunting
This article first appeared in Small Arms Review V24N8 (Oct 2020)