By Todd Burgreen
It is nice to receive a reality check every so often. What am I talking about? It is often assumed that only the most current weapons offer any real utility albeit sporting, tactical, hunting. I am going to refute this line of thought by highlighting a rifle conceived in the late 1800's. It is every bit as viable today as the latest polymer/alloy creation. A weapon should be judged by the following criteria: handling, lethality, and firepower; not just by when it was created or how much it costs.
The rifle/cartridge combination I am going to utilize to make my point is the classic Marlin 1894 lever action chambered in 44 Magnum. The lever action is revered on this side of the Atlantic. It symbolizes so much in the American psyche. The lever actions' use in Hollywood Westerns in the hands of John Wayne, Chuck Connors, and Steve McQueen made it an icon in the minds of the American gun culture. The true levers that "Won the West" were the earlier Models 1866 and 1873; nonetheless, any lever action is an indelible icon of Western mythology through its use in hundreds of motion pictures and television shows. The superb feel generated with the Marlin 1894's minimal width and light weight (6.4 pounds) combined with near perfect balance and 10+1 capacity in a mildly recoiling package cannot be denied.


Marlin's corporate history stretches back to the 1870s. Marlin produced arms for the U.S. military during WWI and WWII. More recent history involved becoming part of Remington in 2007. The Remington break up found Marlin being quickly snapped up by Ruger. Marlin rifles are now being made by Ruger at their Mayodan, NC facility. Whereas Winchester is most associated with lever actions, Marlin has been at it since 1881. Significantly, Marlin moved away from top ejection, finding the side ejection method with a solid top frame offered significant advantages in terms of strength, reliability, and, eventually, the ability to effectively mount optics as market advances made this the preferred sighting method.
Still Kicking
The Marlin 1894 Classic combined with 44 Magnum chambering makes for a very appealing, distinctive combination. No need to think that only a high-capacity detachable magazine rifle is the only solution for personal defense, hunting, plinking or a survival situation. It's hard to fathom that anyone using the 44 Magnum Marlin 1894 is under-gunned or at a marked disadvantage when hunting deer-size game, taking a defensive posture, smacking random targets of opportunity, or pressed into a subsistence situation.
The 1894 will appeal to rifle lovers for its efficiency. There is an obvious love affair between the American gun consumer and the lever action. The lever action is an American icon. Users already familiar with the lever action and will appreciate the performance offered with the 1894 chambered in 44 Magnum. The 1894 lever action is smooth in operation emerging out of the box. A credit to Marlin/Ruger manufacturing techniques; positive functioning was never an issue. Marlin has fitted the handy Model 1894 with a 20.25-inch cold hammer forged barrel and measures 37.75 inches in total length. The 1894 is equipped with sturdy adjustable iron sights—classic "buckhorn" rear ladder style combined with extended front bead—and soft rubber buttpad to soak up recoil. The overall appearance of the 1894 is pleasing thanks to a blending of blued steel with a satin finish and checkered American black walnut buttstock and forend.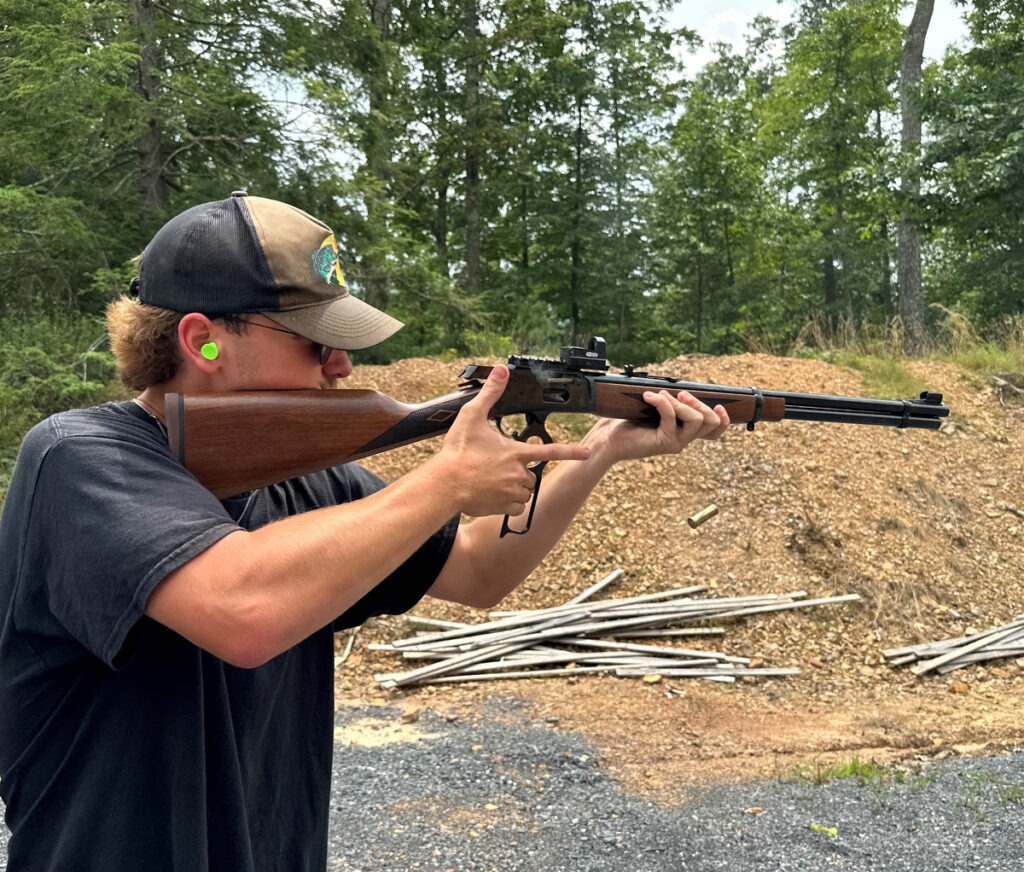 The Marlin 1894's drilled/tapped solid top receiver was quickly taken advantage of by mounting a picatinny scope rail. It was decided to forego a low powered variable optic for handling reasons. After all we live in the age of the red dot. A quality red dot is an immediate performance enhancement over iron sights, especially with a longarm. A compact Meopta MeoSight IV was mounted. A closed emitter tube-style red-dot was considered, but discarded in an effort to minimize the size of the optic as much as possible. Plus, it would be a great test for the Meopta MeoSight IV mounted on a rifle and bouncing around in a UTV, four-wheeler or hiking through rough terrain. The Marlin 1894 benefitted from this optic selection by maintaining its great feel and ergonomics.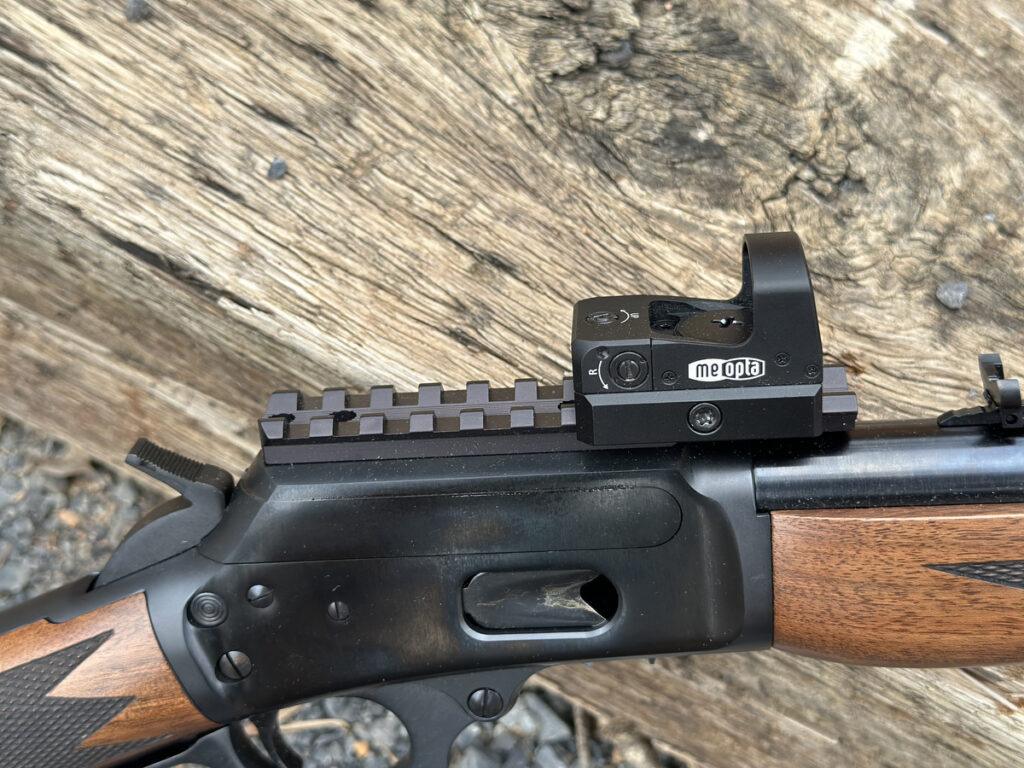 The MeoSight IV offers a 3 MOA dot within a 1.2-ounce package with 30,000-hour battery life. The 3 MOA dot certainly simplifies placing rounds on target. MeoSight IV has 120 MOA range of elevation and 120 MOA of windage adjustment. The illumination feature has a manual or automatic mode, and the brightness of the red dot is easily adjustable to five different intensity levels. The sight is powered by a CR1632 3V battery. The sight's auto-off function preserves battery life by automatically turning the illumination off after four hours of continuous operation if the function button has not been touched. To understand how compact the MeoSight IV is, it mounts on handguns using a Docter adapter plate and comes with a Picatinny rail mount in the box for mounting as shown in our review.
Now A Word from Our Cartridge—The 44 Magnum
Formally introduced in 1956, the 44 Magnum was the result of years of handloading pushing the 44 Special to the max. The 44 Special, as well as other large caliber handgun rounds such as the 45 Colt, were being loaded with heavier bullets and pushed at higher than normal velocities by handloaders for better hunting performance than anything offered by ammunition manufacturers. Elmer Keith, a prominent writer and outdoorsman of the early 20th Century, is integrally linked with the development and introduction of the 44 Magnum. Keith advocated for a "44 Special Magnum" with a 250-grain hard cast bullet at 1200 feet per second. Ammunition companies were afraid of "heavy loaded" 44 Specials blowing older model revolvers apart. The answer was similar to the 38 Special/357 Magnum solution to the same conundrum. Keith asked for a new cartridge 1/10 of an inch longer than the 44 Special to preclude its being used in any old revolvers or any new models chambered in 44 Special versus the higher powered 44 Magnum.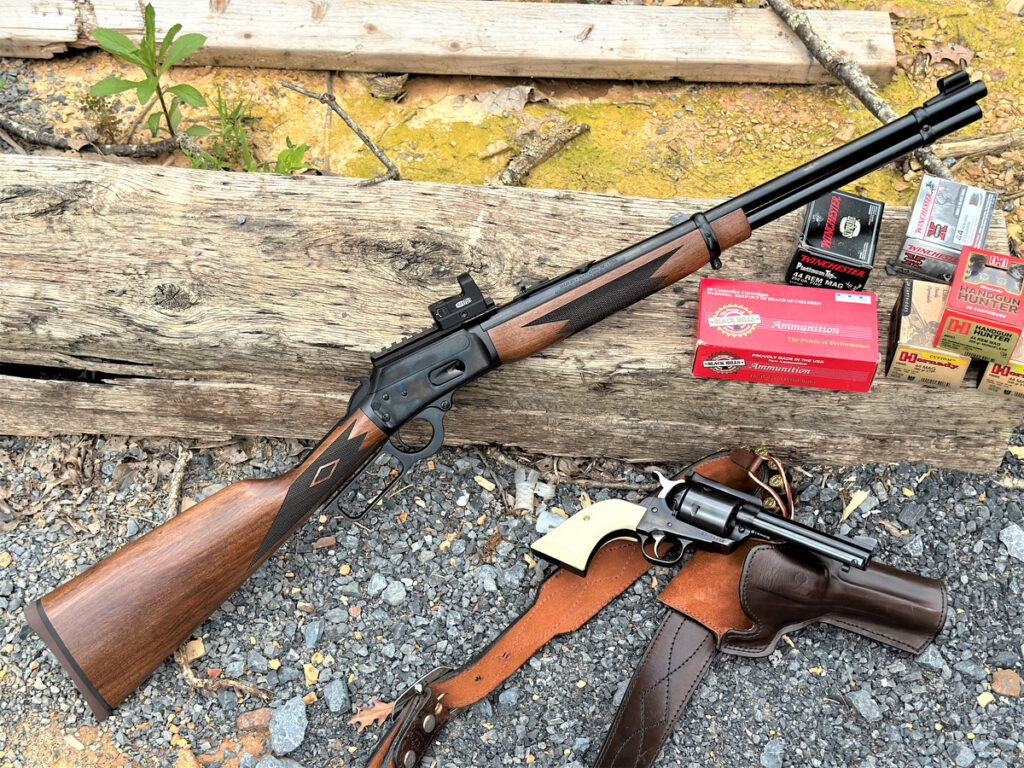 For me, it was a plus that Marlin chose to go with the 44 Magnum as the model 1894's first chambering. Though it is no longer the king in terms of pure power, the 44 Magnum is the established benchmark for pistol caliber hunting cartridges. Sure the 454 Casull, 500S&W and others surpass it terms of delivered payload, but all pistol calibers pay homage to the 44 Magnum by comparing themselves to it. Manufactures know that hunters and shooters are totally familiar with what the 44 Magnum brings to the table in terms of power. What better way to get across their own cartridges capabilities than by making comparing statements like "xx percent" more power than the 44 Magnum. Over the years, my favorite 44 Magnum loads have evolved into the Black Hills 300-grain JHP and Hornady LEVERevolution 225-grain FTX offerings.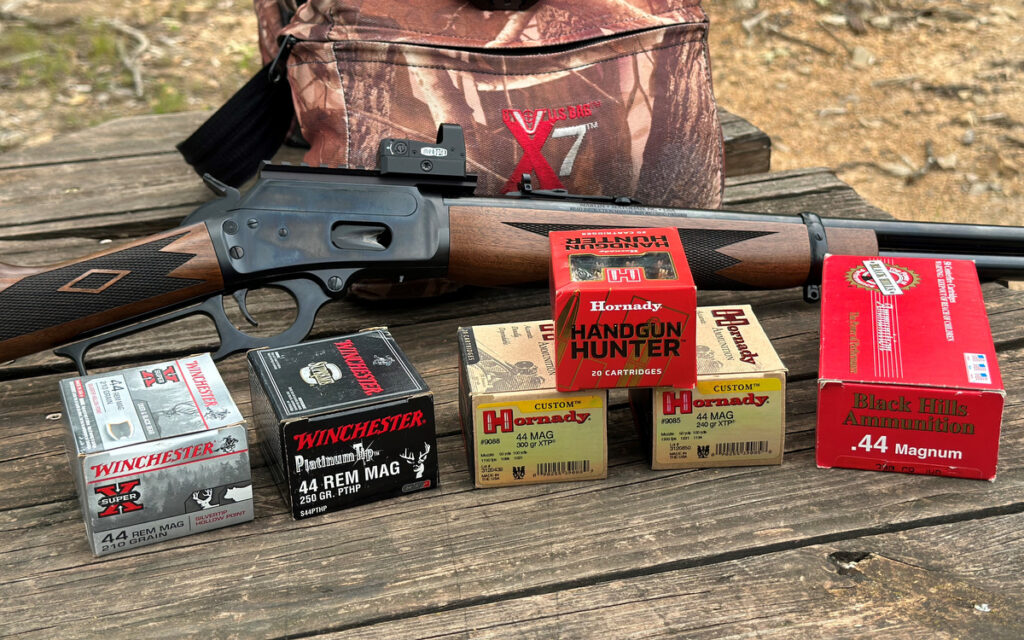 The Black Hills 300-grain JHP never fails to remind of 44 Magnum power on both ends—butt and muzzle. Steel targets are totally gobsmacked when compared to other pistol caliber round effects. The Hornady LEVERevolution applies technology advancements to the 44 Magnum in terms of bullets and propellant. Spitzer-like Hornady FTX bullets offer better ballistics without fear of igniting rounds in the under-barrel tube magazine. New propellant powder composition increases velocity without surpassing accepting pressure standards, thus taking full advantage of the FTX bullet in flight design improvement all the while providing deep, driving, consistent expansion for terminal performance. The Hornady 225-grain FTX rounds are shoved at over 1700 fps from the 20-inch Marlin 1894 barrel.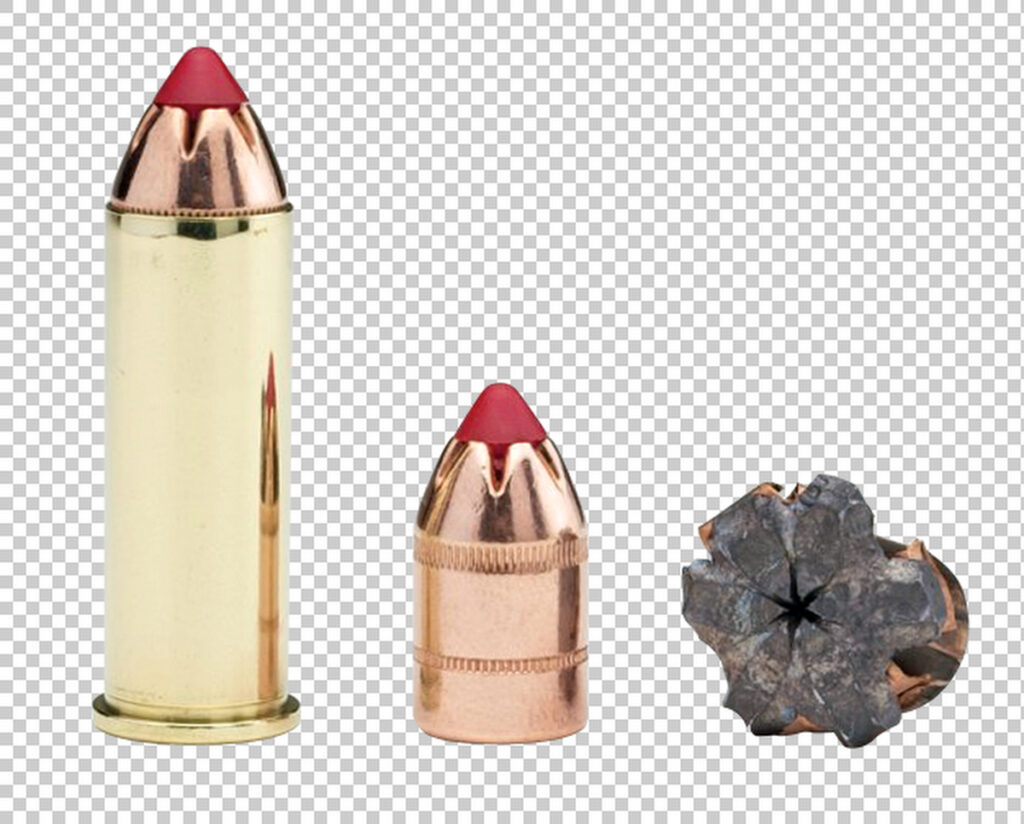 Hammer Time
The Marlin 1894 Classic was tested initially from the bench for accuracy then evaluation progressed to barricades, fallen trees, and other obstacles to get a better appreciation of its handling and performance. The Marlin's trigger pull measured 6 pounds and exhibited minimal creep before releasing. I was pleased by the accuracy offered by the Marlin 1894 44 Magnum. The Black Hills Ammunition, Hornady, and Winchester 44 Magnum loads kept most groups under 1.5 inches at 50 yards. This included bullet weights spanning from 200 up to 300 grains. It is valid to state the 1894 44 Magnum augments personal defense or sporting armaments beyond what handguns chambered in 44 Magnum could provide. This comes from its ability to maximize accuracy and terminal performance out of 44 Magnum loads. If a properly constructed bullet from a 44 Magnum souped up thanks to longer rifle barrel placed in the correct location does not do the job, then no cartridge will likely be successful either.
PERFORMANCE
| | | |
| --- | --- | --- |
| LOAD | VELOCITY AVG. | ACCURACY AVG@ 50 yds |
| Black Hills Ammunition 300-gr JHP | 1419 fps | 1.33 in. |
| Winchester 210-gr Silvertip | 1585 fps | 1.66 in. |
| Winchester 250-gr PTHP (discontinued) | 1427 fps | 1.5 in. |
| Hornady 200-gr Monoflex | 1771 fps | 1.75 in. |
| Hornady 240-gr XTP | 1594 fps | 1.5 in. |
| Hornady 225-gr FTX | 1743 fps | 1.25 in. |
Performance: Marlin 1894 Classic 44 Magnum
Range evaluation consisted of a regimen made up of engaging multiple steel and paper targets, firing while moving and engaging targets from behind cover. My testing was conducted at Echo Valley Training Center. The Marlin 1894 proved way too accommodating digesting 44 Magnum ammunition rapidly. The layout and availability of various steel target and simulated barricades at Echo Valley Training Center is convenient allowing for full spectrum firearm evaluations. The Marlin 1894/Meopta combo proved more than capable of running steel plate rack targets 50 yards away. In fact, steel targets out to 200 yards away were not safe. The Meopta MeoSight IV allows accurate shooting while maintaining quick and easy target acquisition at close distances. Anecdotally, clay pigeons were routinely shattered at 75 yards.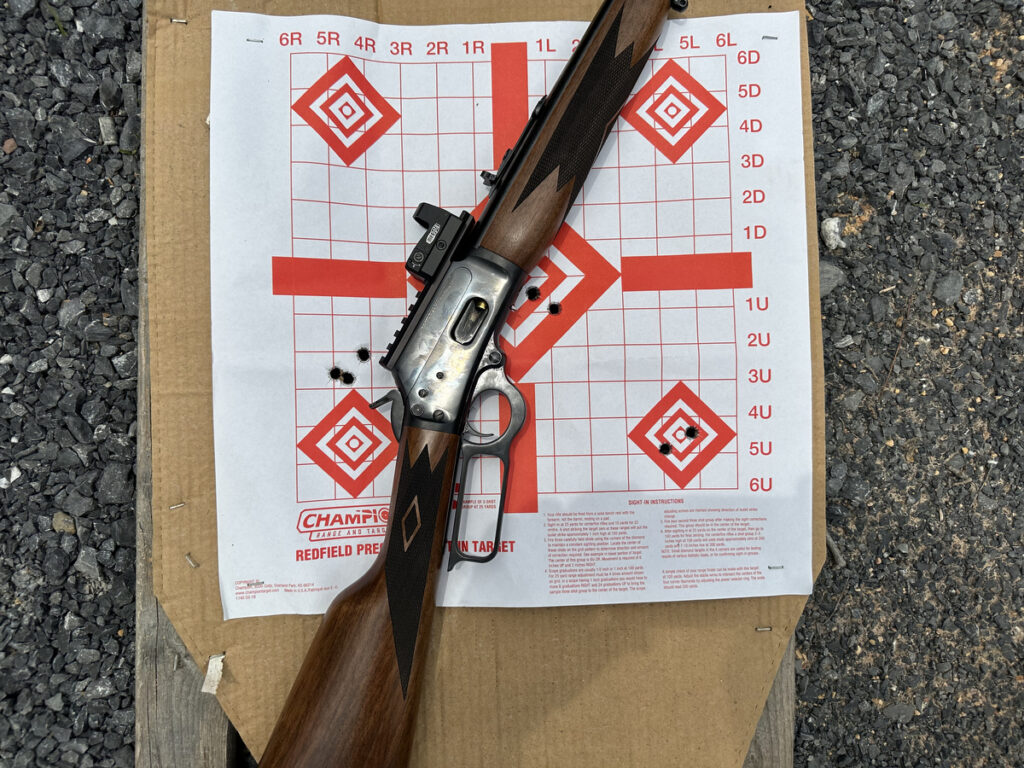 Chronograph tests showed sizable velocity increase (300-400 fps depending on bullet weight/load) from the Marlin's longer 20-inch rifle barrel compared to a typical revolver. The Marlin 1894 generated over 1,700 fps across the Caldwell Precision chronograph with 200-grain bullets and 1,400+ with 300-grain loads. Based on this, the 44 Magnum 1894 can be zeroed at 100 yards, creating a trajectory arc of approximately 1.5-inches high at 50 yards and 7-inches low at 150 yards. The 44 Magnum chambering should not dissuade users from the Marlin 1894 because of concerns of subpar performance compared to a "rifle" chambered cartridge and will not if given a rational chance.
It was decided to use Echo Valley Training Center's "jungle walk" range for further evaluation by placing targets at random locations along meandering river bottom location. Each shooter would move along the "jungle walk" and engage targets as discovered as various ranges using field expedient firing positions. Overall, this proved realistic us of the of the Marlin, and, frankly, rather fun. The distinct sound of chunky 44 Magnum bullets smacking steel is gratifying. While by no means rivaling a semi-automatic for firepower, the M1894's 10-round tube magazine was handy to recharge as needed based on firing rate. No malfunctions were experienced with empty brass ejected away matching the vigor with which the lever was worked. The Marlin lever action features a crossbolt safety selector that's located on the rear of the receiver for extra peace of mind. The safety makes no audible noise when operating it. Recoil was not a factor with over 350 rounds fired during multiple trips to Echo Valley Training Center.
Never Underestimate Nostalgia
It is often assumed that only the most current weapons offer any real use or sporting utility. This is unfortunate in that it encourages people to think that weaponry is a substitute for mindset, training, and proficiency. The original Marlin 1894 at the end of the 19th Century was the AR/AK equivalent of its day with its pistol caliber chambering and relative high capacity; would it be the optimum choice today­–of course not. However, this does not totally discount it capabilities or lethality. Whatever roles it is considered for, whether it is for hunting, personal defense, or sport, the Marlin 1894 Classic fits the bill.
SPECIFICATIONS
| | |
| --- | --- |
| Make | Marlin |
| Model | 1894 Classic |
| Caliber | 44 Magnum |
| Capacity | 10-round tube magazine under barrel |
| Barrel Length | 20.25 in. 1:20RH |
| Overall Length | 37.75 in. |
| Weight (Empty) | 6.4 lb. |
| MSRP | $1239 |
Specifications: Marlin 1894 Classic 44 Magnum