By Christopher Roberts
You may have never heard of Dawn of Defense (D.O.D.) firearms before, but that doesn't mean they aren't having a dramatic impact on the firearms you are using today. I met Ben Richardson through a friend during my time as an instructor at the U.S. Army Sniper Course. D.O.D. is a small operation in north Georgia, manufacturing fully customized firearms and accessories. 
One look around their store and it is easy to see D.O.D. primarily deals with AR variants; but take a little stroll into the back, and you will find suppressors, custom slides for pistols and a section dedicated to Cerakoting. The difference between D.O.D. and most "manufacturers" is they have in-house CNC machines, a full-time engineer, and they make the majority of parts on-site.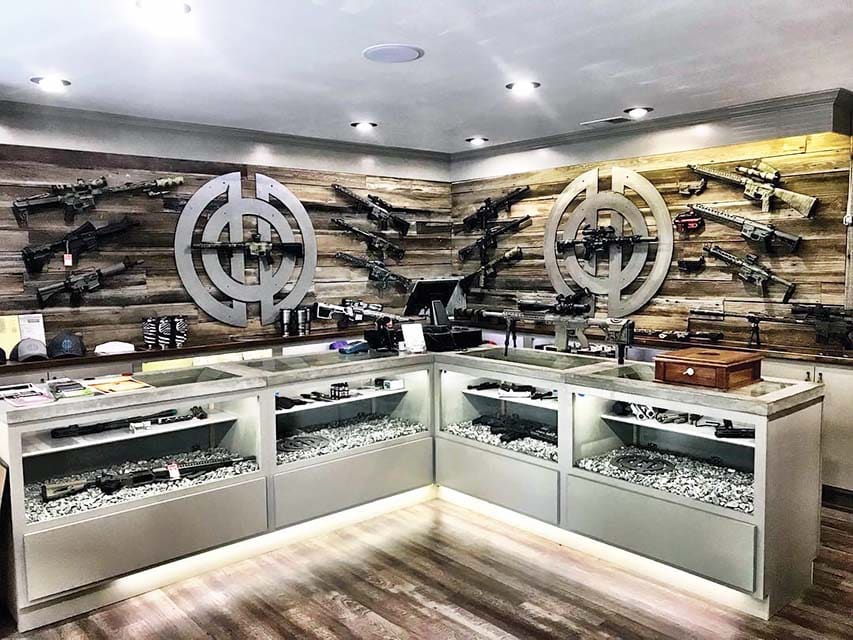 When I decided to start my newest project rifle, I knew D.O.D. would give me the best quality rifle, built to my needs, no questions asked. I needed something lightweight for shooting in sniper-style field matches but also capable of consistent impacts out to 1,000 yards. We decided to go with a .224 Valkyrie, born on the same machines supplying receivers to the firearms industry all across the U.S.
During this build, I sat down with Ben to discuss what sets him apart from other manufacturers.
Tell us a little bit about yourself? 
Ben Richardson: My name is Ben Richardson, born and raised right here in Georgia. I'm married with one beautiful daughter.
How did Dawn of Defense get its start?
BR: After about 6 years in another industry, I decided to do what I was passionate about, even if it meant making less money, so I entered the firearms industry. My start was in 2010 with another manufacturer, I'll leave out their name. I started off doing a little bit of everything: coatings, assembly, R&D, sales, kind of had to be able to do it all. After about 3 years, I didn't like the direction the company was going, so we parted ways. In 2015, I was ready to start doing what I loved again, but the way that made sense to me. Specifically, manufacturing and designing new products to meet needs that aren't being fulfilled, especially for today's warriors. I am bit of a gas gun nerd. Don't get me wrong, I absolutely love shooting bolt guns, but with modern manufacturing techniques gas guns can be just about as accurate. I've been known to make gas guns run like a scalded dog and accurate enough that most bolt guys would be impressed. All in all, I love what I do: I look forward to going to the shop and getting my hands dirty, I still work about 80 hours a week—pretty sure my wife wants to kill me.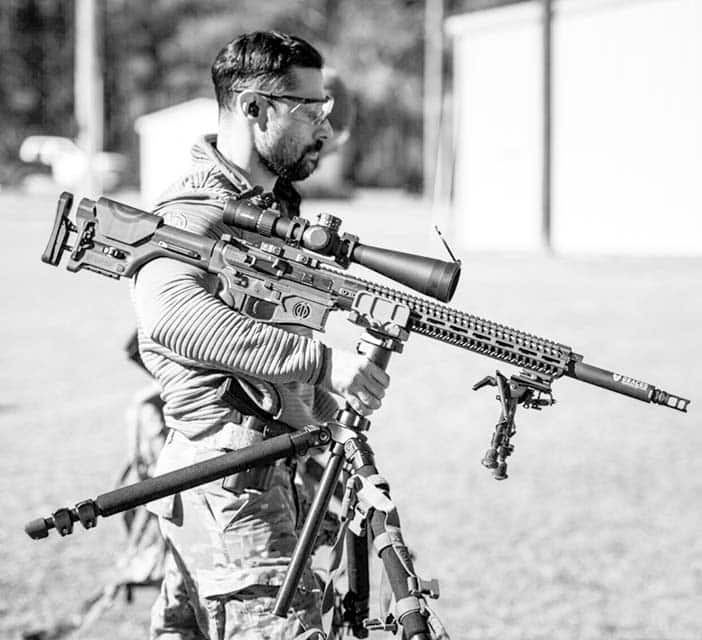 Where is D.O.D. located?
BR: We're in Fort Oglethorpe, Georgia, which is on the border of Tennessee, about 6 miles from Chattanooga.
How many employees do you have? 
BR: We are a small operation, started off with three guys. Now, we are up to nine and hope to add two more this year. We typically only look to hire vets. Currently, our team consists of former Army, Navy SEALs and Marines. Everybody has input on product design and ideas for future products. We keep in contact with buddies still serving and get input from them. Especially if something would make their life easier or even save lives.
What is with the name? 
BR: The name is actually kind of a play on words. The word Dawn implying the beginning. Typically, the beginning of defending one's possessions, life or country starts with small arms, which is what we manufacture. Plus it's a catchy name that is hard to forget, and people seem to really like the logo. Keep an eye out though; a new division of the company will be coming out under the name, Alpha Omega Armament. It will become the commercial side, and Dawn of Defense will become the OEM side. Look for our new website soon for products available to the commercial market, aoarmament.com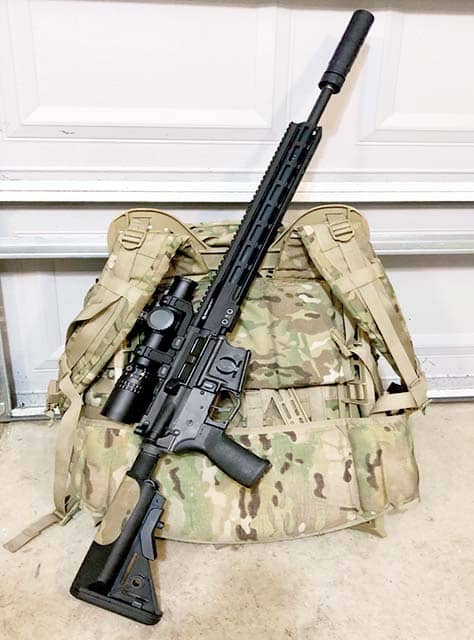 So what would you say is the mission statement for your company?
BR: Our mission is pretty simple; it's to make the best products available at fair prices. What I like to call "white collar quality for blue collar pricing."
So what parts did D.O.D. start with?
BR: Well, the easiest of AR parts really. Our goal is to go through every piece of the AR platform and refine and improve each item. We are almost done with every part.
What are you producing now?
BR: We now manufacture: lowers, uppers, handguards, BCGs, buttstocks, muzzle brakes, billet accessories, Titanium suppressors, integrally suppressed bolt guns, GLOCK's mods and more. The only thing[s] we really do not manufacture are barrels, triggers and polymer parts. We feel there are so many good manufacturers of barrels that it would just be a waste for us to start doing it. We like to use Criterion, Lothar Walther, Draco's and a few others. Triggers we typically use: CMC, LaRue and Geissele. Both of those are up to the customer and what they want in the rifle.
Where are your products typically used?
BR: Our products have been mainly used for precision shooting and hunting. A few 3-Gun shooters are running our rifles. We had a pair of rifles used at the Mammoth Sniper Challenge in January 2019.
What makes your products different or better?
BR: Well, let me first say, there are a few companies that make outstanding products. I am a big fan of companies like Knights Armament [and] LaRue Tactical, to name a few. I like companies like that because they manufacture a lot of their products in-house like we do. Most people do not know that a lot of companies they buy from don't actually manufacture anything. Now there is not anything wrong with that; we feel that we want to have more say in the quality control side of things. We do a good bit of manufacturing now on the OEM side for other companies—we can make sure the products are good to go before they leave. What I really hate to see are the companies selling these rifles with foreign crap, $400-rifle-type of stuff. It is only a matter of time before that cheap of a rifle fails.
There are several things that separate us from other companies. First, we are what I like to call "a small batch company." One thing I have learned over the years in the manufacturing/CNC sector is quality control is absolutely critical, especially when someone's life might be dependent on said product. We typically manufacture our products in batches of 50 to 100. What this does is allow us to make sure the quality of each product is up to our standard. 
Second, this is where we really shine, our custom rifle builds. You can choose what receiver set: forged, billet, AR-15 or AR-10, all made in-house. Then from handguard to Cerakote. Hell, we can do custom serial numbers and laser engraving.
What surprises most people is the price. On average an AR-15 platform is between $1,200 to $1,800 depending on barrel choice, and the .308 platform averages between $1,600 to $2,300 depending on caliber and barrel. These are custom precision gas guns being built to your specs at pricing less than most of the high-end gas guns off the wall!
Wow, that is really fair. What kind of wait do your customers have?
BR: As of right now, lead times are between 2 to 4 weeks depending on the barrel choice. The customer puts down 50% when ordered and the other half when finished. Our overhead is relatively low which allows us to charge less to the end user. This goes back to my saying of "white collar quality for blue collar pricing," all of that with a lifetime warranty.
Any special projects in the works?
BR: We do have new products coming out soon. One is a new platform that uses some AR parts but operates differently. I call it the "Moreau" project, based off the H.G. Wells novel about hybrid humans/animals. It is like an FN SCAR®, AK and an AR had a baby. Also, we'll be releasing our integrally suppressed bolt guns. There are a few other products we are excited about, like a new suppressor design that is currently under testing. It is the quietest thing I've ever heard!
Are there any companies you're producing for or LE/MIL organizations you are providing products to?
BR: Ehh, we've got Non-Disclosure Agreements with a few … I'll just leave it at that. It is an exciting time here and [I] cannot wait to see what the future holds!
If you want to learn more about the company or get details on a custom build reach out to Dawn of Defense via email info@dodefense.com or their website dodefense.com. Or follow them on Facebook at facebook.com/dawnofdefensedod or on Instagram at instagram.com/dawnofdefense. 
This article first appeared in Small Arms Review V24N2 (Feb 2020)