By Todd Burgreen
Striker-fired, polymer-framed handguns have evolved into the benchmark for personal defense, law enforcement, and military handguns. These handguns are simple to operate, reliable, accurate, and tough straight out of the box. While examples of striker fired polymer handguns predate 1982, this date is critical as the Glock 17 (G17) arrived on the handgun scene via Austrian police and military weapon trials. There can be little debate that current semi-automatic handguns were redefined by the 9mm G17 in terms of capacity, operation, and polymer construction. Glock handguns soon spread around the world. Other polymer, striker-fired models soon followed. The lack of skilled labor required to manufacture a polymer-framed pistol was also a major factor in establishing the Glock's market dominance. Capitalism at work.
FORM DOESN'T ALWAYS FOLLOW FUNCTION
The term "Gucci Glock" has a derisive connotation. The term was likely coined to make fun of those that add aftermarket accessories to their Glocks more for flair than for any real functional gain. In short, it's a way to make your utilitarian polymer handgun stand out. Personalize it. Never underestimate vanity as a selling point. But, when approached with performance enhancement guiding the way, aftermarket parts can be beneficial.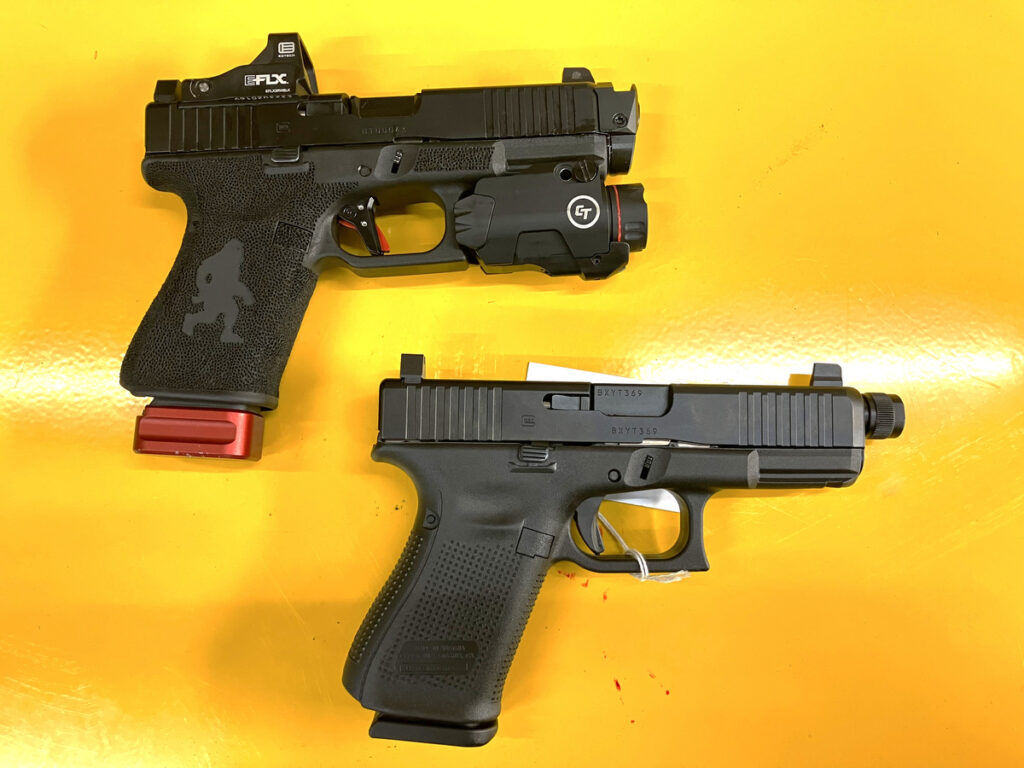 Much attention seems to be focused on improving handgun platforms albeit with compensator, trigger, tweaked ergonomics, red dot optic, laser, or high intensity light. These upgrades not only provide enhanced functionality, but also increased flexibility in responding to a variety of threats. The direction of this article's project was not so much about style, but performance enhancement. Everything we added, be it stippling, a compensator, a red dot sight, a tactical light/laser, or trigger was to increase functionality and capability. But, I will admit to succumbing to a little bit of individualism with the stippling design. More on this later.
A Glock G19 Gen5 MOS was my vehicle for exploring what aftermarket upgrades offered. Much of the impetus for this project stemmed from my recent re-entry into competition handgun shooting where high-end handguns are certainly appreciated for their ability to knock down steel plates or punch holes into cardboard targets at impressive rate. While not practical to carry your full-size 40-plus ounce match handgun concealed, what it offers performance-wise is duly noted. The goal was to get as close to this performance level as possible while preserving a reasonably compact, concealed carry handgun.
IF YOU AINT CHEATING — YOU AINT TRYING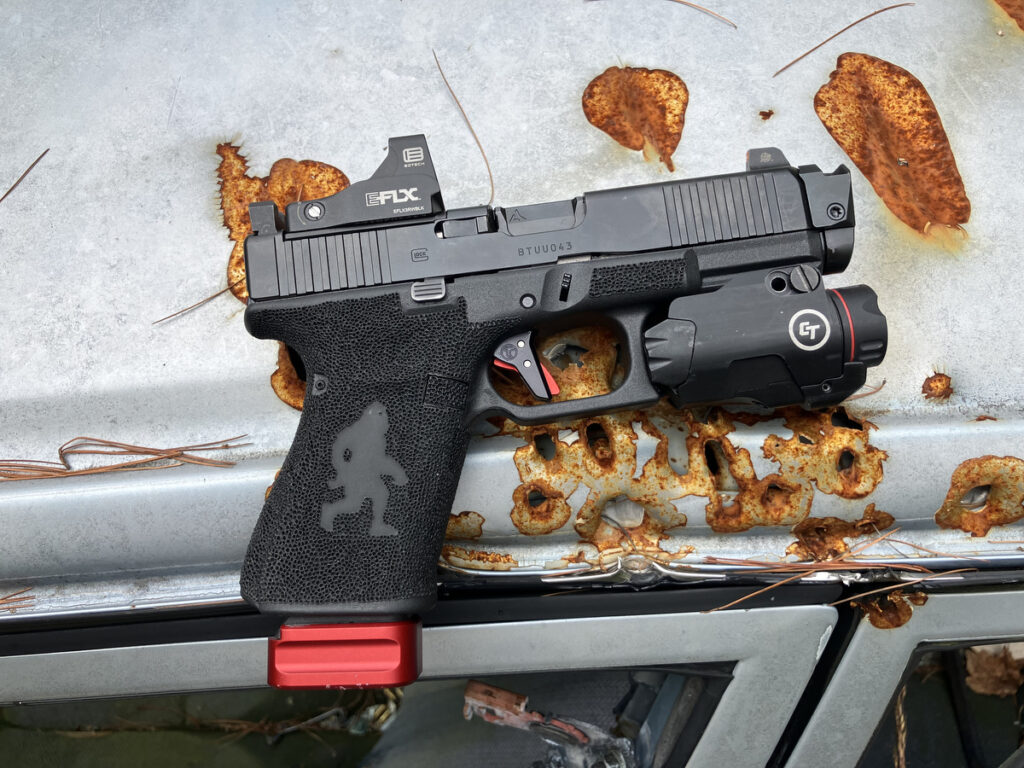 Personal defense has no responsibility to be a fair or an even contest. That's why aftermarket products attract with promise superior performance. This is the incentive with the Radian Afterburner+Ramjet compensator combo for the G19. Compensators are expanding beyond competition applications and becoming more prominent with personal defense weapons. This is also contributing to the increased availability of smaller compensators that are still effective.
The Afterburner compensator connects to the Radian Ramjet match-grade fluted barrel using Radian's Intra-Lok mounting system. The compensator is made from hardened 17-4 stainless steel. Intra-Lok is a securing method with a locking pin interfacing with an angled V-groove on the underside of the Ramjet barrel. This eliminates timing issues when a compensator is screwed on a threaded barrel. Concerns for jurisdictions prohibiting threaded barrels are also mitigated by using the Radian Afterburner+Ramjet system.
The Radian Afterburner+Ramjet is advertised as reducing recoil up to 44% when using 115-grain 9mm ammunition. This is with a compensator measuring only 0.47 inches long. The compact dimension is not random. An Afterburner+Ramjet-equipped G19 is the same overall length as the G19's larger G17 brother, allowing for compatibility with G17 holsters. The angled front faces on the Afterburner aid in holstering.
The Radian Ramjet barrel is an accuracy upgrade over stock barrels, not just a vehicle for the Afterburner comp. The Radian barrel is crafted from 416R stainless steel with spiral flutes shaving ounces of weight. Rifling is conventionally cut 1:10-inch twist. Special attention is paid to the barrel lug and hood geometry to ensure concentric lockup that enhances accuracy. Both the Radian compensator and barrel are DLC coated. This imparts low friction, high hardness, and corrosion resistance, making overall durability and erosion from muzzle blast a non-issue.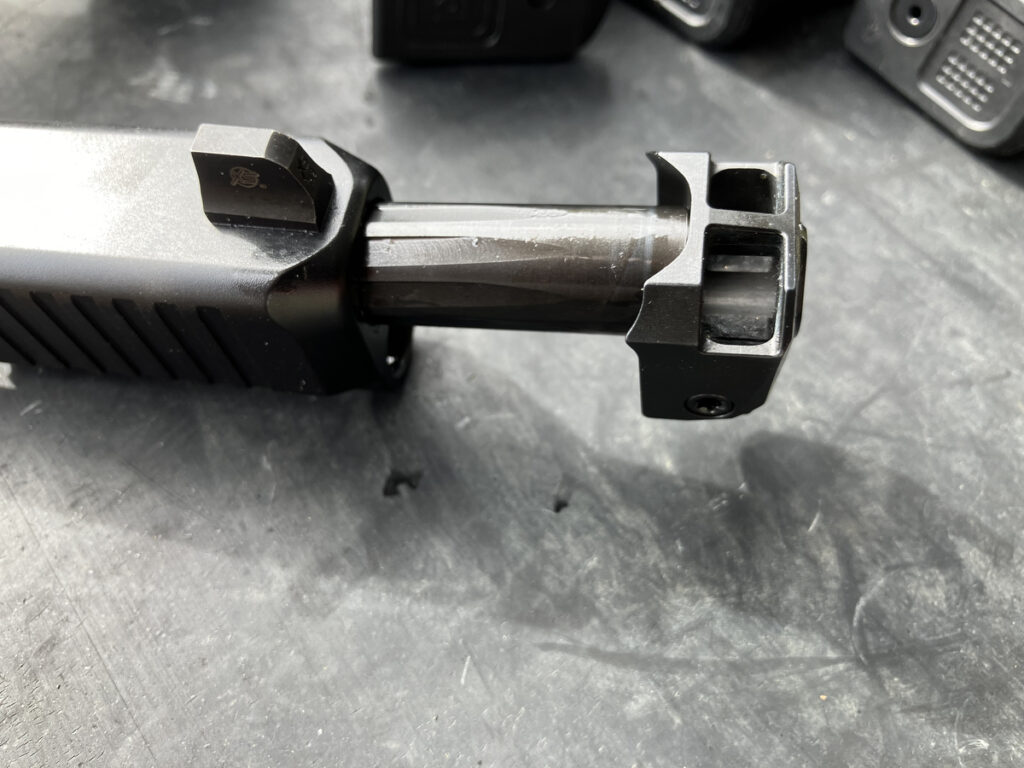 A compensator was considered a crucial part of the Gucci Glock project. Part of the challenge of using a handgun involves controlling muzzle flip. Muzzle flip reduces the speed with which you can accurately fire multiple rounds on target, as well as hindering the efficient transition to adjacent targets. This is a crucial differentiator in a personal defense encounter. Recoil and muzzle flip also cause the pistol to move in the hand. To fire an accurate string of shots, the weapon must return to the target alignment point with the sights recovered before each shot. A compensator mitigates these effects.
DON'T FIGHT IT—EMBRACE IT
The most obvious personal defense handgun equipment upgrade over the last 10 years has to be red dot sights. An Eotech EFLX was mounted to the G19. The EFLX uses a top-mounted CR2032 battery offering 20,000 hours of run time. The EFLX mounted on the G19 featured a 3 MOA dot (with 6 MOA version also available). The EFLX features an aluminum housing that offers durability while keeping the sight weighing only 1.4 ounces.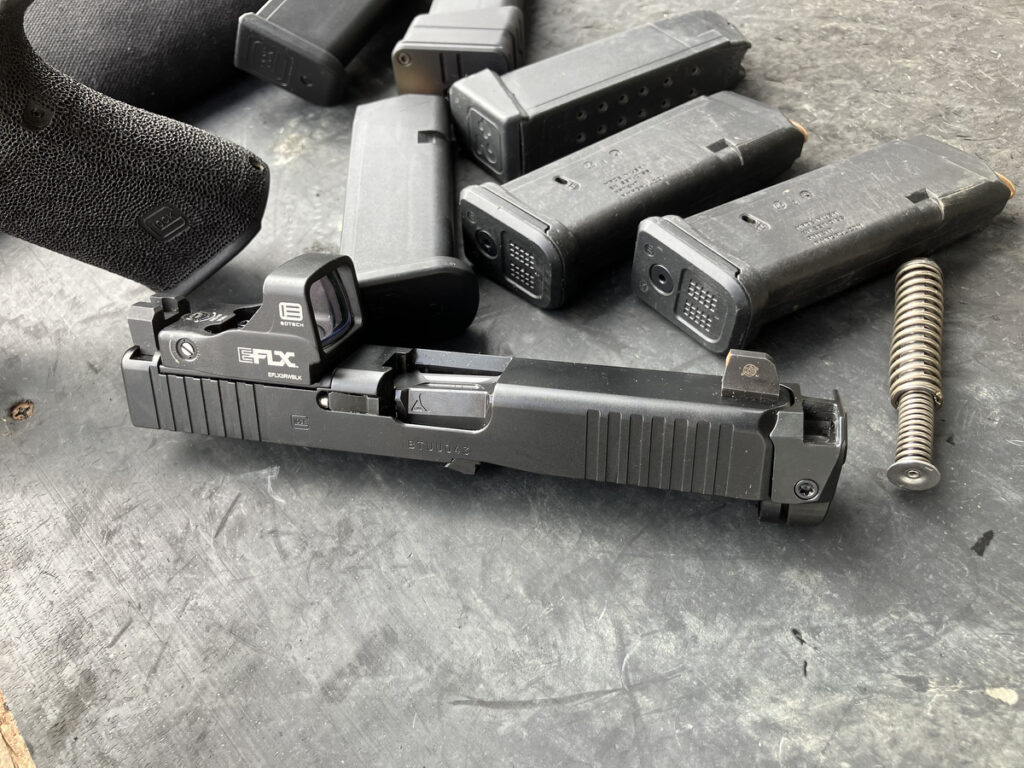 A C&H Precision V4 MIL/LEO adapter plate was used in lieu of standard Glock MOS plate. The C&H plate is more precise in connecting your red dot to the slide, while it also increases the amount of thread engagement connecting the red dot to the slide. With the factory Glock plate, you only get two threads from the two screws to hold the sight in place. The C&H plate features four recoil posts and two screws with seven to eight screw threads engaging for a more secure mount. The C&H Precision V4 MIL/LEO Optic Mounting Plate is machined from 6061 aluminum and treated with a hard-anodized finish.
A Crimson Trace CMR-207G light and laser combo was also mounted on the G19. The CMR-207G sports a compact, yet powerful, 400 lumen LED white light and 5mW green aiming laser in one unit. One often overlooked benefit of laser use is not requiring stereotypical presentation of the weapon or sight picture for effective use. Imagine crouching behind a car trunk with your head below the bumper with handgun held at arm's length with Crimson Trace laser held on target, allowing for an engagement from such an untypical position. The CMR-207G light and laser literally keeps controls at your fingertips without having to change grip to activate either laser or light. A C&G holster was chosen to accommodate the Crimson Trace red dot/laser/light-equipped G19. The Radian Afterburner+Ramjet comp had no issue fitting the holster.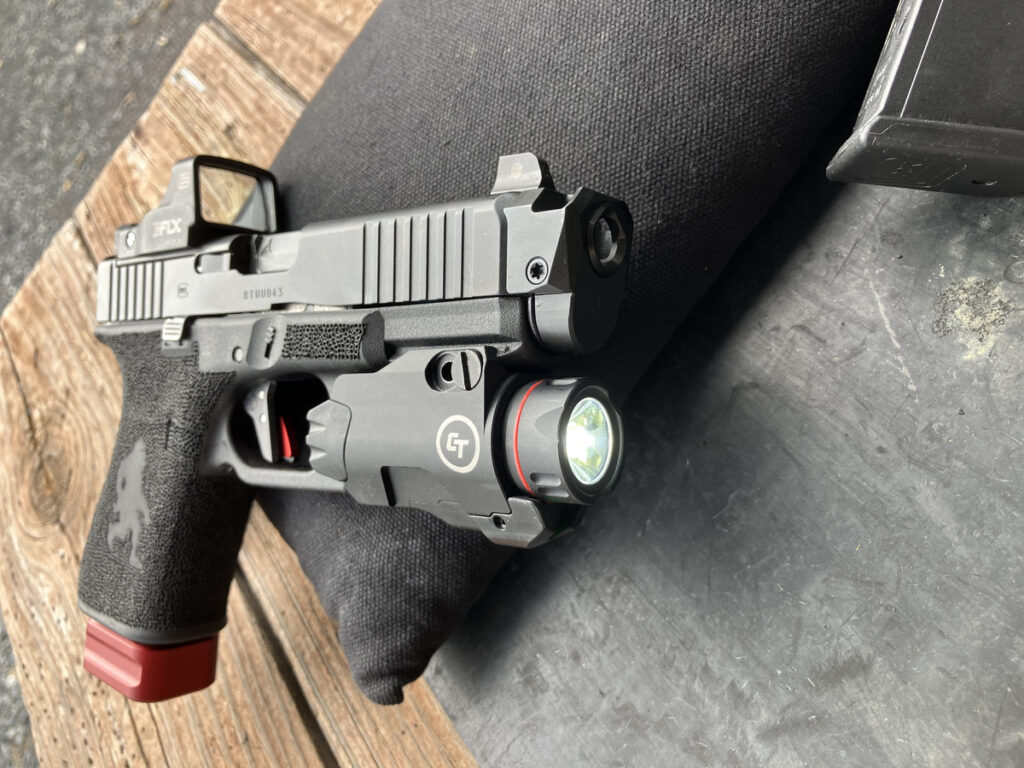 One last word on sighting arrangement. An important nuance of using a red dot sight on a personal defense handgun is to have co-witnessing iron sights. Anything electronic can fail, no matter how rugged. Another advantage of the co-witnessing using elevated suppressor-height iron sights is instant zero verification of the dot. If something is askew, it's noticeable. XS Sights R3D Suppressor height night sights were fitted for this purpose.
GRIP IT AND RIP IT
Glock's own modifications over the years—five generations of Glocks—indicate some tweaking has been needed at the factory to better bond the user to the weapon via grip and trigger. For example, the G19 Gen5 that is the basis of this article has done away with the previous Glock generation's finger groove grip. However, more can be done with grip and trigger to enhance the shooter-to-weapon interface.
Stippling improves both the grip purchase and overall feel of the Glock in your hand. I prefer the random dot pattern style of stippling. You can vary the depth of the dots to customize the aggressiveness of the preferred grip texture. I prefer tacky versus ripping skin texture for a weapon like the G19 that may be used in an IWB holster. Stippling can be used to reduce material from the original polymer dimensions. This helps someone like me with average- to smaller-sized paws. Memory ledges of stippling were placed on the frame above the trigger guard for thumb and index finger resting points. The undercut of the trigger guard at the frame was also deepened, ever so slightly. This allows a higher grip on the pistol, putting the pistol lower in your hand and helping to limit muzzle flip.
Stippling, when coupled with a good outline and meticulous finishing of edges, provides improved overall aesthetics. Speaking of aesthetics, my stipple job was completed by a good friend who has performed his magic on several of my Glocks, as well as hundreds of others over the years. He could not resist adding a little sass to his work by including a Sasquatch outline on the grip. This was my one moment of weakness with the Gucci Glock project, when I gave into a bit of flash over substance.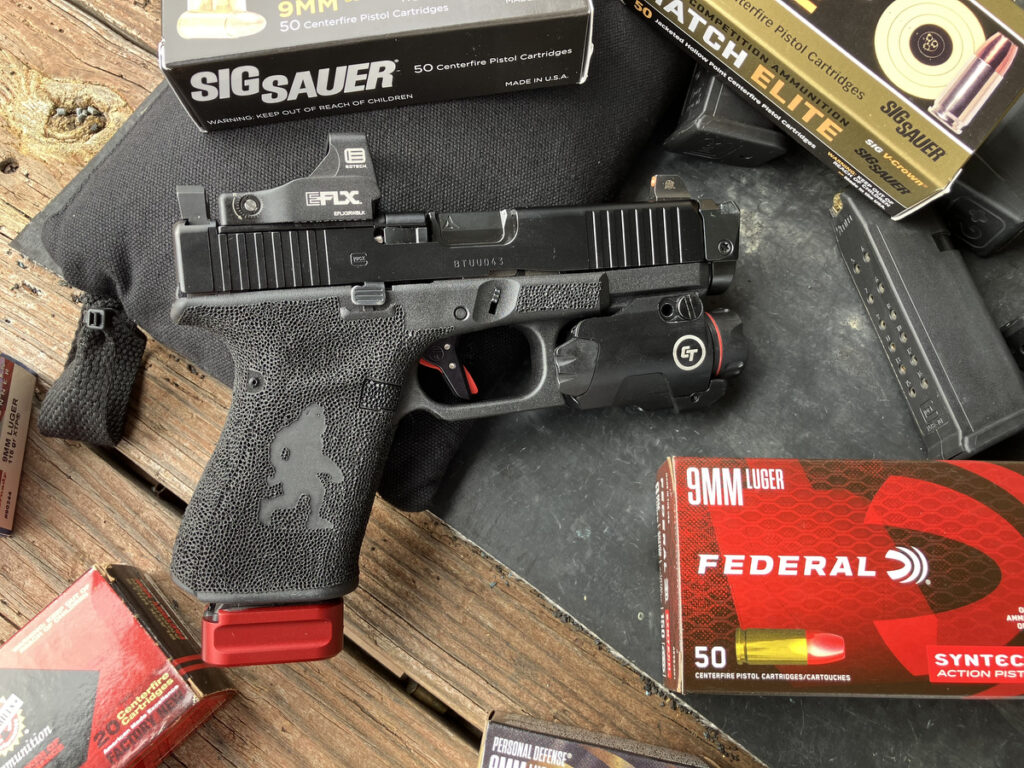 Along with grip, the importance of a highly performing trigger cannot be overestimated. This is where the aftermarket area has really stepped up with improving Glock performance. A Timney Triggers Alpha Competition trigger was installed in the G19 Gen5. Timney has been an industry leader in aftermarket triggers since 1946 and their work on the Glock platform is well received. Their Alpha trigger offers their aftermarket drop-in performance to Glock users. An aluminum sear housing replaces the trigger return spring, but all other Glock internal safeties and firing pin spring stay put. The firing pin spring staying OEM is a big deal. Previous quests to lower the Glock's trigger pull into the sub-4-pound range involved changing the firing pin spring to a lighter variant which induced light strikes. Timney lists the Alpha as offering a 3-pound pull weight. My Timney trigger was in the 3.5- to 4-pound range, as measured with my old-school RCBS trigger pull scale.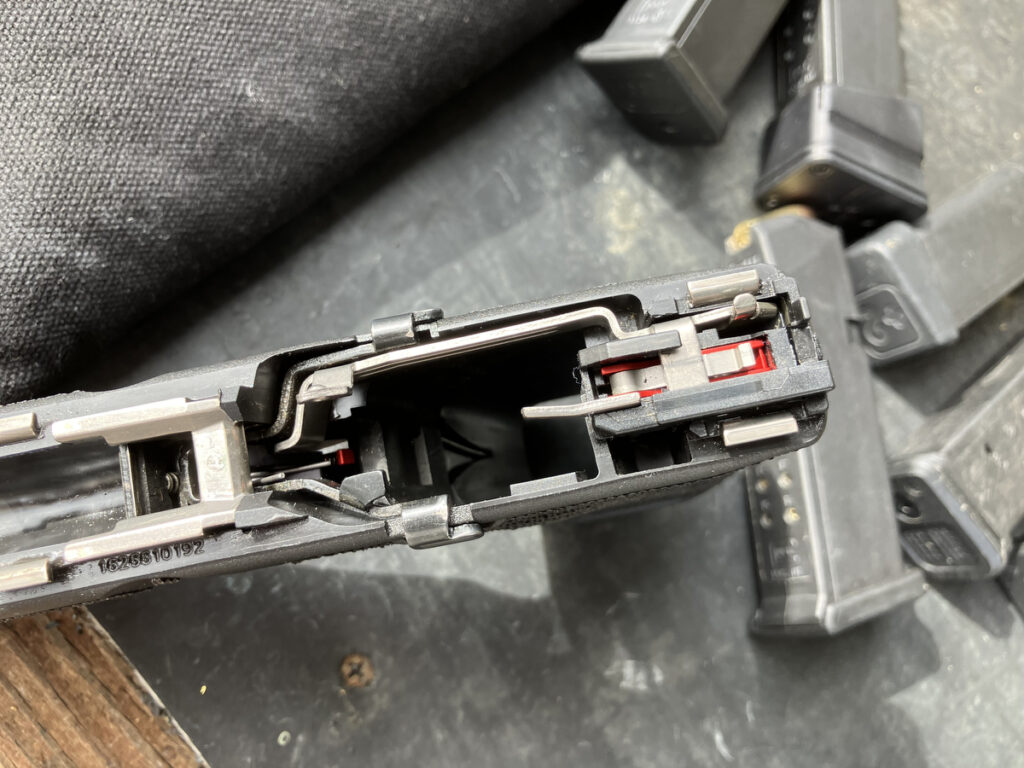 The Timney Alpha trigger finishes off the Gucci Glock project. It's flat trigger shoe and trigger safety tab are machined in the USA out of aluminum alloy and affixed to an NP3-plated trigger bar. The trigger shoe and safety tab are both anodized. The broad, flat face of the trigger allows a straight rearward press. Pre-travel has been reduced by as much as 20% without compromising safety, resulting in a clean, crisp break, and reduced over-travel. A graph of the trigger pull would be interesting as there was something positive about it that is hard to describe using words. The reset length is minimal with a positive, tactile feel. This translates into a handgun that can send rounds downrange rapidly and accurately.
PERFORMANCE
| | | | |
| --- | --- | --- | --- |
| | Avg. FPS | Avg. 5-Shot Group 25 yards (Inches) | Best 5-Shot Group 25 yards (Inches) |
| SIG Sauer 124gr V Crown | 1152 | 2 | 1.75 |
| Black Hills 124gr JHP | 1166 | 2.66 | 2.33 |
| Hornady 147gr XTB | 931 | 2.25 | 1.66 |
| Federal 124gr HST | 1173 | 2.5 | 2.25 |
BANG TIME WITH STYLE
The host Glock 19 was chosen for enhancement based on its ideal blend of carry-ability and performance. The Radian barrel/compensator, Eotech EFLX red dot, and Timney trigger produces capability exceeding most weapons of such compact size. My Gucci G19 is a carry handgun that not only holds its own tactically, but also on match days. I could not resist proofing my setup at Origin Shooting Outlaw Steel Matches as well as two-gun practice sessions. Faxon and Warne Tactical magazine extensions were used to ramp up typical G19 15-round magazines to 20 and 18 rounds, respectively.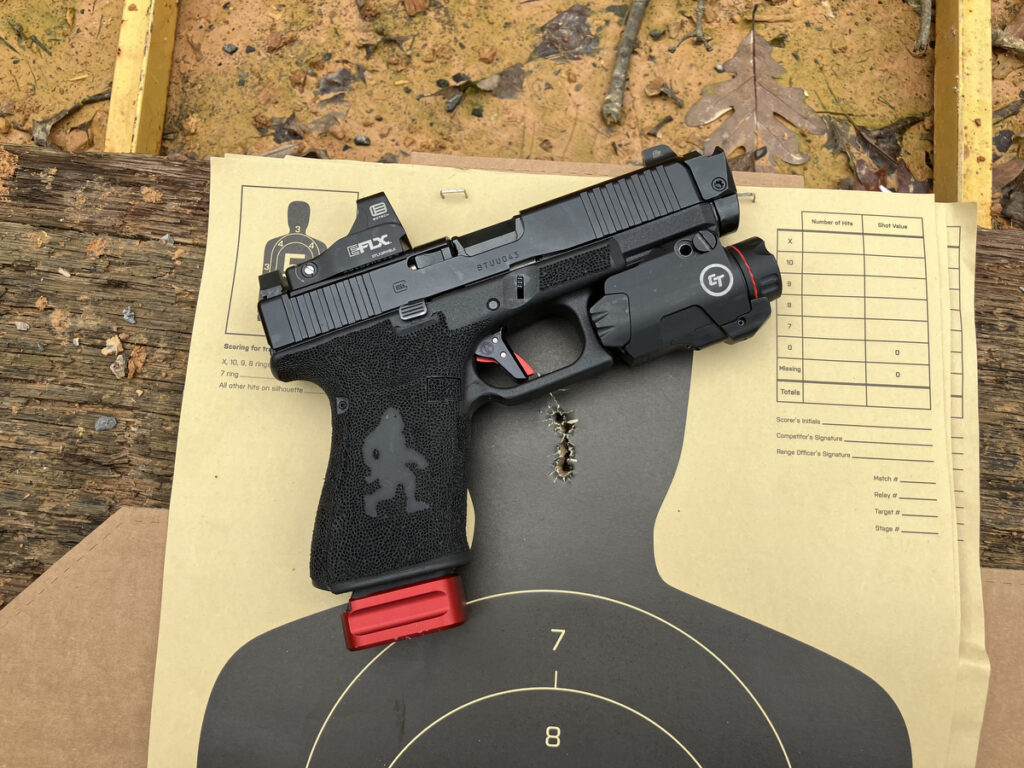 Magazines were loaded with ammunition from Federal, Speer, Hornady, SIG Sauer, and Black Hills Ammunition. The modified G19 was fired one handed, including use of the non-dominant hand, in order to detect orientation sensitivity that might be traced back to the compensator. The Gucci G19 showed it could digest anything fed to it. Premium self-defense JHP, target, and match 9mm loads including 115-, 124-, and 147-grain bullets were used.
The modified G19's simplicity of operation, superior trigger, red dot, and compensator allowed for rapid engagement of targets. Performance is further accentuated with improved ergonomics thanks to stippling that ensures that the hand is near the optimum grip position as soon as the pistol clears the holster. Proper grip sets the stage for the most efficient use of a red dot-equipped handgun. Kinesthetic awareness is the body's knowledge of the relative location and engagement of tension in its parts. A solid, repeatable grip is the key for tracking the red dot as it moves up and down under recoil during multiple round drills, as well as finding it quickly after the draw stroke.
LEARNED LESSONS
I have a few quick observations based on my time spent on the range with the Gucci Glock G19. Mind your hand placement when racking the slide. Do not grab too far forward on the slide, near the comp. Two negative things can happen — first, you can pinch your hand between the slide and the comp, and second, you might end up trying to rack the slide with your hand on the comp, which does not move rearward. The Gucci Glock G19 came into its own when placing the red dot on the target and applying correct trigger control. Groups with the Eotech EFLX red dot-equipped G19 were markedly smaller than those shot with iron sights. This statement became even more true as distances increased.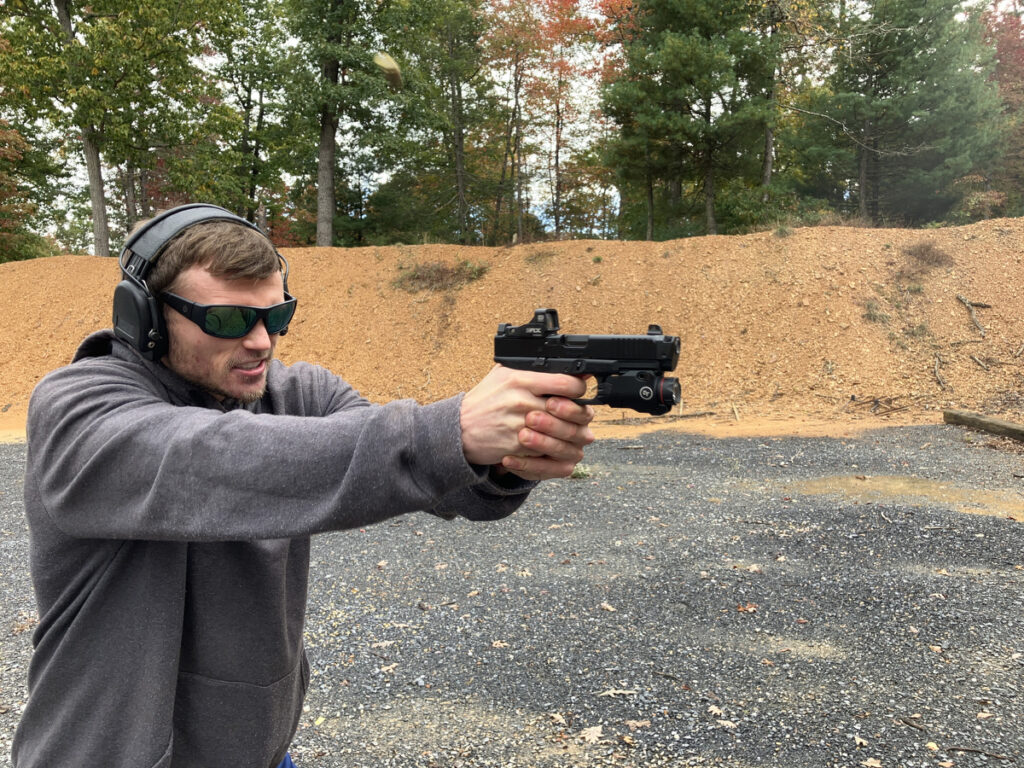 Lastly, concerns of blinding muzzle flash when using a compensator were NOT borne out. Slow motion videos and burst photography did not reveal this phenomenon. You could definitely see the gas cloud of muzzle blast directed upward which counteracts muzzle flips — but no ignition.
You cannot default into thinking it is only about the gear — no matter how nicely we appointed the Gucci Glock G19. Mindset and sound training are crucial. It's safe to say red dots are not going anywhere and it seems the same can be said for compensators. A compact handgun such as the G19 stocked with full power 9mm +P rounds certainly benefits from the compensator for both the experienced and novice shooter for different reasons. The experienced shooter can run the weapon faster while maintaining accuracy, while the novice is provided a more controllable platform that allows easier application of the fundamentals of pistol control.
WITCHES BREW
We're hoping our Gucci Glock will be recognized for its successful amalgamation of performance-enhancing aftermarket upgrades. It's a compact handgun that pushes the envelope past established performance norms, while still offering benefits in a real-world application. The Gucci Glock G19 increases the effectiveness of a compact concealed carry handgun beyond what most thought possible.
SPECIFICATIONS
| | |
| --- | --- |
| Make | SAR'S Gucci Glock |
| Model | Customized G19 Gen5 |
| Caliber | 9mm |
| Weight (empty) | 21.34 oz. |
| Overall Length | 7.75 in. (with comp) |
| Barrel | 4 in. |
| Magazine Capacity | 15-round |
| MSRP | N/A |
| URL | N/A |