By James L. Ballou
Visionaries such as Billy Mitchell and Jimmy Doolittle saw the potential of the aircraft as a weapon of war. The evolution of aircraft weaponry went from bricks, to pistols, to rifles and eventually to machine guns and bombs. As a fledgling, the military saw the airplane as an eye in the sky for observations only. The first machine gun fired from a plane was on June 7, 1912, when Captain Charles De Forest Chandler fired a Lewis light machine gun from a Type B Wright pusher, flown by Lt. T. Dewitt Milling. The field and test areas were at College Park Maryland within sight of the Nation's Capital.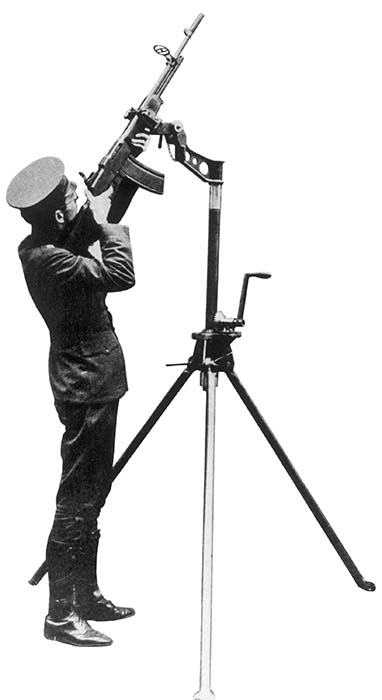 As the character of aircraft changed from a defensive/observation role to one of offensive capabilities, airborne weaponry consisting of machine guns and bombs soon led to a need to combat the threat of air power.
This article is a photo journey from a unique historic document provided by Dr. James Alley, Ph.D which shows the evolution of anti-aircraft deployment during the World War I years of 1914 to 1918 that include a Hotchkiss mounted on a wagon wheel to a large Maxim "Pom Pom" gun mounted on a truck for mobility.
All of these photos, except were noted, were copied from an Army Ordnance 1917-1919 manual, No. 1941, titled; History of Anti-aircraft Guns by W.N. Dickerson, dated Washington, 1920
With the advent of the Aeroplane as an offensive weapon in WWI, countermeasures against aircraft inevitably were developed. In this photo album is a cross section of Allied and German anti-aircraft weaponry. It has always been a futile habit of infantrymen to fire at enemy planes more for morale than effectiveness. It has been speculated that a Canadian rifleman brought down the "Cursed" Red Baron of the German Flying Circus. Foot soldier ingenuity being what it is, more effective means of anti-aircraft fire were developed.
One of the first and simplest advancements in increasing firepower was the 1914 French Hotchkiss machine gun in 8mm Lebel mounted on a wagon wheel attached to a post. It allowed for a relatively stable platform that permitted a high degree of elevation with a 360-degree field of fire, fed from a rigid 30-round feed strip. Later, they developed a four shot strip section that was attached in groups to form an articulated belt in any desired length; particularly for anti-aircraft use. This became the primary combination for use against low flying aircraft or observation balloons.
Advancements in cartridge design led to larger calibers, most notably the 11mm "balloon buster" capable of carrying an incendiary or tracer charge. This vastly increased the kill ratio.
Several attempts were made to apply the BAR in an anti-aircraft mode. First, the Allies doubled the magazine capacity from 20 to 40 rounds. There are pictures in the British Imperial War museum, dated April 1918, depicting this. There is further documentation in brochures and a letter written by British Col. R.A. Helmer to confirm this. It is apparent that this magazine could only be used on a mounted BAR due to the elongated protrusion from the bottom of the weapon.
A second attempt was made by joining two BARs together with a common trigger. A photo exists of this "Rube Goldberg" type device, though it seems to have been a one-time attempt. It would have taken a very nimble operator to drop two forty round magazines and replace them.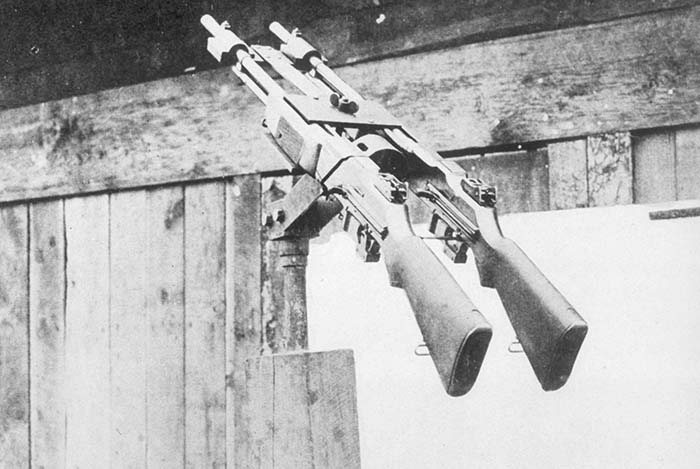 Another weapon employed was the Hotchkiss Revolving Cannon. It was originally developed by an American, Benjamin Berkley Hotchkiss, for use by the Navy. Its unique feature was that each of the five barrels was rifled differently so that the shells projected in an elongated, rectangular pattern designed to impact the length of a large ship. The most common deployment was off the back of a truck, adding mobility.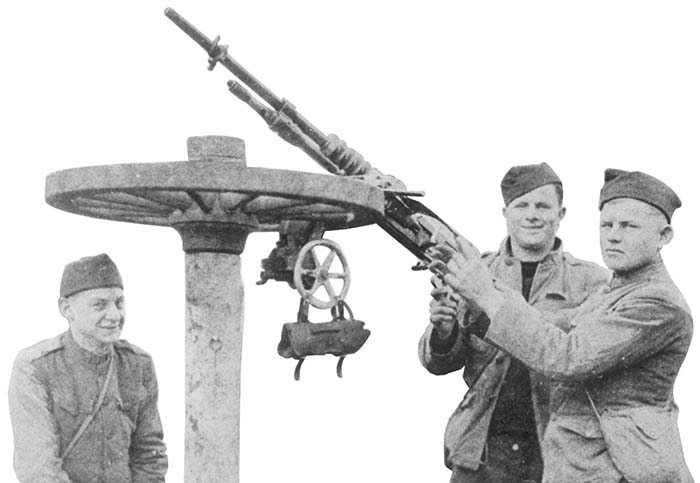 Another innovation was the development of the 37mm shell, which was an ideal vehicle for an explosive charge. All one would have to do was deliver the shell in close proximity and the plane would be taken down.
The Pom Pom gun was the largest Maxim machine gun made in 1.1 inch caliber fed by a very large belt spool. The gun was not utilized by the Allies, but by the Germans, who were greatly impressed by the firepower.
Eventually, all sorts of machine guns from both the Allied and Central Powers were used in the anti-aircraft role: most utilizing makeshift mounts. These included German MG08 and MG08/15s, French Hotchkiss 1914s and 1907 St. Etiennes, British Vickers and Lewis guns, Austrian 07/12 Schwarzloses, Italian 1914 FIAT Revellis and US BARs and Marlins.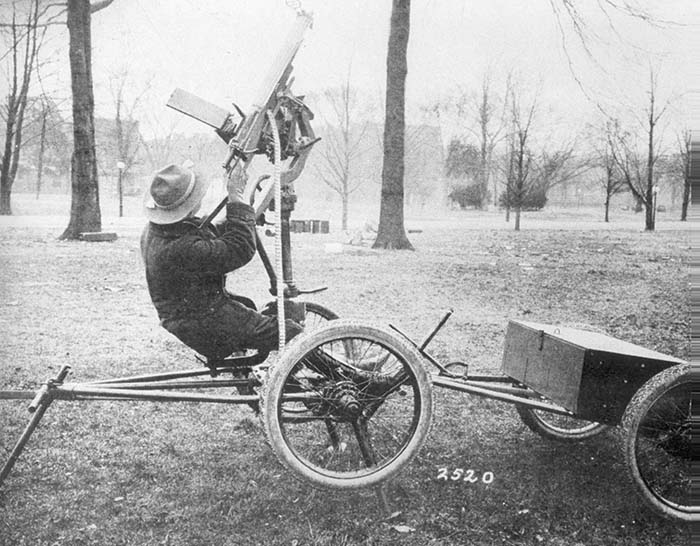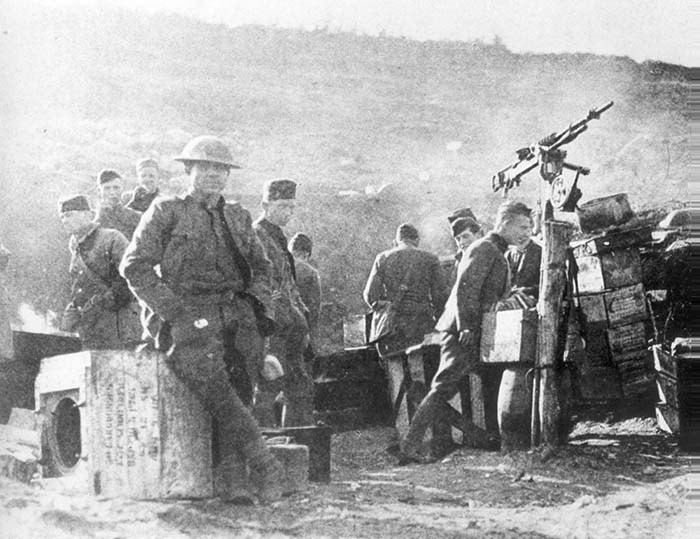 Ultimately, when enemy aircraft were overhead, the eager and undisciplined soldier would fire anything to try to bring it down. This photo selection provides a unique insight into WWI anti-aircraft efforts. It also illustrates the transition of warfare from the end of the 19th Century to the early 20th Century.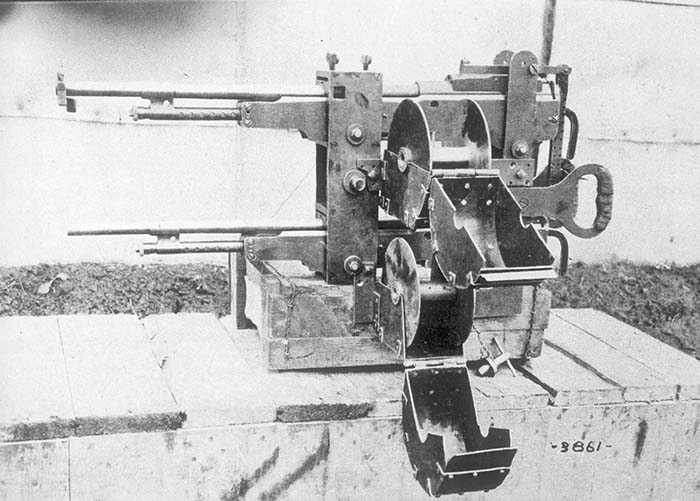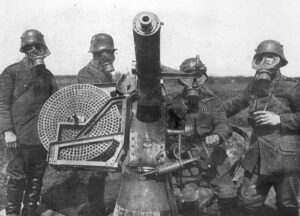 This article first appeared in Small Arms Review V9N11 (August 2006)