By Robert Bruce
"Under present day threat, Navy leadership recognized the need for a light, rapid deployable security force to provide point defense for Navy assets worldwide. Thus was born the Navy Mobile Security Force." CDR David Somers III, Commander, Mobile Security Squadron TWO
The threat that Commander Somers refers to became horribly clear on the 12th of October 2000, when the USS COLE was ripped apart by suicide bombers as it was refueling in the Middle Eastern port of Aden, Yemen. Fanatical Muslim terrorists, pretending to be part of the native mooring crew, detonated their explosives-packed small boat right alongside the multimillion dollar Guided Missile Destroyer. The powerful blast punched an enormous hole at the water line, killing seventeen sailors and wounding thirty-nine more.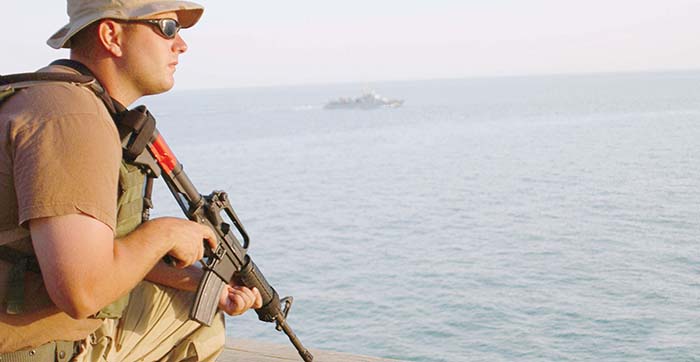 Plenty of things were wrong about the COLE being ordered to make a refueling stop in a country known for supporting terrorists and the failure to fully implement established security procedures, but the tragedy sparked resolve at the highest levels.
The first significant protective elements to reach the COLE were FAST Marines – Fleet Antiterrorism Security Teams. These heavily armed and highly trained men threw a tight and formidable barrier around the stricken warship, ensuring that no follow-up attack would succeed.
But countless other US Navy ships and aircraft were routinely operating in hostile territory, often alone and largely unprotected. There weren't enough FAST Marines to cover them all and Naval Security had their hands full with patrolling established ports, bases and airfields.
Mobile Security Forces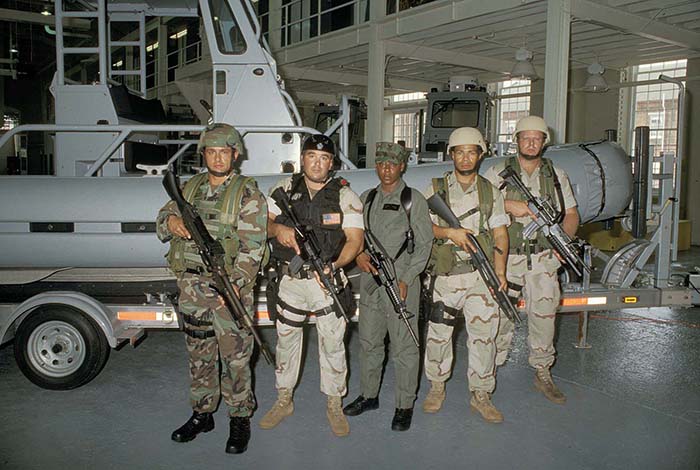 "Provide light, mobile, short-term point defense against terrorist attacks in locations where U.S. shore infrastructure does not exist or requires augmentation for:US Navy ships and Military Sealift Command ships, moored or at anchor.US Navy aircraft (single or several) at unsecured airfields or Department of Defense High Value Assets.Provide augmentation of continental United States US Navy installation security forces or support to lead federal agency for maritime homeland security in non-Navy ports." MSF Mission Statement
Necessity is the mother of invention, it is sagely observed, and obvious necessity led to creation of Navy Mobile Security Forces soon after the COLE disaster. As of this writing there are four squadrons in place, two each on the Atlantic and Pacific coasts. Their worldwide responsibilities are carried out as ordered with dispatch of detachments or subunits tailored to meet specific missions.
Each squadron has three 76-man detachments consisting of a command, control and logistics element, three 15-man security teams, and three patrol boats with two 4-man crews each. This well-thought-out structure allows maximum flexibility in accomplishing a variety of taskings. Whole detachments are deployed to provide security to HVAs (High Value Assets) like aircraft carriers or oil terminals. Smaller forces escort submarines or ride along with other warships at vulnerable times, provide additional muscle to local security, or protect Navy aircraft flying VIPs into danger spots.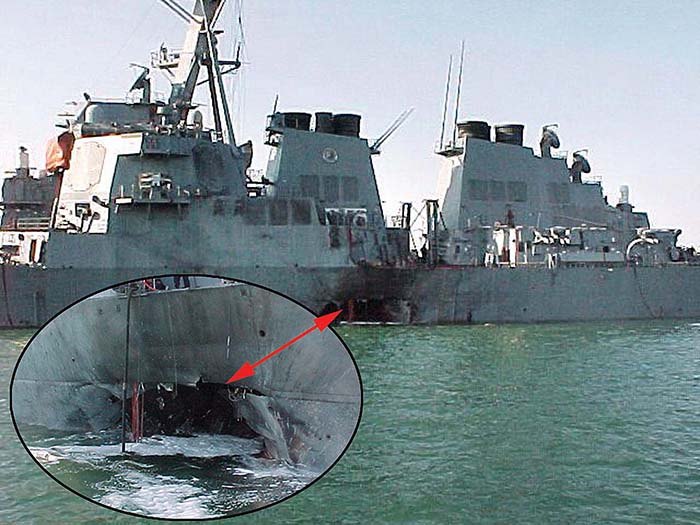 This last is the interesting "Sea RAVEN" program, modeled after the Air Force's very successful Phoenix RAVENs. The Navy operates a fairly large fleet of commercial-type passenger planes to shuttle its personnel around the world. This valuable asset is sometimes made available to government VIPs on official business such as Congressional Delegations (CODEL) making fact-finding trips abroad. Depending on the situation, between two and four specially trained Sea RAVENs will fly along, providing a tangible deterrent to those who might desire to make themselves martyrs in the war against the infidels.
Selected MSF Detachments are expected to launch a mission within just six hours of tasking. All 72 tons of men, boats and gear can be carried anywhere in the world in two C-5A cargo planes or three C-17s. Once on the ground, they are almost fully self-sustaining for up to ten days, requiring only fuel for patrol boats, vehicles and generators.
Tough Training

MSF commanders take pride in leading highly trained and very motivated sailors. Most members undergo more than eight months of specialized individual and team Force Protection instruction that includes crew served weapons, advanced boat tactics, surveillance and security techniques, as well as hand-to-hand combat.
Tools of the Trade
The Navy is not new at the job of providing security to ports, ships and planes. Today's MSF hails back to World War Two's Harbor Defense Units, then Vietnam's Inshore Undersea Warfare Units. Naval bases are well secured by their own specialized police units. All of these have contributed to a good understanding of what guns and gear it takes to do the job well.
Perhaps taking a cue from the Coast Guard, MSFs are rapidly trading in their old collection of patrol craft for the fast and nimble new Oswald Class 25 footers from Safe Boats International.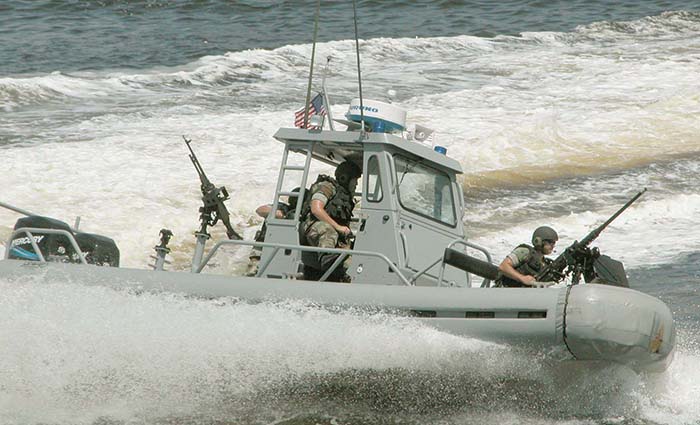 Small arms include standard 9mm M9 semiauto pistols (Beretta M92F) , 12 gauge pump shotguns (Mossberg 500A) , and 5.56mm M16A3 rifles and carbines (Colt 727). While some of the old M60 machine guns are still in use, they are quickly being replaced with the fine M240 (FNMI) general purpose machine guns. Heavy hitting comes in the form of 40mm grenade launchers of the M203 and Mark 19 variety, and venerable .50 caliber M2HB machine guns.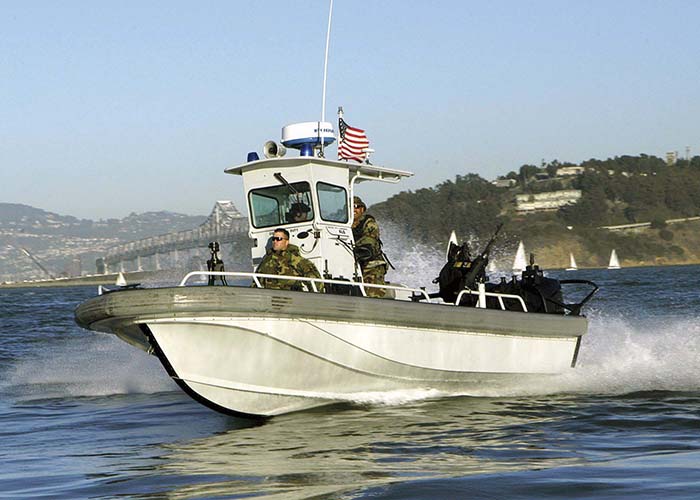 Low to no light operations are essential and the usual helmet-mounted PVS-7 goggles work quite well. While official documents do not specifically mention them, most all the other military NVDs are likely to be in use including PVS 4 and 5 "starlight scope" weapon sights and some newer thermal imagers.
A special piece of gear has been developed for, and is being issued to, those who crew and operate out of the Navy's tactical small boats. This is London Bridge Trading Company's well-designed Force Protection Tactical Vest, cleverly combining floatation with a lot of gear compartments. London Bridge has a companion piece, with built-in ballistic protection, that is in limited issue in the Navy Special Warfare community, and may also be under consideration for MSFs. But for right now, these security sailors depend on the Tactical Armor Products flak plate vest.
London Bridge also provides their load bearing equipment, which they call "H Gear." Officially, this is because it is a "Harness," but saltier terms may also apply. This is sturdy, tough and well designed stowage for ammo and all sorts of other things that, quite practically, also has compartments for floatation pads. Drop leg Safariland 6004 series holster rigs carry their Berettas. Tactical lights and knives are private-purchase items with lots of leeway in selection to meet personal standards.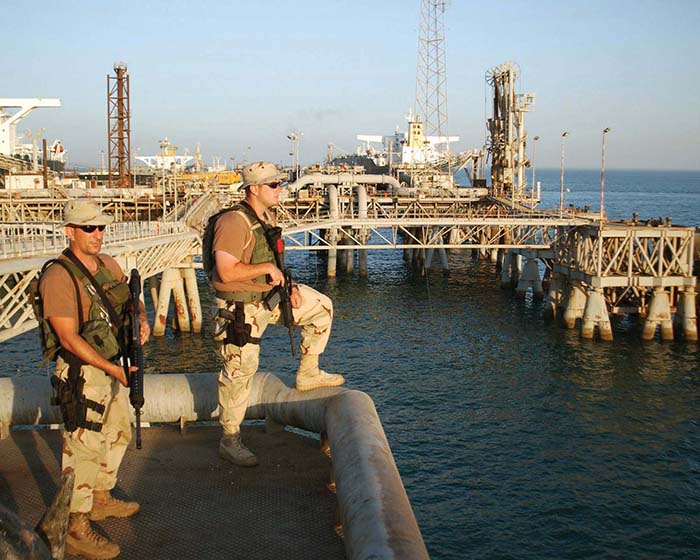 How to Join
Navy Mobile Security Forces are manned by a variety of ratings (the Navy term for occupational specialty). Most are MAs (Master-at-Arms) and BMs (Boatswain's Mates) who skipper the patrol craft. ENs (Enginemen) do the maintenance and others handle communications, emergency medical, and support. Applicants must meet strict guidelines. Additional schooling is available for Sea Ravens and other skills. Expanding from 1,500 to 9,000 in the next few years, Master-at-Arms is one of the Navy's fastest-growing career fields so now is the time to get on board. Contact your local recruiter and be sure to ask if enlistment bonuses are available. US Navy on the Internet – www.navy.mil
This article first appeared in Small Arms Review V9N11 (August 2006)