Story & Photography by Alan D. Clay
In 2006 I decided to purchase a full-auto weapon. I had lived in several states that did not allow an individual to possess machine guns. When I moved to Arizona, I visited with Class 3 Dealer Curtis Earl who advertised, "We Buy Machine Guns," in the American Rifleman all the time. He tried to talk me into a Thompson, he had over 30 of them, but I was not willing to spend that much money. I should have bought at least 10 of them because back then he was selling them for $3,500 a piece! They would have been a great investment!

I ended up buying an SWD M11/9 submachine gun in 9mm Parabellum caliber from Craig Wheatley at Tactical Innovations in Idaho. It was one that they had converted the magazine well to take the STEN magazines. At that time, the 32-round STEN magazines could be bought for as little as $4.00, and people who I visited with and who had experienced the STEN in WWII, said the feed was exceptionally reliable. There were 50-round magazines available, too. I also found one of the Austen magazine fillers from WWII to load them. This was very necessary and easy to use!
After going through the long wait while the ATF approved my purchase of the gun, it was finally delivered to me. I was a little shocked and overwhelmed at the rate of fire! It was exciting to shoot but difficult to control and ate up ammunition at an extremely high rate.

Later, I read an article about converting the M11/9 to a slow fire from a company in Wallingford, Connecticut, called Stony Creek Armory. The conversion to a slower fire rate utilized an AR-15 collapsible stock with the recoil spring and piston inside of it. The article showed how to make and install a rod in the bolt to function with the spring in the stock. It required drilling a 3/8-inch hole in the back of the lower section. The original bolt was already threaded 1/4-20 in the rear of it, so the rod could be screwed into the bolt. It also showed a small plate of metal to support the ejector rod and spring. I also found a source for a longer barrel for the M11/9. The original 5.25-inch barrel made the gun very compact but difficult to hang on to while shooting. I was looking for some way to provide better handling of the M11/9.
I ended up finding and purchasing an upper that had a left-side cocking handle and a 10-inch heavy barrel. It came with a sight mount on the top and a short forearm very similar to what is used on the AR-15. I also installed an extended safety that was made by Lage Manufacturing, located in Arizona. The barrel was also threaded for a suppressor. The results were impressive! It slowed down the rate to about 950 per minute. It was much easier to control, and the longer forearm and barrel provided much more stable control. The rate of fire was changeable by using different buffer springs in the stock and different weight buffers. I also mounted one of the L3 EOTech 512 Holographic Weapon Sights, which is a major improvement over the iron sights.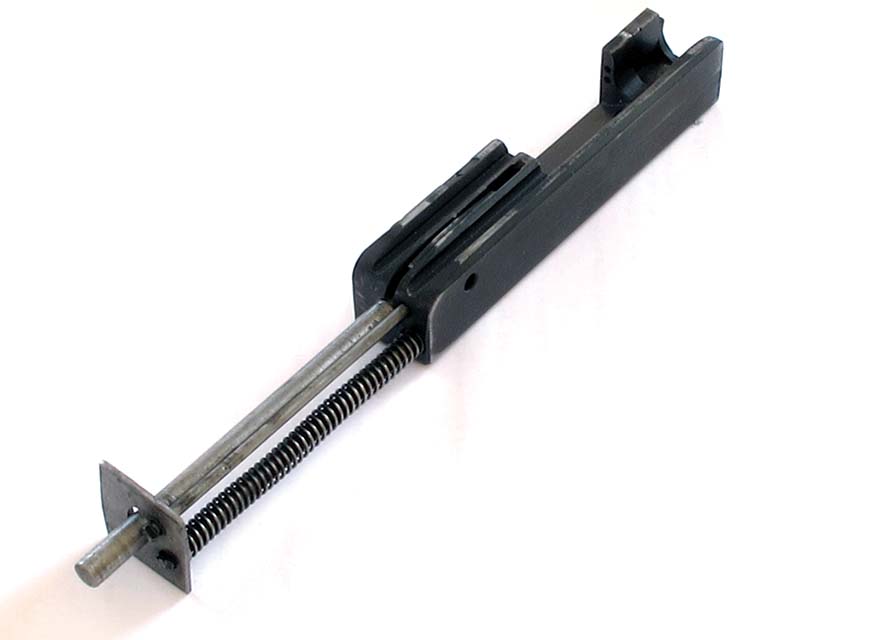 When I turned 75, I went to the Scottsdale Gun Club Range to celebrate my birthday. I did a 50-round mag dump that lasted just over 3 seconds. I was able to keep all 50 rounds in a 12-inch circle at 50 feet. A friend took a video of me doing that, and it was posted on YouTube for almost a year!
All that remains of this original M11/9 is the registered lower receiver, bolt and the full-auto sear. The value of the firearm has increased over three times since I purchased it. I also have one of the Lage .22 LR conversions for it, and it really draws crowds when we are out shooting with either calibers. It is a reliable and accurate full-auto weapon.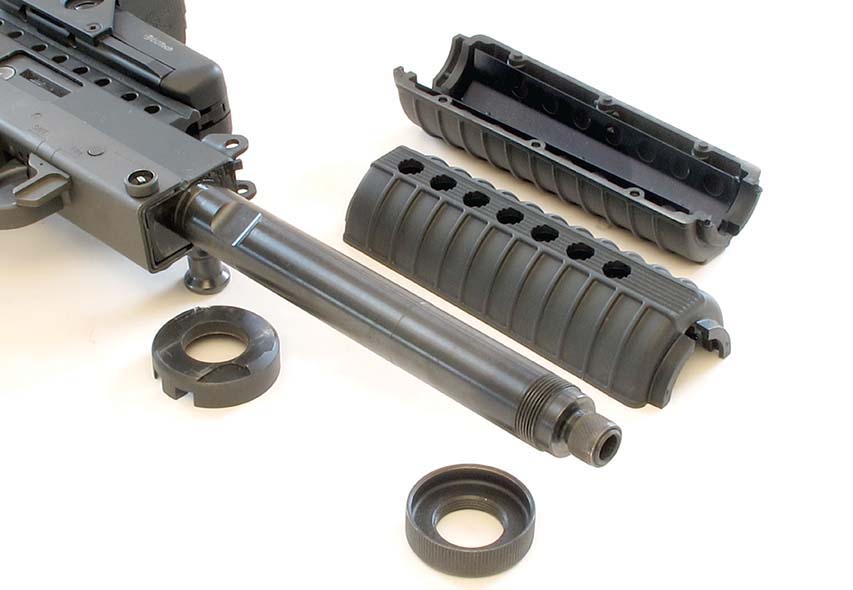 "Aimee" My ANM2's Little Sister
Story & Photography by B. Powell
The idea for this gun began several years ago when I was reading about the U.S. Marines fighting on lwo Jima in WWII. Wanting to increase their firepower, they converted aircraft-mounted ANM2 machine guns to shoulder-fired Light Machine Guns they called the "Stinger." I converted my ANM2 to the Stinger configuration, but after shooting a few belts, I decided to put it back on the tripod, because it was such a handful to shoot. It was so much more controllable and accurate on the tripod that I decided to convert my AM180 from handheld to tripod-mounted.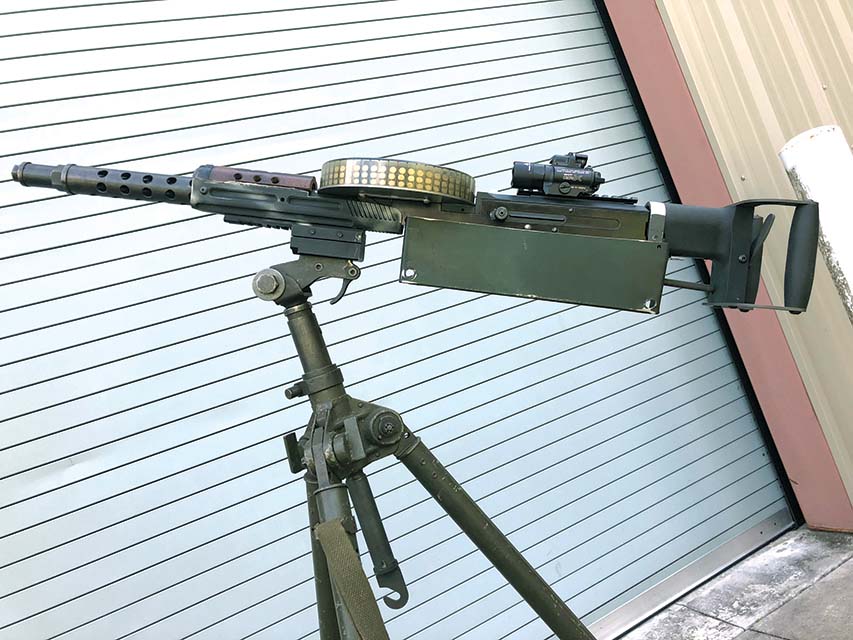 The AM180 is a drum-fed, open-bolt .22 LR machine gun which looks sort of like a Thompson. It has a very high cyclic rate, about 1200 rounds per minute, similar to an 275 rounds, and at 20 rounds per second, they don't last long. The gun is reliable as long as you keep it clean and use the ammo it likes. I shoot CCI® 40-grain solids. The one potential problem with it is that it ejects through the bottom of the receiver and will occasionally fire out of battery and suffer case head separation, which is not a good thing when firing from the hip or shoulder. Mounting the gun on a tripod would place the ejection port where this should not be a problem.
To begin the project, I converted an aluminum shotgun forearm I had sitting in the shop to fit on the AM180 barrel, mounted a rail to it, added a KNS Precision MG42 Anti-Aircraft (AA) tripod adapter from an M16 and was able to place it on the MG42 tripod.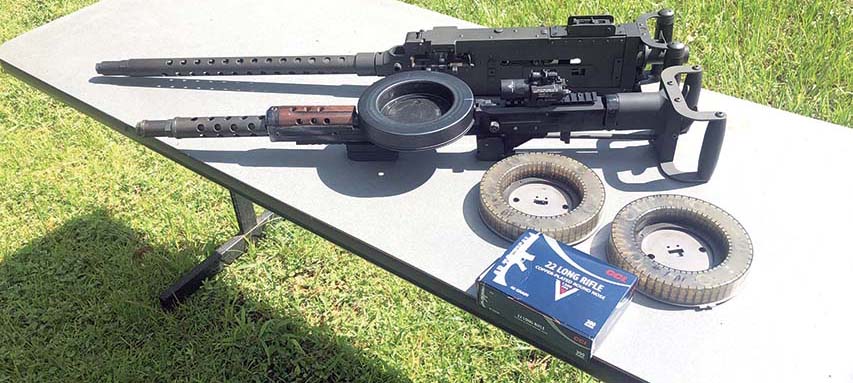 Next thing to do was figure out the spade grips. This contestant just happened to have a KNS Precision spade grip conversion for the AR-15/ M16 and figured all that was needed was an AR buffer tube on the AM180.
This was a challenge, because I didn't want to alter the registered mg receiver. This was accomplished by adapting an AK pistol brace with AR buffer tube to an AM180 stock mounting bracket. Now the spade grips were on the receiver.
Getting the trigger to function properly was a bit more problematic. The AM180 trigger group has some springs and detents which are held in place by the pistol grip. A small plate had to be fabricated and attached to the grip mount to hold them in place. I made some adjustments to the KNS trigger bar and got it working with the spades.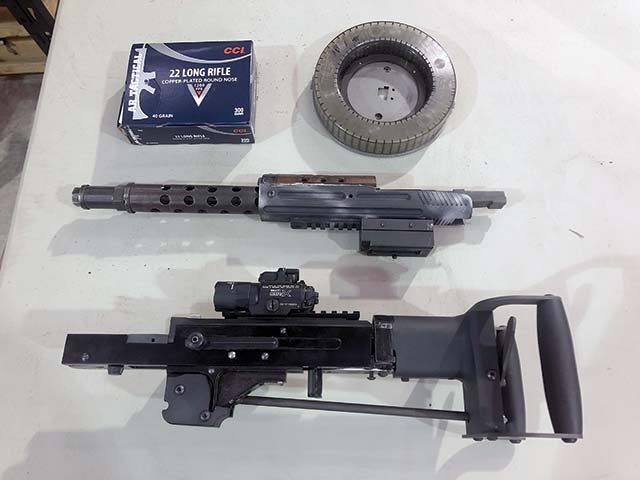 Now it is tripod-mounted and spade-grip-fired, but it just doesn't look right because of the lightweight .22 LR barrel. Looking through my ANM2 spare parts, I found a barrel jacket that someone had crudely torched in half. After cleaning up the cut and grinding it down on the sides, it fit into the aluminum forearm. The barrel jacket serves a dual purpose in dressing up the gun and shielding the hot barrel. For a finishing touch I cut down a broken wooden HK G3 forearm to cover the rest of the barrel and blend the lines of the gun to the drum magazine.
While sighting it in, I tried an EOTech holographic sight and an Aimpoint® red dot but settled on a SureFire laser for ease of standing back and aiming with both eyes open. The gun shoots great and is very accurate. 30-yard groups are about a 6-inch circle. I can write my initials with it on a piece of tin. Now I just need to mount a T&E, and I will be able to tighten up the groups! I call it "Aimee" because it's my ANM2's little sister.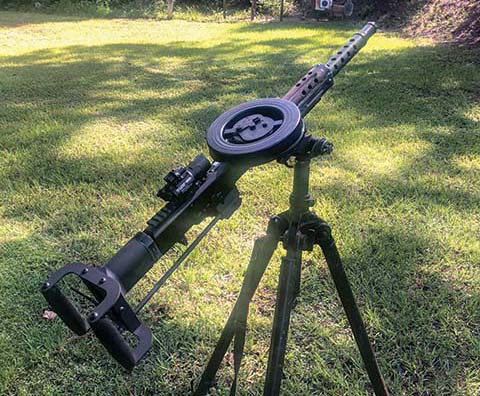 What Is a "FrankenGun?"
A "FrankenGun" is just what it sounds like—a cross between Frankenstein's monster and a gun, in this case a semi auto or a machine gun. The phrase goes back to the early internet days when legal machine gun owners would cross-pollinate weapon designs using parts, and sometimes movie voodoo-type add-ons, to create something that fit their idea of a fun gun. FrankenGun contests are held occasionally, and we at SAR like to encourage our readers to participate, making sure it's legal as they do so. Much like our fabled "MacWaffle" contest (Small Arms Review, Vol. 2, No. 4), where readers had to make a working waffle iron out of MAC flats, this is about having some fun.
We received several entries but chose the Top Two presented here. The winner of the FrankenGun Challenge will be judged by the readers and receive a 3-year subscription to both Small Arms Review and Small Arms Defense Journal. An RKI Certificate will be provided for those who put in an entry, which will be suitable for framing.
Email Your Vote Now!
Vote for your favorite FrankenGun by emailing your choice to office@smallarmsreview.com no later than Monday, September 28, 2020. The winner will be announced in the SAR November issue, Vol. 24, No. 9.
There's Always Next Year
It's never too early to start thinking about next year's FrankenGun Challenge! Here are some guidelines for 2021.
2021 Entry Guidelines
Email your complete entry to editorial@chipotlepublishing.com by July 2, 2021. Entries must include the following:
Your name, email and phone number
An article describing what parts you used to make your FrankenGun, your processes, the ammo the gun uses and a description of the gun's shooting results. Article should be between 600 and 1,000 words in length. Include the name of your FrankenGun—if it has one.
A minimum of three high-resolution photos (at least 300dpi) and brief captions for each photo
Rules
Please make sure your completed FrankenGun is legal! Illegal entries will be disqualified. Gun used can be a semiauto or a machine gun. Entries must be submitted by July 2, 2021.
This article first appeared in Small Arms Review V24N8 (Oct 2020)