By Robert G. Segel
1. PREIS 16. INF.-REGT." ("Shooting Award, 1934, First Place, 16th Infantry Regiment").
German army interwar gold gilt shooting prize medallion. The obverse has a soldier firing a Maxim MG08 on sled mount in relief. The design is signed "EF." The verso has the inscription "PREISRICHTEN 1934. These shooting competitions in the interwar years used old World War I equipment and provided essential training for the rebuilding of the German army.
2. World War I New Zealand officer's bi-metal silver and brass Machine Gun Specialists cap badge.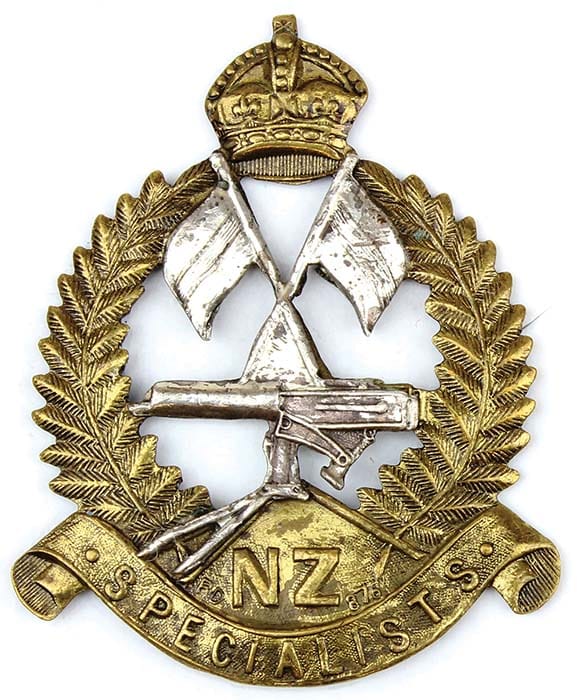 Fern leaf wreath with king's crown to the top and "NZ Specialists" banner below. To the center is a silver Maxim machine gun beneath crossed signal flags. Note that to the left and right of the NZ is the mark "RD 876." This is a "Registered Design" number, which was a form of copyright. These badges were entirely un-official, and the designs were protected by the jewelers who made them (thus, slight design differences between similar badges). These jewelers were actually on base in Featherstone Camp (New Zealand's largest training camp) and Trentham Camp (near Wellington) in World War I. They made these badges to order and from whatever material the customer could afford. Silver and gold are not at all uncommon. They also made sweetheart badges from gold for the soldiers' ladies. Many soldiers wore these badges as they went off to the Great War. However, the badges were ordered to be removed on arrival in England, generally at a place called "Sling Camp" in the heart of the great Salisbury Plains where the New Zealanders were encamped prior to being sent to France to fight. All NZ personnel overseas were ordered to remove their individual unit badges that had been so proudly worn for months back home and at sea to be replaced by the generic 1st New Zealand Expeditionary Force cap badge.
3. Finnish elite shooter badge for machine gun.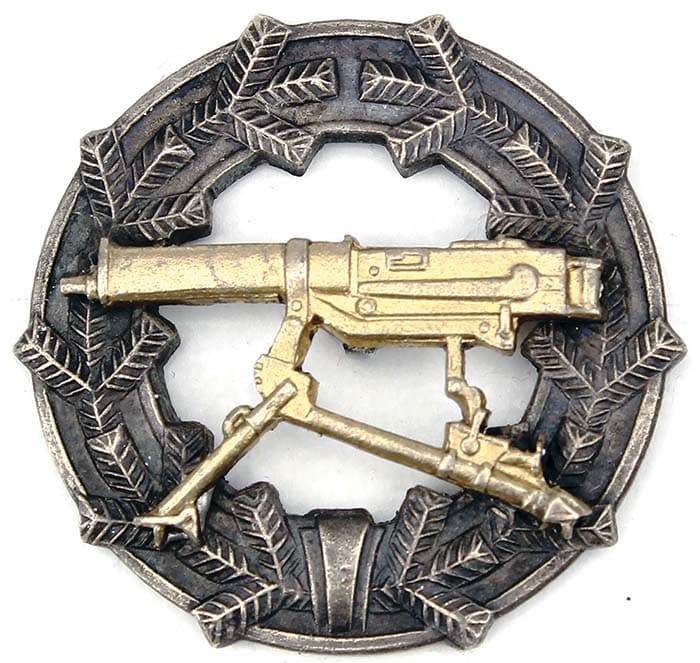 This Finnish badge was issued to "Vailo-Ampuja" or "Elite Shooter" machine gunners. The first of these badges were issued in 1933 and continued being issued until the end of World War II. This is a very scarce two-piece badge because it has a gilt Maxim machine gun inside a white metal wreath, meaning it was issued to someone on the permanent staff. The outside edges have Civil Guards influence with branches of the evergreen tree. Screw back.
4. Imperial Japanese Army shooting award.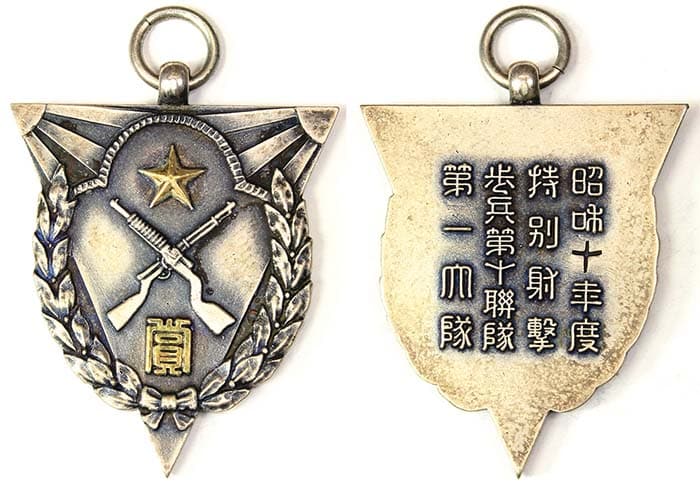 The obverse features two rising sun motifs that are on either side to the top. The center displays a gold army star over a crossed Arisaka rifle and Type 11 light machine gun and gold kanji below the weapons that reads "prize" all framed within a laurel wreath. The reverse has characters that read "Showa 10 (1935) special shooting, infantry 10th regiment, 1st battalion." The medal measures approximately 3 x 2.5cm.
5. Print of Medal of Honor winner Douglas A. Munro by Bernard D'Andrea for the Coast Guard Bicentennial program in 1990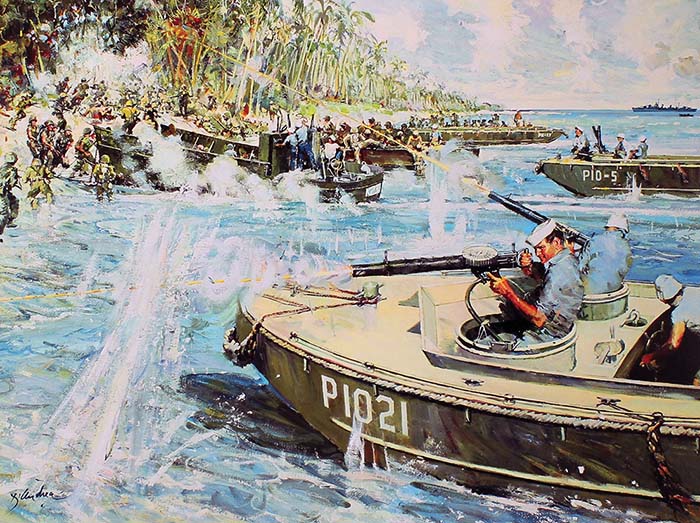 . U.S. Coast Guard signalman first class Douglas A. Munro is depicted manning a Lewis gun providing cover fire during the withdrawal of a company of Marines on Guadalcanal on September 27, 1942. Munro was the officer-in-charge of a group of landing craft and volunteered to evacuate a detachment of Marines facing annihilation by an unanticipated large enemy force. He succeeded in safely extricating them and in doing so was mortally wounded. Munro was posthumously awarded the Medal of Honor for bravery by the U.S. Congress, the only member of the U.S. Coast Guard to receive the United States' highest military award.
6. Immediate post-World War I bronze table sculpture of two French soldiers manning a French M1907 St. Etienne machine gun.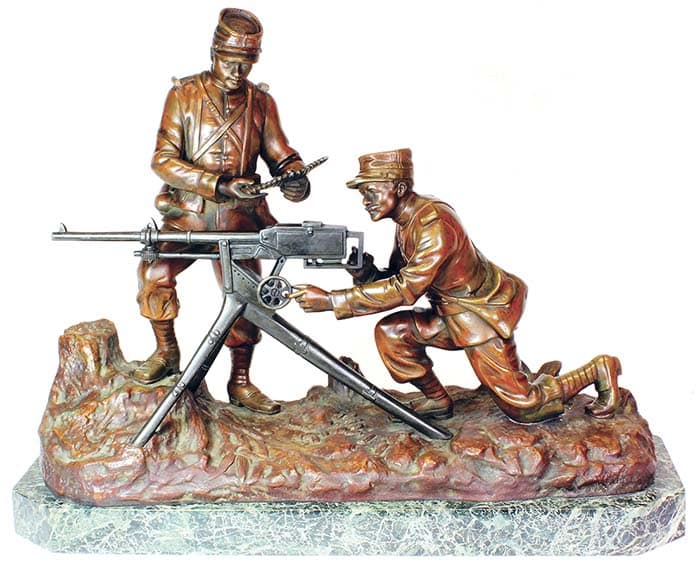 The bronze is signed by renowned artist Georges Omerth (1895-1925) and shows great and correct detail of uniforms and weapon. Weighing almost 20 pounds, it is mounted on a green marble plinth.
This article first appeared in Small Arms Review V21N8 (October 2017)