By Robert G. Segel
Three WWI-period ribbons for the 149th Machine Gun Battalion. On the left is a goodbye ribbon consisting of a white 6-inch ribbon with a red, white and blue flag to the top and "Good-Bye and Good Luck to 149th Machine Gun Company August 25th, 1917." To the center is a victory parade silk ribbon in red, yellow and blue (of the 42nd "Rainbow" Division) reading, "Victory, Welcome Home, 149th Machine Gun Battalion, Treadwell (ribbon sponsor)." It is attached to a stamped gold metal pin back brooch with scrolled design. To the right is another welcome home lapel button with ribbon. The button reads, "A Co. 149 Mach. Gun Bat'ln Rainbow Division Formerly Co. L. Easton City Guard." Button has makers paper label "Whitehead & Hoag, Newark, NJ." The button is 1 ¼ inches in diameter. The 42nd "Rainbow" Division fought at Champagne-Marne, Aisne-Marne, Saint- Mihiel, Meuse-Argonne and Defense sector during WWI. Activated in 1917, the 42nd Division was composed of National Guard units originating from 26 states and the District of Columbia.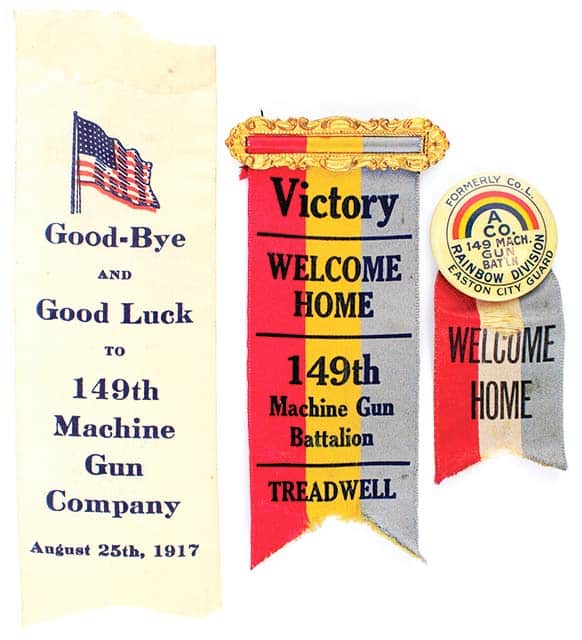 WWI Imperial Russian Army (pre-Revolution) shoulder board insignia for an armored-car driver in an armored-car platoon. Pin is die-stamped with wheels, steering wheel, wings and a Maxim machine gun. Russia maintained the largest force of armored cars of any of the Allies. A typical armored-car platoon consisted of two or three twin-turreted gun cars such as Austins or FIATS and one or two armored trucks mounting short-barreled 75mm guns. American-made Indian motorcycles provided communications, and some had a machine gun mounted to give anti-aircraft cover. By November 1917, over 200 armored cars were in service.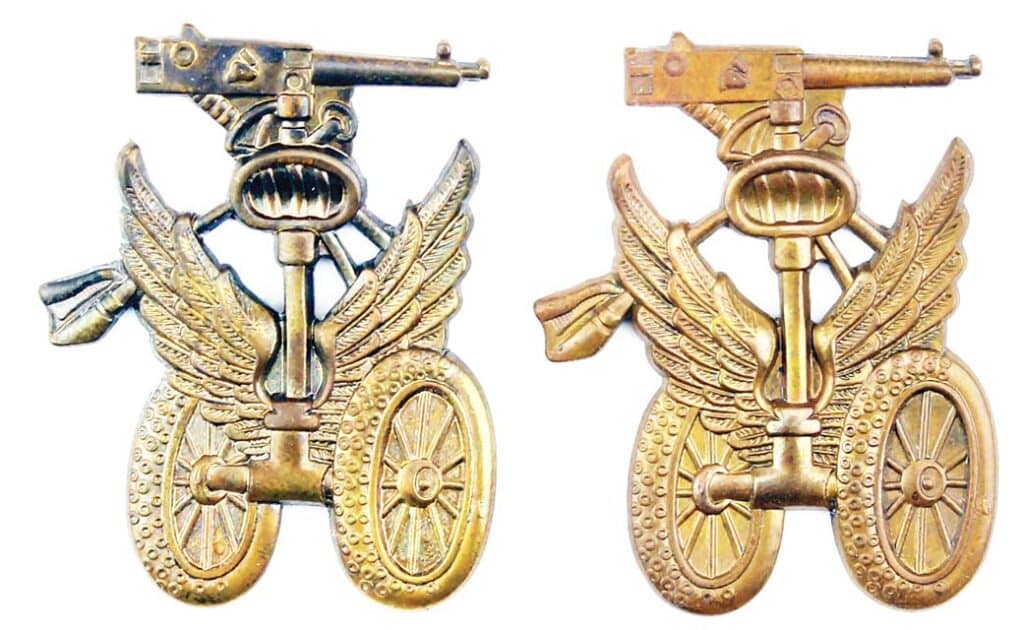 Shanghai (China) Volunteer Corps shooting award. Small silver award cup engraved, "The Machine Gun Company S.V.C. The 'Deluge' Cup." The rear is engraved, "1928/9 Gnr. C.W. Smith." The base is maker-marked, "Uck Chaing" and has Chinese proof marks.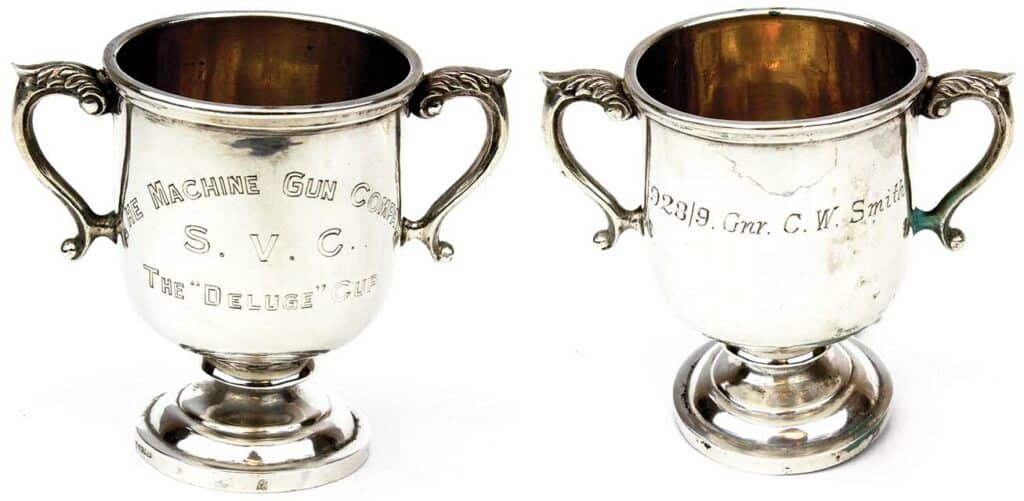 Imperial German Army officer's veteran commemorative sword in the M1890 pattern. Acid-etched blade on both sides with "Maschinengewehr Abt. No. 2" (2nd machine gun division) on one side and "Zur Erinnerung an Meine Dienstzeit" (In Remembrance of My Time in Service) on the other side. The slightly curved blade length is 31 ½ inches with an overall length of 36 ½ inches. The fish-skin-wrapped grip has wire binding. Maker unknown. Probably not an Army-issue sword but a commercially made sword in the M1890 pattern for the benefit of the veteran. 

Double Maxim Ale playing card from the Vaux Brewery. This famous Sunderland (England) brand first appeared as Maxim Ale in 1901 to mark the homecoming of the Maxim gun detachment that was led by Lt. Colonel Ernest Vaux in the Boer War in South Africa. In 1938, the brew was increased in strength, and so it was called Double Maxim.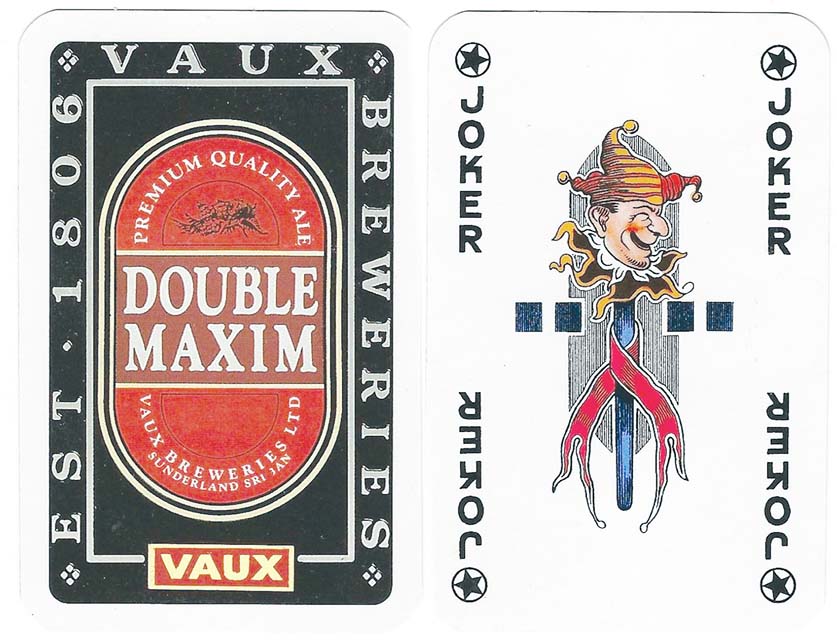 Italian high relief silver 30mm medal with white and green ribbon. Obverse has image of Italian machine gun crew firing the Breda M37 air-cooled heavy machine gun. The reverse has to center the king's crown over the enameled red and white stripe bar denoting machine guns over the intertwined rope symbol. Around the edge reads, "11 Battaglione Mitraglieri di Corpo D'Armata" (11th Machine Gun Battalion Army Corps). Also marked on the bottom is "800" denoting the silver content.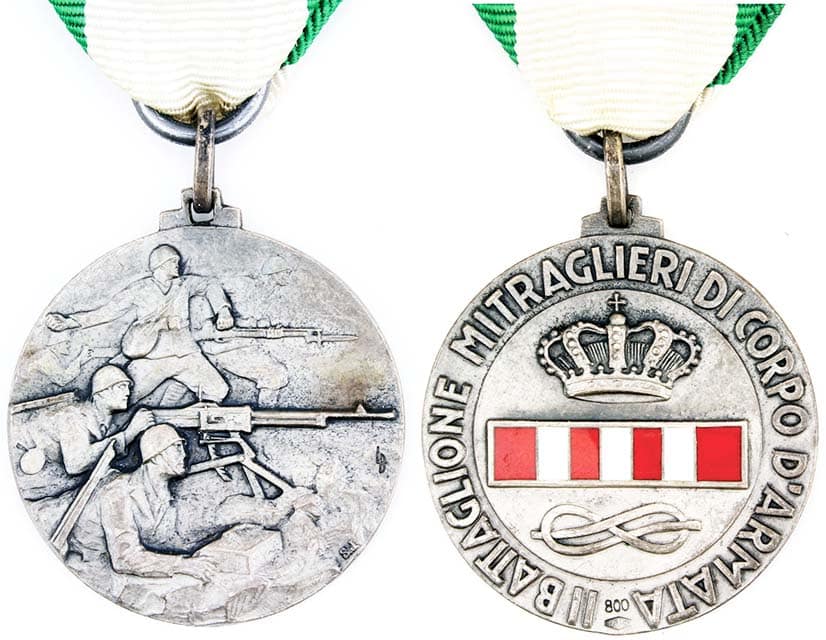 French magazine cover for Le Petit Journal. The journal was famous for its brightly colored prints graphically depicting news events around the world as well as happenings in France. This 1913 publication by the French press via the Le Petit Journal reported on military technological advances and modern training using different ideas by the French Army. Pictured here are soldiers deploying the heavy Hotchkiss Mle 1900 machine guns by bicycle borne troops with the title, "Les Bicyclettes-Mitrailleuses aux Maneouvres" (Bicycles Machine Guns on Maneuvers). Note the German and English observers on horseback at the rear.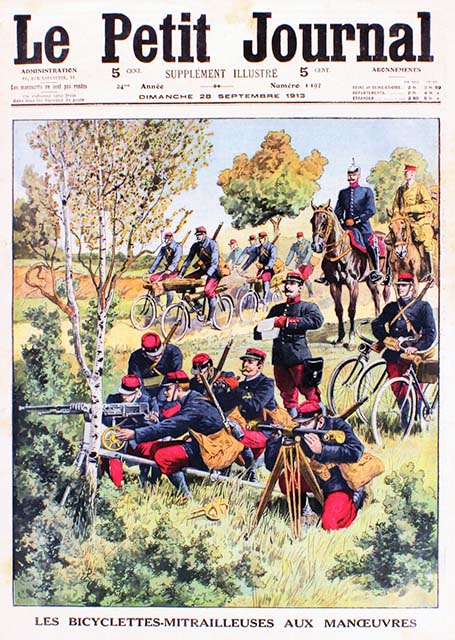 This article first appeared in Small Arms Review V24N5 (May 2020)